You may have the impression that a bow tie is either a thing for nerds, a tie for that weird joker in the office, or something you must have for any formal event like a wedding. Bow Select Tie is here to change your ideas about bow ties completely and forever. We love bow ties. We have endeavored to create the most unique bow ties that are sure to get you noticed. Naturally, we have a huge selection of classic bow ties that fit every occasion and dress. Amazingly daring and bold bow ties are our forte.
We feel that a bow tie should allow the wearer to express themselves in an unforgettable way. We have wooden bow ties that are real wood, a vibrantly colored collection of feather bow ties that go with any shirt or coat, humorous bow ties, and bow ties that celebrate your country or city.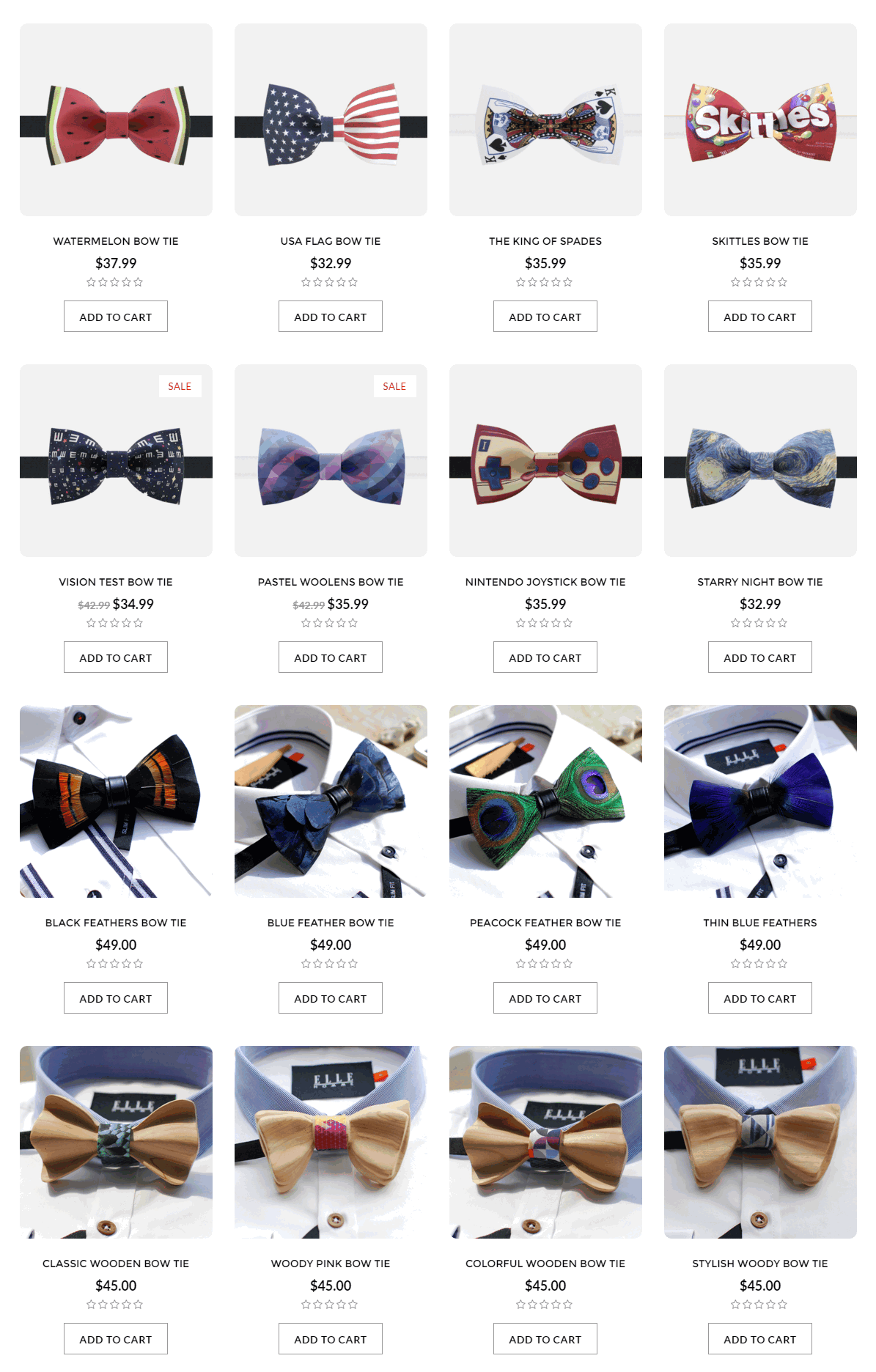 We know that many men are intimidated by having to tie a bow tie. We have pre-tied bow ties and our collection of self-tied bow ties comes with complete instructions to tie your bow tie. We have the bow tie for the man that prefers a classic look and the chic styling that classic bow ties add to any shirt or suit. We also have the most daring and outrageous bow ties that any man or woman could possibly desire.
Celebrate your favorite sport, a game you love to play, your interest in science, or your favorite cartoon character. We also have the largest collections of bow ties inspired by Chinese and Japanese art and design. Our ties let you express your passion for computers, comics, candy, money, fish, fruit, newspapers, and cities. We have designed the most elegant selection of formal classic bow ties in patterns and colors that go with anything. Our variations on the black bow tie let you express yourself in subtle and not so subtle ways.
Bow Select Tie is designed to let you experience the variety of material, color, pattern, texture, and shape that bow ties can have. We want you to look your best for that special event or person and we want you to be as bold and brassy as you dare to be. We have created a collection of bow ties that brings the bow tie off the formal wear rack and straight into the main stream of haute couture. Our desire is that you look great and feel great when you stand out from the crowd wearing one of our exquisitely designed bow ties, e.g. Peacock Feather Bow Tie.
Bow Select Tie is the place for the largest selection of bow ties. We held nothing back in our designs. We designed with you in mind. Wear a tie that gets you the attention that you want and deserve. Wear a Bow Select Tie.