Your Favourite Photoshop Tutorials in One Place
Turning-a-Texture-Paper-into-a-Planet
Under

- Photoshop is recommended for this tutorial -
"Low-poly self portrait tutorial" is a Photoshop tutorial created by Brazilian creative director Breno Bitencourt. In this tutorial, Breno Bitencourt will show you how to create a low-poly portrait in illustrator and Photoshop step by step.
The main techniques used here are masks and blending modes, Photoshop's auto contrast, auto colour and auto levelsfunctions. There are also something basic you should know .Working with the best reference photo, choosing the best fragments to combine in a single image, dealing with the time-consuming part of the triangular mesh, firing up illustrator with pen tool, using align panel & vertical align center to deal with details, and adding color.
Watch the Video tutorial below and enjoy today's lesson!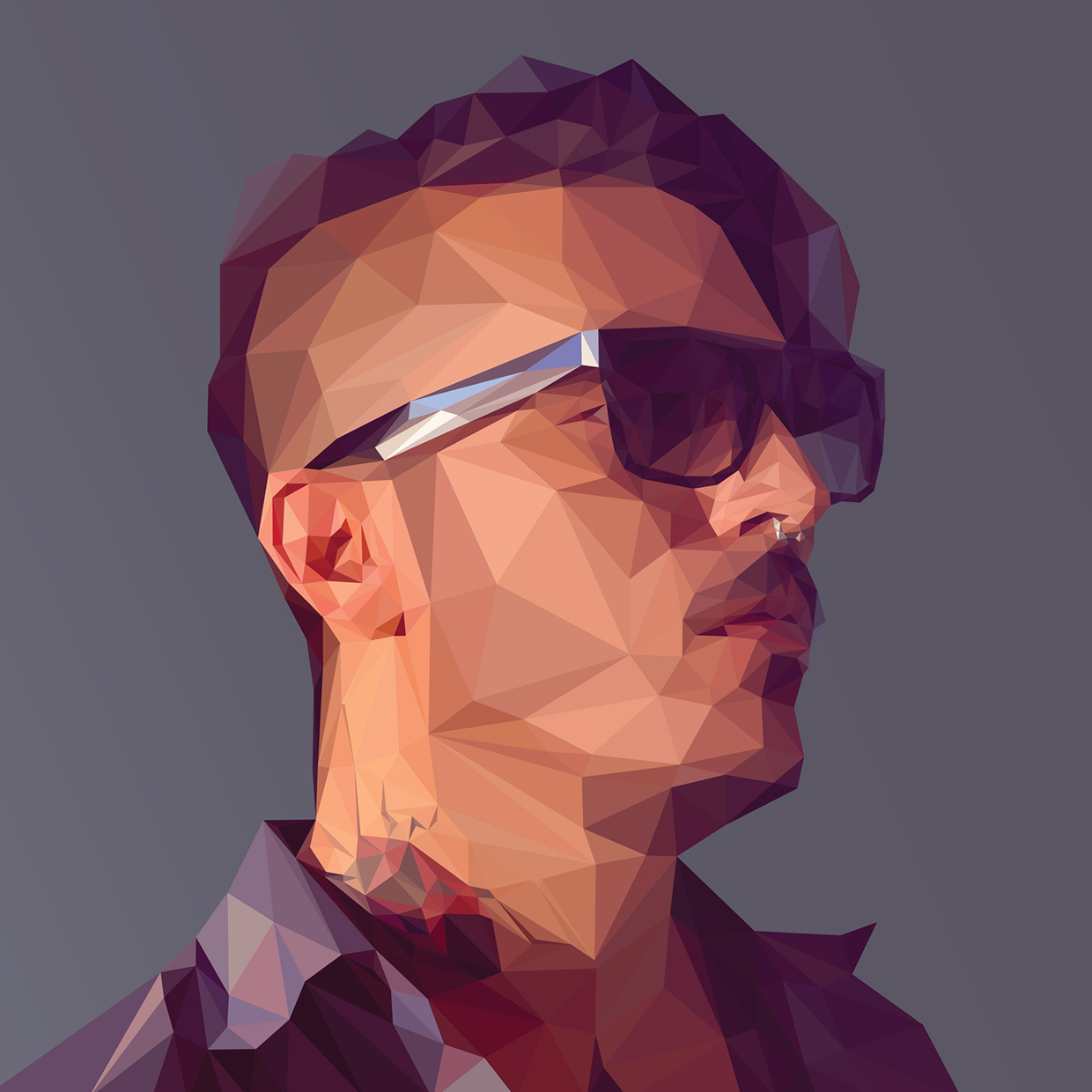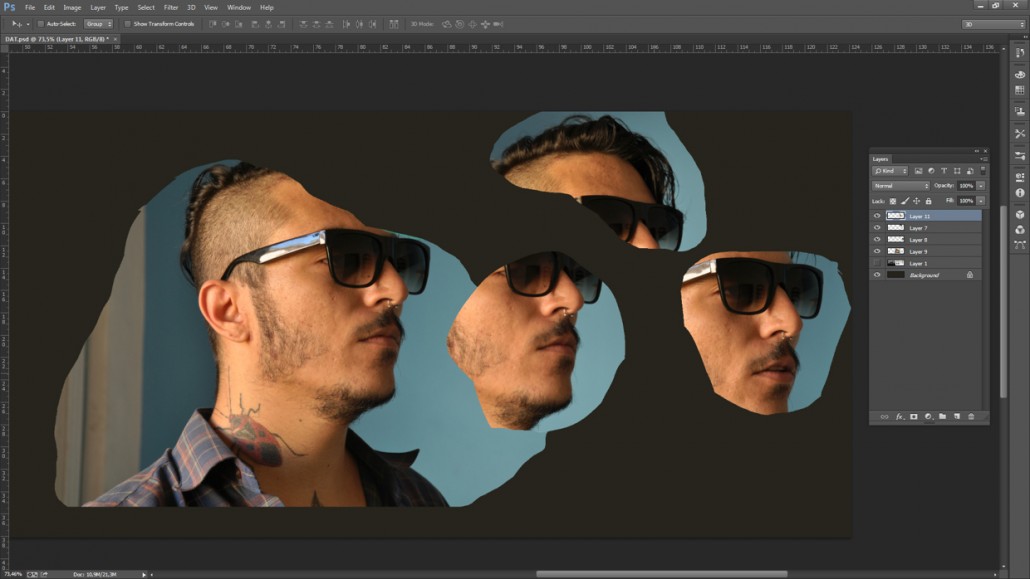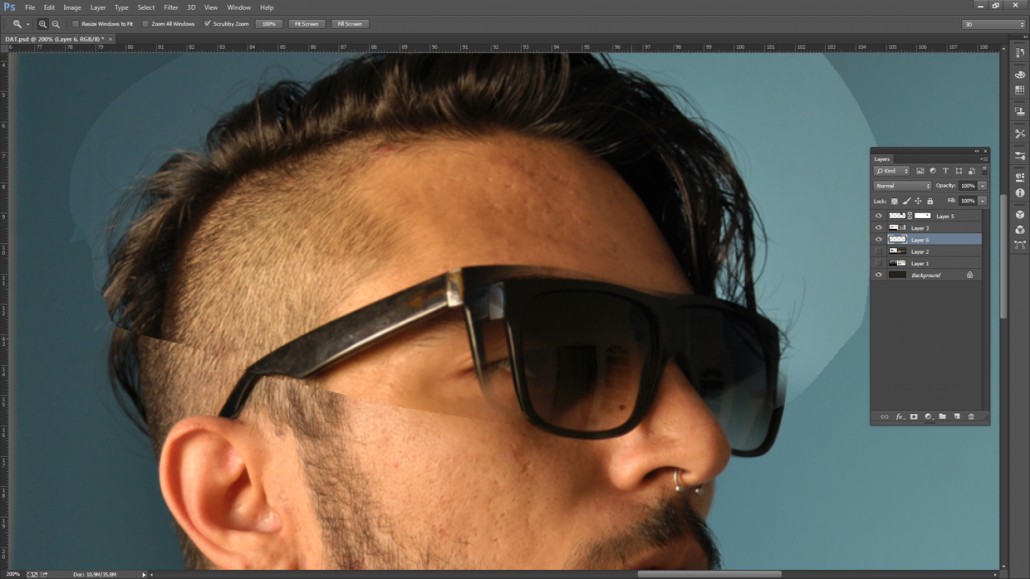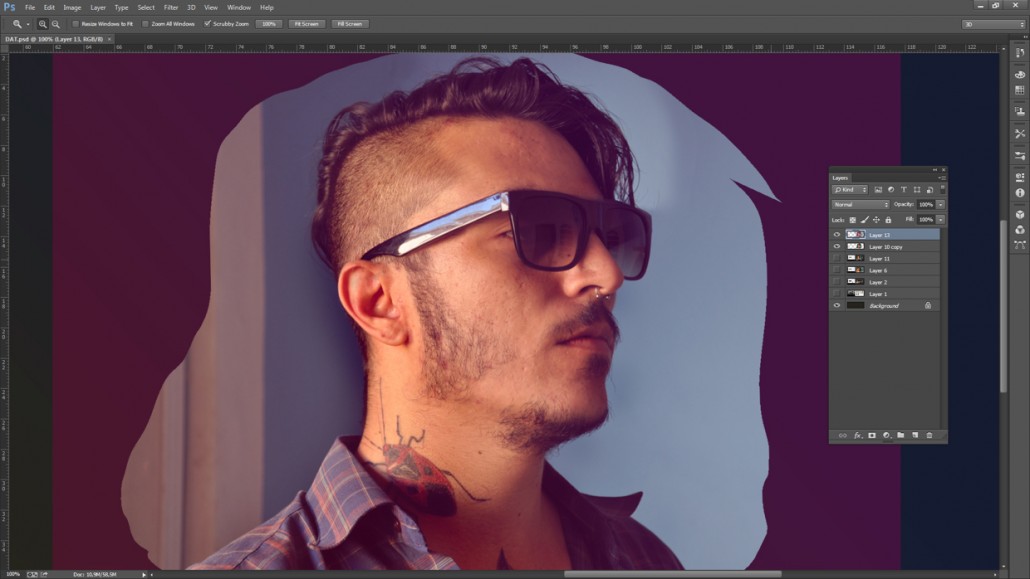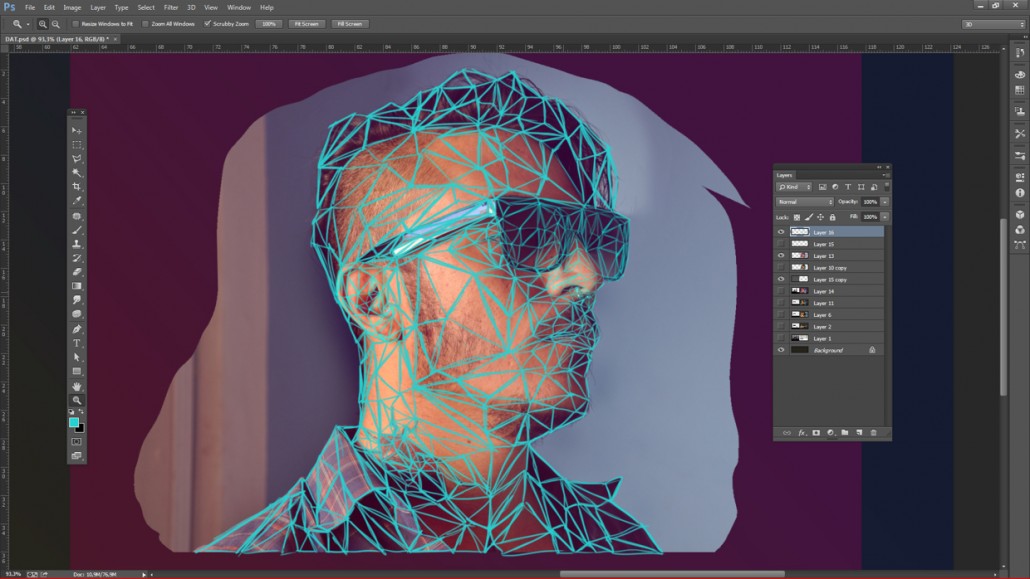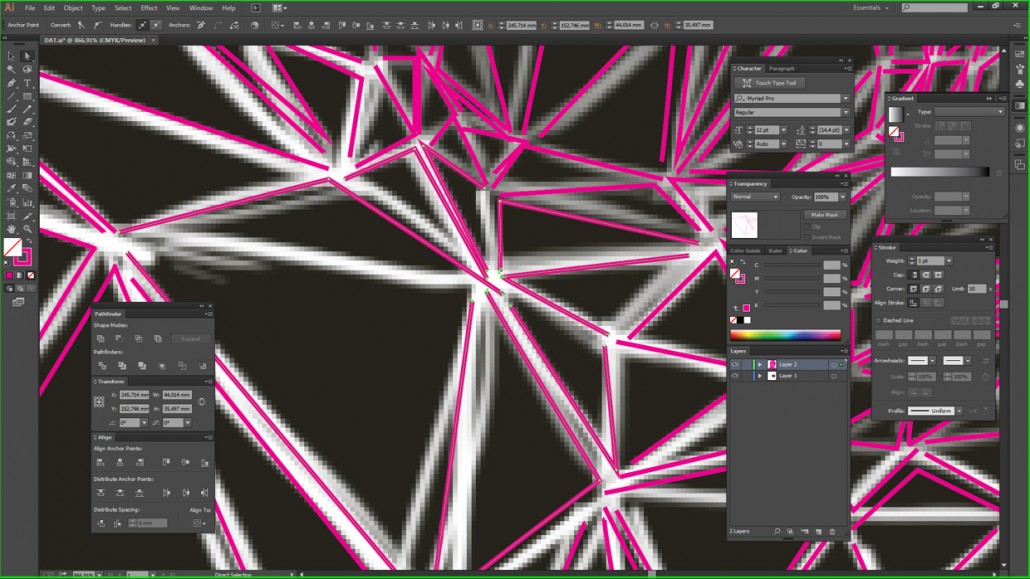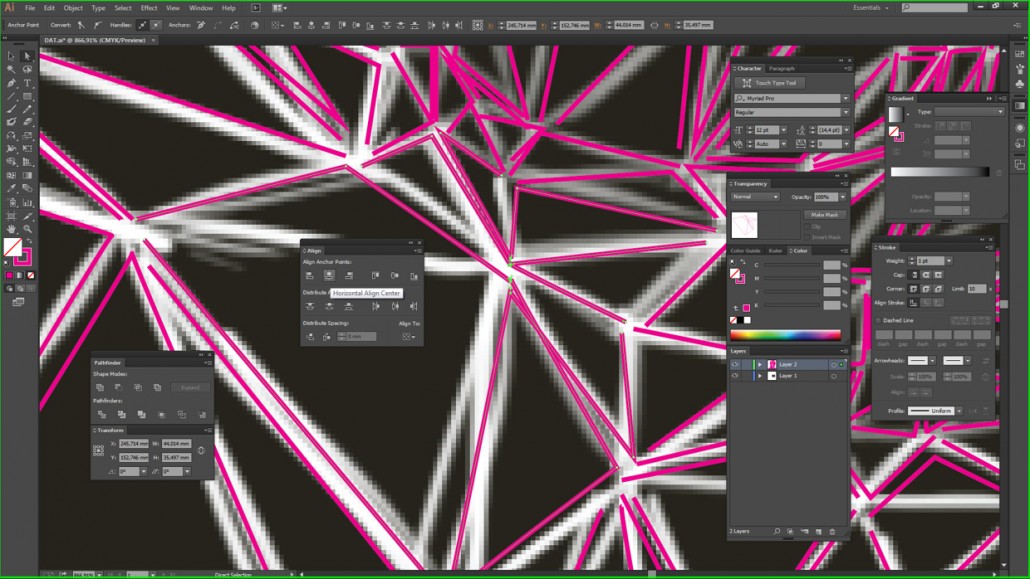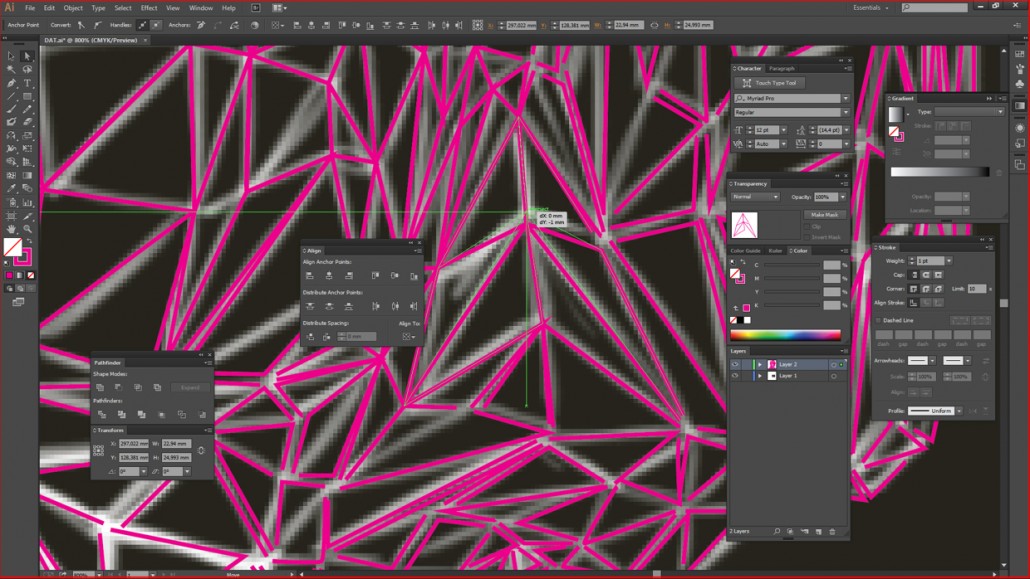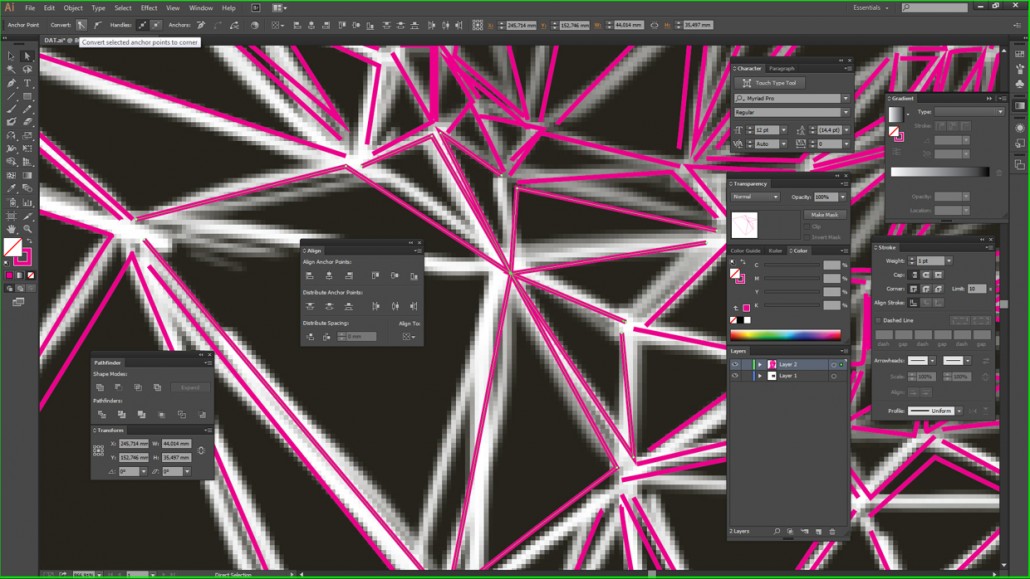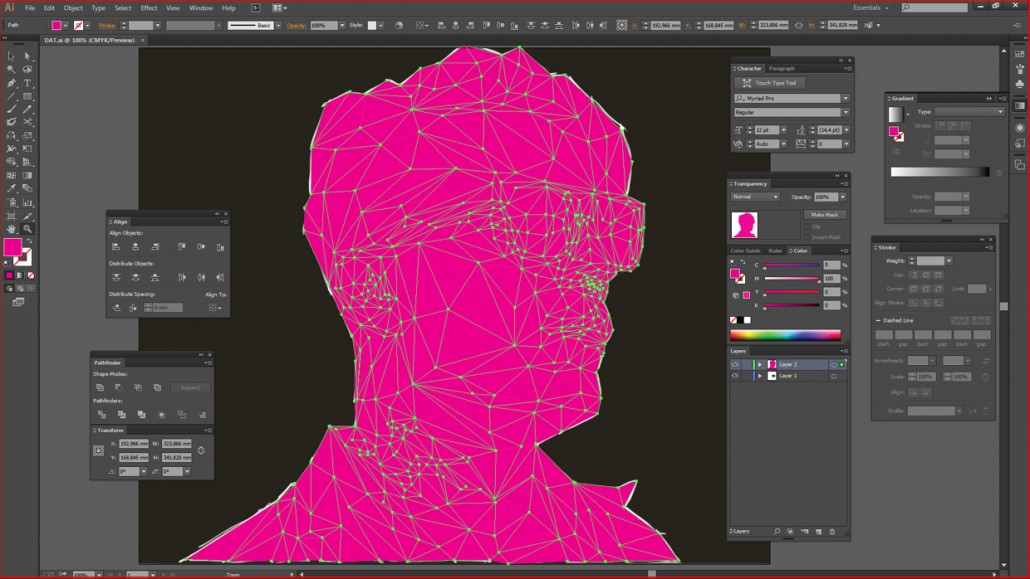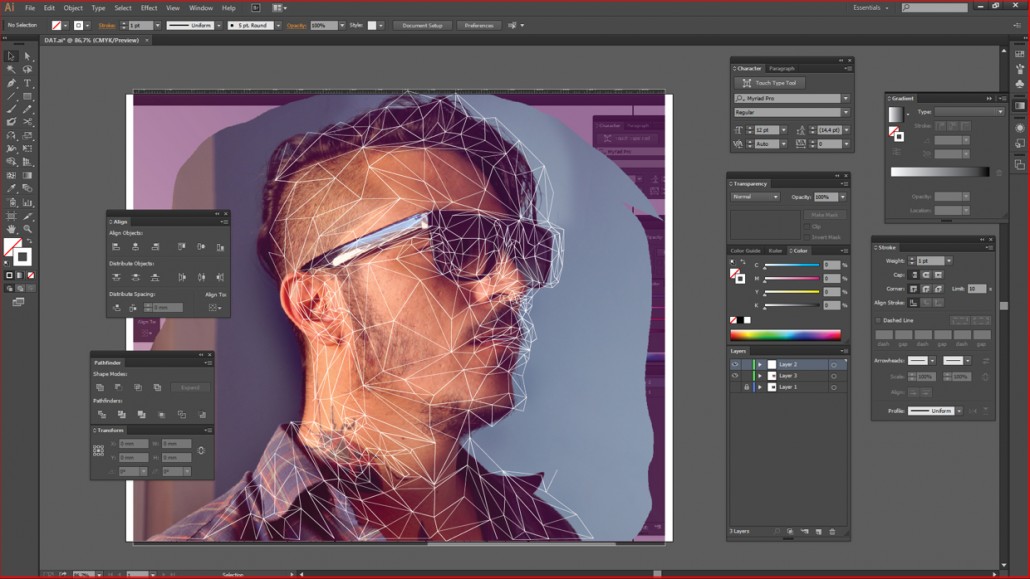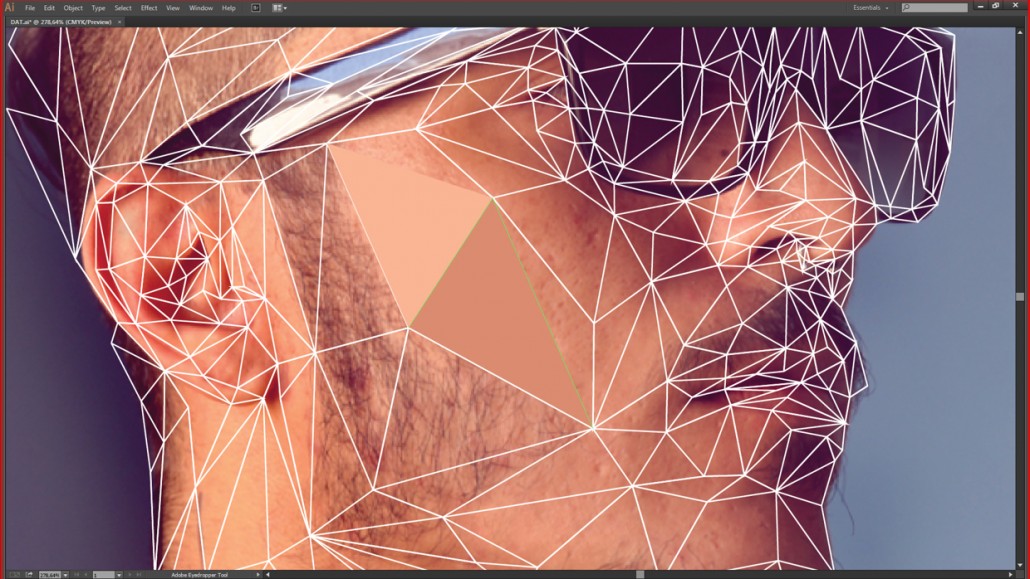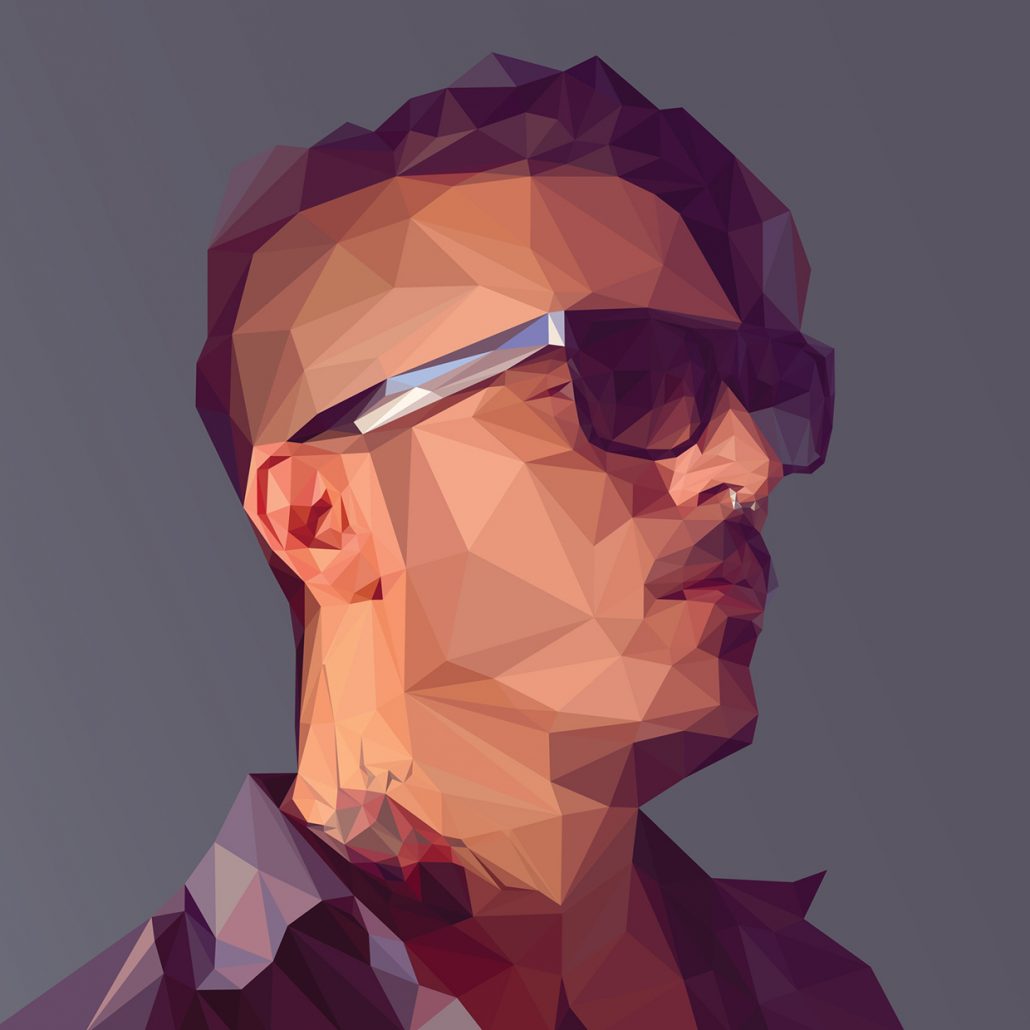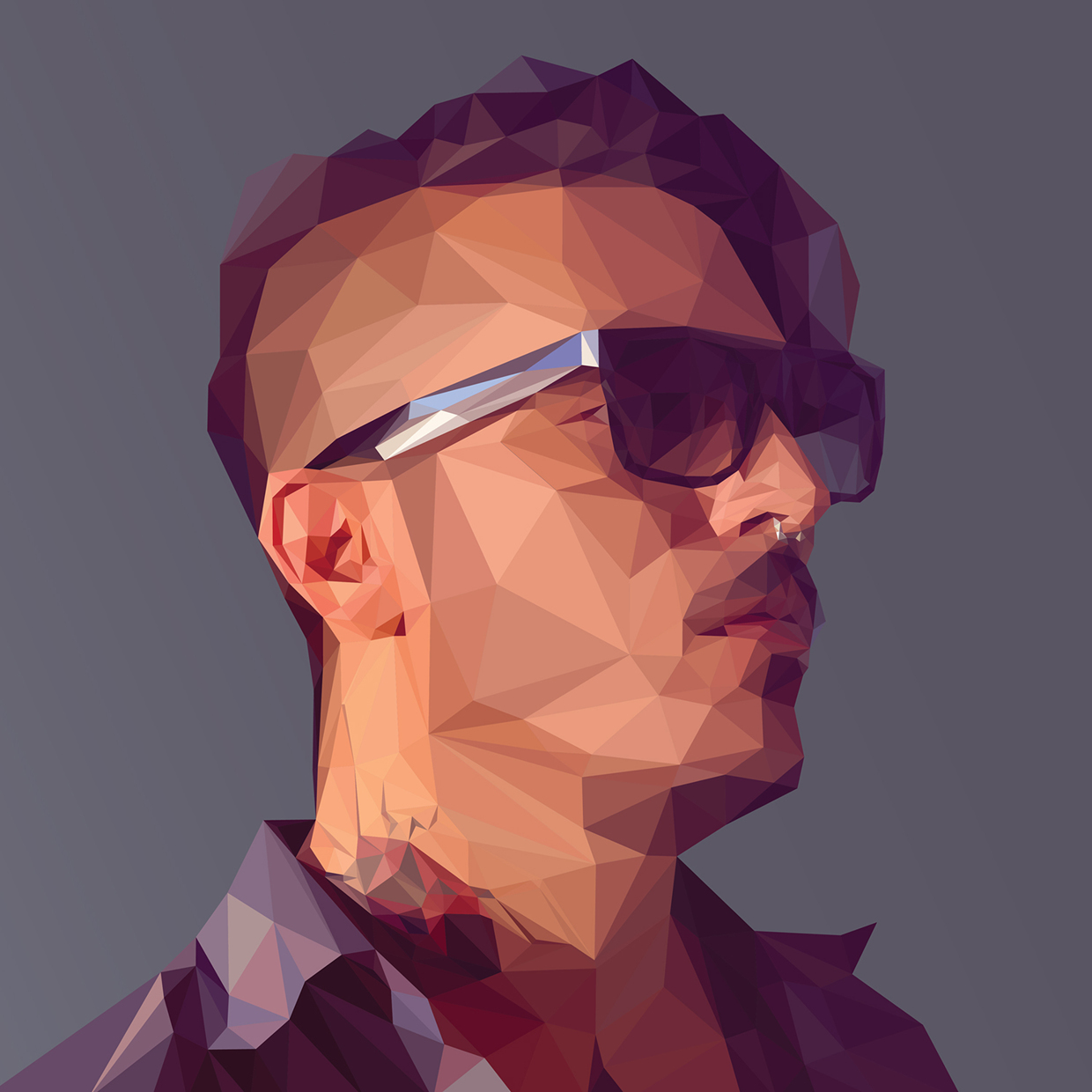 In this tutorial, it will demonstrate you how to create a realistic 3D snooker ball. It is not difficult to make. Hope you will find it interesting. To create a 3D design, the shadow and reflection are always the most important elements to think of. Once you get familiar, your design will become awesome.
My final result for the 3D snooker balls will be as this: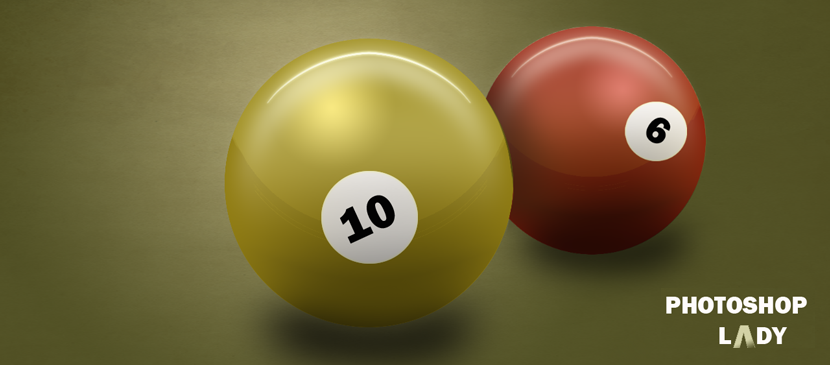 1. The first thing to do is the background. Choose the combination colour brown & yellow – #bdc68d .

2. Combine it with my chosen texture and set the opacity = 50% as below. (You can download the texture from http://www.flickr.com/photos/bittbox/2118265369/sizes/l/ 3. After complete the background, we can actually create the snooker ball. And I have chosen the ball in brown colour – #b79e3a. Using Elliptical Marquee Tool to make a simple circle, then fill the colour by gradient tool >radial gradient as below.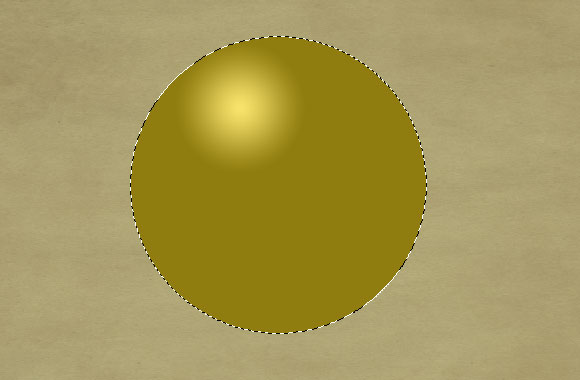 4. The brown circle is created, we can move on the next step, making some shadow for the ball. Go to Select > Modify > Contract by 20 Pixel.
5. After the contraction, create a new layer. Then using the gradient tool to fill in the black colour and adjust the gradient editor setting as below: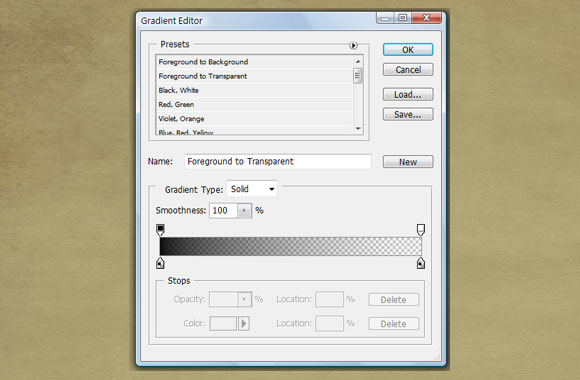 6. Using the blur tool > Gaussan Blur to the previous painted (black) colour. Set your Blur Radius = 5 pixel.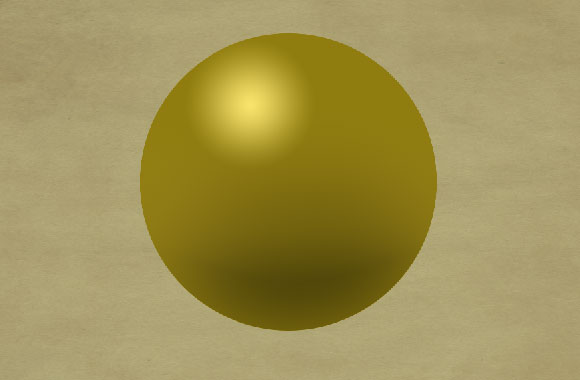 7. You should achieve the ball similar as below. Then let's go to make the reflection effect for the ball.
8. Move the elliptical circle into the upper part. And then fill the colour in gradient > radial gradient and set the colour as below.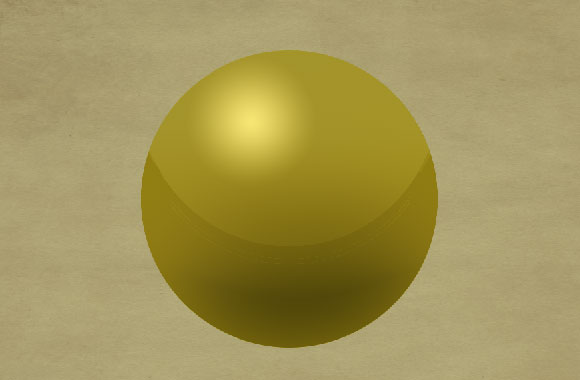 9. Press ctrl, then move the pointer to the ball's layer thumbnail. Then elliptical circle will move back to the ball. Then press ctrl + Shift + I to select the rest bit of the circle. And you can delete the colour out of the circle. You should achieve the ball as following.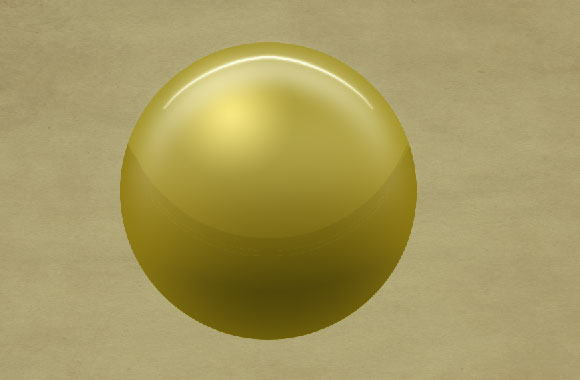 10. Using the above-mentioned skill, make the elliptical circle and apply the contraction to the circle set the radius as 6 pixel. Fill the circle in white colour and set Opacity into 80%. Then repeat the same step to make one more circle with 8 pixel. Then delete the colour inside the small circle. Use the eraser to make the upper bit reflection, it should be like the curve at final
Here you have to try the adjustment of Opacity & blur until the result reaches your satisfaction because the strength of reflection really rely on these adjustments. Here you go, it is my result.
11. For the shadow at the bottom, you just need to simply create an ellipse circle by elliptical circle tool, fill it in black by "paint bucket tool". Apply the blur > Gaussian Blur into 6 – 8 pixel.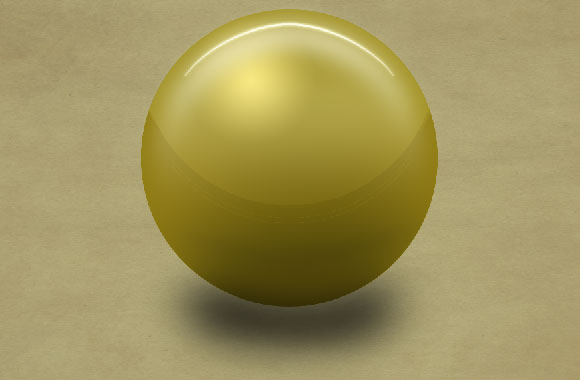 12. The last step is to simply add a white circle in the centre and add the number.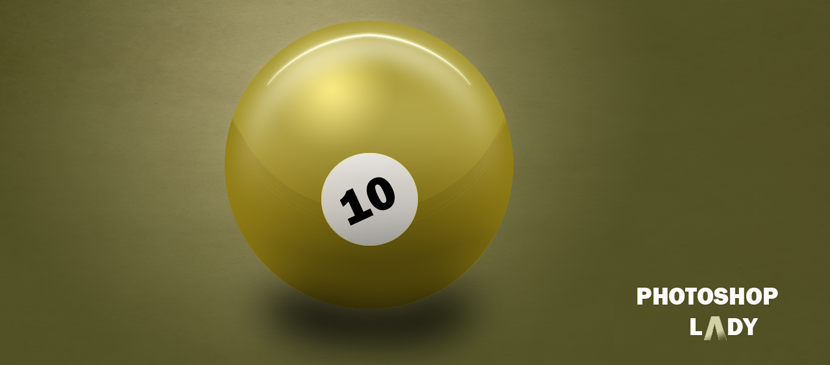 13. Duplicate the layers, to create one more ball in red, and you should be able to achieve the scene as below.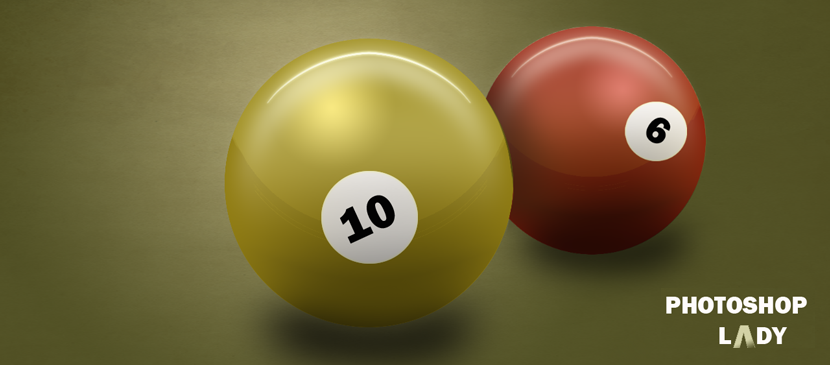 Hope you can enjoy and this tutorial can give you an idea to develop your personal 3D object.
Thank you very much!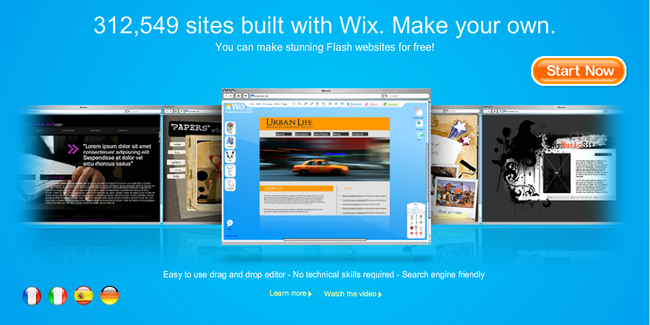 Introduction
Let's participate to "Wix" get the new generation online technology. With "Wix", you can create your flash website in few minutes.
Who is Wix & What Wix does?
Wix is a power media that provides simple powerful online function to make flash websites, MySpace layouts and variety of online services. Wix has been building up over 300 thousands sites to suit for different kinds of designers or web lovers.
Why choose Wix?
Wix has strong foundation that is able to provide various online services in a professional way. No need to consuming your time to look for different services from different company. You can achieve your quality service in a single point. Especially, you can make your own site by easy drag and drop with its editor. No technical skill is required.
Resources
In addition, you are able to find the comprehensive tips and tutorials in Wix as well as have strong supports from its professional team.
Worldwide Community
Wix has built up a strong worldwide community. In this, you can keep abreast with the latest information about internet. With simply sign up, you can get involved into and enjoy the real experiences sharing.
Webydo offers a code-free, fully integrated website design solution for professional web designers. However, what does it take for a designer to start creating sites for their clients? First, after a year, Webydo has become known and widely praised by the creative professional community for their intuitive design studio, feature rich options and ability to continuously develop and add new features for their designers. The best part about all of this is that there is absolutely no code involved.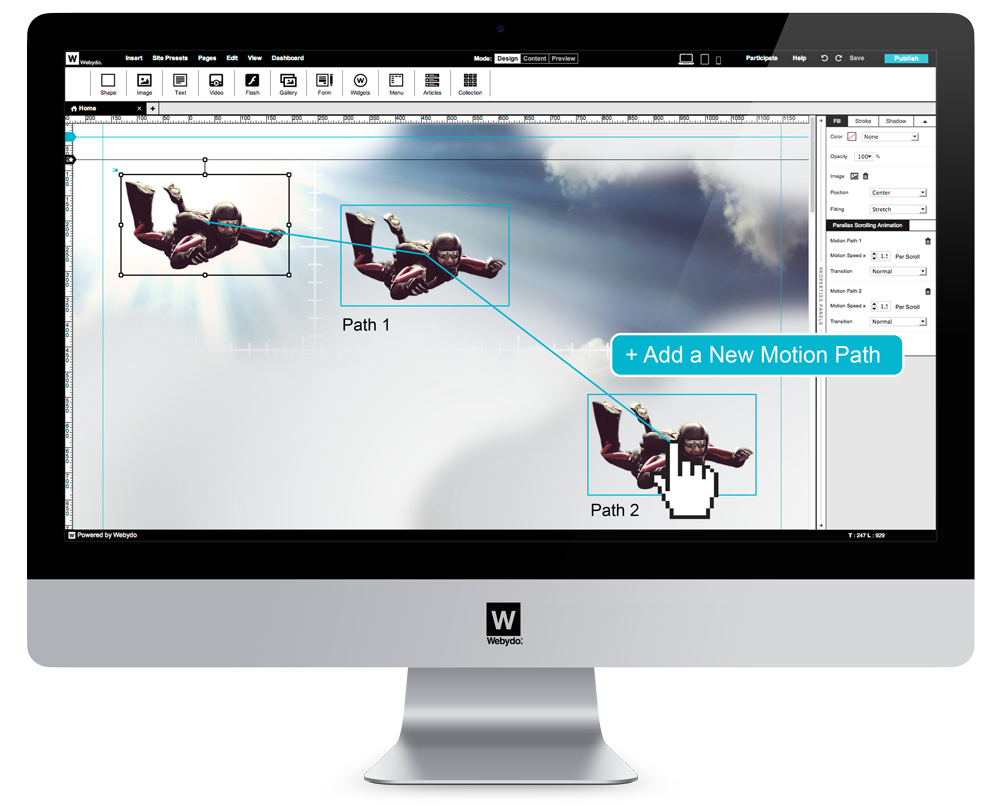 Innovation is piped in through the air vents at Webydo because what the designers are able to accomplish in a year has taken other similar platforms twice the amount of time. The latest and most exciting feature update is Webydo's code-free, Parallax Scrolling Animator. Presently only offered in closed-beta, Webydo is granting access to the first 3,000 designers who sign up. Keep in mind that this is a hot feature and picking up a lot of attention and invites are running out quick, so grab yours before this unique opportunity closes.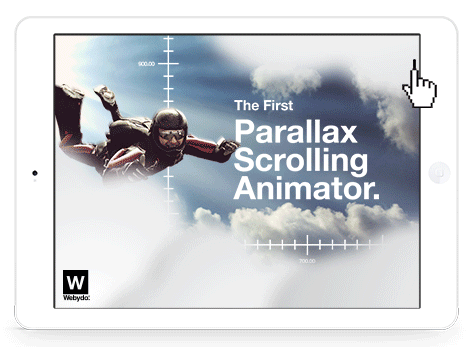 Webydo's mission is to put designers in the driver's seat of every project or task. Good news for designers is that by adding the ability to create a Parallax Scrolling website with their pixel-perfect animator, they can work independently to create and manage websites for their clients that will meet today's hottest web design trends. We have seen some big names recently switch over to parallax scrolling such as Puma and Sony. In addition, designers can work on a site to site basis or upgrade their work load by signing up for the team or agency packages. This allows designers to have more control over their client's websites and growing their design agency.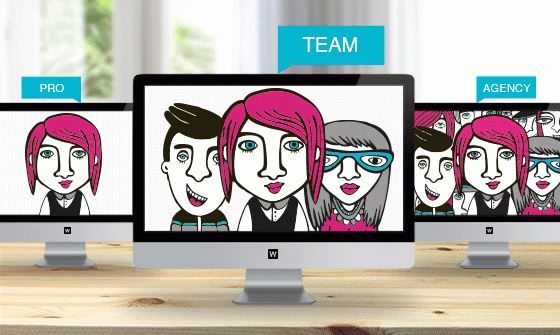 You can place Webydo in the center of your business so that you have the option to do more in less time. It's not going to be the run of the mill website creator. Getting starting is more intuitive for the experienced designer thanks to the familiar layout that is akin to that of Photoshop or InDesign. Shortening the learning curve and getting designers creating sites either right from a blank canvas or to take inspiration from one of the readymade designs or layout options.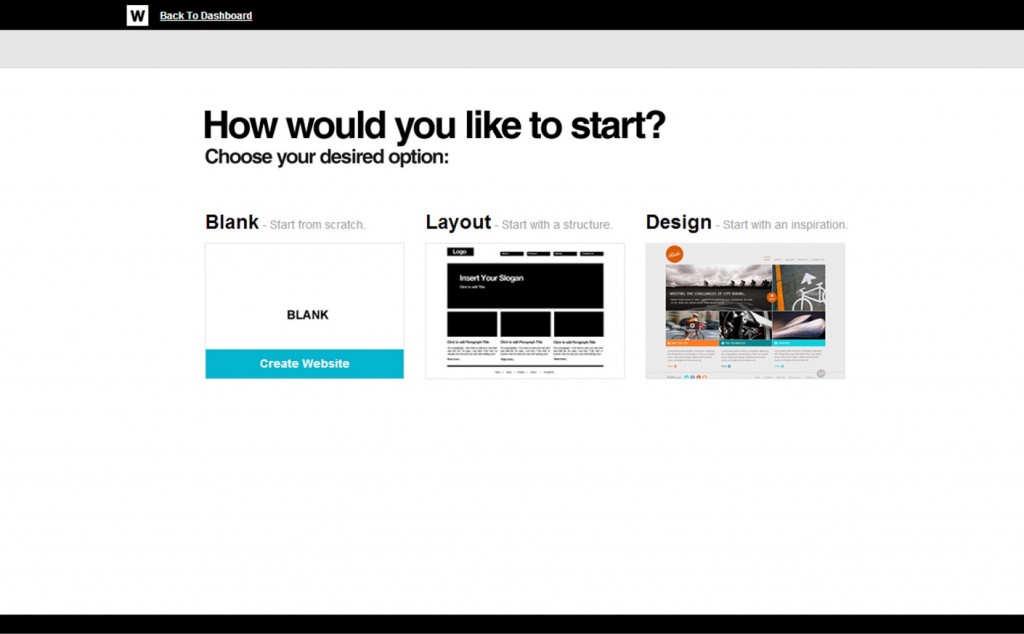 There are some incredible features within this B2B cloud-based design suit. You will be able to create a great looking website from start to finish without using code. You can also bill your clients within the dashboard. When your clients enter the CMS aspect to make any changes to content, they see your logo thanks to the white labeling option, allowing you to not only brand the dashboard but also help clients to see exactly where they are.
The community is really what makes Webydo so unique. The "Participate" page is where designers can propose features and let the community vote. Within a few weeks, the Parallax Scrolling Animator will also be live, which is one of the hottest trends hitting web design right now. In case you're not sure of what this is, it allows depth, movement, and animation to be added when a user scrolls down the length of a web page. Providing an almost 3D affect, that started picking up popularity in video games and then taking off in 2013 by the web design community.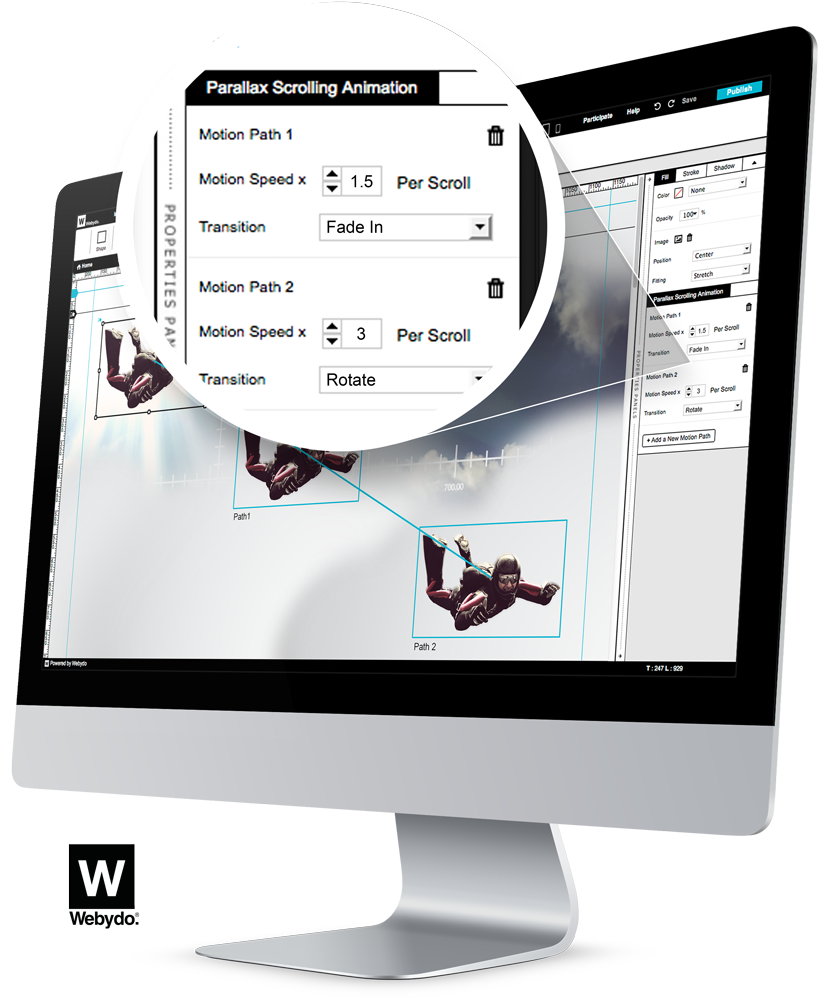 Webydo's closed-beta invites are again available for the first 8,000 designers who sign up and they will have the opportunity to be some of the first to experience the freedom of Parallax Scrolling Animation with Webydo.
This article is presented by Webydo's professional community of designers.
In 1987, Thomas Knoll, a PhD student at the University of Michigan began writing a program on his Macintosh Plus to display grayscale images on a monochrome display. This program, called Display, caught the attention of his brother John Knoll, an Industrial Light & Magic employee, who recommended Thomas turn it into a fully-fledged image editing program. Thomas took a six month break from his studies in 1988 to collaborate with his brother on the program, which had been renamed ImagePro. Later that year, Thomas renamed his program Photoshop.
During this time, John traveled to Silicon Valley and gave a demonstration of the program to engineers at Apple and Russell Brown, art director at Adobe. Both showings were successful, and Adobe decided to purchase the license to distribute in September 1988. While John worked on plug-ins in California, Thomas remained in Ann Arbor writing program code. Photoshop 1.0 was released in 1990 for Macintosh exclusively.
That's the early history of Photoshop. Here we have created The Evolution of Photoshop Infographic, in order to show you the entire history of Photoshop up until now.

About the Author
Dona Collins is an infographic artist, blogger and financial writer at CreditLoan.com. When she is free you can find her on twitter and other times you can find her writing articles for creditloan blog.
Photoshop Lady aims to collect the best and free photoshop tutorials around the internet. All of the high quality photoshop tutorials are categorized into 3D Effect, Abstract Effect, Drawing Effect, Photo Effect, Text Effect, Texture & Patterns and User Interface Design.
You can see the rating and number of views for each Photoshop tutorials.You can add your favorite photoshop tutorials simply by clicking "Add to Favorite", so that you can revisit them at any time. You can also drag your favorite photoshop tutorials into the bin if you do not need them anymore.
Photoshop Lady is updated daily. Please make sure you have subscribe to our RSS Feed as well, so that you can receive new high quality photoshop tutorials everyday. We are very welcome you to submit your own photoshop tutorials to us as well. There will be more features coming soon. Please stay tuned.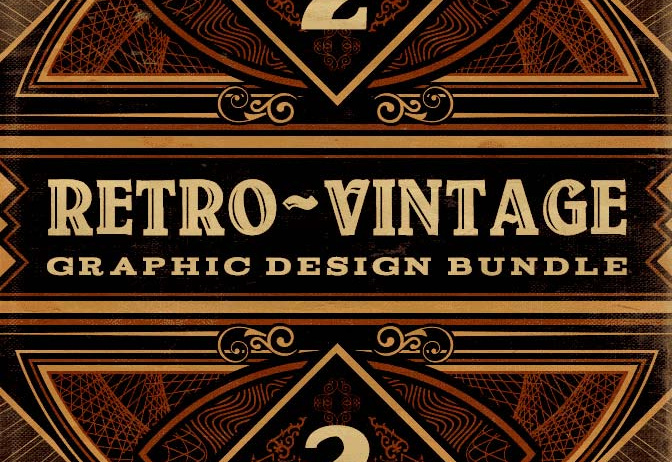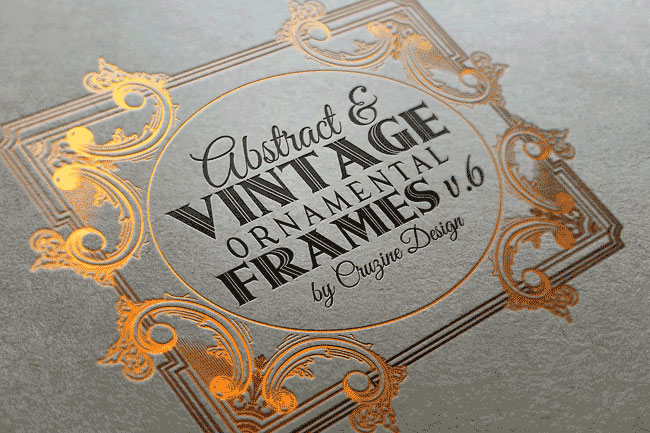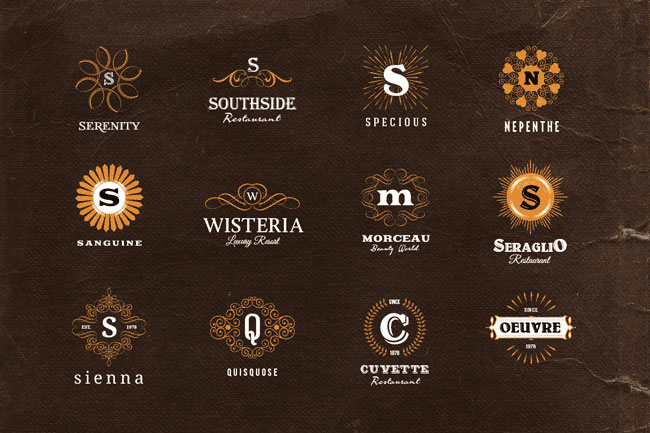 Retro will always be in. And with this amazing Mighty Deal, you'll have the ultimate retro and vintage collection! Full of more than 500+ Retro/Vintage Design Elements from Cruzine Design, you'll find yourself suddenly embracing ornamental headers, frames, and both complex and simple logos, signs and badges. Then there's the textures, wreath and sunburst shapes, and Photoshop patterns and styles.
These vector files are completely customizable and scalable. Files include Adobe Photoshop and Adobe Illustrator (.AI and .EPS) formats. Normally this massive collection of retro and vintage design elements would cost you $180, but for a limited time you can get the entire collection for only $27! That's a whopping 85% off the regular price!
Sometimes, you may find it difficult to look for some of the highest quality photoshop tutorials using search engines. As most of time, almost all tutorials would label themselves to be good, high quality or even the best photoshop tutorial you can find. When searching through all these tutorials, your time is wasted.
In order to save your time, Photoshop Lady has been spending almost a whole year to search for the best photoshop tutorials for you. Eventually, we come up with The 100 Most Popular Photoshop Tutorials of 2009. These are selected from our published tutorials, with over 1 million votes and views from our Photoshop users and readers. Enjoy.