Your Favourite Photoshop Tutorials in One Place
Wordpress 3.3 New Features + 5 Fresh and Premium Themes
Having developed from a blogging tool into a publishing platform, Wordpress continues improving its features based on the most usable aspects of modern life and needs. Wordpress 3.3 offers you new possibilities that will be adapted to the latest tendencies ( such as responsive layout, children theme, media uploader and many others) and will make your work more interesting and productive.
Sometimes, you may find it difficult to look for some of the highest quality photoshop tutorials using search engines.  In order to save your time, Photoshop Lady come up with 30 Best Photoshop Abstract Effect Tutorials of All Time.
White and black has the biggest visual contrast, this can easily be associated to other opposite concepts such as day and night or good and evil. White often represents purity or innocence in Western Civilization, particularly as white clothing or objects are easy to stain.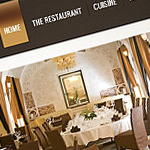 We are happy to announce 3 winners of 3D Spiral Flash Gallery Giveaway. They are nitefox, Sifor, and Nokadota. You will receive an email from Flashloaded soon for the free license of The 3D Spiral. We will organize another giveaway very soon. So, please feel free to join our forums and discuss anything about Photoshop together.
My friend has just launched a new site called Cutest Paw, which gives you the cutest animal pictures around the world. Put down your work, sit back and relax. Let's take a look at those cute animals, I am sure they can put a big smile on your face. Help my friend and spread this cute website to the world!
Magento has become the fastest growing eCommerce engine in the world, and it's focused on becoming the largest open source software company as well. Magento Community edition is available under the open source OSL 3.0 license which means it's free to use.
Mother's Day is intended to be a day to celebrate motherhood. Many churches and families in the United States recognize the second Sunday in May to honor mothers. Traditionally, greeting cards are the most common attribute of the holiday.
Every designer needs a source of inspiration. But where can you get it from? I think that looking at works of other artists is the best practice. Hope that this showcase will help you with creating superb designs and next time your own design will be in such showcase.
Summer is the time of holidays and vacations! This selection features everything pertaining to the topic of travelling. You can find some incredible illustrations and useful templates here. Photoshop lovers will also be glad to see some brushes and icons.