Your Favourite Photoshop Tutorials in One Place
Top 10 Icon Design Tutorials in Photoshop
Icon design can be very simple and nice. To design your own icon, you have to refer more samples to inspire yourself a good idea. We have been searching the most beautiful icons around the internet. Now, top 10 design tutorials have been selected for your information.
The New iPad (iPad 3) has been released. Many of you may want to learn how to design this gorgeous Apple product as well as developing other iPad related graphics based on the PSD file. In this tutorial, it will show you how to design the New iPad (iPad 3) in Adobe Photoshop and the PSD source file is freely available for download.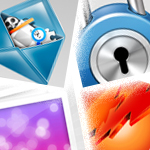 We are happy to announce 3 winners of 3D Spiral Flash Gallery Giveaway. They are nitefox, Sifor, and Nokadota. You will receive an email from Flashloaded soon for the free license of The 3D Spiral. We will organize another giveaway very soon. So, please feel free to join our forums and discuss anything about Photoshop together.
Font is a substantial element to your overall design in your web or theme. However, it may take a while to look for a nice one to suit for your theme or design background. Therefore, to save your time, we have selected 25 outstanding natural themed fonts for your information.
Facebook has become a notable part of our social life. The community's population amounts to over 600M profiles. Facebook has become extremely popular among businesses and brands providing a marketplace for their products and services and one of the most important means of promotion. Custom fan pages let the project stand out from the crowd.
The weather is cloudy and cold…freezing air is everywhere. But you know that spring is close. You can find it in sweet hearts, in little angels and in your beloved. Because love is a spring. Hope this round-up of St. Valentine's wallpapers, templates and tutorials will brighten up your holiday!
There are many icons on the internet. However, you may find very difficult to look for a high quality one. Sometimes, to enable your design to have better expression, speech icons are very useful. This nice set of speech icons is deisgned by Vecteezy. It contains numbers of speech icons which can allow you to apply to different scenarios. More importantly, it is completely free for your use. You can download the icons enhance your web presence today. The iconset is in psd, ai and eps for your ease of use.
File Type Icons is a set of 62 different file extension icons in AI, ICO and PNG format. They are designed in long shadow flat design style, which looks very neat and modern. You can easily change the colors as well. File Type Icons is free for download.
Most of the people would like to change the mobile wallpapers often such that they look cool. But finding a good wallpaper to display on the screen of your mobile is a task in itself. It's even harder to find a wallpaper resolution matches with your screen resolution.