Your Favourite Photoshop Tutorials in One Place
Steps for Making a Nice Human Eye
There are no standard way for drawing eyes. Different designers can have different ways to work on their design. Here will show you some steps for drawing an eye. You will see how to paint the eye layer by layer.
Painting for an art is usually complicate to most of you. Therefore, it is good to refer more tutorial and sample so as to learn different tactics and techniques from different designers which can help to get used to the painting works.
Making a nice painting art always requires good painting techniques. This technique can also be applied to other photo edition. As you can create whatever you want based on your painting objects.
Working a human portrait is uneasy. You have to be familiar with drawing hair, eyes, nose and month etc. to for a human portrait. Each part of these requires special tactics to do, here will show you how to work on the lip.
There are various painting skills, but lots of them are so complicate and not easy to follow. Different drawings are required different kinds of painting skills. Here is a good one for your reference.
Different designers would have their unique painting skills such as size of brushes, colors, styles. You can carry out the painting in a different way for the same sketch. Therefore, it is good to refer more artwork products to see how they start and process for the whole drawing.
This tutorial is going to show you to paint a beautiful lady portrait. There are some painting techniques will be shared in this. You will see how a draft portrait to be painted step by step. This style painting is different from normal one you see and is applicable for portrait or any other artwork.
It is about how to paint a cartoon lady portrait this tutorial. You will see how this artwork to be made step by step. The artwork is created layer by layer. You may be able to use similar method to paint your artwork.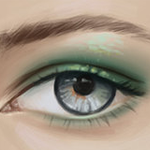 Design a suitable background is the most important element to present your main object. For a natural background, clouds is always used. Here are few different amazing style of clouds design tutorials which should be able to help your design.