Your Favourite Photoshop Tutorials in One Place
Spring Showcase For Your Inspiration
Spring is coming soon… The time of love, flowers, birds is almost here. And we must be ready for it. Are you ready to meet the time of life begining? No? Hope this round-up of spring themed tutorials, illustrations, icons and templates will help you with it.
French graphic designer Sébastien DEL GROSSO shows the process of how to place sketches of his photos on his photos with Photoshop. Sébastien DEL GROSSO uses photos taken with natural light, referring to drawings whose pencil strokes are fast and nervous to give the impression of a construction.
This is time for facebook fans! Facebook templates are your perfect visual tool. In this collection you will find facebook templates, facebook illustrations and facebook icons.
Having developed from a blogging tool into a publishing platform, Wordpress continues improving its features based on the most usable aspects of modern life and needs. Wordpress 3.3 offers you new possibilities that will be adapted to the latest tendencies ( such as responsive layout, children theme, media uploader and many others) and will make your work more interesting and productive.
In this post, you can find some tutorials on how to create a simple Photoshop action or how to work with actions.
Mother's Day is intended to be a day to celebrate motherhood. Many churches and families in the United States recognize the second Sunday in May to honor mothers. Traditionally, greeting cards are the most common attribute of the holiday.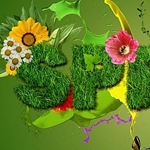 We are happy to announce 3 winners of 3D Spiral Flash Gallery Giveaway. They are nitefox, Sifor, and Nokadota. You will receive an email from Flashloaded soon for the free license of The 3D Spiral. We will organize another giveaway very soon. So, please feel free to join our forums and discuss anything about Photoshop together.
Everybody knows the artistic filters in our favorite image editing program, but sometimes the results can appear somewhat artificial. Let me introduce you an alternative tool: PostworkShop that comes in handy when we need an artistic effect for a photo, a 3D render or a vector illustration. These are over 350+ artistic styles you can choose from.
Every designer needs a source of inspiration. But where can you get it from? I think that looking at works of other artists is the best practice. Hope that this showcase will help you with creating superb designs and next time your own design will be in such showcase.