Your Favourite Photoshop Tutorials in One Place
Simple Workthrough for Making a Wolf
Learning to draw animal's fur is always useful to your artworks. This tutorial will introduce you to paint a wolf for your information. Then you will have an idea for how an animal to be created.
Drawing a lady portrait, you need to sketch it out referring to a real image. Then you set up some brushes to paint different part of your portrait. A cute portrait art is as same as a normal one using same painting skills.
Human portrait is very time consuming. This tutorial will simply work through to focus on the eyes. You will see step by step from drafting to painting for a human eye.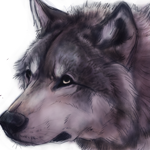 Design a suitable background is the most important element to present your main object. For a natural background, clouds is always used. Here are few different amazing style of clouds design tutorials which should be able to help your design.
This is the work through to paint a forest. You will see how this artwork to be made step by step. The artwork is created layer by layer. You may be able to use similar method to paint your artwork.
Some of you may keen on playing skateboard. Here will show you how to use color-mixed wordings to overlay on your skateboard. It will be fantastic even you put your name on your skateboard using this design.
In this tutorial, you will learn how to make a realistic eye for your cartoon character. The tutorial will also explain and describe the idea of creating the eyes and how to match the colors for different parts of the eye. Of course, you can choose the favorite color for the eye.
Retro style creation is getting more and more popular. Since this is widely applied on web backgrounds or posters. In order to achieve better quality of design, this tutorial has been using two different software. The pattern / shape have been initiated by Illustrator then finalized it by Photoshop.
You may find it easy to create moon, cloud, but it is difficult to create the sun plus the smoke surrounding by. Here will show you a simple way to create such.