Your Favourite Photoshop Tutorials in One Place
Round-up of Cool Vector Portrets and Beauty Templates
Today I want to share with you amazing collection of Vector Portrets. Vector artwork has always intrigued me. They are stunning, almost real and inspiring.
Digital photography works L'Enfant Extérieur (The Outer Child) was projected by French retoucher Cristian Girotto and Quentin Curtat.
Drupal is a most technical CMS. The advantages of Drupal are powerful, +7,000 modules, developers den and best performance. Drupal Themes from Template Monster are the themes that can be installed on the CMS platform to customize the design of your website.
The following websites are mostly E-commerce sources of coffee providers, retailers and coffee-shops. Pay your attention to the incredible trendy layouts, color palette and stunning typography.
Summer is the time of holidays and vacations! This selection features everything pertaining to the topic of travelling. You can find some incredible illustrations and useful templates here. Photoshop lovers will also be glad to see some brushes and icons.
The 3D Spiral is a Flash gallery component that displays images on an interactive 3D rotating spiral using the Papervision3D engine. Flashloaded offers Photoshop Lady 3 free licenses to our readers.  To participate, you can simply make a post on our Photoshop Forums. Act quickly and don't miss this chance to win the new generation flash gallery component.
Today, UltraShock have just released an Ultra Bundle, suitable for designers. This all new time-limited bundle contains vector icons, background images, audio, design elements and a lot of other goodies. The total combined value of all included items is worth well over $1300 and you'll get them for only $49!
UPrinting is a leading socially responsible online printing company. Since 2000, the company has been established as a major player in the industry. UPrinting serves thousands of on-demand printing using high-quality press printing and a robust yet simple and easy-to-use online ordering system. They deliver high-end printing services and reliable color printing.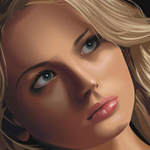 We are happy to announce 3 winners of 3D Spiral Flash Gallery Giveaway. They are nitefox, Sifor, and Nokadota. You will receive an email from Flashloaded soon for the free license of The 3D Spiral. We will organize another giveaway very soon. So, please feel free to join our forums and discuss anything about Photoshop together.