Your Favourite Photoshop Tutorials in One Place
Painting a Beautiful Model Portrait
Painting a beautiful model portrait is a complicate process. It can take you few days to carry out. It will be really helpful, if you use some techniques to work on and use the Photoshop brushes. Here will guide you to paint the portrait nicely.
In this tutorial, it is going to show you how to get that smooth shiny Anime look. We will learn how to work with this character using simple techniques. It will be easy to replace colors for a specific part of the character without redrawing all the tones and highlights again!
This tutorial will show you how to create glossy fabric texture and apply snake pattern and decorative elements to it. This effect may be used to create elegant card design for your business.
This tutorial will show you the steps of making a nice cartoon character drawing in one layer method. You can create your own cartoon artwork based on this skill. It will demonstrate you how to use brushes to carry out the painting works.
If you want to hide something in your picture, it is always good to put a mask in the front. In this tutorial, it will teach you to design a mask for a face. Then, you can use similar idea to add something nice on your image or faces.
It is time consuming and not easy to draw a natural scene by traditional painting method. However, you can do that much nicer and quicker by Photoshop. As long as you keep practising, you will find lots of Photoshop drawings to be done by similar skills or methods.
This tutorial shows you how to paint a portrait. There are no specific steps in this drawing procedure.There is a general order and certain tools but still everything depends on what effect to achieve in the artwork.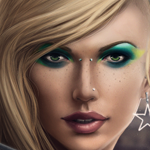 Design a suitable background is the most important element to present your main object. For a natural background, clouds is always used. Here are few different amazing style of clouds design tutorials which should be able to help your design.
To draw different part of human, different skills are required. It is noted that not many Photoshop tutorials cover how to draw a human hand. In this time, the tutorial will demonstrate a bit of tactics for painting the human hands. To suit for different nations, the skill to change the skin color are also covered.