Your Favourite Photoshop Tutorials in One Place
Paint an Awesome Cartoon Character in Photoshop
Even you have an excellent idea, you may not be able to draw or paint what you want. You also need to have good skills and techniques for using the painting tool. To achieve this, it is suggested that you need to have lots of practice to get familiar with the Photoshop tools. And, this tutorial will show you some skills to draw the cartoon character.
Many designers would use fruits as their drawing objects as a start of learning design and drawing. Here will show you to draw pieces of watermelon step by step. Then you will see how the light and shadow to be added.
To design a special character, the easiest way is to use other specials together to form a new character using photo manipulation. For example, you can extract animal's eyes or other plants to stick on your draft plus paintings to carry out your a special character creation.
Pepper is like other fruit tutorial. There are few elements are required to be particularly paid attention to such as reflection and shadow. Once, you get familiar with this drawing, then you can go to next level to try others. Here will show you the steps for drawing a nice pepper.
This tutorial is going to show you step by step for drawing the human portrait. There are some painting techniques will be shared in this. You will see how a draft portrait to be painted layer by layer.
Explosion is a common scene to be created. Most of you would use the actual explosion image rather than create one. However, it may not entirely fit for your use. With reference to this, you can make a powerful explosion scene to fit for your artwork easily.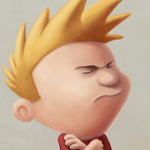 Design a suitable background is the most important element to present your main object. For a natural background, clouds is always used. Here are few different amazing style of clouds design tutorials which should be able to help your design.
To most of you, drawing a portrait is a difficult task. A major tool to carry out the works is Photoshop brushes. Different artist would have different method to carry out such task. You can have a look this tutorial for reference.
Fur is a very common object to most of you. To some of you, it is time consuming and tedious. To simplify your life, here will show you an easy and quick method to work on the fur.