Your Favourite Photoshop Tutorials in One Place
Making of a Wonderful Cartoon Scenery
If you were a cartoon lover, you would be interested in this tutorial. Drawing a cartoon picture is not easy. Generally, it commences from draft and then paint. However, different designers would have different tactics on painting.
This tutorial will show you a workthrough for creating a realistic eye. Most of eyes are based on the same drawing theory. You can straightly draw eyes for your image following this tutorial.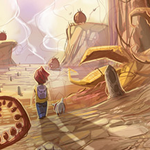 Design a suitable background is the most important element to present your main object. For a natural background, clouds is always used. Here are few different amazing style of clouds design tutorials which should be able to help your design.
this tutorial will show you how to create the Iron Man mask using Adobe Illustrator and Photoshop. It will simply go through details of this design so you could play and explore by yourself. In the end, that is the best way to learn.
Hair style is an important part to draw human portrait. To design refine hair, proper photoshop brushes techniques are required. Different designer would have different techniques to work on their drawings.
There are no standard way for drawing eyes. Different designers can have different ways to work on their design. Here will show you some steps for drawing a human eye. You will see how to paint the eye layer by layer.
This tutorial is going to show you how to do the digital painting in photoshop. Different skill could end up with different painting quality. This tutorial will include few examples in order to get you to familiarize with the painting techniques.
Painting a cute cartoon artwork like other general painting works that you need to sketch it out first. The most important element for painting is Photoshop brushes. Good designers always have their style and methods to carry out wise brushes settings and choose right brushes and color setting to implement.
Special artwork needs to have a special idea to initiate. This artwork is initiated with the text. How can you apply such text pattern throughout the whole art? you need to well plan it before get started.