Your Favourite Photoshop Tutorials in One Place
Making a Wonderful Starry Sky
This is to show you to manipulation a wonderful starry sky. Few simple photos can be used for creating a fantastic starry sky for your image using photo manipulation. You will learn how to make different scenes using the Photoshop skills.
Human portrait is never an easy task and is time consuming process. In this tutorial, it will show you some tactics for drawing a pretty woman portrait. It will go through the details for brushes setting and painting skills, so you can apply them for your own portrait.
Painting a cartoon character is a challenging task. It usually takes you very long time to process. This painting tutorial presents you the concept and steps for making an awesome fighter riding on a dragon.
Drawing a soldier is like drawing other characters which needs to be initiated from drafting. Once you finished your draft, you can start painting and start to set up your brushes. Different designers would have different skills you can refer.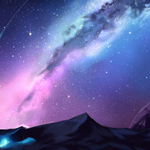 Design a suitable background is the most important element to present your main object. For a natural background, clouds is always used. Here are few different amazing style of clouds design tutorials which should be able to help your design.
Some objects are very common for paint. This tutorial will teach you skills to create a few objects including fire, splashing liquid and wounds Painting fire, slimes and wounds in one go using brush blending modes in Photoshop.
When you come up with drawing idea, you may sketch it down and start to do the painting after. The main advantages of using digital painting tools are that you can amend and go back to previous steps. Photoshop is one of the most popular tools nowadays. And this tutorial will show you some techniques to do the painting works.
Here is a walkthrough of how to paint the portrait of my cat. Finally, worked on the ears and the headpiece.
This tutorial will show you the steps of making a nice cartoon scene in an easy way. You can create your own cartoon artwork based on this skill which is about how to arrange the color layers for your artwork. It will demonstrate you how to use brushes to carry out the painting works.