Your Favourite Photoshop Tutorials in One Place
Making a Simple Art Portrait
In this tutorial, you will see how to create this cool, grainy work with this art portrait. It will show you to create some vector portraits, then get texturing in Photoshop with self-made brushes.
There are lots of painting tecniques and steps you may find on internet. Some of them may be very time consuming and difficult. But, this tutorial will show you a simple way to do a nice painting for your hand sketch drawing. Hope this can inspire you!
When you come up with design something as a gift, it is always good to add a ribbon with butterfly shape on it. This tutorial is a good example to demonstrate you how to wrap the rectangle into butterfly shape. You can also wrap a similar shape for your Christmas/new year e-card for your friend and family.
Lots of you may be a cartoon fans. You may also love to design your own cartoon scenery or character. The most difficult part for design a cartoon is the painting bit. As long as you can draft your character, you can use photoshop to do it.
It is difficult to present motion scenes in a picture because it is not like movie. Therefore, it needs to create some other lighting to be added behind the motion. This tutorial will present you to add some colors and lighting to form a running motion.
This tutorial uses some basic layering and masking techniques, coupled with some papercraft elements that we'll montage together to create an interesting textured collage with lots of depth.
This tutorial will teach you how to create an amazing rainbow in Photoshop tutorial. All you need is a copy of Photoshop and some time on your hands. In this particular example we're going to create this rainbow but the techniques explained can be used in combination with any shape and colour.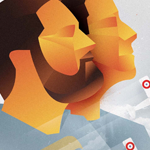 Design a suitable background is the most important element to present your main object. For a natural background, clouds is always used. Here are few different amazing style of clouds design tutorials which should be able to help your design.
This tutorial uses mostly digital work as examples, but the theory behind it should apply to all mediums. But of course it goes without saying that this is hardly the end-all-be-all of skin painting tutorials.