Your Favourite Photoshop Tutorials in One Place
Making a Family of Rats
In this tutorial, you will see how a picture is formed using 3D model. It has been used a family of rats as an example. You can use this skill to create any object you like.
A nice ice cube is not easy to create, due to its condition and surface are difficult to be copied. However, applying Photoshop setting can allow you to form the ice cube. Then, you can arrange your object to be inside the cube, such as animal or any fruits.
There would be a lot of funs if you could apply your design and creativity in a cartoon way. In this time, the designer has created a 3D cartoon scene in mixing a cup of water with the ocean living species in a glass.
In this step-by-step tutorial we will reinvent the tape … again! I will walk you through the process of creating a detailed audio cassette, from scratch, in Photoshop using shapes, layer styles and filters. Interested? Let's start!
It is not easy to draw a human image as it is time-consuming and require advance skills in order to make it realistically. Using Photoshop brushes, the story is much easier as you just need to paint it following your sketch and no need to have high level of skills.
Making a mechanical fan is like drawing other 3D objects. It can be based on some certain shapes such as circle. Once the shape of fan is formed, you can add on some shadows.
Human portrait is very time consuming. This tutorial will simply work through for a human eye. You will see step by step from drafting to painting for a human eye. You will see how a proper eye to be created.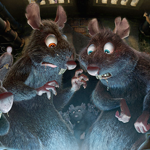 Design a suitable background is the most important element to present your main object. For a natural background, clouds is always used. Here are few different amazing style of clouds design tutorials which should be able to help your design.
Egg is always a good object to be created. To lots of you, egg's texture is difficult to be drawn. This tutorial will show you some tactics to make one.