Your Favourite Photoshop Tutorials in One Place
Ideas of Generating a Beautiful Cartoon Art
To start a cartoon art painting, you have to sketch a draft. Based on that, you can develop a more detail draft and start your painting. This tutorial will show you skills to add different layers and add details for the cartoon characters.
Hair style is an important part to draw human portrait. To design refine hair, proper photoshop brushes techniques are required. Different designer would have different techniques to work on their drawings.
It is about how to paint a cartoon lady portrait this tutorial. You will see how this artwork to be made step by step. The artwork is created layer by layer. You may be able to use similar method to paint your artwork.
Lots of cartoon artworks are very time consuming, especially for the high quality artworks, you can spend hours or even ages to process them. Therefore, learning different painting techniques and skills are very important to speed up your process.
If you are a fishing lover, you may imagine that you can fish something special. To create a funny scene, a special object to be fished out which can be a monster like this sample.
In order to draw a good caricature, it's necessary to develop your skills of observation. Learn to pick out and identify the major shapes of the face and make judgments of which features you plan to exaggerate and which to de-emphasize.
To some of you, you may find very difficult to work on hair when drawing human portrait or animals artworks. This tutorial will share some drawing techniques to draw the hairs so that you can do the same for your artwork.
A nice ice cube is not easy to create, due to its condition and surface are difficult to be copied. However, applying Photoshop setting can allow you to form the ice cube. Then, you can arrange your object to be inside the cube, such as animal or any fruits.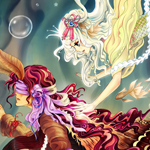 Design a suitable background is the most important element to present your main object. For a natural background, clouds is always used. Here are few different amazing style of clouds design tutorials which should be able to help your design.