Your Favourite Photoshop Tutorials in One Place
Idea of Painting a Beautiful Lady Portrait
Nice portrait painting requires lots of painting skills. Here will show you how to draft and paint cartoon portrait nicely. Here is not going to present you the details , but the idea to paint a portrait in a proper way.
Digital matte painting is one of the fastest growing and most difficult styles of digital art created today. Often used for cinematic and videogame scenes, these artworks are also capable of standing on their own as inspirational and breathtaking works of art.
It is always very difficult to create the human portrait by hand sketch. Even you are willing to spend ages, you may not able to create a proper portrait. However, this tutorial will lead you to do it in a special way in Photoshop. The idea is like a photo transformation. Based on this, you will be able to create a high level human portrait quickly.
In this tutorial, it will show you how to create a mother ship flying in the sky. Here will give you some concepts for drafting and painting a nice mother ship scenery.
If you intend to paint a human portrait, you need to work out how to paint realistic hair first. This tutorial will give you some tips on making realistic hair for a lady.
Painting a nice cartoon character is uneasy. Adding light, shadow and color are very time consuming. Here will work through with you on painting a nice cartoon fighter in a simple and detail way. You will also learn how to change the colors.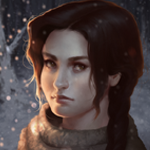 Design a suitable background is the most important element to present your main object. For a natural background, clouds is always used. Here are few different amazing style of clouds design tutorials which should be able to help your design.
Drawing whatever scene is started with drafting. Then you use different types of brushes to work on your painting works. Here will show you steps to paint the artwork including adding light, tuning colors etc.
You may wonder how to draw a proper portrait using computer software such as Photoshop. Even you are a good artist, without good Photoshop skills, you will find it very difficult to draw. Thus, you have to practise and get familiar with the Photoshop skills on drawing the portrait.