Your Favourite Photoshop Tutorials in One Place
How to Paint an Impressive Artwork Using Photoshop
When you come up with drawing idea, you may sketch it down and start to do the painting after. The main advantages of using digital painting tools are that you can amend and go back to previous steps. Photoshop is one of the most popular tools nowadays. And this tutorial will show you some techniques to do the painting works.
This tutorial covers a few simple steps in Adobe Photoshop to create a realistic looking torn paper effect taking you on your way. Merge your layers and add the new paper texture to your designs, notice the tiny fibrous edges and subtle texture up close which together give effect a realistic paper look.
A nice artwork is required to have good idea. This character is designed to rule the winter. In this tutorial, you will see how the designer share his tactics for creating an icy super hero. This will give you some hints to start up your own superhero creation.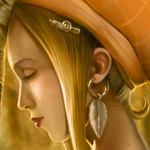 Design a suitable background is the most important element to present your main object. For a natural background, clouds is always used. Here are few different amazing style of clouds design tutorials which should be able to help your design.
I will teach you some nice techniques that could improve your experience and also help you make a great gift. In the end you can add some more clouds or change the background with a nice texture or other color.
You will see how a cartoon to be drawn layer by layer. Simple coloring for the image, and adding shadow and lighting effect will be shown. You will get the idea of the steps and you can use this concept for all the cartoon drawings.
This tutorial is part of a series called Isometric Pixel Art. We had a lesson called "create an isometric pixel art city hall in Adobe Photoshop". While in this tutorial the elements we'll cover would, in fact, be useful to accessorize other kinds of scenes, like gardens inside buildings, or terraces. Please review and enjoy.
When you would like to apply lighting effect to your image or artworks, you can have a go on this flashing and shining style lighting effect. It is simple, easy and nice.There are many of lighting effects. You may not be able to find a good one easily.
Drawing an animal is not a easy task. From drafting to painting, it needs a lot of imagination and try and error steps. Some kinds of techniques are always the drivers to increase your speed to accomplish this artwork and result to have higher quality of product.