Your Favourite Photoshop Tutorials in One Place
How to Make Nice Clothes in Photoshop
Drawing clothes are uneasy when you draw the clothes in particular parts such as folding parts. It is because it involves irregular shapes and shadows. You will see how to make it in this tutorial.
in this tutorial, it will show 4 ways to create swirls, and by mixing them you will learn some very powerful techniques that will allow you to easily make tons of different styles of swirls and crazy sperm vectors. The tutorial is all about combination.
This tutorial is about creating a Nike Logo. It looks very simple. But, it is nice. It is always good to apply a little change on the existing logo or design as I mentioned in our previous tutorials. And, the your adjustment can, sometimes, make the original design to be surprising.
Lots of animal have fur and it usually requires long time to draw. Here will present your some tips for applying your settings such as making your color layers, adding shading for your drawn animal. You can also apply the skills for drawing other objects.
Egg is always a good object to be created. To lots of you, egg's texture is difficult to be drawn. This tutorial will show you some tactics to make one.
Drawing a realistic portrait is very time consuming. Here will show you some techniques and ideas to work on the portrait for a lady. You will see how to use reference points to produce a nice sketch and work on painting afterwards. You can apply the same idea to work on different human portrait.
Some of you may keen on playing skateboard. Here will show you how to use color-mixed wordings to overlay on your skateboard. It will be fantastic even you put your name on your skateboard using this design.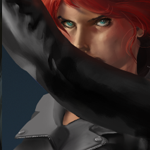 Design a suitable background is the most important element to present your main object. For a natural background, clouds is always used. Here are few different amazing style of clouds design tutorials which should be able to help your design.
Painting a beautiful model portrait is a complicate process. It can take you few days to carry out. It will be really helpful, if you use some techniques to work on and use the Photoshop brushes. Here will guide you to paint the portrait nicely.