Your Favourite Photoshop Tutorials in One Place
Drawing a Portrait for a Pretty Woman
Drawing a portrait definitely needs to set up appropriate Photoshop brushes. Here will show you to work on the portrait layer by layer until the whole portrait are done.
We're going to create a simple Valentine's Day e-card for your special someone. Believe it or not, we're done. And it was such as short tutorial. You can create the card for your another half!
This tutorial is going to present you how to draw a dark forest scene. It will go through with you the ideas and techniques for coloring, adjustment of brightness for a forest scene. It will be useful for you to work on other artworks.
Painting an animal is uneasy. In this tutorial, it will show you how to paint a realistic horse. You can refer this and practice to draw something differently based on the same skills.
This tutorial will show you the steps of making a nice cartoon character portrait in an easy way. You can create your own cartoon artwork based on this skill. It will demonstrate you how to use brushes to carry out the painting works.
If you are a big fan of cartoon, you may wonder how to create a nice piece of cartoon artwork. Here are a high quality example, which demonstrate you to use Photoshop brush to work out the painting of a nice cartoon artwork.
Here will show you the work through for different style of splashing effects. Based on this, you can develop more on your own style. It will give you some ideas on the direction of splashing and adding color and lighting for it.
This will show you the work through of painting a beautiful bird. You can look at the idea on painting and how the paint to be added into the draft layer by layer. The idea is applicable to the general painting works.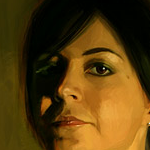 Design a suitable background is the most important element to present your main object. For a natural background, clouds is always used. Here are few different amazing style of clouds design tutorials which should be able to help your design.