Your Favourite Photoshop Tutorials in One Place
Drawing a Cute Cartoon Character
It is fun to work on cartoon painting. However, it is very time consuming. To increase the effectiveness, it is good to refer more tutorials to learn techniques.
Photoshop allows you to create any object, you can choose any object or commodities. This tutorial will show you to make some garlic on the chopping board. The idea is like other 3D objects, in which, you need to create shadow and reflection for the object.
Painting a cartoon zombie is similar to any other objects. This tutorial will show you how to paint the zombie cartoon character with reference to lots of different pictures. You may use the similar idea when you carry out your painting works.
This tutorial is going to show you to paint a beautiful lady portrait. There are some painting techniques will be shared in this. You will see how a draft portrait to be painted step by step. This style painting is different from normal one you see and is applicable for portrait or any other artwork.
In this tutorial, it covers the steps from a blank canvas to a completed painting. Here also lists some general techniques for painting human portraits. You may also apply these techniques to work on other artworks.
This tutorial is going to show you how to do the digital painting in photoshop. Different skill could end up with different painting quality. This tutorial will include few examples in order to get you to familiarize with the painting techniques.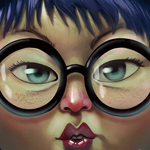 Design a suitable background is the most important element to present your main object. For a natural background, clouds is always used. Here are few different amazing style of clouds design tutorials which should be able to help your design.
This tutorial will show you the painting process to form this lady painting portrait. You can see how a face to be developed using grid reference and hair to be formed.
This tutorial will go through how you can create the Firefox logo in a scalable Photoshop format. This is very useful for you to make other logos.