Your Favourite Photoshop Tutorials in One Place
Develop a Smart Car in Photoshop
To design a smart car, you have to draft a layout first. To carry out painting works, you need to make the car shiny and glossy plus you can add a little object (e.g. gas tank and little lighting at the car's end) to stand out your car.
Egg is always a good object to be created. To lots of you, egg's texture is difficult to be drawn. This tutorial will show you some tactics to make one.
In this tutorial, you will see how to create this cool, grainy work with this art portrait. It will show you to create some vector portraits, then get texturing in Photoshop with self-made brushes.
Lots of animal have fur and it usually requires long time to draw. Here will present your some tips for applying your settings such as making your color layers, adding shading for your drawn animal. You can also apply the skills for drawing other objects.
Here will brief you how to form a good quality of hair simply. You will learn how to apply some effects such as adjusting brightness and adding multi-layers and shiny effect for your cartoon character's hair.
This tutorial was done for a piece Forest Dream. The painting steps are summarized in detail. You can follow the painting skills and apply to other artworks easily.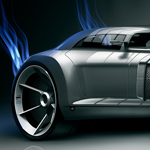 Design a suitable background is the most important element to present your main object. For a natural background, clouds is always used. Here are few different amazing style of clouds design tutorials which should be able to help your design.
To draw or create something realistically, it is really difficult to do. As one little element goes wrong, the whole object would look weird. It is suggested that you refer to more tutorials and practise more that can help to improve your skills.
Lots of you may be a cartoon fans. You may also love to design your own cartoon scenery or character. The most difficult part for design a cartoon is the painting bit. As long as you can draft your character, you can use photoshop to do it.