Your Favourite Photoshop Tutorials in One Place
Design a Style Lady Artwork
Making a nice style art can be difficult. To initiate, you have to prepare a draft and plan color to suit for. In this draft, the lady image is inclined plus adding simple stars as background to stand out the object.
In this tutorial, it explains how this cartoon artwork to be produced using a blend of traditional brushwork, and digital techniques with a tablet, stylus and Photoshop.
Drawing a soldier is like drawing other characters which needs to be initiated from drafting. Once you finished your draft, you can start painting and start to set up your brushes. Different designers would have different skills you can refer.
You may find it easy to create moon, cloud, but it is difficult to create the sun plus the smoke surrounding by. Here will show you a simple way to create such.
If you would like to design a great and special gift for Christmas, you can have a try on this distorted portrait. Here will present you some ideas and forming the drafting works. You can see the different stages for the art processing works.
Painting a dinosaur scene is similar to paint other objects. It is also initiated from sketch. This tutorial will show you to set up the Photoshop brushes and brief you the painting process.
This tutorial is to help define the character you are creating is. This is a good start for designing, or a method to help you get ideas when you are stuck. You can always fall back on this when you are looking for new ideas or ways to unify existing ideas
Drawing a nice portrait is difficult and time-consuming. Therefore, good drawing skills can speed up your drawing time and improve your drawing. Here will give you some tactics to work out nice hair and face for a lady.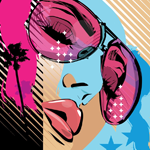 Design a suitable background is the most important element to present your main object. For a natural background, clouds is always used. Here are few different amazing style of clouds design tutorials which should be able to help your design.