Your Favourite Photoshop Tutorials in One Place
Design a Simple Graphic for a Cartoon Character
To learn how to paint, it is always good to start your practising using cartoon character. Simple character is not even an easy task. As techniques for drawing the shadow and adjustment of the lighting and coloring for the character are required.
Drawing a nice portrait is difficult and time-consuming. Therefore, good drawing skills can speed up your drawing time and improve your drawing. Here will give you some tactics to work out nice hair and face for a lady.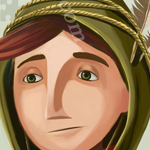 Design a suitable background is the most important element to present your main object. For a natural background, clouds is always used. Here are few different amazing style of clouds design tutorials which should be able to help your design.
Modelling a robot is complicate, it requires you to use several software in order to make a proper one. To start, it is important to define this general view of the model before starting to make any detail. Apart from Photoshop, 3ds Max and V-Ray are included. You will see how to use these software to make a great robot art.
To create a nice scene, it is not necessary to have advance photoshop skills or extremely talent. This autumn scene looks very fantastic, but it is mainly created by brushes and simple skills.
You may want to learn cartoon drawing. In this tutorial, it will go through with you for some Photoshop skills which can be applied for your digital painting works. This cartoon art will be taken as a nice example.
Digital painting is an incredible way of creating awesome arts. In this tutorial you will learn how to create a hulk digital painting by following these simple steps.
Painting a cartoon zombie is similar to any other objects. This tutorial will show you how to paint the zombie cartoon character with reference to lots of different pictures. You may use the similar idea when you carry out your painting works.
In this tutorial, new WeGraphics contributor, Jonathan Wong walks you through how to create a Spectrum Poster design using Adobe Photoshop. So pull up a chair and join in as Jonathan takes us on a trip through his creative process.