Your Favourite Photoshop Tutorials in One Place
Design a Dramatic Ancient Fighter in Photoshop
To design a nice scene or a character, it depends how many elements you use for your designs. You can use some pictures as start, and carry out your painting for form this nice artwork.
In this tutorial, I will show you how to create a detailed vintage TV from scratch using Photoshop's vector editing capabilities. The detailed step by step guide will help you to understand the process of its creation.
This tutorial will show you how to start from drafting and end with painting.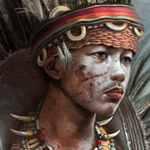 Design a suitable background is the most important element to present your main object. For a natural background, clouds is always used. Here are few different amazing style of clouds design tutorials which should be able to help your design.
Sometimes, you may be inspired a good idea from traditional stuff. Turn something to be transparent can make things to be fantastic. This tutorial will show you how to apply the techniques to design a transparent phone using Photoshop.
Lots of you may be a cartoon fans. You may also love to design your own cartoon scenery or character. The most difficult part for design a cartoon is the painting bit. As long as you can draft your character, you can use photoshop to do it.
Some of you may keen on playing skateboard. Here will show you how to use color-mixed wordings to overlay on your skateboard. It will be fantastic even you put your name on your skateboard using this design.
Learn how to create a dark mysterious hideout in a rocky mountainous place in Photoshop. This will brief you how simple and essential techniques like blending, masking, color adjustments, basic painting and some others can be easily applied to make this beautiful castle.
Many natural effects can be created by Photoshop. You can create whatever scenery as your object background. Lightning effect is a popular scenery as a adversely inclement weather condition.