Your Favourite Photoshop Tutorials in One Place
Create an Imaginative Fishing Monster Scenery
If you are a fishing lover, you may imagine that you can fish something special. To create a funny scene, a special object to be fished out which can be a monster like this sample.
This tutorial is going to show you idea for drawing the Cartoon. There are some painting techniques will be shared in this. You will see how a draft cartoon to be painted layer by layer, and the advance Photoshop skills to be used.
To start a cartoon art painting, you have to sketch a draft. Based on that, you can develop a more detail draft and start your painting. This tutorial will show you skills to add different layers and add details for the cartoon characters.
In this Photoshop tutorial, it will show you how to create a highway sign and post using custom shapes, selections, layer styles and a little creative gradient work. For my final image a few more signs using the same steps are added as the ones in the thumbnail.
Drawing a realistic portrait is very time consuming. Here will show you some techniques and ideas to work on the portrait for a lady. You will see how to use reference points to produce a nice sketch and work on painting afterwards. You can apply the same idea to work on different human portrait.
This tutorial will show you the steps of drawing a nice Yoda in an easy way. You can create your own cartoon artwork based on this skill. It will demonstrate you how to use brushes to carry out the painting works.
If you are confident to make any objects, you can then move to next stage to make a great scenery such as a dead city. In this tutorial, you will have a chance to look at how to build up a proper scene and turn it into a dead city afterwards.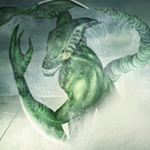 Design a suitable background is the most important element to present your main object. For a natural background, clouds is always used. Here are few different amazing style of clouds design tutorials which should be able to help your design.
If you own any iOS devices, you will be all too familiar with the dock connector. It sits there, on your desk, only letting Apple products use it. But have you ever stopped and looked at its beauty? Despite being a simply cable, Apple has added some nice curves and a design which makes it ideal for a bit of Photoshop illustration.