Your Favourite Photoshop Tutorials in One Place
Create a Realistically Natural Scenery using Photoshop
It is time consuming and not easy to draw a natural scene by traditional painting method. However, you can do that much nicer and quicker by Photoshop. As long as you keep practising, you will find lots of Photoshop drawings to be done by similar skills or methods.
Drawing a high quality of cartoon character is not easy. A lot of Photoshop brush skills are required. Hair, face and body need different color adjustment. Here will show you each step to carry out.
This tutorial will show you how to create a vector car.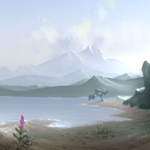 Design a suitable background is the most important element to present your main object. For a natural background, clouds is always used. Here are few different amazing style of clouds design tutorials which should be able to help your design.
In this tutorial, it will show you how to paint softly in a drawing. It total contains 7 stages throughout the tutorial.
How much do you love iron man? Many of you may love this movie and want to create a artwork for the Iron man. This is going to show you the techniques for painting iron man. Properly, you can base on this idea to make your own style of Iron Man.
In this tutorial, it will show you how to create a "Product Labels" in Photoshop. And this demonstrates you how to create a green tea label with a ninja character in background. Of course, you can use the same idea to present your products with different character. And our example is as shown in the thumbnail.
This tutorial is going to show you workthrough for drawing the human portrait. You will see how a portrait to be formed. You will see how a draft portrait to be painted layer by layer.
This tutorial is to help define the character you are creating is. This is a good start for designing, or a method to help you get ideas when you are stuck. You can always fall back on this when you are looking for new ideas or ways to unify existing ideas