Your Favourite Photoshop Tutorials in One Place
Create a Pretty Lady Portrait in Photoshop
Lots of you may wonder how to create a nice human portrait. In this tutorial, it will give you some guidelines on creating a human portrait plus illustrating you some to set up Photoshop brushes.
To create natural scene, sky and clouds are essential elements. You may not know the tactics to set up brushes for clouds creation. Here will present the tactics e.g. adding shadow and adjust the light source to work on the clouds.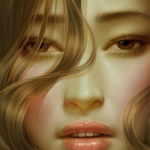 Design a suitable background is the most important element to present your main object. For a natural background, clouds is always used. Here are few different amazing style of clouds design tutorials which should be able to help your design.
Most of you may find very difficult to draft and paint a cartoon object. A nice painting usually takes a very long while to complete. With some photoshop techniques, you can process your arts to be faster and nicer.
This tutorial will teach you basic to advanced keyboard shortcuts, all while designing an amazing timepiece! There are over 40 essentials here to give you a great start! Let's get started on the way.
Old style cartoon gave you lots of good memories. To retain this, you can learn to draw your special scene for yourself. Here will give you some tips to work on it such as setting up brushes or color settings etc.
In this tutorial, it will show you the technique of painting and designing a Pier. Of course, there are always room for improvements and revisions, but for now the piece does what it needs to do. Hope some of you find this helpful.
The key to producing great digital painting is time. Most people who are new to Adobe Photoshop will stop after the first round of applying colour to their illustration. By building up separate layers of colour, the "beginner" art will begin to look more spectacular.
This is going to show you to transform your portrait into a cartoon art easily. Simple Photoshop technique is required, not complicate at all. To start, you just need to make a draft based on your portrait and follow the steps to paint your draft.