Your Favourite Photoshop Tutorials in One Place
Create a Nice Autumn Scenery in Photoshop
To create a nice scene, it is not necessary to have advance photoshop skills or extremely talent. This autumn scene looks very fantastic, but it is mainly created by brushes and simple skills.
In this tutorial, it will show you the basics of using your Layers palette, as well as talk you through how to use some tools in your Tools palette, such as the Polygonal Lasso and the Elliptical Marquee. It will also show you how to cell-shade (colour using hard-edged shading techniques) your character while adding in a detailed background to situate your fantasy character in its own unique environment.
Using Brushes are the one of most common techniques in Photoshop tutorial. You can save a lot of time and produce high quality art work, when you are able to manage to use the brushes wisely. And, this tutorial will teach you how to setup and apply the brushes to paint the cartoon scene.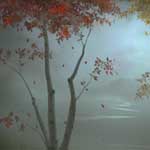 Design a suitable background is the most important element to present your main object. For a natural background, clouds is always used. Here are few different amazing style of clouds design tutorials which should be able to help your design.
If you would like to carry out some painting works for your draft, you may want to learn some nice advance skills. Here will show you how to paint layer by layer and different techniques to formulate a nice cartoon drawings of a village.
Sky is always a wonderful background. Here will show you some tactics to create clouds and different timing of skies such as at night time and sunset. Therefore, you can use the ideas to create different skies to suit for your design easily.
It is difficult to present motion scenes in a picture because it is not like movie. Therefore, it needs to create some other lighting to be added behind the motion. This tutorial will present you to add some colors and lighting to form a running motion.
We're going to create a simple Valentine's Day e-card for your special someone. Believe it or not, we're done. And it was such as short tutorial. You can create the card for your another half!
Here works through with you for making this fantastic natural scenery. It will demonstrate you how to draft your sky, flower land, grass etc. With this, you can form a nice natural scenery based on the same idea.