Your Favourite Photoshop Tutorials in One Place
Concept of Creating a Funny Cartoon Scene
- Photoshop is recommended for this tutorial -

In this tutorial, it will present you the concepts of making a funny cartoon scene. You can follow the idea for working out your cartoon artwork such as setting up brushes for painting, adding lighting to your cartoon image etc.
Making a hawk is like painting any other portraits, you need to work out a draft first. To start your painting, you should have a full picture of your product e.g. choosing suitable colors for background to match with your object. Then you can start using different sizes of brushes to carry out the painting.
To most of you, human portrait is high level of art works. You would think that you need to have advanced skills to create this. As long as you learn the tricks to use photoshop brushes, everything would be more simple.
Using Photoshop, you can create whatever imaginative scenery. It usually does not require hi-techniques. It will show you how a image to be drawn and set up the brushes to work on your magician drawing.
There are many ways to make a planet, and this tutorial will teach you a fairly simply way to make a good one. To begin, you just need to prepare a texture photo. And then, just follow the steps in the tutorial and put some color adjustments & shadow effect.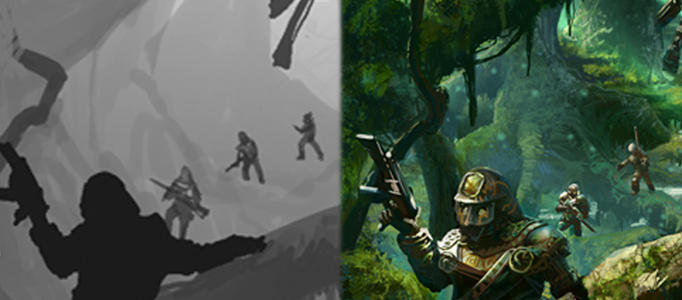 Before you carry out some complicate artworks, it is good to initiate your painting with some cartoon art. It is relatively easier. Here will share you with the ideas on painting concepts.
There are no standard way for drawing eyes. Different designers can have different ways to work on their design. Based on this method, you will be able to drawing different color and styles of eye easily.
In this tutorial, it will show you the basics of using your Layers palette, as well as talk you through how to use some tools in your Tools palette, such as the Polygonal Lasso and the Elliptical Marquee. It will also show you how to cell-shade (colour using hard-edged shading techniques) your character while adding in a detailed background to situate your fantasy character in its own unique environment.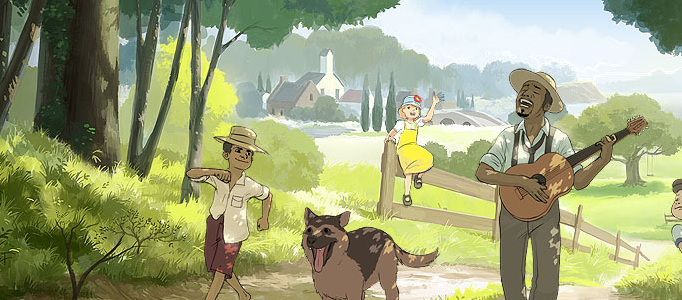 The picture was done to resemble an animation still, cel-shaded characters over a "traditionally" painted background. Trying this digitally, using colour as if watercolours were working with.And need to create lots of layers during the process. And that's all! Here's the final picture.