Your Favourite Photoshop Tutorials in One Place
Beautiful Painting for a Cat Watching a Mermaid
This painting started with clean-sketches. It will show you the overall painting process for this funny artwork painting. If you zoom in, they are very rough. The layers were merged together at some point in step 5, and continued to literally work the colours of the lineart into the skin.
Painting a cartoon character is a challenging task. It usually takes you very long time to process. This painting tutorial presents you the concept and steps for making an awesome fighter riding on a dragon.
In this tutorial, it will show you how to paint softly in a drawing. It total contains 7 stages throughout the tutorial.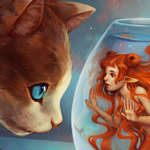 Design a suitable background is the most important element to present your main object. For a natural background, clouds is always used. Here are few different amazing style of clouds design tutorials which should be able to help your design.
A funny scene can be created using some simple objects. A sheep acts as a monster to destroy a city that can even stand out your scene. This tutorial will go through step by step to paint the artwork with reference to real pictures.
First step is to create an "onion skin" by adding a white layer above the bottom reference photo layer and setting its layer opacity down a bit so that the image can be seen through the white layer. After doing a bit of work on the flame and wick layers.
To some of you, you may find very difficult to work on hair when drawing human portrait or animals artworks. This tutorial will share some drawing techniques to draw the hairs so that you can do the same for your artwork.
In this tutorial, it will detailedly show you the steps of painting the cartoon character. There are a lot of different skills could be involved in digital painting process. Here will demonstrate you how to paint the skin and eyes part by part.
This tutorial is to help define the character you are creating is. This is a good start for designing, or a method to help you get ideas when you are stuck. You can always fall back on this when you are looking for new ideas or ways to unify existing ideas