Your Favourite Photoshop Tutorials in One Place
100 Communications Templates, Twitter and Media Icons
The ability to easily bookmark or share content on popular social media platforms is now a must have feature for web sites. They get people's attention and the logos are immediately recognizable. Bloggers, especially web designers use Social Media sites to promote their articles and services.
Summer is the time of holidays and vacations! This selection features everything pertaining to the topic of travelling. You can find some incredible illustrations and useful templates here. Photoshop lovers will also be glad to see some brushes and icons.
Sometimes, you may find it difficult to look for some of the highest quality photoshop tutorials using search engines. Photoshop Lady come up with Top 20 User Interface Design in Photoshop. These are selected from our Photoshop users and readers.
There are many icons on the internet. However, you may find very difficult to look for a high quality one. Sometimes, to enable your design to have better expression, speech icons are very useful. This nice set of speech icons is deisgned by Vecteezy. It contains numbers of speech icons which can allow you to apply to different scenarios. More importantly, it is completely free for your use. You can download the icons enhance your web presence today. The iconset is in psd, ai and eps for your ease of use.
Spring is coming soon… The time of love, flowers, birds is almost here. And we must be ready for it. Are you ready to meet the time of life begining? No? Hope this round-up of spring themed tutorials, illustrations, icons and templates will help you with it.
Baojun Yuan is a member of China Senior Photographers Association. He is highly respected by Chinese people. Why? In the past nine years, Mr. Yuan has repaired more than 2000 old photos for residents for free. Course it is not surprising enough if you have no idea about this great man. Mr. Yuan is 76 years old now.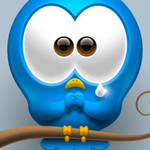 We are happy to announce 3 winners of 3D Spiral Flash Gallery Giveaway. They are nitefox, Sifor, and Nokadota. You will receive an email from Flashloaded soon for the free license of The 3D Spiral. We will organize another giveaway very soon. So, please feel free to join our forums and discuss anything about Photoshop together.
Today I want to share with you amazing collection of Vector Portrets. Vector artwork has always intrigued me. They are stunning, almost real and inspiring.
Happy New Year! Photoshop Lady Group would like to say thank you very much to everyone who has been supporting Photoshop Lady in the past and we do hope our contents can inspire and help you with your artwork creation. Some published great tutorials from 2014 have been selected in this article and hope you guys like them. Enjoy!