Your Favourite Photoshop Tutorials in One Place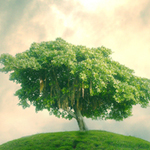 Photo Combination – Green Tree under Cloudy Sky
Under

- Photoshop is recommended for this tutorial -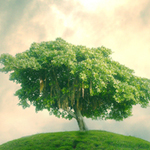 Sometimes, you may find it difficult to look for some of the highest quality photoshop tutorials using search engines. As most of time, almost all tutorials would label themselves to be good, high quality or even the best photoshop tutorial you can find. When searching through all these tutorials, your time is wasted.
In order to save your time, Photoshop Lady come up with Top 50 Stunning Text Effect Photoshop Tutorials. These are selected from our Photoshop users and readers.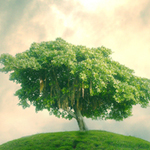 Sometimes, you may find it difficult to look for some of the highest quality photoshop tutorials using search engines. As most of time, almost all tutorials would label themselves to be good, high quality or even the best photoshop tutorial you can find. When searching through all these tutorials, your time is wasted.
In order to save your time, Photoshop Lady come up with 30 Best Photoshop Abstract Effect Tutorials of All Time. These are selected from our Photoshop users and readers.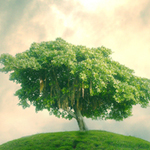 In 1987, Thomas Knoll, a PhD student at the University of Michigan began writing a program on his Macintosh Plus to display grayscale images on a monochrome display. This program, called Display, caught the attention of his brother John Knoll, an Industrial Light & Magic employee, who recommended Thomas turn it into a fully-fledged image editing program. Thomas took a six month break from his studies in 1988 to collaborate with his brother on the program, which had been renamed ImagePro. Later that year, Thomas renamed his program Photoshop.
During this time, John traveled to Silicon Valley and gave a demonstration of the program to engineers at Apple and Russell Brown, art director at Adobe. Both showings were successful, and Adobe decided to purchase the license to distribute in September 1988. While John worked on plug-ins in California, Thomas remained in Ann Arbor writing program code. Photoshop 1.0 was released in 1990 for Macintosh exclusively.
That's the early history of Photoshop. Here we have created The Evolution of Photoshop Infographic, in order to show you the entire history of Photoshop up until now.

About the Author
Dona Collins is an infographic artist, blogger and financial writer at CreditLoan.com. When she is free you can find her on twitter and other times you can find her writing articles for creditloan blog.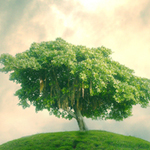 Introduction
Depositphotos is the best source for premium royalty-free stock photos, illustrations and vector art. If you are a designer, advertiser, photo editor, content manager or blogger, they have millions of high-quality photographs and vector images available at affordable prices to fill all your image needs.
Their libraries are updated daily through contributor uploads that are closely scrutinized for quality and originality. Between the protections and the controls, you're assured of finding the highest quality original artwork available anywhere.
It's easy to become a Buyer right now – just Register an account and start buying pictures today! It's easy to become a Seller, too. Register for a Seller account and upload your images for review. Once they are reviewed and approved your images you can start selling and earning right away! The system is designed to reward the best sellers, so whether you're a professional or hobbyist, there's virtually no limit to what you can earn.
Subscription Plans
Subscription plans allow you to download several photos each day, up to your plan limit. Every image you download using any of subscription plans is provided in all JPEG sizes and Vector images. You may purchase subscription plans of many different levels, from 3 days to 12 months, depending on your needs. It is really handy for designers that need stock images frequently.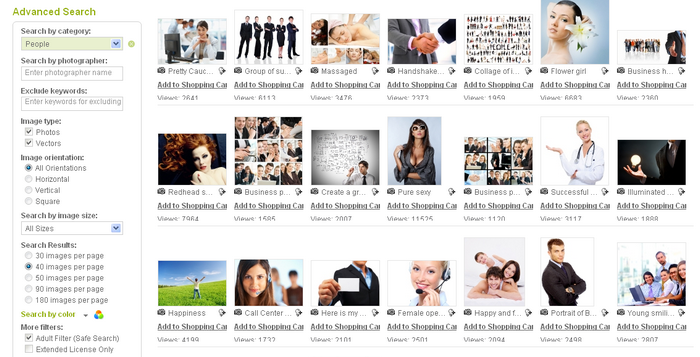 Free Trail
You can also try out their Free Trial Subscription too. You will be able to download any stock photos or vector images you like absolutely free of charge. Depositphotos' Free Trial Subscription allows users to download 5 free stock images per day for 7 days. You can use images downloaded during your Free Trial Subscription for any reason, such as personal projects, websites, blogs, newsletters, journals, advertisements, etc.
Conclusion
Depositphotos is one of the best resources for buying and selling Royalty-free photographs and vector images. Their vast library of imagestock coupled with their wide variety of flexible purchase options makes them the most convenient and profitable tool for designers, artists and photographers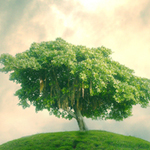 Ukrainian artist Denis Gonchar shows the process of dealing with lion image with Adobe Illustrator. The tutorial shows how does a colorful dimensional lion head appear on the warm sand yellow background. The way is to add color onto the original lion head and deal with details time and time again.
A lion-head profile with light background is a must. The next step is to darken the lion's mane, presenting dimensions, then proceed to add decorative colors to present the artist style of the lion and finally be sure to the deal with the bright color and dark color around the lion head carefully to show light and shadows reflected by the lion head, which is also for dimensional purpose.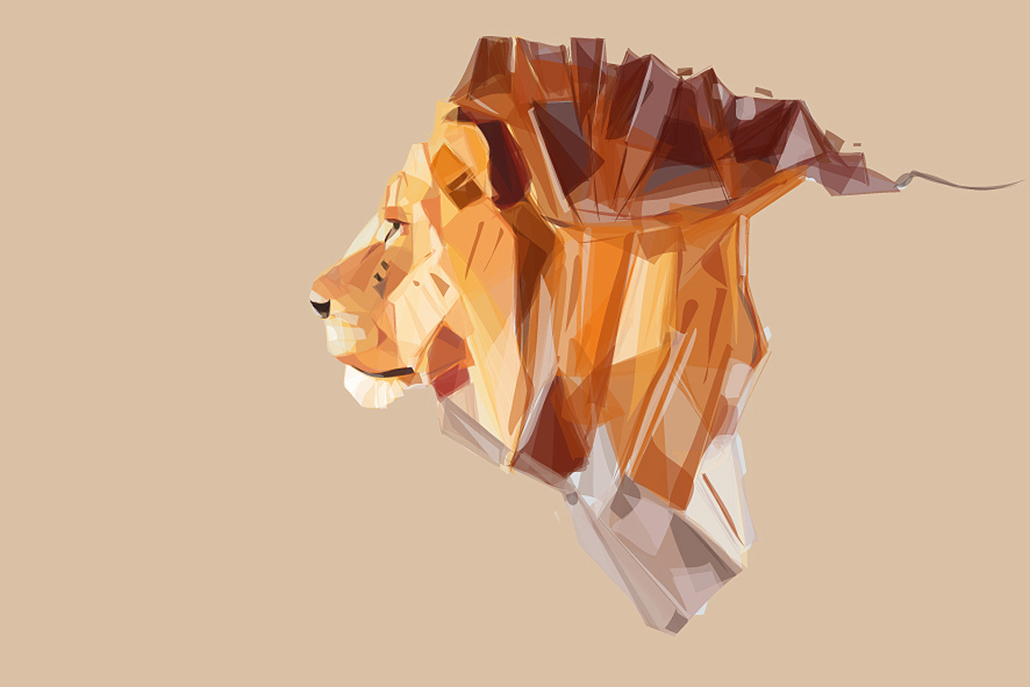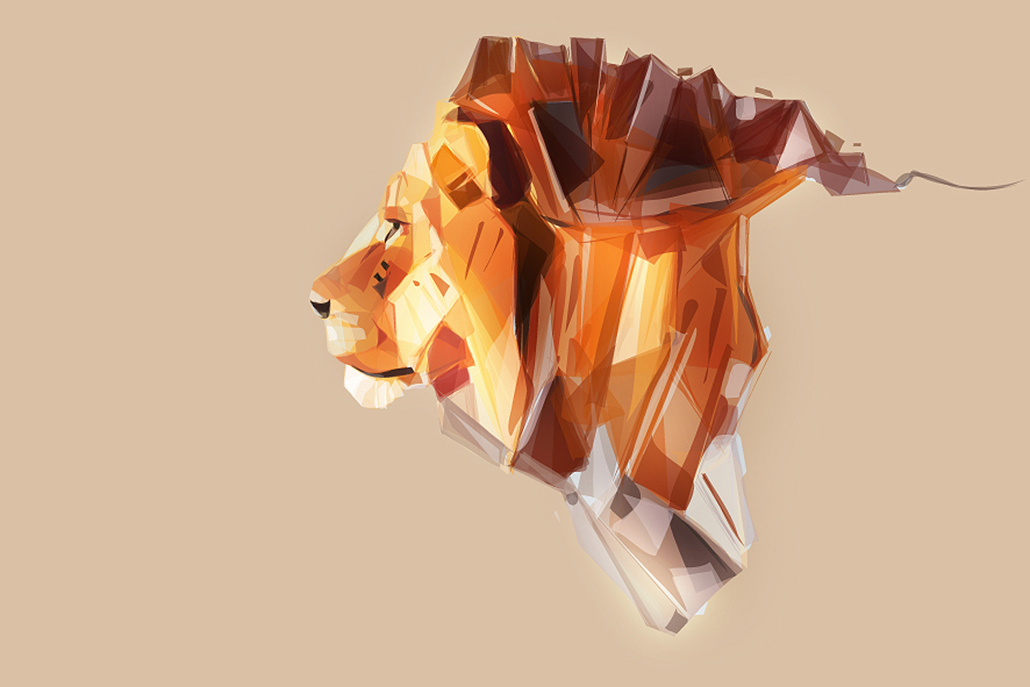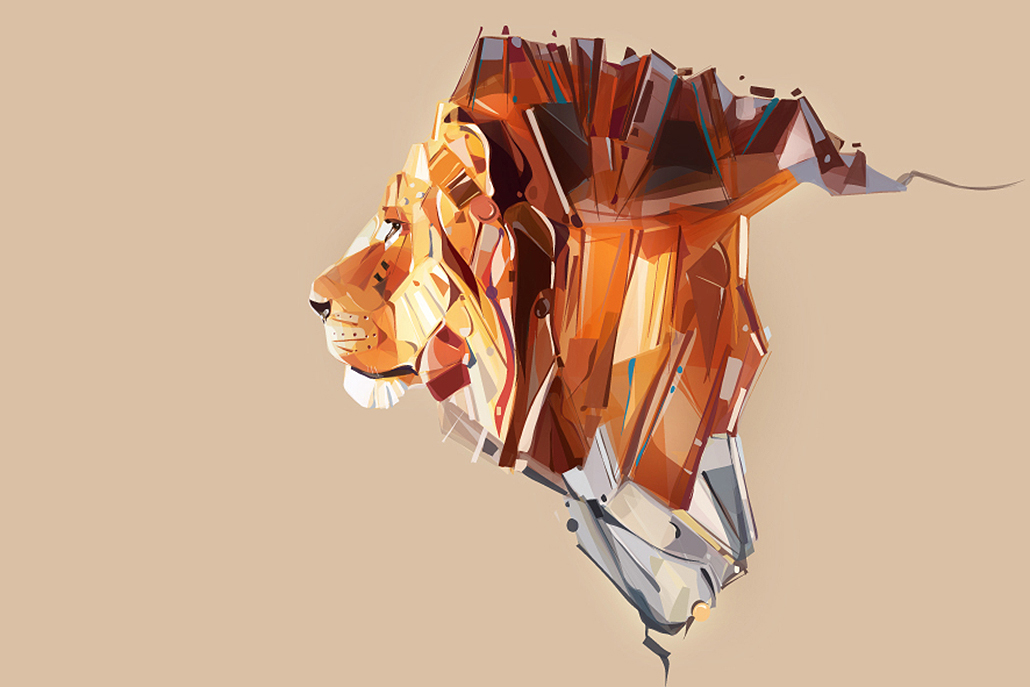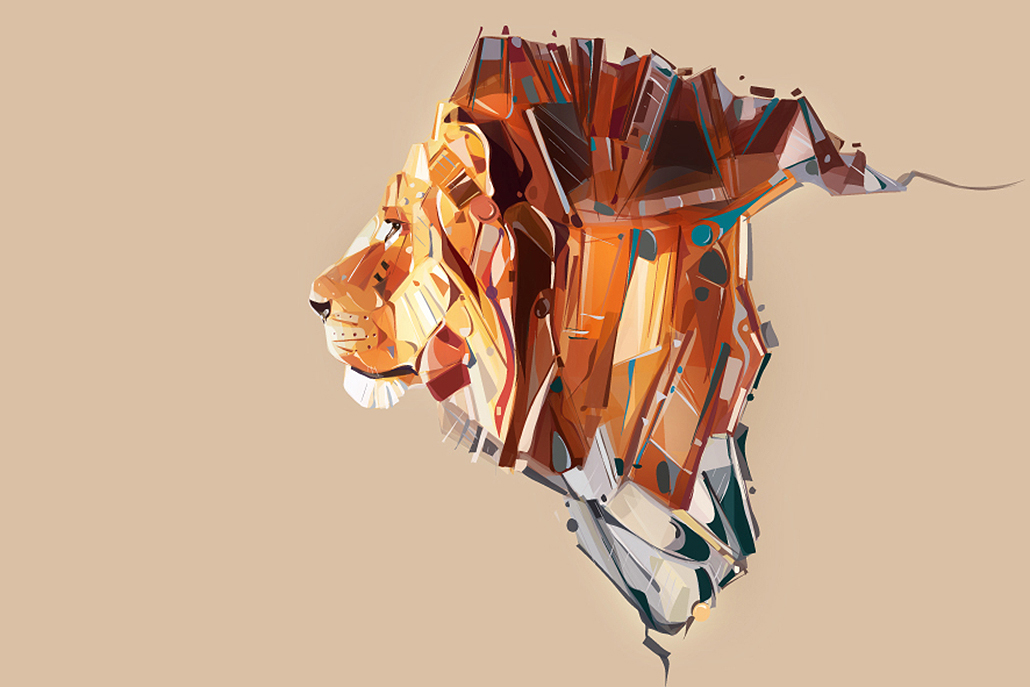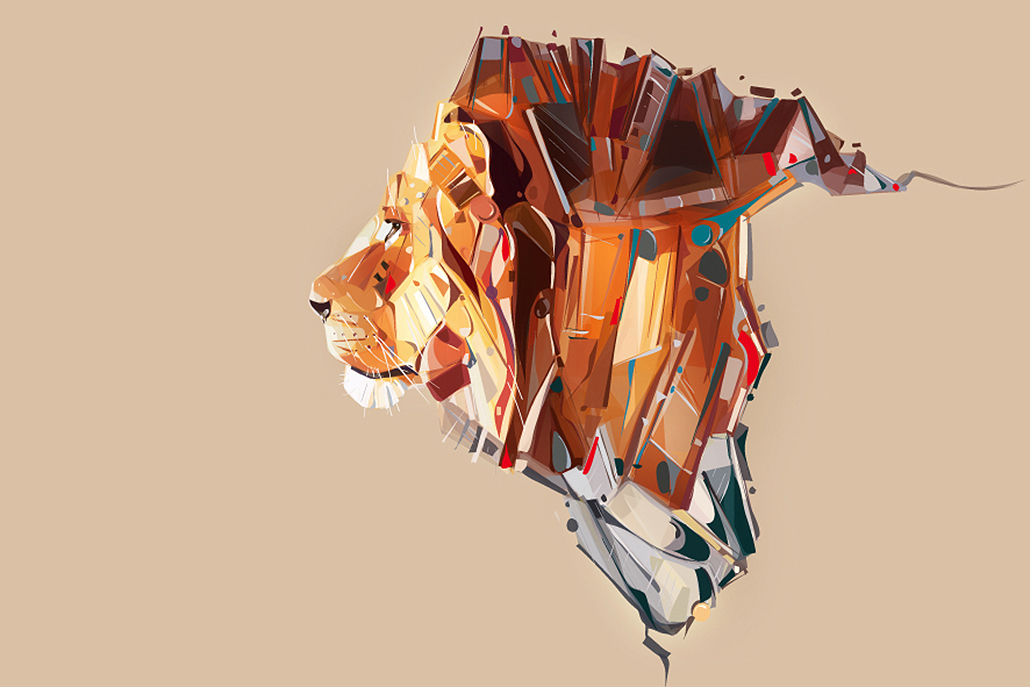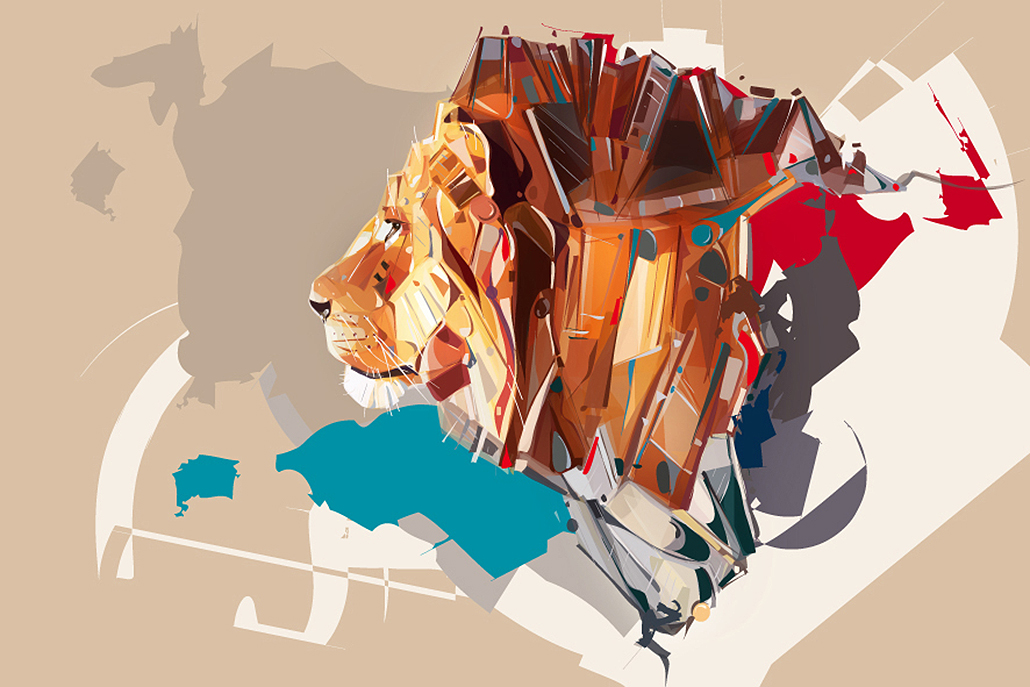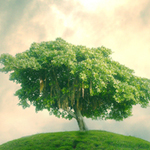 In today's tutorial we will be showing you how to make use of simple elements and colors in Photoshop to get an essentially beautiful outcome. People always over complicate things, that's why we will be having a simple approach towards this large piece. We will be teaching you in a step by step manner and hopefully you can learn something new from this tutorial. Let's get to it.
Tutorial Requirements
Stock: Model Wearing Purple Dress
Brushes: Abstract Glow Brushes by Ro-stock
Elements: Elements Pack
Textures: DSC_0042
Time: 1 Hour
Final Preview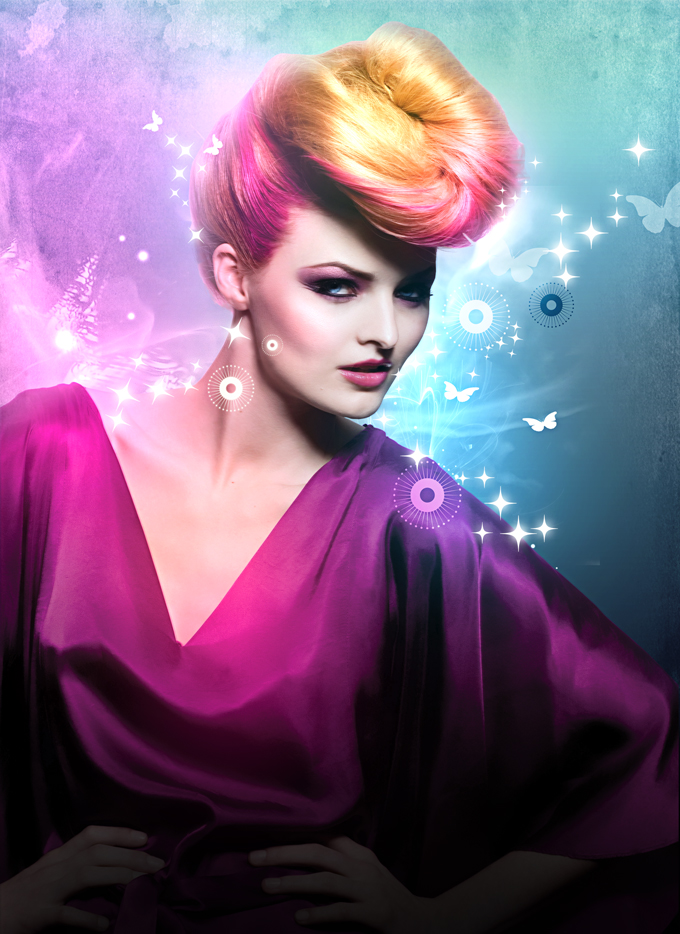 Step 1
The first thing you have to do is decide what stock image you are going to use and what your output size for the large piece is going to be. Are you going to print it in a A3 size or are you going to only use it on the web. In our case we will be making a large enough image to use on the web and in print if necessary. Go ahead and open up Photoshop and then create a new document by going to File>New (CTRL+N) then create a document with the settings below.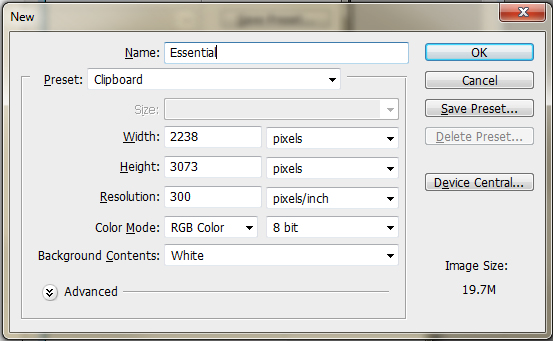 Step 2
Now that you have a blank document in front of you it's time to create your color base for the design. Go to Layer>New Fill Layer>Gradient this will bring up a gradient fill box. Now double click the gradient to setup a new gradient and set the gradient from #3c6c94 to #c0ecf8 (See below) Once you have created your gradient hit OK>OK and then you will see a nice smooth, good looking gradient as your base.
Step 3
Time to make use of the first downloaded texture, it's called DSC_0042 I am not aware who the author of the texture is due to having the texture for quite some time now. Open up the texture and drag it into your canvas. Set the layer's blending mode to Overlay and erase parts of the layer you don't want. Now create a new layer Layer>New>Layer (SHIFT+CTRL+N) and use a big soft brush with the color #6b6b6b and brush over your entire canvas, then set the blending mode to Overlay. Lastly go to Layer>New Adjustment Layer>Gradient Map use the default gradient map, which is Black to White and then set the blending mode to Multiply and the Opacity to 76% This is what you should have below.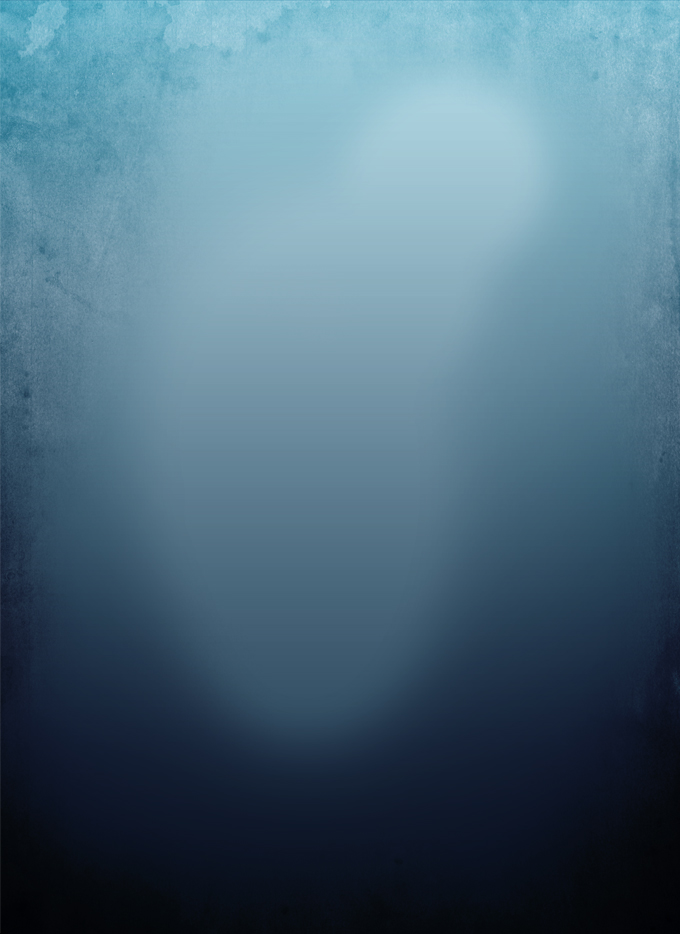 Step 4
Now it's time to bring in our stock photograph, I have chosen to use one from iStock Photo. Open up your model picture in Photoshop and start to remove the background from around your model if you don't know how to do it, follow This Tutorial from Media Militia. Now that you have removed the background from the models picture you can drag your model into your canvas and you should have something like this below.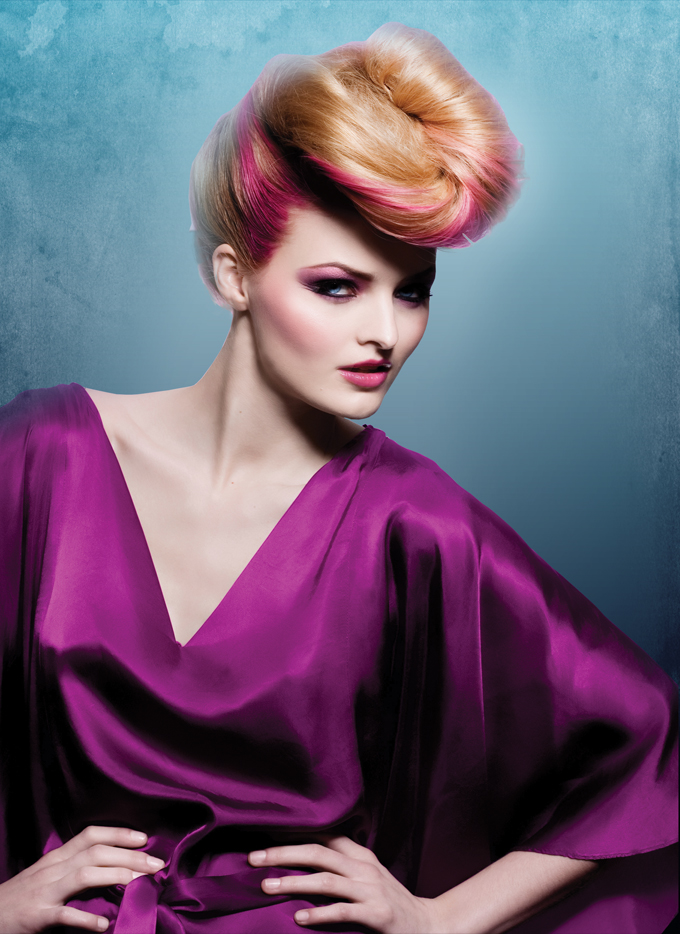 Step 5
Now that you have your model in the canvas, it's time to start working on the effects. Create a new layer and take a big black soft brush and then brush at the bottom of your canvas, just to add a darker feel at the bottom. You should have something like this below.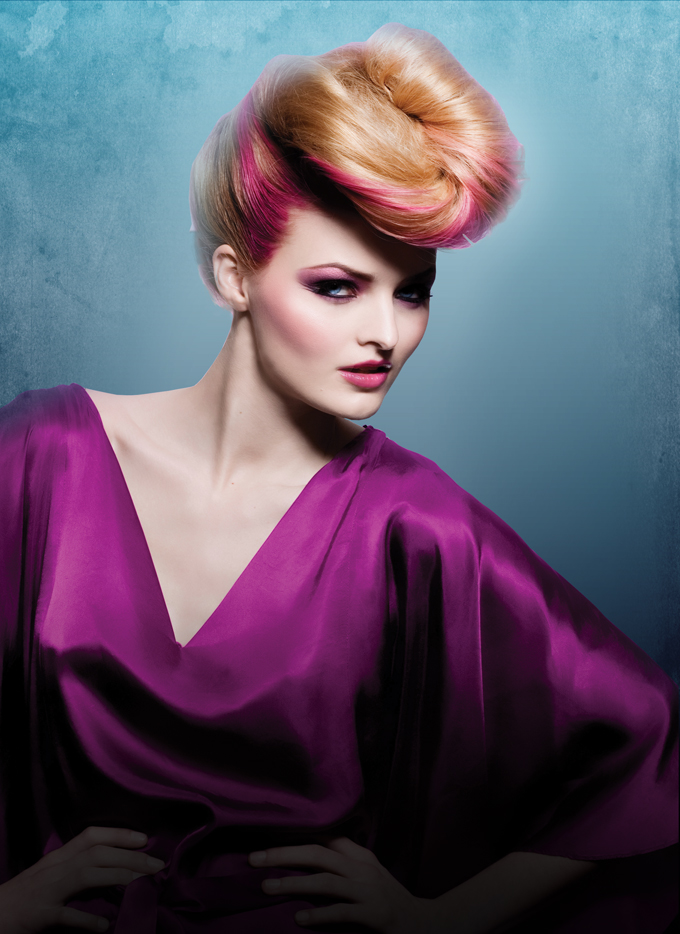 Step 6
In this step we will start adding lighting to the model. Create a new layer and fill it with black #000000. Now set the blending mode to Linear Dodge and select your brush tool with a soft brush of about 960px big. Now start using different colors to blend your model and lighten up the canvas. I used the following colors: Blue #005d7f | Pink #570033 & #970059 | Green #617c01 | Red #810007 I mixed those colors together and then finally used a hard small brush with White #FFFFFF to create the dots that you see on the chart below. The image you see below is the layer with colors without the blending mode.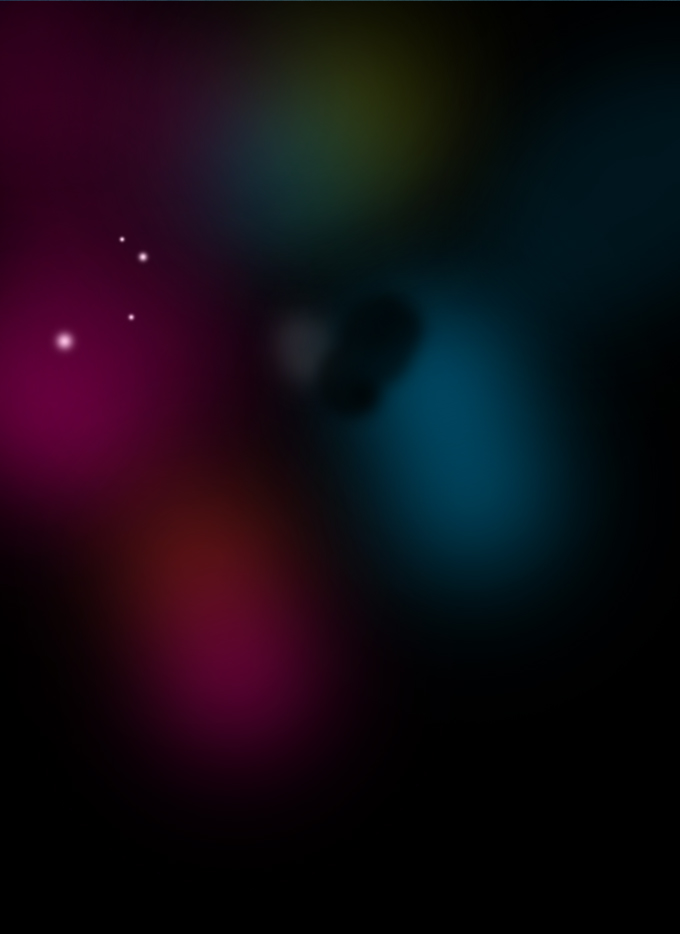 Here you can see what the outcome is after the blending mode is set to Linear Dodge.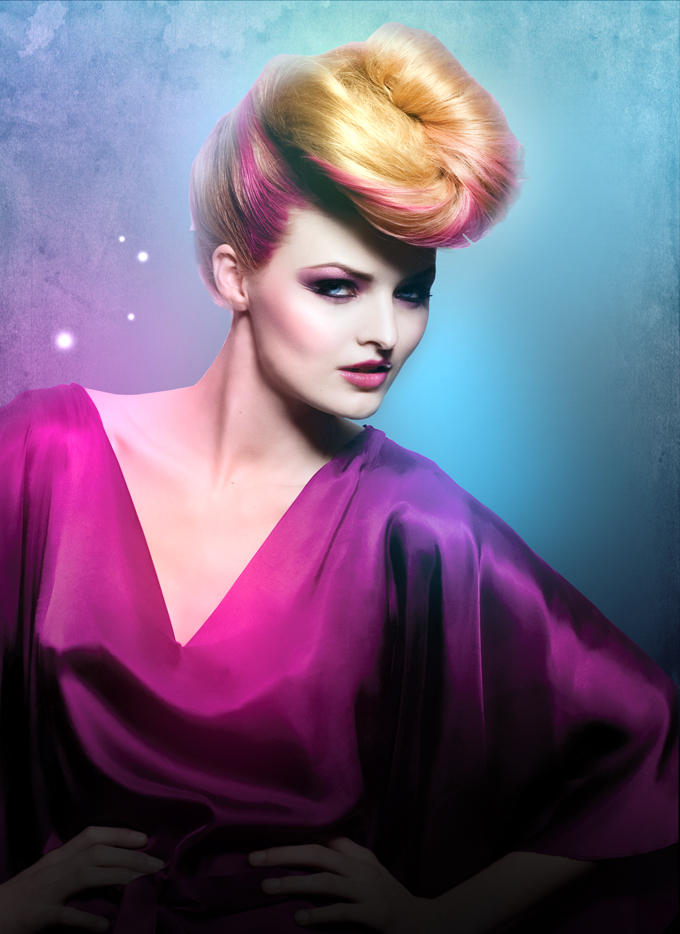 Step 7
You can see the piece is coming together now. In this step we will be repeating the exact same thing we did in Step 6 just with a bit different colors. Create a new layer and fill it with black #000000 now set the blending mode to Linear Dodge and grab your brush tool with a soft brush sized 700px now choose the colors that you want to use to light up the canvas. I used Pink #450627 & #32041b | Green #1a1900 you are free to use any colors that you desire though. See color placement below.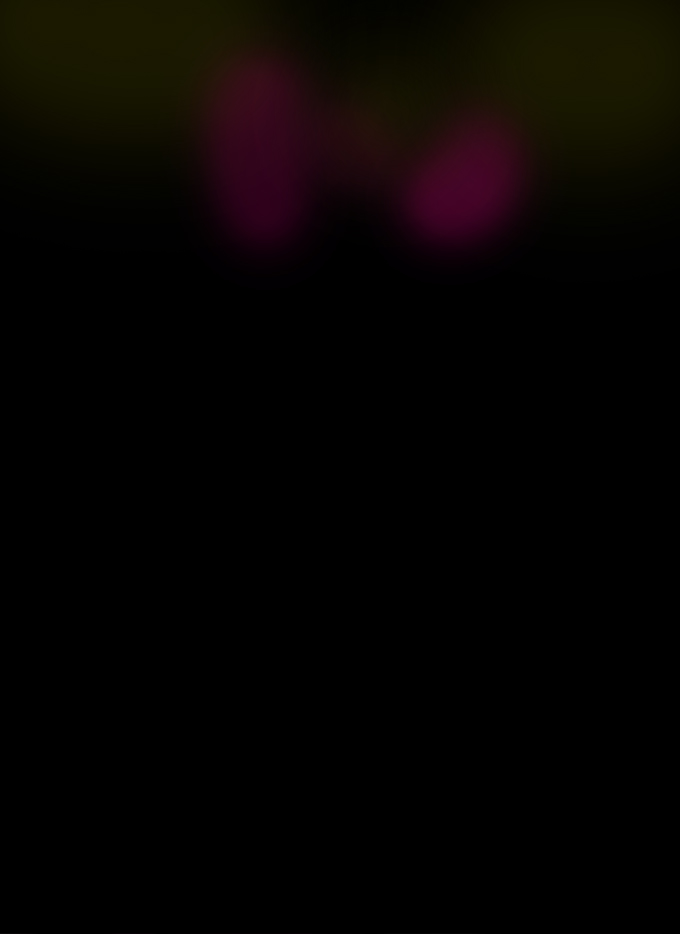 Now add in another soft pink in the top left hand corner just to balance the color in the piece.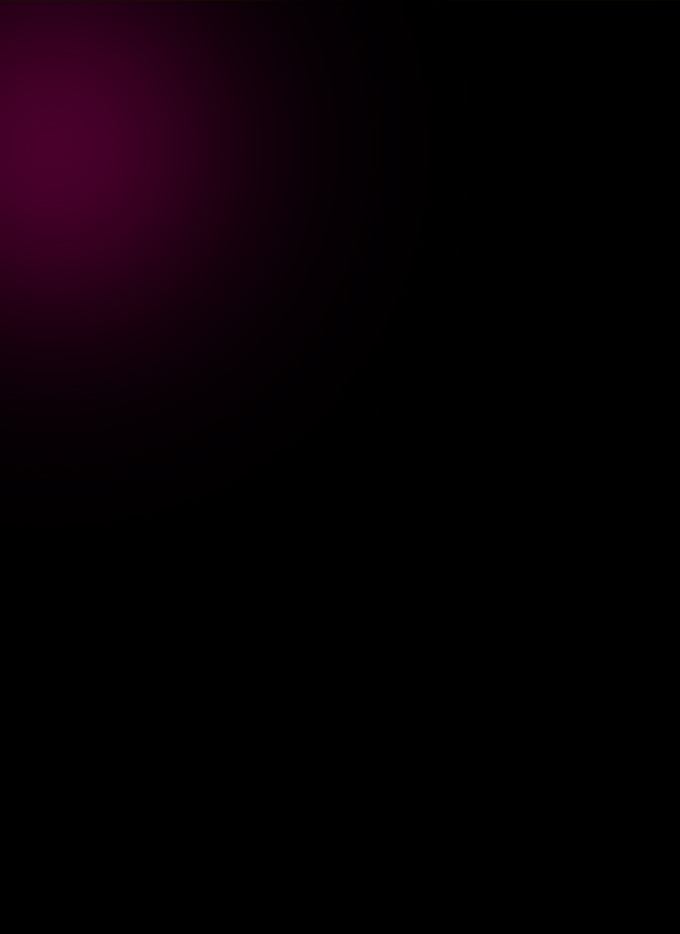 Now make sure both your layers are set to linear dodge. You should have something like below.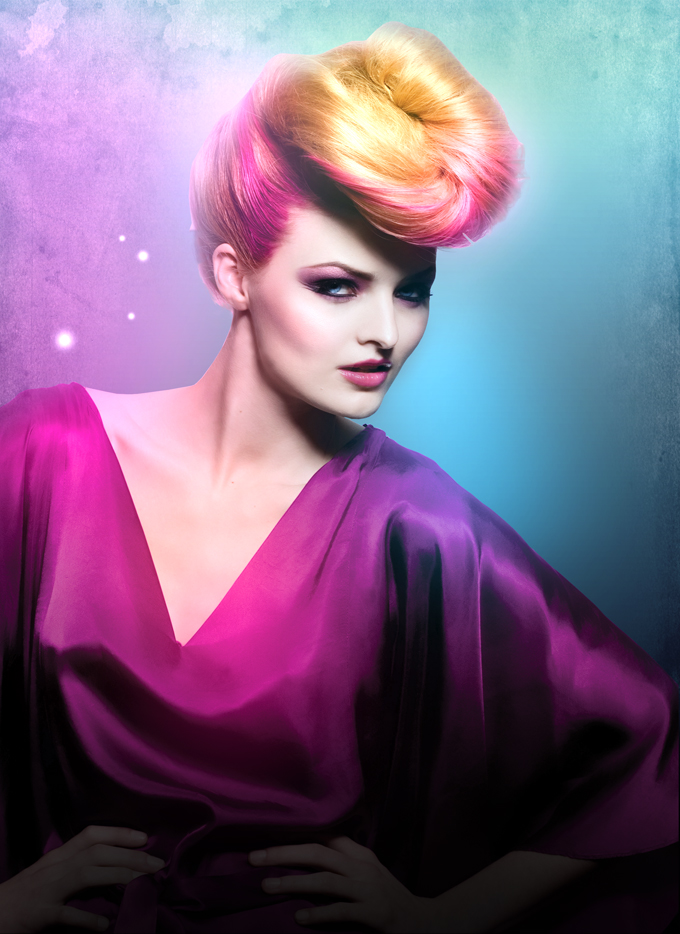 Step 8
Now it's time to add in some elements. In this case we will be adding in some butterflies, stars and cogs. I have made these elements available for download as a package Elements Pack Now you can import these elements into your canvas and then place them around how you would like them to be placed. I added in the cogs first and set some of their blending modes to overlay just to give a variety of depth.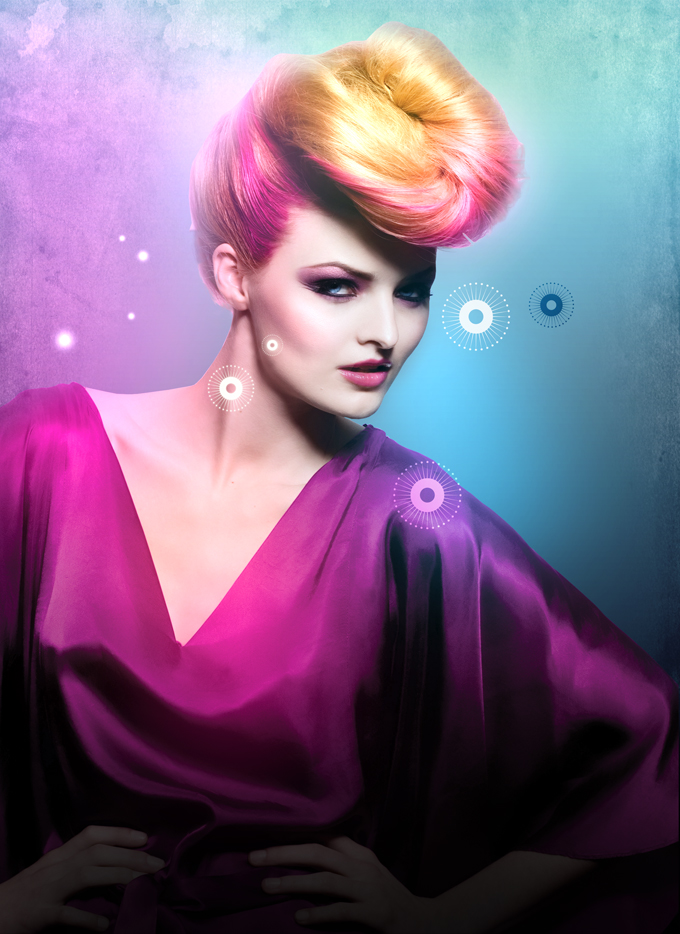 Now I added in the stars and placed them around as I wanted, depending on the image you use, you can position them to flow with your design.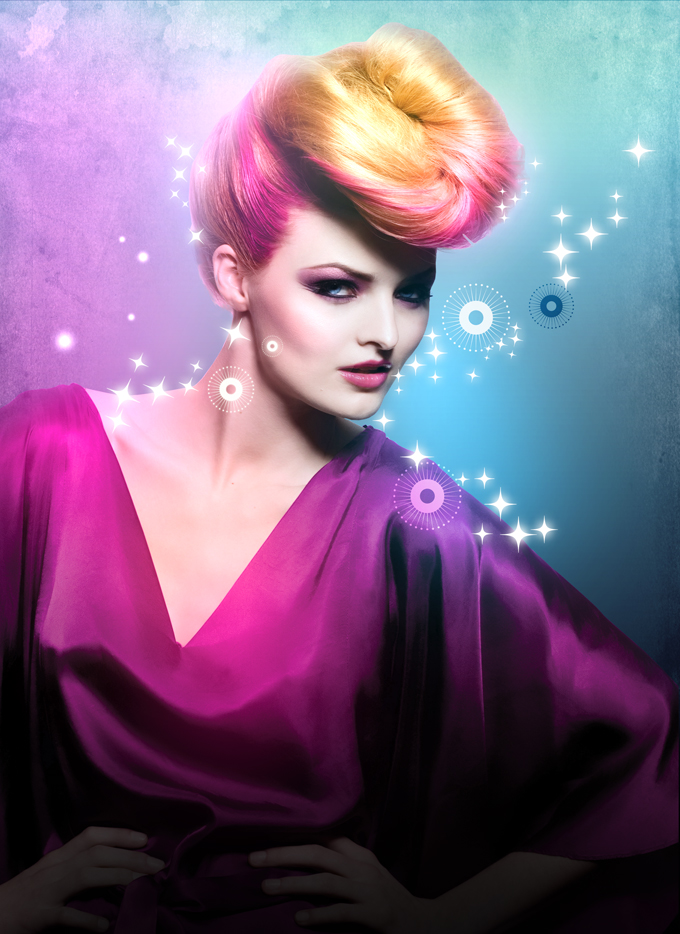 Next I added in the butterflies, I made some of them bigger than the others to also portrait depth in the piece. This is what I have so far below.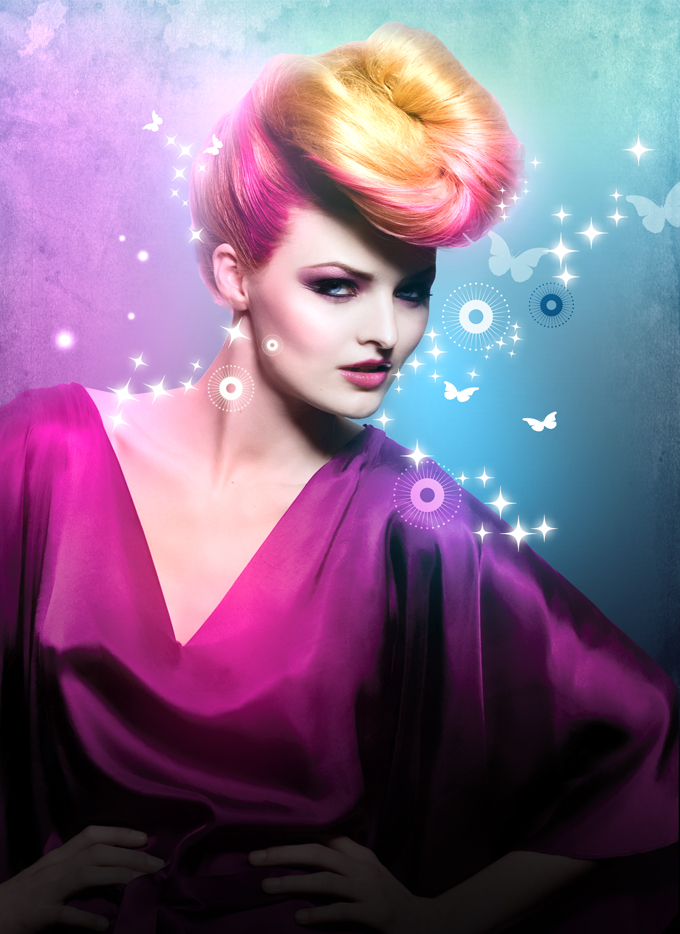 Step 9
In this step we will be adding some image adjustments. Go to Layer>New Adjustment Layer>Brightness/Contrast. Leave the brightness at 0 and make the contrast -20 now press OK to accept the changes. Now go back to Layer>New Adjustment Layer>Curves Use the RGB Channel and just curve your line out a tiny bit to darken the middle of the piece a bit. You should have something like this below.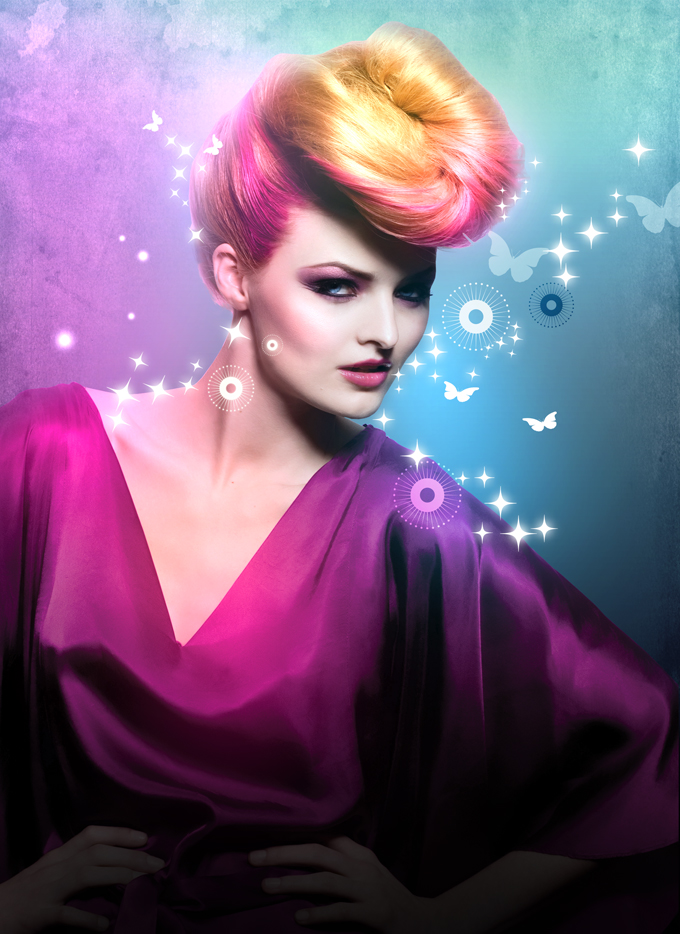 Step 10
Now it's time to make use of some brushes. Navigate down your layers palette and create a new layer just underneath your model layer. Now grab your brush tool and make use of Abstract Glow Brushes by Ro-stock now choose your brush from the pack and brush underneath the model layer to give it a mystical feeling. I made use of 2 different brushes in this case to make things flow well. I have something like this below.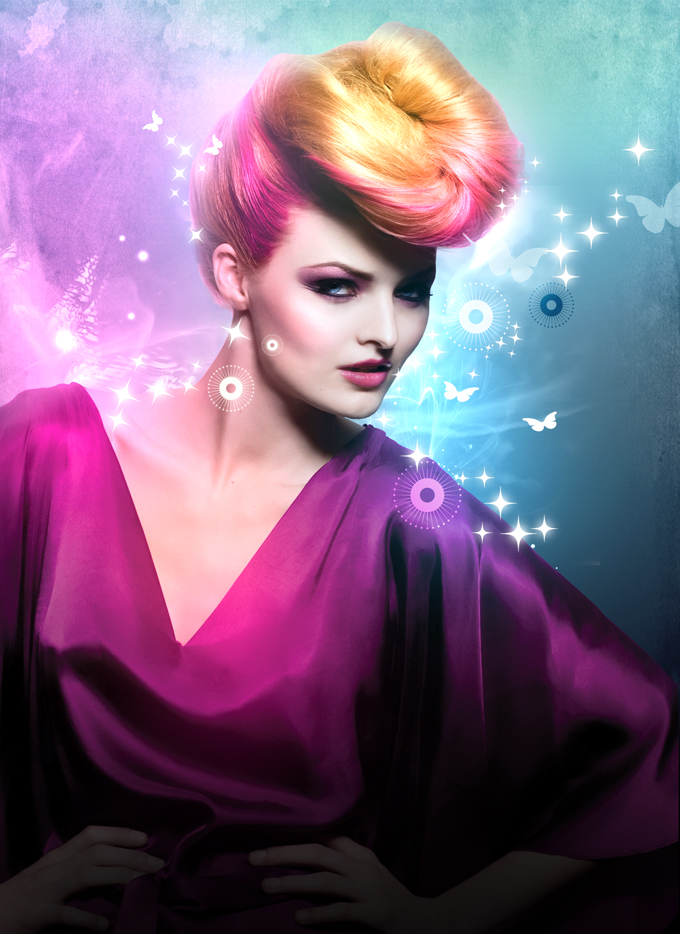 Step 11
In our final step we will be sharpening the image. Firstly create a new layer by going to Layer>New>Layer and then go to Image>Apply Image. Now that you have a applied image go to Filter>Other>High Pass now use a radius of 10px and hit OK. Now set your blending mode to Overlay and your opacity down to 42% and you are done.
Final Preview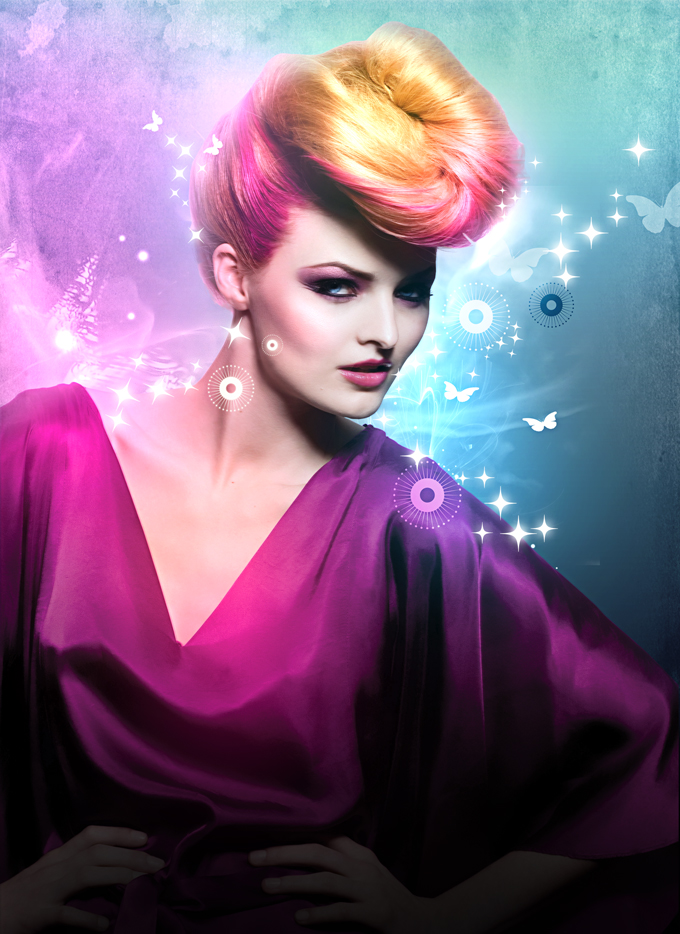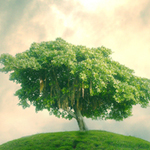 Introduction
Everybody knows the artistic filters in our favorite image editing program, but sometimes the results can appear somewhat artificial. Let me introduce you an alternative tool: PostworkShop that comes in handy when we need an artistic effect for a photo, a 3D render or a vector illustration. First let's see a few sample images: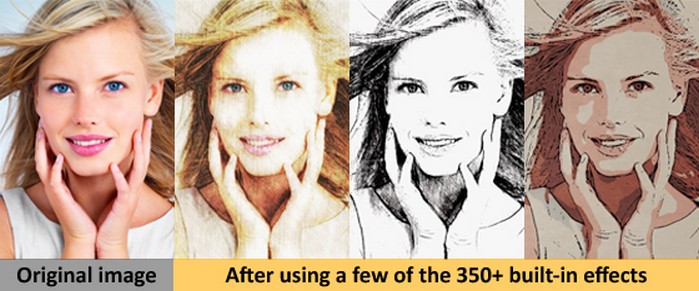 These are just a few possible results among the 350+ artistic styles that you can find in PostworkShop, the artistic image manipulation tool that we are talking about. It costs $99 usd only, which is very affordable!
How it works?
With one simple click you can transform your photo, 2D image or 3D render into an oil painting or watercolor, pastel drawing or pencil sketch, abstract or old-time photograph with the built-in styles.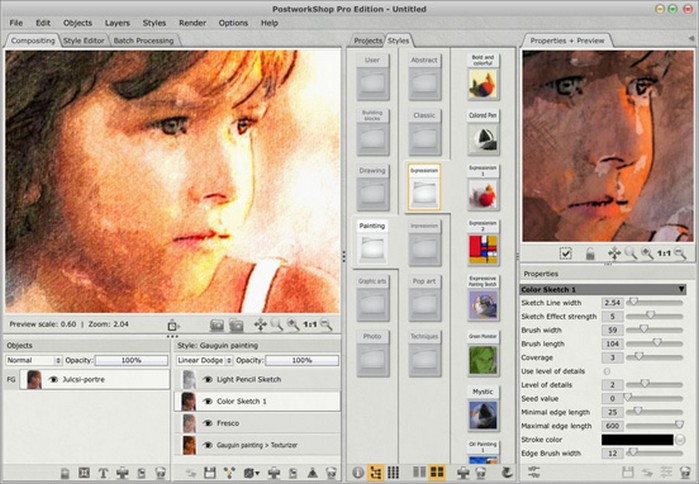 You can also Create your own styles with the Style Editor. Simply drop filters and existing styles into the workspace and build a new, custom filter graph. Just link each filters' output and input pins together to easily create a complex image processing engine that becomes your own custom style!
Currently, PostworkShop is not a Photoshop plug-in, but image exchange is possible through PSD files. The plug-in will be released as a free update in version 2.0, so you can already start to learn and use it.
Conclusion
PostworkShop is really a handy tool for transforming pictures in a lot of different styles. It is easy to learn and to use. We do strongly recommend it. Let's try it out now!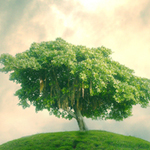 We are talking about Smaug, the arrogant, greedy, malicious, cruel, dangerously sharp minded, massive and powerful dragon from the Hobbit.This digital art was designed by Brazilian digital artist and graphic designer André Luiz de Castro, who used ZBrush and Photoshop and took around 35 hours to finish.
Smaug is a fictional dragon and the last great Fire-drakes of Middle-earth in J. R. R. Tolkien's 1937 novel The Hobbit. Smaug rose to prominence by laying waste to the town of Dale and capturing the Dwarf-kingdom of the Lonely Mountain (Erebor) with all of its treasure. These events occurred some 150 years before the events of The Hobbit, and Smaug was already centuries old at the time. In the book, the dragon is sometimes called Smaug the Golden or Smaug the Magnificent.