Your Favourite Photoshop Tutorials in One Place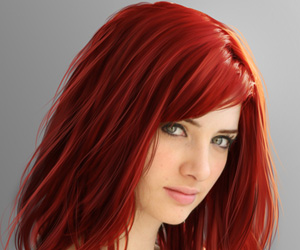 Making-a-Hair-Style-in-Photoshop
Under

- Photoshop is recommended for this tutorial -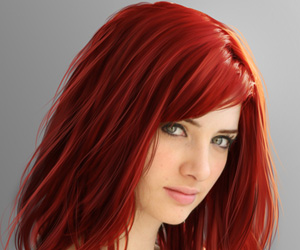 Introduction
Depositphotos is the best source for premium royalty-free stock photos, illustrations and vector art. If you are a designer, advertiser, photo editor, content manager or blogger, they have millions of high-quality photographs and vector images available at affordable prices to fill all your image needs.
Their libraries are updated daily through contributor uploads that are closely scrutinized for quality and originality. Between the protections and the controls, you're assured of finding the highest quality original artwork available anywhere.
It's easy to become a Buyer right now – just Register an account and start buying pictures today! It's easy to become a Seller, too. Register for a Seller account and upload your images for review. Once they are reviewed and approved your images you can start selling and earning right away! The system is designed to reward the best sellers, so whether you're a professional or hobbyist, there's virtually no limit to what you can earn.
Subscription Plans
Subscription plans allow you to download several photos each day, up to your plan limit. Every image you download using any of subscription plans is provided in all JPEG sizes and Vector images. You may purchase subscription plans of many different levels, from 3 days to 12 months, depending on your needs. It is really handy for designers that need stock images frequently.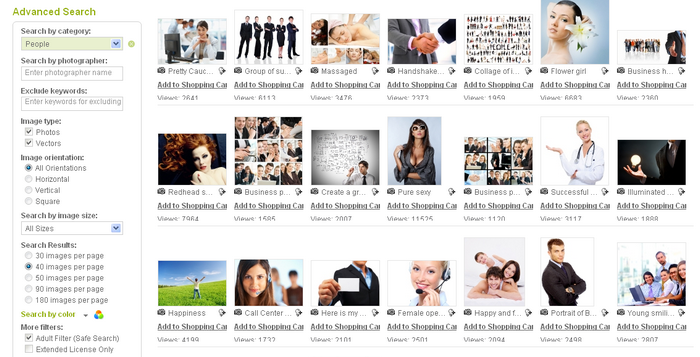 Free Trail
You can also try out their Free Trial Subscription too. You will be able to download any stock photos or vector images you like absolutely free of charge. Depositphotos' Free Trial Subscription allows users to download 5 free stock images per day for 7 days. You can use images downloaded during your Free Trial Subscription for any reason, such as personal projects, websites, blogs, newsletters, journals, advertisements, etc.
Conclusion
Depositphotos is one of the best resources for buying and selling Royalty-free photographs and vector images. Their vast library of imagestock coupled with their wide variety of flexible purchase options makes them the most convenient and profitable tool for designers, artists and photographers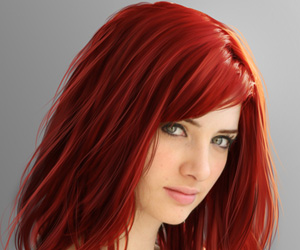 In this tutorial I will teach how create a realistic bottle illustration and some shadow and cut techniques.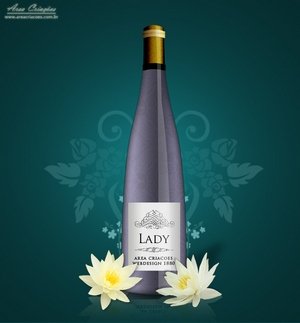 Step 1
Create a new file with 700px of width and 700px of height. Now use the pen tool (shortcut "p") to draw one side of bottle. If you don't know how use the pen tool take a look at this link of photoshop online help When you reach the desired result now use the Direct Selection Tool (shortcut "a") to select all point of path, hold ALT and drag the path to duplicate. Now, still using Direct Selection (Shortcut "a") select all point of the second side, right click and select "Free Transform Path", go to menu "Edit/Tranform Path/Flip Horizontal". Place the flipped path on the right place to create the bottle silhouette.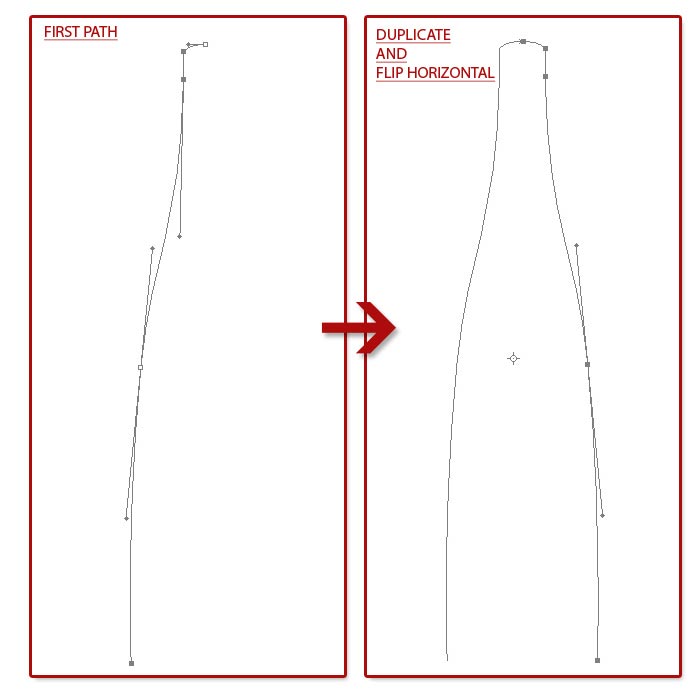 Step 2
Now, we need to close the silhouette. First, using the pen tool("p") close the top of bottle. Go to the bottom o silhuette and do the same thing but with a little curve between points. Like above: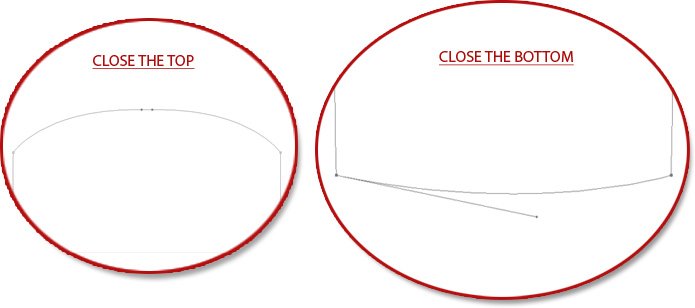 Step 3
Go to the "Paths" tab and click on fill option button at bottom of panel. After this, make sure your path layer still there on paths tab, never erase or overwrite the layer of the bottle path. Now we have the bottle, but we need some color and realistic details, in most cases this can be done using some gradient and shadow effects. To apply Gradient without lost the initial shape we use the blending options.
Step 4
Go back to the layers tab and right click on the bottle layer and select "Blending Options". Check the Gradient Overlay, define Style to Linear and Angle to 0 and double click on the Gradient field to open the Gradient Editor. Create a new custom gradient using the color #878398,#9c96b3,#413e4d,#7c7792,#878398. Like below: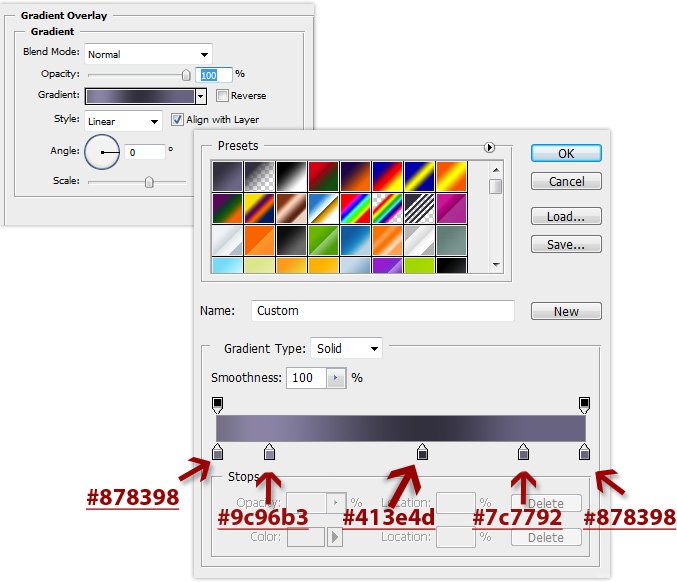 Step 5
Create new layer and change name to reflection. Go to the paths tab, duplicate the bottle path(right click on the path layer) and resize the points of path to reach the first image above. Fill the path with white color. Back to the layer tab, apply a gradient overlay in blending options and set the Gradient Fill with some white and gray color and define the opacity field to 60% and close the Blending Options window. Now go to the blend mode of the reflection layer and set to Soft Light and change the opacity to something like 45%: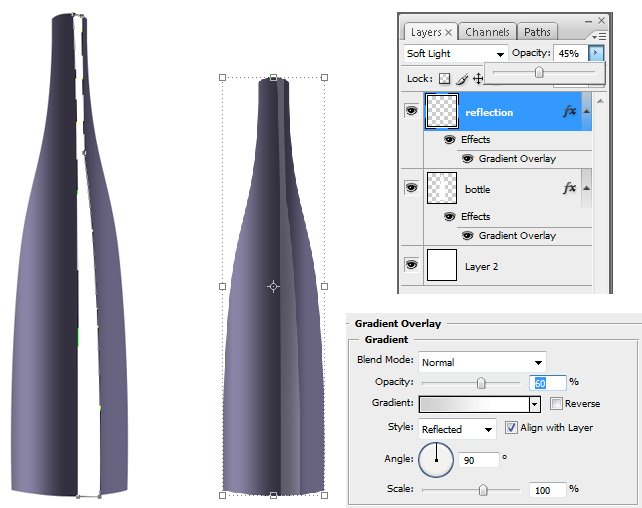 Step 6
Go back to the blending options in the bottle layer and define inner shadow like below, and create a Stroke like below:
Step 7
We need a label for wine glass. Create a new rectangle with Rectangle Tool, place the rectangle layer between reflection layer and bottle layer, rename it to "label". Go to Blending Options again and apply a dropshadow with 41% opacity, distance 0 and size of 2. Now apply a Gradient Overlay with the settings like below: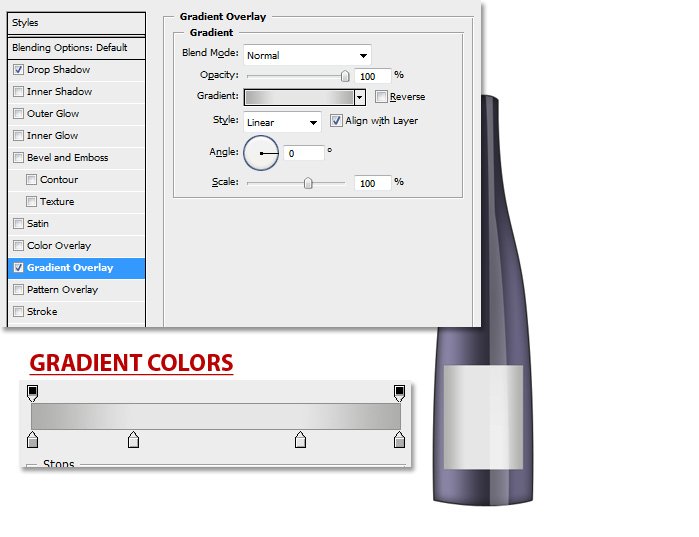 Step 8
Create some texts like the title and some description to fill the space, use old style fonts, for me Trajan Pro is a good one. Add some vector shapes with old flourishe style, the result will be something like this:
Step 9
Create new path with the stopper shape, fill with brown collor(#988c6c). Go to Filer/Noise/, Add Noise and set the Amount value to 5. Now it's to other gradient, add gradient overlay in blending options windows on this layer. Define Blend Mode of Gradient Overlay to Vivid Light and set angle to 0 and create a gradient #000000 to #957c34 and back to #000000. With this step we get a good stopper like below: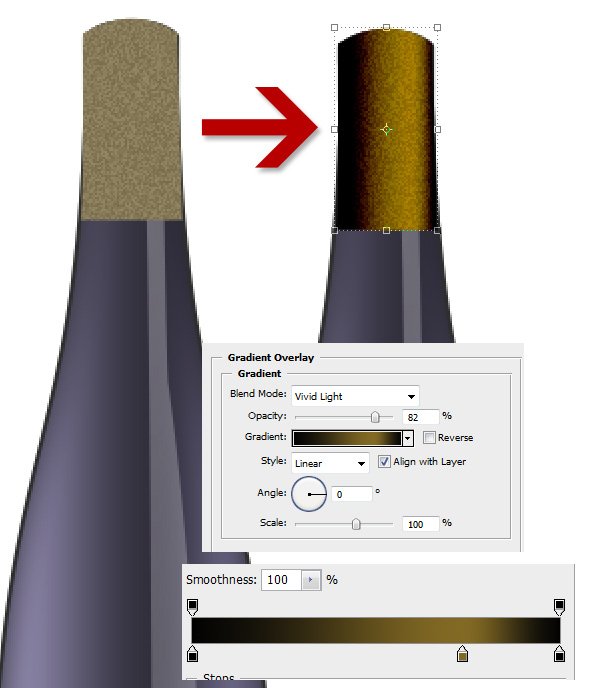 Step 10
Now we jump to details. Create a new layer and a simple path to reproduce a ring on that layer, fill it. Create a dropshadow with Blending Options like below and add a Gradient Overlay. Use the colors to reproduce gold material (I use these #d1c04c,#eae2aa,#a48440,#645025,#3a2e14). Look step by step below:
Step 11
More details. Create duplicate the stopper path and change her size to wrap the neck, fill it with black: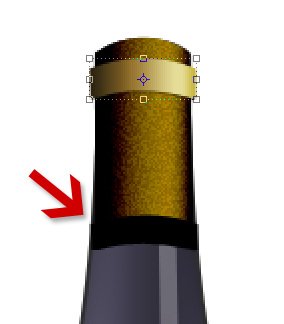 Step 12
We almost finish. To create a coll background select #063e41 color and fill a background layer of document. Go to Filter/Render/Lighting Effects and select Omni Light Type.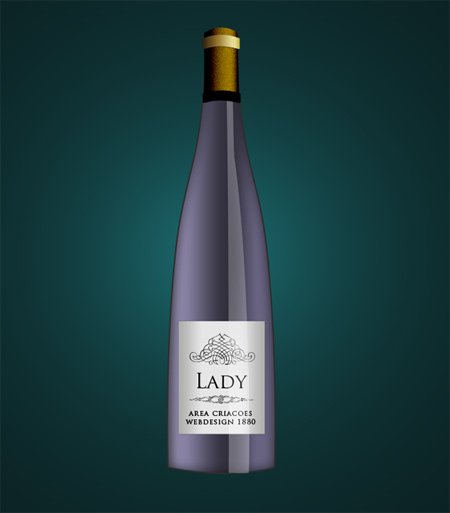 Step 13
Now we need a realistic shadow. Duplicate the bottle layer, remove all effects(right click on layer "Clear Effects"), go to Edit/Transform/Wrap menu or hold CTRL on the edge o shape and resize it to reach this result: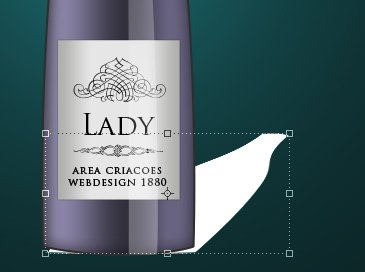 Step 14
Go to Image/Adjustments/Hue Saturation menu or press CTRL+U on windows. Change the lightness to -100. Go to Filter/Blur/Gaussian Blur menu and set it to 8. Change the opacity of layer to 34%: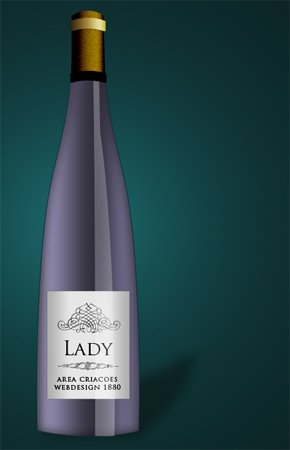 Step 15
Add some flowers. Open this images on photoshop, go to Channels tab select the most contrasted channel, duplicate him, increase the constrast of duplicated channel layer in Image/Adjusments/Brightness/Contrast and Image/Adjusments/Curve, use Quick Selection Tool("w") to create a fast selection of areas outside the flower. Delete the duplicated channel, back to the RGB channel, right click on the selection and select inverse. Cut and paste the flower on the bottle document. Repeate the same step to cut other flower. Othe tip is increase the brightness of flower (Image/Adjustments/Curves) to made things more white. Define some dropshadow in Blending options for eache flower: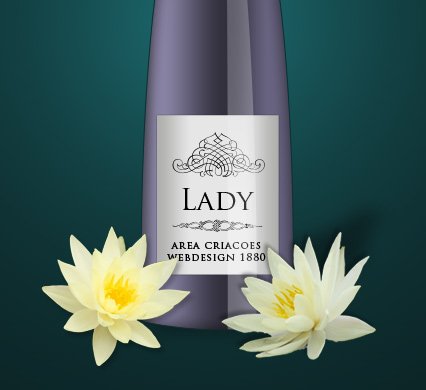 Step 16
Use some vectors like this and change the blend mode of vector layer to Luminosity and opacity to 50%. We also add an reflection effect in the bottle(we can teach how create reflection in some other tutorial):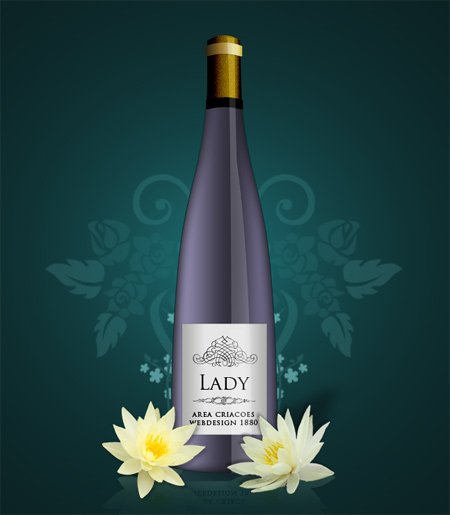 Conclusion
With this tutorial you learned how create a realistic bottle, shadows and how work with Blend Mode, Gradients. With some easy steps you can reach a good effect.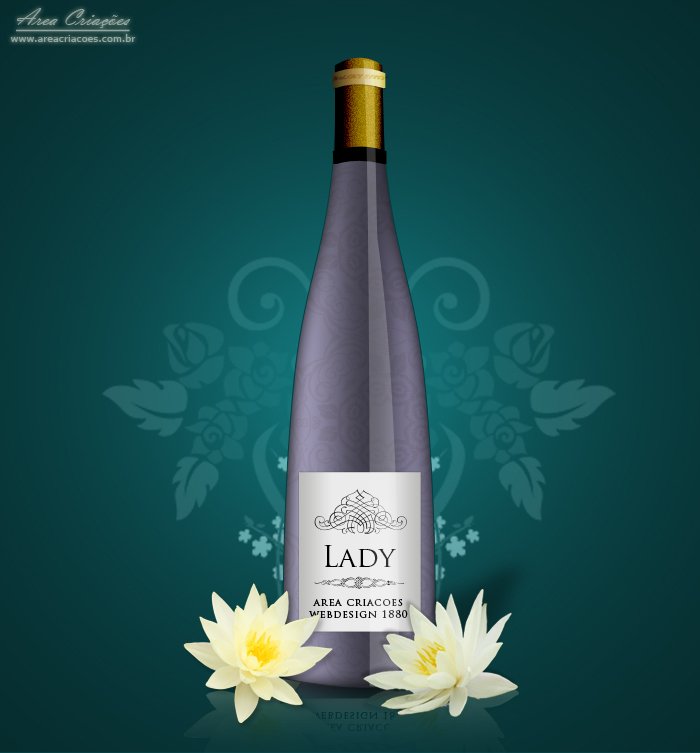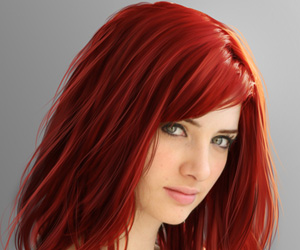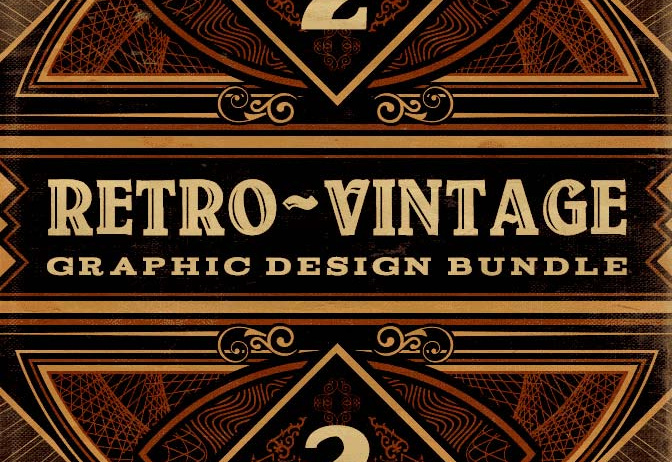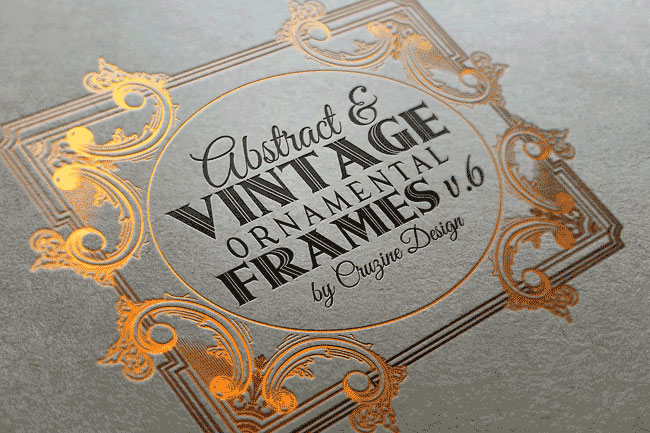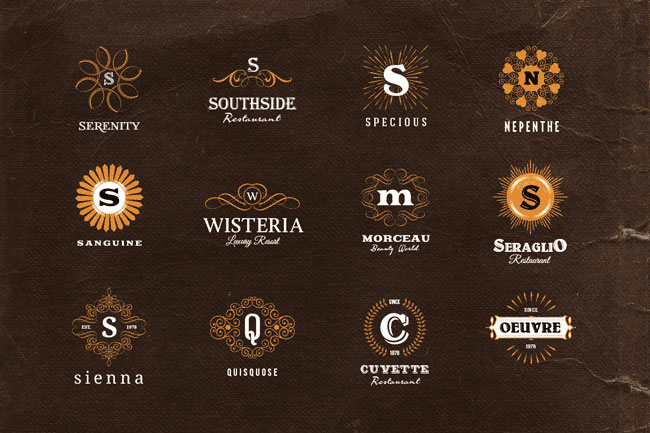 Retro will always be in. And with this amazing Mighty Deal, you'll have the ultimate retro and vintage collection! Full of more than 500+ Retro/Vintage Design Elements from Cruzine Design, you'll find yourself suddenly embracing ornamental headers, frames, and both complex and simple logos, signs and badges. Then there's the textures, wreath and sunburst shapes, and Photoshop patterns and styles.
These vector files are completely customizable and scalable. Files include Adobe Photoshop and Adobe Illustrator (.AI and .EPS) formats. Normally this massive collection of retro and vintage design elements would cost you $180, but for a limited time you can get the entire collection for only $27! That's a whopping 85% off the regular price!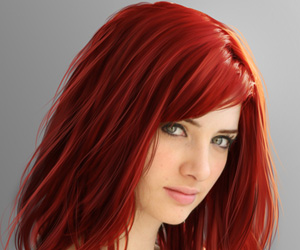 In this tutorial, it will demonstrate you how to create a realistic 3D snooker ball. It is not difficult to make. Hope you will find it interesting. To create a 3D design, the shadow and reflection are always the most important elements to think of. Once you get familiar, your design will become awesome.
My final result for the 3D snooker balls will be as this: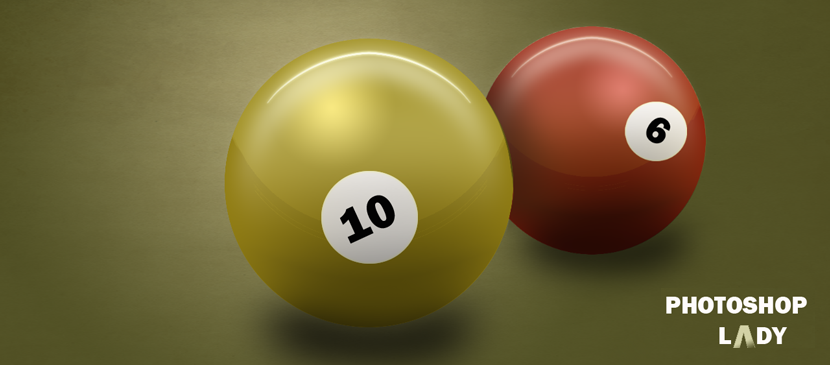 1. The first thing to do is the background. Choose the combination colour brown & yellow – #bdc68d .

2. Combine it with my chosen texture and set the opacity = 50% as below. (You can download the texture from http://www.flickr.com/photos/bittbox/2118265369/sizes/l/ 3. After complete the background, we can actually create the snooker ball. And I have chosen the ball in brown colour – #b79e3a. Using Elliptical Marquee Tool to make a simple circle, then fill the colour by gradient tool >radial gradient as below.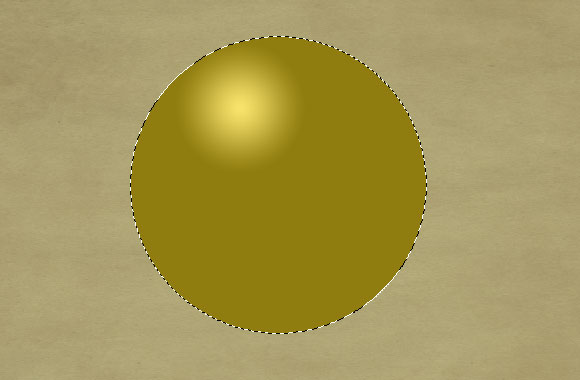 4. The brown circle is created, we can move on the next step, making some shadow for the ball. Go to Select > Modify > Contract by 20 Pixel.
5. After the contraction, create a new layer. Then using the gradient tool to fill in the black colour and adjust the gradient editor setting as below: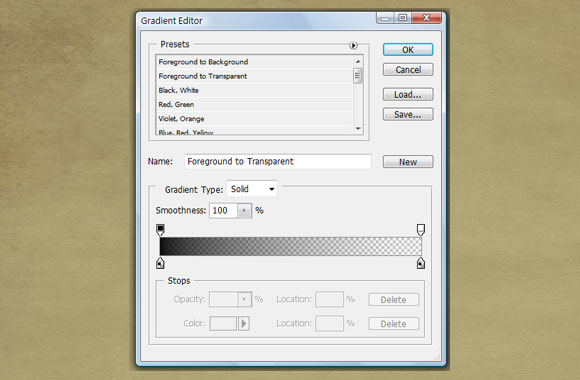 6. Using the blur tool > Gaussan Blur to the previous painted (black) colour. Set your Blur Radius = 5 pixel.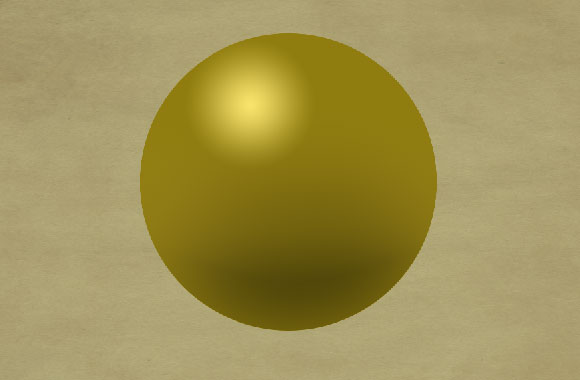 7. You should achieve the ball similar as below. Then let's go to make the reflection effect for the ball.
8. Move the elliptical circle into the upper part. And then fill the colour in gradient > radial gradient and set the colour as below.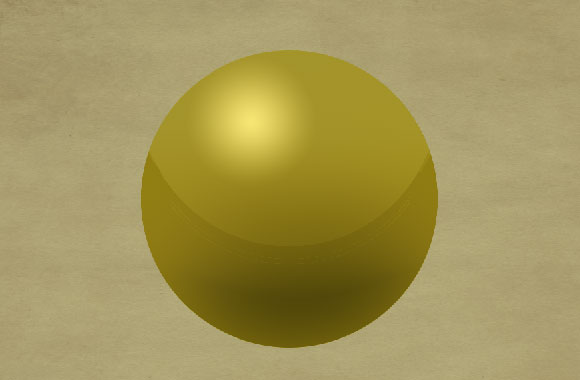 9. Press ctrl, then move the pointer to the ball's layer thumbnail. Then elliptical circle will move back to the ball. Then press ctrl + Shift + I to select the rest bit of the circle. And you can delete the colour out of the circle. You should achieve the ball as following.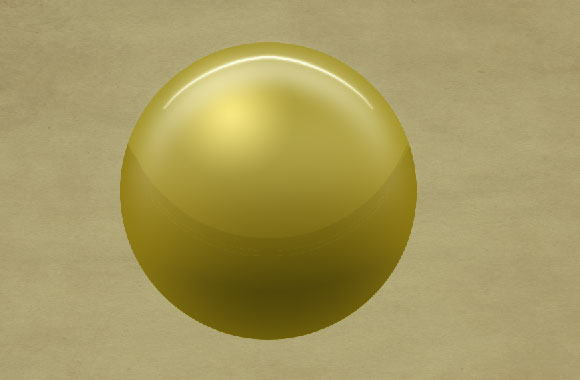 10. Using the above-mentioned skill, make the elliptical circle and apply the contraction to the circle set the radius as 6 pixel. Fill the circle in white colour and set Opacity into 80%. Then repeat the same step to make one more circle with 8 pixel. Then delete the colour inside the small circle. Use the eraser to make the upper bit reflection, it should be like the curve at final
Here you have to try the adjustment of Opacity & blur until the result reaches your satisfaction because the strength of reflection really rely on these adjustments. Here you go, it is my result.
11. For the shadow at the bottom, you just need to simply create an ellipse circle by elliptical circle tool, fill it in black by "paint bucket tool". Apply the blur > Gaussian Blur into 6 – 8 pixel.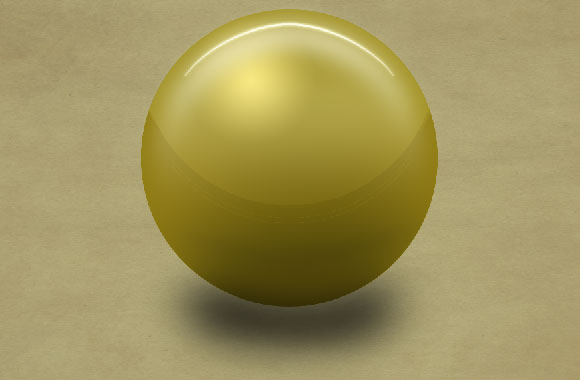 12. The last step is to simply add a white circle in the centre and add the number.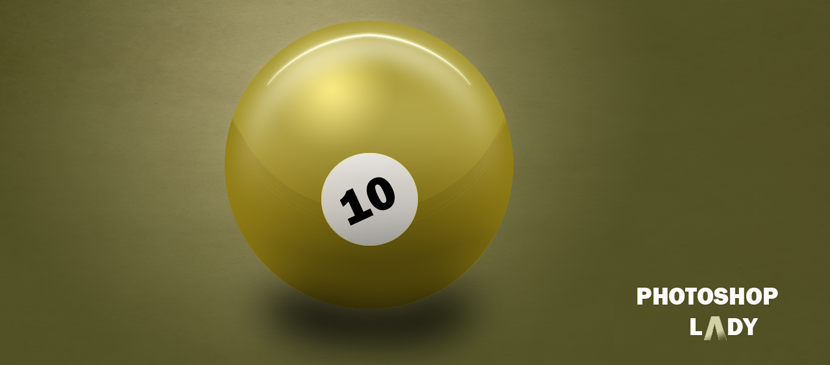 13. Duplicate the layers, to create one more ball in red, and you should be able to achieve the scene as below.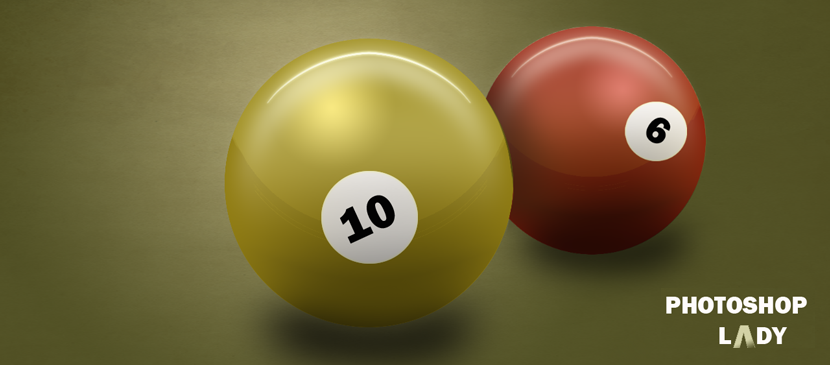 Hope you can enjoy and this tutorial can give you an idea to develop your personal 3D object.
Thank you very much!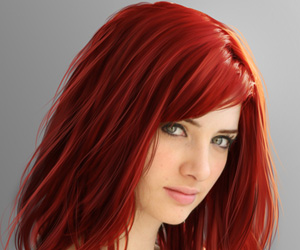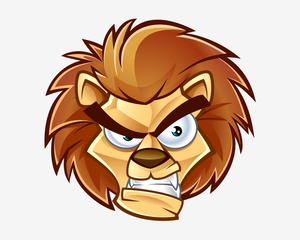 Character & Mascot Logo Design
Andy is a Game Graphic Designer, Illustrator, Mascot Designer. You can get some great Character/Mascot Logo Design for an affordable price.
4 days with 2 revisions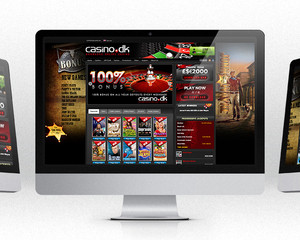 Professional Landing Page Design with SEO
I will design your one page website with an eye for detail and focus on placing the elements in the right place for maximum conversion. I'm sure the end result will be to your satisfaction.
7 days with 5 revisions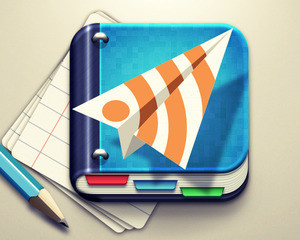 Professional iOS App Icon
I'll help you make an icon for your application gorgeous!I provide high quality designs. It includes 1 PSD file and PNG package with the size 1024, 512, 144, 114, 72, 58, 57, 50, 29px.
4 days with 3 revisions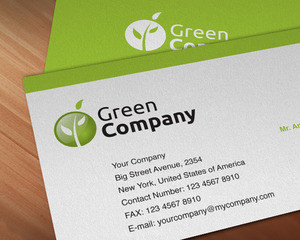 Professional Logo Design + Corporate Identity Manual
You will get Vector logo in Ai, EPS, PSD and JPG formats, 4 color versions (full color positive, full color negative, one color positive, one color negative), 8 page Corporate Identity Guide PDF (usage guidelines, CMYK/RGB colors, Typography, etc).
3 days with 2 revisions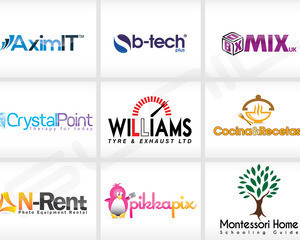 Professional Logo Design
You will get 3 concepts of logos, Set revisions on selected logo, 100% vector logo scalable to any size without loosing resolution, Different file formats for web and print use such as .ai, .eps, .psd, .pdf, jpg, transparent .png
1 day with 5 revisions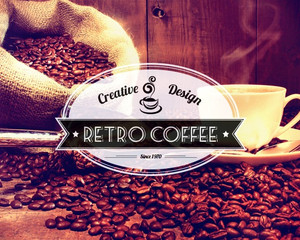 Professional Badges (4 Badges)
You will get 3 concepts of logos, Set revisions on selected logo, 100% vector logo scalable to any size without loosing resolution, Different file formats for web and print use such as .ai, .eps, .psd, .pdf, jpg, transparent .png
4 days with 2 revisions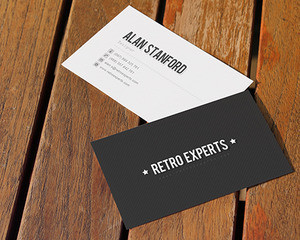 Professional and Unique Business Card Design
You will get a professional, good looking business card, front and back, Ready to print business card! I will provide them in photoshop layered format or any other file format you need.
2 days with 3 revisions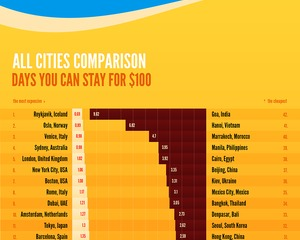 Modern and Clear Infographic
You will get a clean and clear infographics. Everytime build on great font and first look understandable. With your data I provide sketches and after you reconsideration provide a final graphics. I deliver any size of .png and .psd file.
3 days with 2 revisions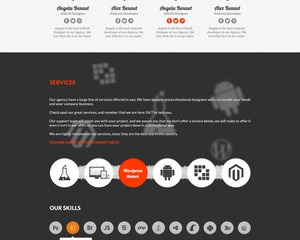 Modern One Page Design
One page website design work i am doing is using 960 grid system format, so the design will be responsive made. Deliverables would be in .psd format and on your request some icons or shapes i use can be done vectorial.
2 days with 4 revisions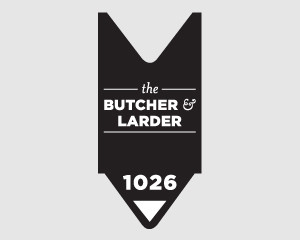 Logo & Brand Identity Design
My process is clean and quick, emails are responded to nearly immediately and revisions are knocked out in no time. Deliverables can be handed off in any file type, but always start in a fully scalable, vector format that can work on everything from a button to a bus.
4 days with 3 revisions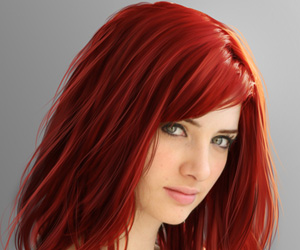 Posters are great avenues to showcase one's creativity. They allow artists to express themselves in countless ways. Posters are designed to be both eye-catching and convey information. The followings will show you some sophisticated artworks printed on quality posters which can admire yourself.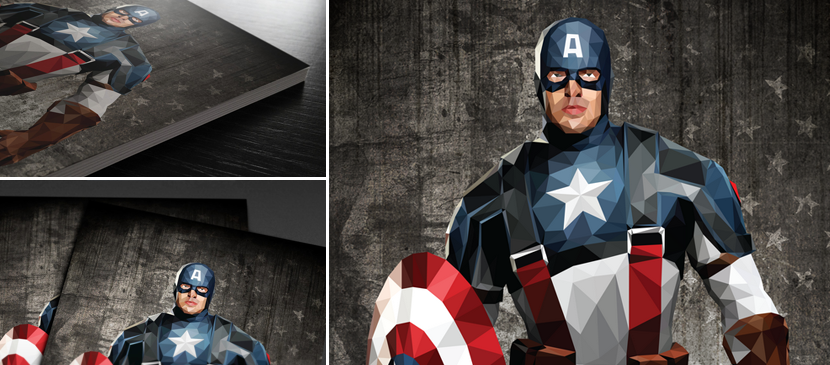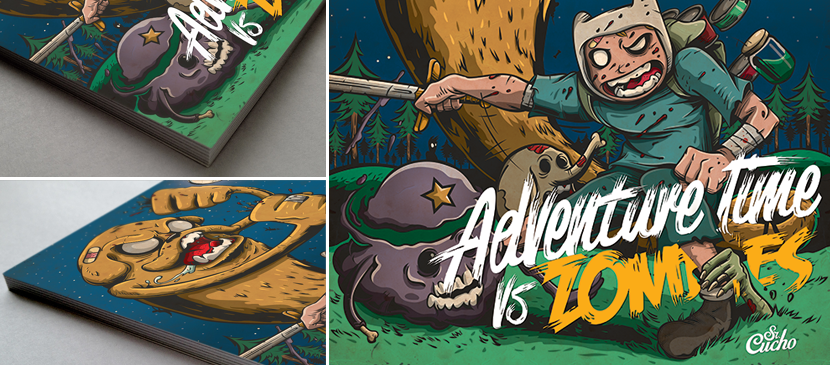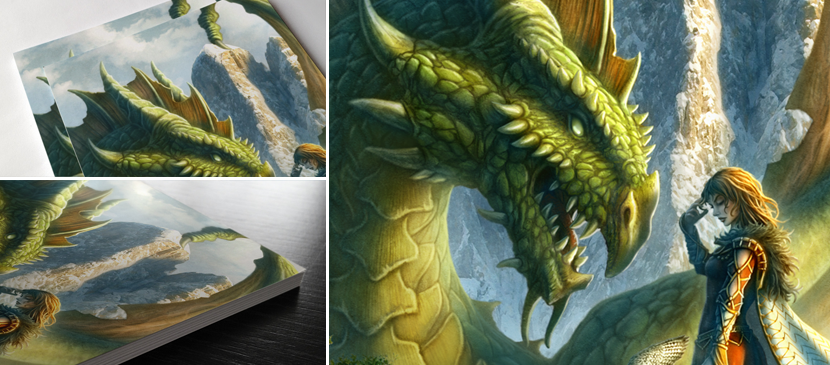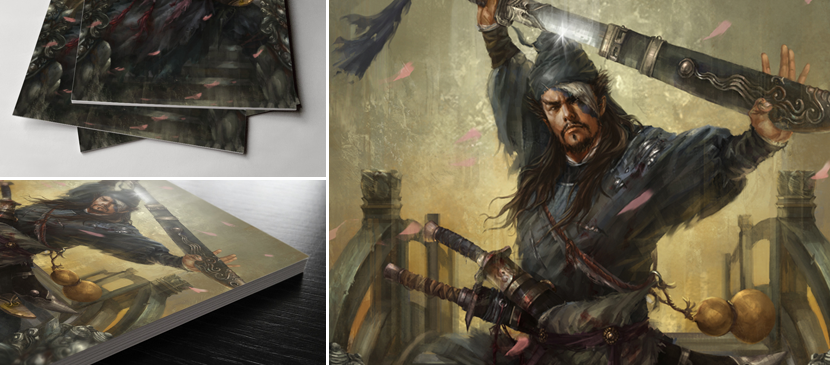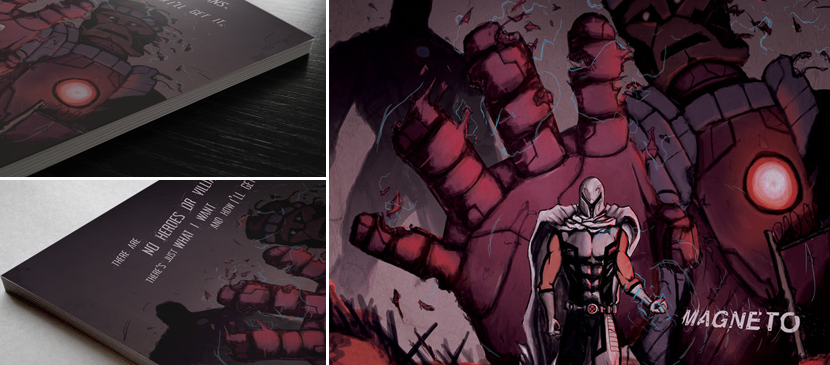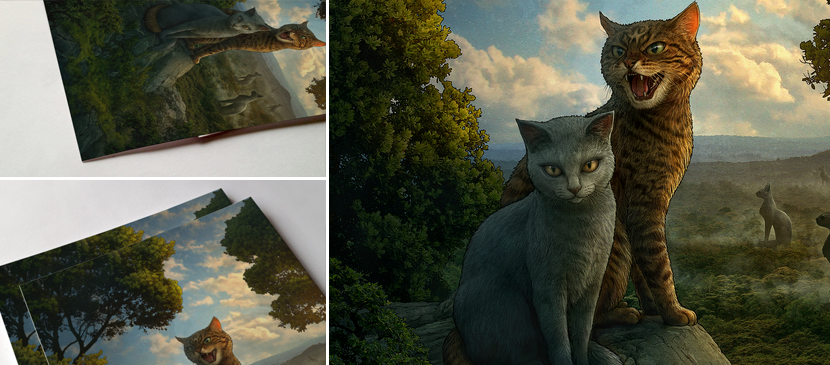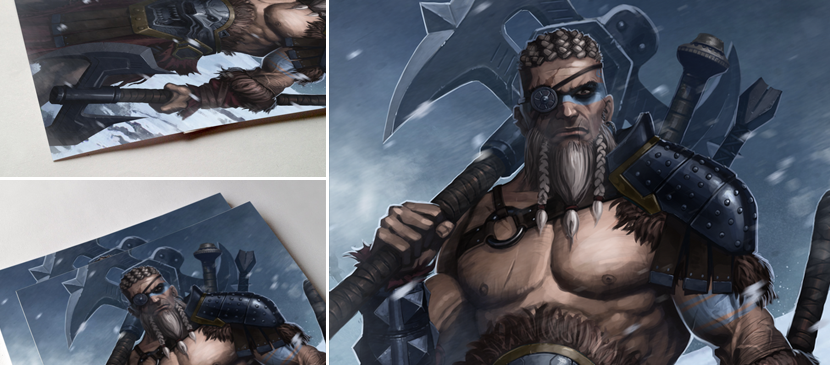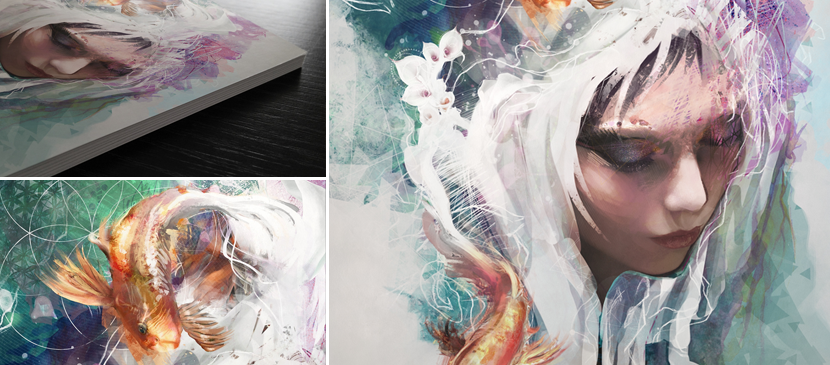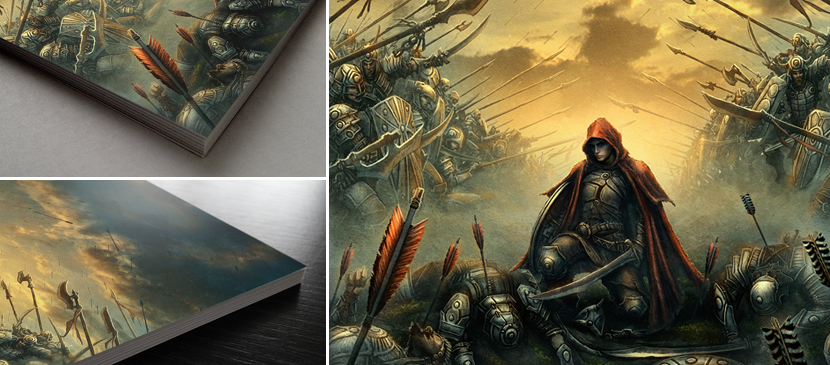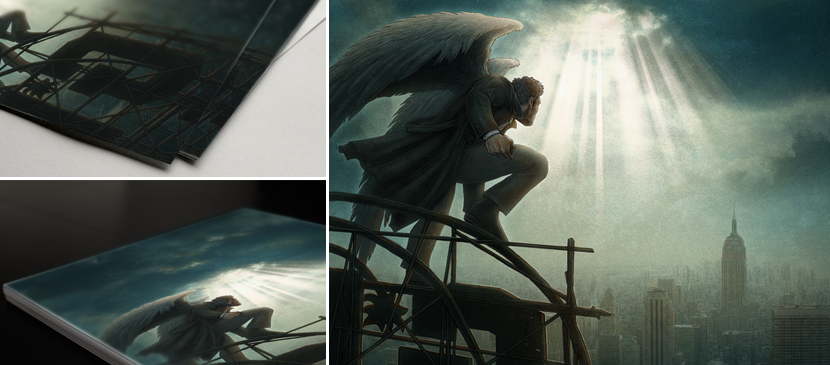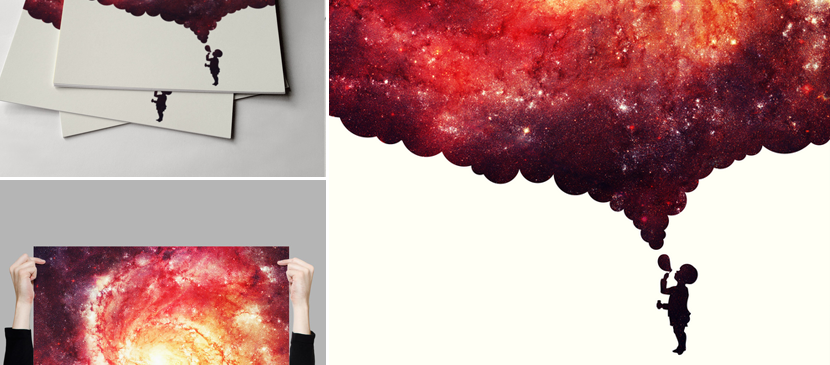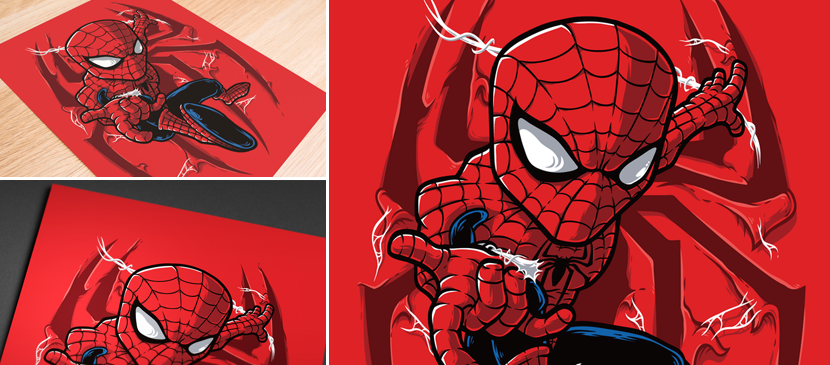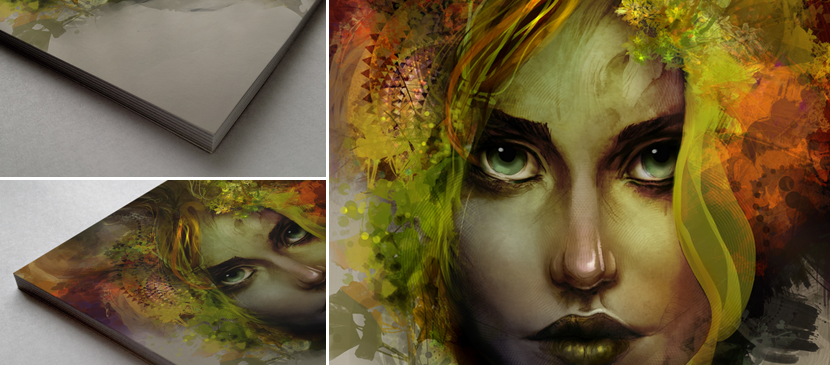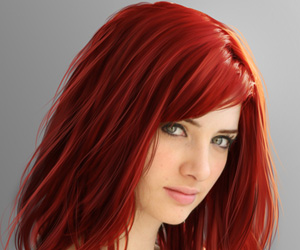 "Skull" is Colombian digital artist Santiago Betancur Salazar's last project. Salazar has his own website, which exhibits his fabulous works with different styles. The reason why he presents his "Skull" here is he loves skull, so he shares his works.
Photos belows generally show Salazar's working process with "Skull" by Photoshop. Skull itself is terrific enough, and Salazar created this "Skull" with creepy grey metal effects. The exquisite vein and muscle details prove Salazar's skills and attitude. No matter seeing from the front or from the profile, Salazar's Skull is naturally mixed together with its background, a grey metal skull emerging from its gray tenacious and unbreakable background.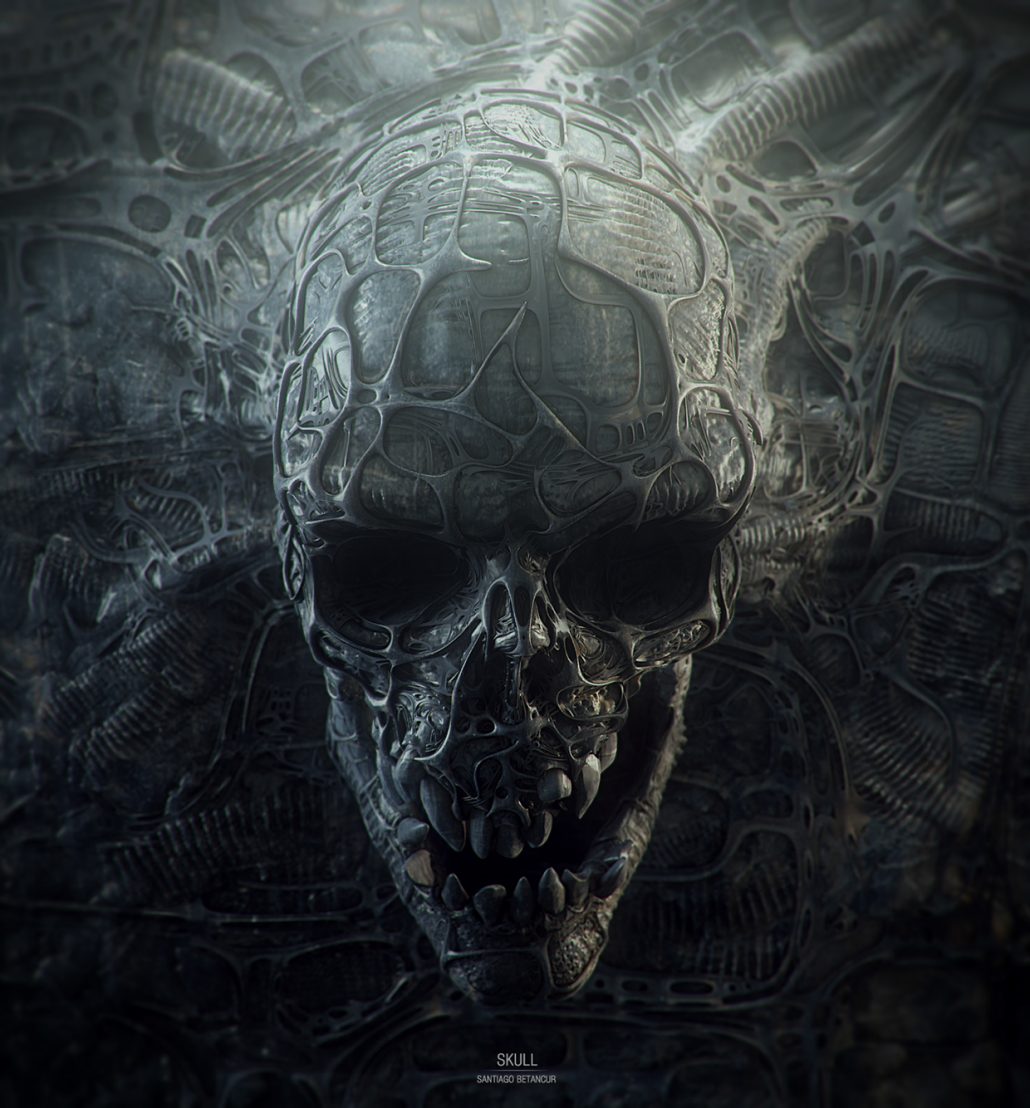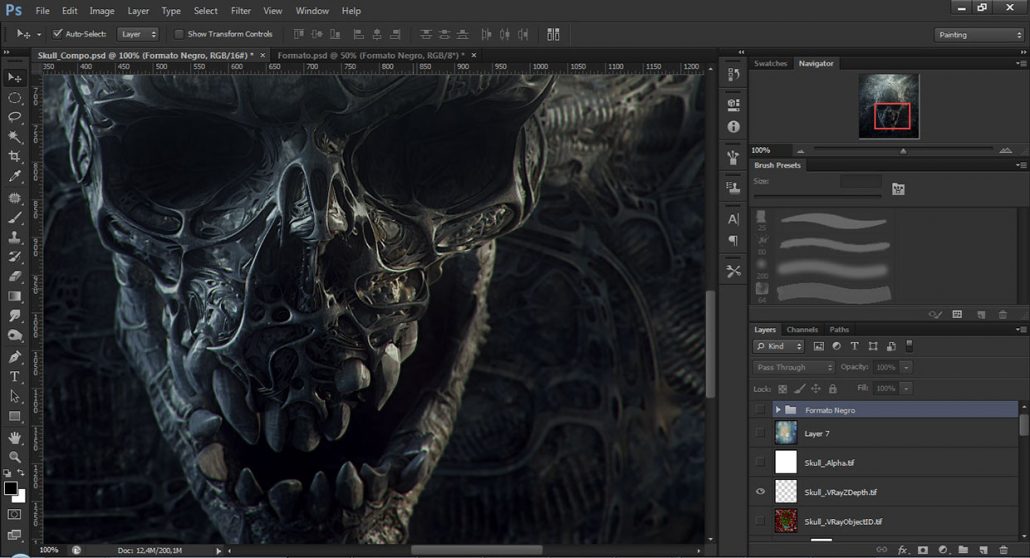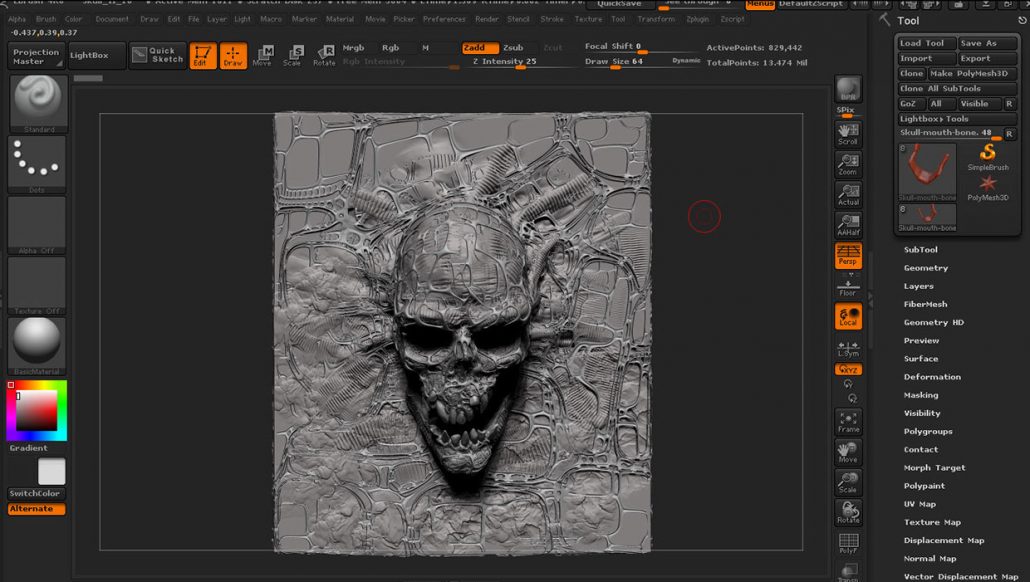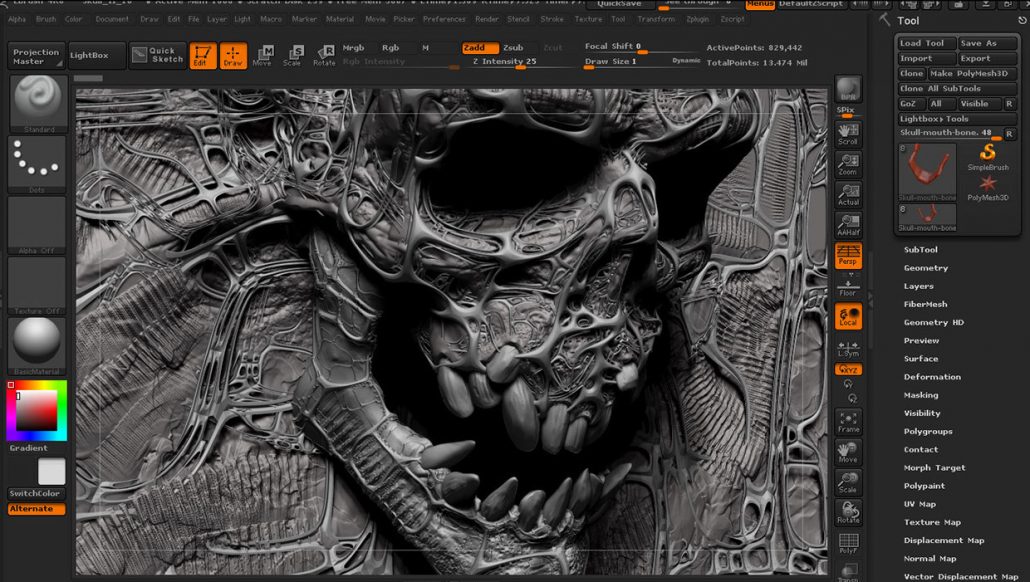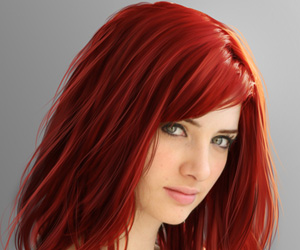 VIP Downloads of Over 2500 Top Quality Design Resources
PhotoshopLady works in partnership with WeGraphics to provide to his community the best design resources at the lowest price. By joining the premium membership, you will get access to ready-to-use sets of brushes, vectors, textures, icons and other awesome stuff paying only 7$/month or 49$/year. The arsenal of design items currently contains more than 2500 resources, with 3 new sets weekly added. And there's a discount for Photoshoplady's friends! By using the coupon 'wp-pslady', you will get a 10% off on the yearly accounts (both recurring billing and pre-paid membership).
Want to learn more? Visit WeGraphics.net