Your Favourite Photoshop Tutorials in One Place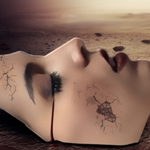 Design a Super Imaginative Scenery in Dessert
Under

- Photoshop is recommended for this tutorial -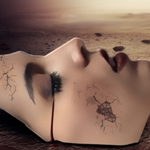 VIP Downloads of Over 2500 Top Quality Design Resources
PhotoshopLady works in partnership with WeGraphics to provide to his community the best design resources at the lowest price. By joining the premium membership, you will get access to ready-to-use sets of brushes, vectors, textures, icons and other awesome stuff paying only 7$/month or 49$/year. The arsenal of design items currently contains more than 2500 resources, with 3 new sets weekly added. And there's a discount for Photoshoplady's friends! By using the coupon 'wp-pslady', you will get a 10% off on the yearly accounts (both recurring billing and pre-paid membership).
Want to learn more? Visit WeGraphics.net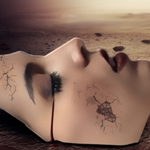 Digital photography works L'Enfant Extérieur (The Outer Child) was projected by French retoucher Cristian Girotto and Quentin Curtat.
These creative original ideas reveal somewhere inside each of us, there's a young lively, creative but also innocent and naive kid. L' Enfant Extérieur makes this analysis come ture, showing us a world of men in the shape of children, as if the body could slip on the elapse of life,though wrinkles, freckles and beards may climb on to faces.
The inspiration of these creations begins from the classical dichotomy that questions itself about the nature of purity and the unavoidability of the corruption, without taking this contradiction too seriously, because children are always children. They like to play. More children are expected……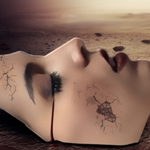 Photoshop Lady Forums Launching
Introduction
We aim to generate a Photoshop Community for Photoshop user in order to allow the users to swap tips, link up the worldwide designers and to have experience sharing.
Apart from these, you can also advertise your business there such as selling your personal design drawings / logos / others.
What do we do for your submission?
We are very welcome for everyone of you submitting your tutorials. Once we find your submission is appropriate for our readers, the submission will be published on Photoshoplady.com.
Why we have such a forum idea?
This forum idea is initiated when we launched "Photoshop Lady". We are taking the steps to provide more resources to the Photoshop designers. As above-mentioned, we aim to provide a Photoshop Community for Photoshop users as well as acknowledge for our readers who have been giving us lots of opinions and supports.
Why you choose our forums to discuss, post your artworks, submit your tutorial or run your business on our market places?
So far, we have got the worldwide trust and developed a good brand in the Photoshop world. Over 2000 new visitors and 4400 RSS readers visit "Photoshop Lady" to read our post as routine. It is noted that a foundation has been set up. Therefore, whatever you are doing on our forum e.g. swap tips, link up the worldwide designers, experience sharing or advertise your own works. It will bring you a very positive and optimistic result.
In our Photoshop tutorial sections, 7 little forums are categorized as below:
1. General Forum Discussion,
2. Photoshop Techniques,
3. Drawing Tutorials,
4. Abstract Tutorials,
5. Photo Editing Tutorials,
6. 3D Tutorials,
7. Text Effect Tutorial
In order to specialise the Photoshop users and designers, we divide the tutorials categories into 7. Users and designers can easily choose the right area to go to and concentrate on a single topic as prescribed.
Moreover, if you want to have extra income and you are confident with your personal creation. We are welcome you to sell your products on our market places. These places allow you to buy / sell various products like e-books, Photoshop tutorial, other Photoshop related products. Our forum is "Not" like others, as charge or commission will not be induced. Based on our strong foundation, it is believed that our Photoshop forums will provide a certain exposure for your personal products or artworks.
At the end, we are very pleasure you giving us a lot of supports. We still need your supports in the future.
Let's Come to our Forums and Open your discussion!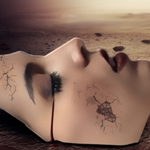 When you have created your own amazing Photoshop tutorials, I am sure you would like to spread the world by submitting them to the Photoshop tutorials sites. However, many of the Photoshop tutorials sites are inactive, and have not been updated for a long time. Only some of the Photoshop tutorials sites can drive you large amount of traffic.
We have selected the following 20 Best Places to Submit Your Photoshop Tutorials. They can gives you nice amount of traffic and a good quality of valid linkback. You can find the "Direct Submission Link" on each of the Photoshop tutorials sites we mentioned. We hope it can make your life easier.
—————- Direct Submission Link —————-
Pixel2Life

Pixel2Life is probably the biggest tutorial search engine on the web, covering the most subjects as well.
—————- Direct Submission Link —————-
Good-Tutorials
Good-Tutorials is the largest source of tutorials on the web today. It has been featured on the BBC, SkyNews, TechTV (now G4), in the British magazine iCreate, PC World, and has been linked to by thousands of sites, blogs and forums. Since its start in 2002, it has been designed, coded, and loved by Zach Holman.
—————- Direct Submission Link —————-
Design Bump
Design Bump isn't just a tutorial website, rather a general design resources depository. Covering subjects such as: Web Design, Tutorials, Flash, Business, Programming, WordPress and much more!
—————- Direct Submission Link —————-
Psdtuts+

Psdtuts+ is a blog/Photoshop site made to house and showcase some of the best Photoshop tutorials around. We publish tutorials that not only produce great graphics and effects, but explain the techniques behind them in a friendly, approachable manner.
—————- Direct Submission Link —————-
PSLover

One of the bigger Photoshop tutorial databases on the web, PSLover has been arond for quite a while now and is still going strong.
—————- Direct Submission Link —————-
Tutorialvault.net

Tutorialvault.net focuses on collecting and archiving the best graphic and coding tutorials on the internet. While a large part of our database features tutorials from the Adobe Family of programs, we also have a vast list of CSS, PHP and 3D tutorials.
—————- Direct Submission Link —————-
TutorialsGarden

Covering many subjects extensively, such as: 3D Studio Max, CSS, Fireworks, Flash, Gimp, Photoshop and more.
—————- Direct Submission Link —————-
Tutorial Outpost

Tutorial Outpost was started in November 2003 by Josh Pigford initially as a project to learn web development. It quickly turned in to much more as being one of the first major tutorial portals around. It has expanded in to many more categories past the initial Photoshop Tutorials and is now visited by more than 125,000 people each and every month.
—————- Direct Submission Link —————-
Tutorials Expert

Covering subjects of: 2D graphics, 3D graphics, audio editing, business applications, databases and more.
—————- Direct Submission Link —————-
Photoshop Roadmap

A brilliant collection of Photoshop tutorials, brushes, resources and plenty more.
—————- Direct Submission Link —————-
FSTutorials
A beautiful depository for Photoshop tutorials, including the following categories: basics, buttons, color effects, designing, drawing, photo effects, special effects, text effects, textures and web graphics.
—————- Direct Submission Link —————-
TutorialMix

Covering topics on the following: 3DS Max, Photoshop, ASP, Cinema 4D, Dreamweaver, Illustrator and many more.
—————- Direct Submission Link —————-
Tutorial-Index
One of the younger but larger collections of tutorials on the web. Tutorial-Index covers the following subjects: Photoshop, Flash, PHP, Unix, Javascript and many more.
—————- Direct Submission Link —————-
TutorialKit

Covering many popular categories, including: Photo Correction, Special Effects, Text Effects, 3D Effects, Web Layouts and Graphic Design.
—————- Direct Submission Link —————-
Tutorialized

One of the oldest tutorial databases, Tutorialized has been around since the beginning.
—————- Direct Submission Link —————-
Total Tutorials

Covering tutorials on Photoshop, 3D Studio Max and Cinema 4D, Total Tutorials has been in the game for a very long time.
—————- Direct Submission Link —————-
Tutorial Center
Just some of the categories that Tutorial Center covers: Photoshop, Illustrator, InDesign, Blender, CSS and more.
—————- Direct Submission Link —————-
Kaoz-Tutorials

Covering the following subjects in some depth: Photoshop, Flash, HTML and CSS, Javascript and PHP.
—————- Direct Submission Link —————-
CG Links

CG Links covers 3D & 2D files, tutorials, books, plug-ins and textures
—————- Direct Submission Link —————-
CGTutorials.com

CG Tutorials is becoming one of the fastest growing directories of computer graphics tutorials. We seek to index all computer graphics tutorials in order to give them publicity and to give everyone an easy way to find the tutorial they seek.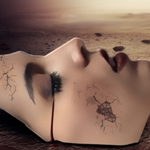 In today's tutorial we will be showing you how to make use of simple elements and colors in Photoshop to get an essentially beautiful outcome. People always over complicate things, that's why we will be having a simple approach towards this large piece. We will be teaching you in a step by step manner and hopefully you can learn something new from this tutorial. Let's get to it.
Tutorial Requirements
Stock: Model Wearing Purple Dress
Brushes: Abstract Glow Brushes by Ro-stock
Elements: Elements Pack
Textures: DSC_0042
Time: 1 Hour
Final Preview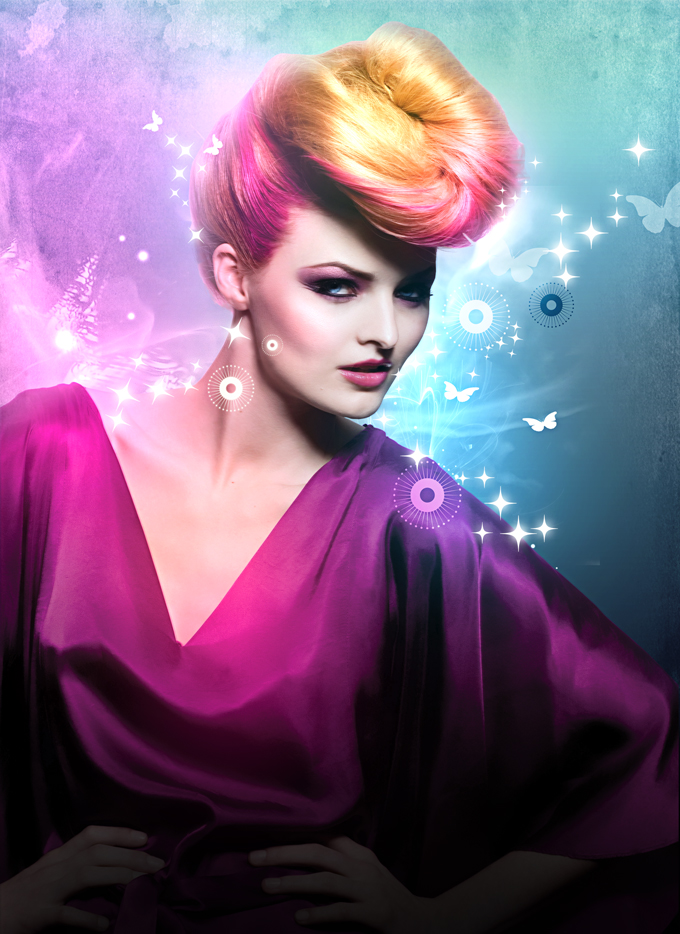 Step 1
The first thing you have to do is decide what stock image you are going to use and what your output size for the large piece is going to be. Are you going to print it in a A3 size or are you going to only use it on the web. In our case we will be making a large enough image to use on the web and in print if necessary. Go ahead and open up Photoshop and then create a new document by going to File>New (CTRL+N) then create a document with the settings below.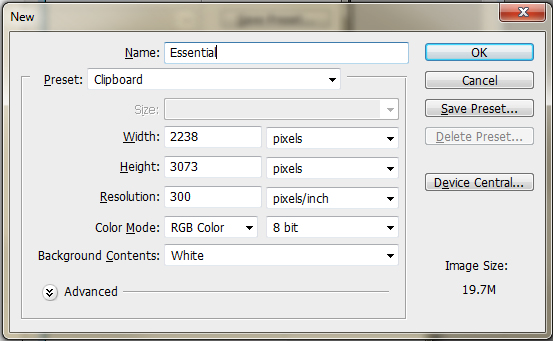 Step 2
Now that you have a blank document in front of you it's time to create your color base for the design. Go to Layer>New Fill Layer>Gradient this will bring up a gradient fill box. Now double click the gradient to setup a new gradient and set the gradient from #3c6c94 to #c0ecf8 (See below) Once you have created your gradient hit OK>OK and then you will see a nice smooth, good looking gradient as your base.
Step 3
Time to make use of the first downloaded texture, it's called DSC_0042 I am not aware who the author of the texture is due to having the texture for quite some time now. Open up the texture and drag it into your canvas. Set the layer's blending mode to Overlay and erase parts of the layer you don't want. Now create a new layer Layer>New>Layer (SHIFT+CTRL+N) and use a big soft brush with the color #6b6b6b and brush over your entire canvas, then set the blending mode to Overlay. Lastly go to Layer>New Adjustment Layer>Gradient Map use the default gradient map, which is Black to White and then set the blending mode to Multiply and the Opacity to 76% This is what you should have below.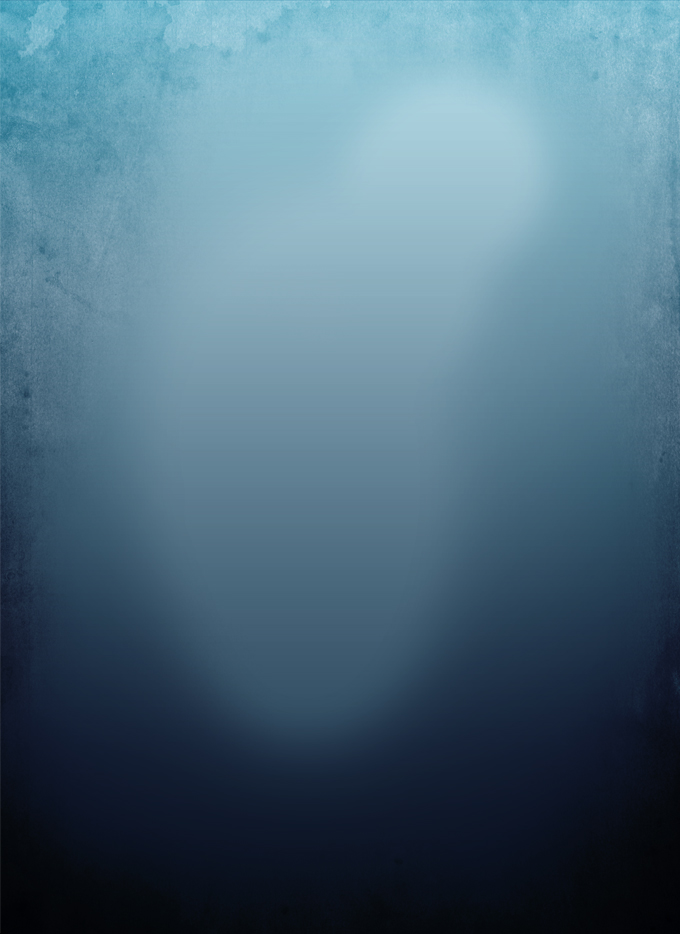 Step 4
Now it's time to bring in our stock photograph, I have chosen to use one from iStock Photo. Open up your model picture in Photoshop and start to remove the background from around your model if you don't know how to do it, follow This Tutorial from Media Militia. Now that you have removed the background from the models picture you can drag your model into your canvas and you should have something like this below.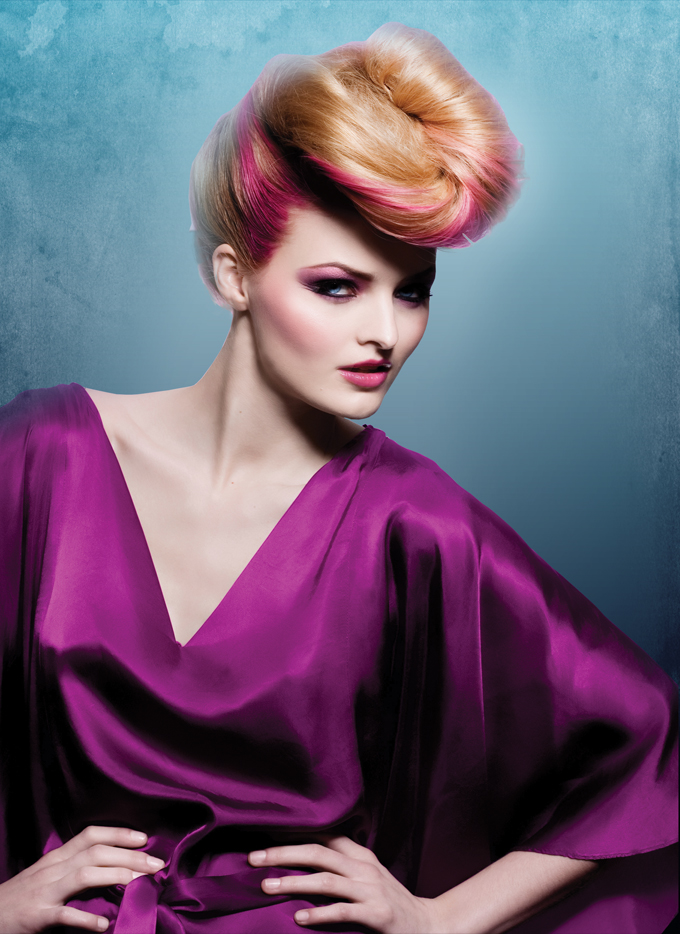 Step 5
Now that you have your model in the canvas, it's time to start working on the effects. Create a new layer and take a big black soft brush and then brush at the bottom of your canvas, just to add a darker feel at the bottom. You should have something like this below.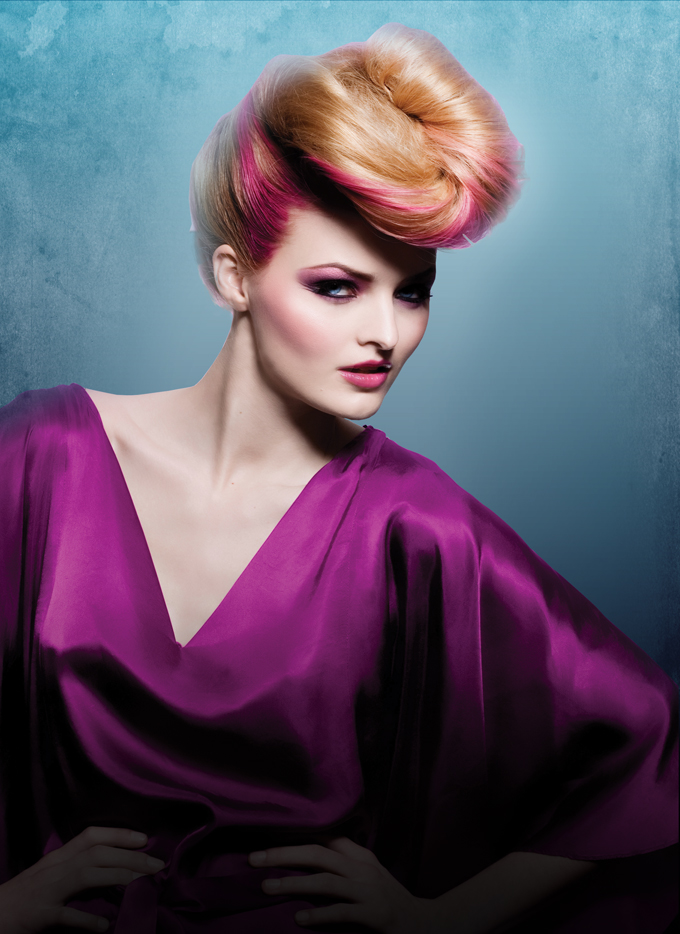 Step 6
In this step we will start adding lighting to the model. Create a new layer and fill it with black #000000. Now set the blending mode to Linear Dodge and select your brush tool with a soft brush of about 960px big. Now start using different colors to blend your model and lighten up the canvas. I used the following colors: Blue #005d7f | Pink #570033 & #970059 | Green #617c01 | Red #810007 I mixed those colors together and then finally used a hard small brush with White #FFFFFF to create the dots that you see on the chart below. The image you see below is the layer with colors without the blending mode.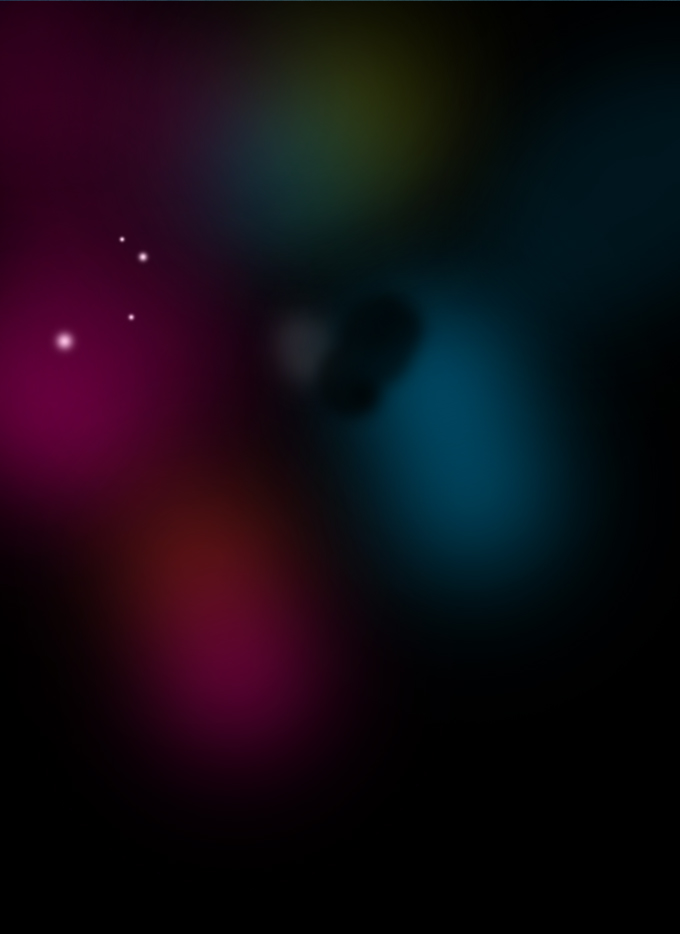 Here you can see what the outcome is after the blending mode is set to Linear Dodge.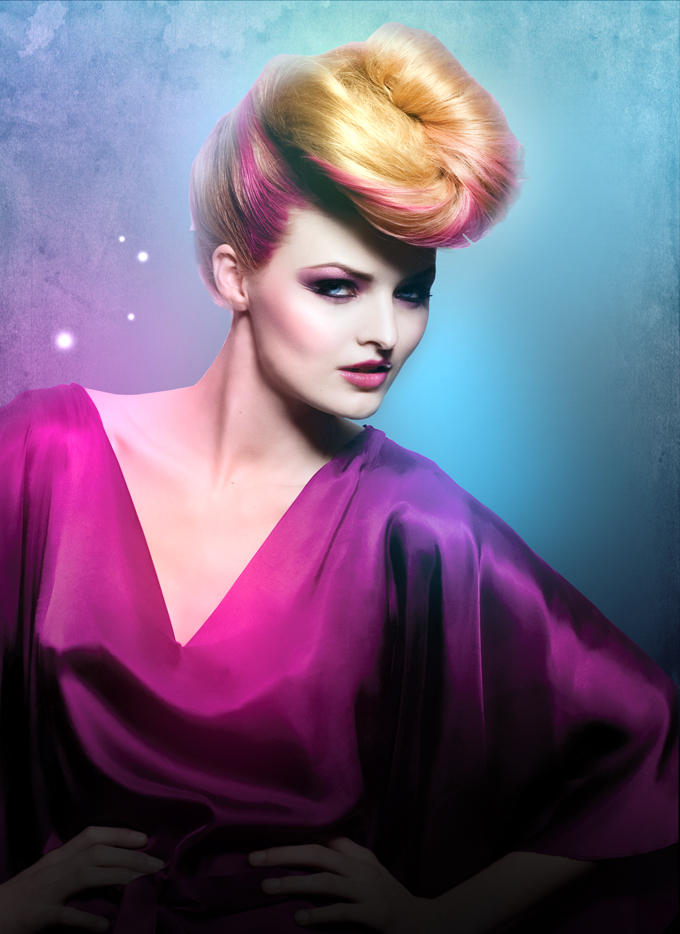 Step 7
You can see the piece is coming together now. In this step we will be repeating the exact same thing we did in Step 6 just with a bit different colors. Create a new layer and fill it with black #000000 now set the blending mode to Linear Dodge and grab your brush tool with a soft brush sized 700px now choose the colors that you want to use to light up the canvas. I used Pink #450627 & #32041b | Green #1a1900 you are free to use any colors that you desire though. See color placement below.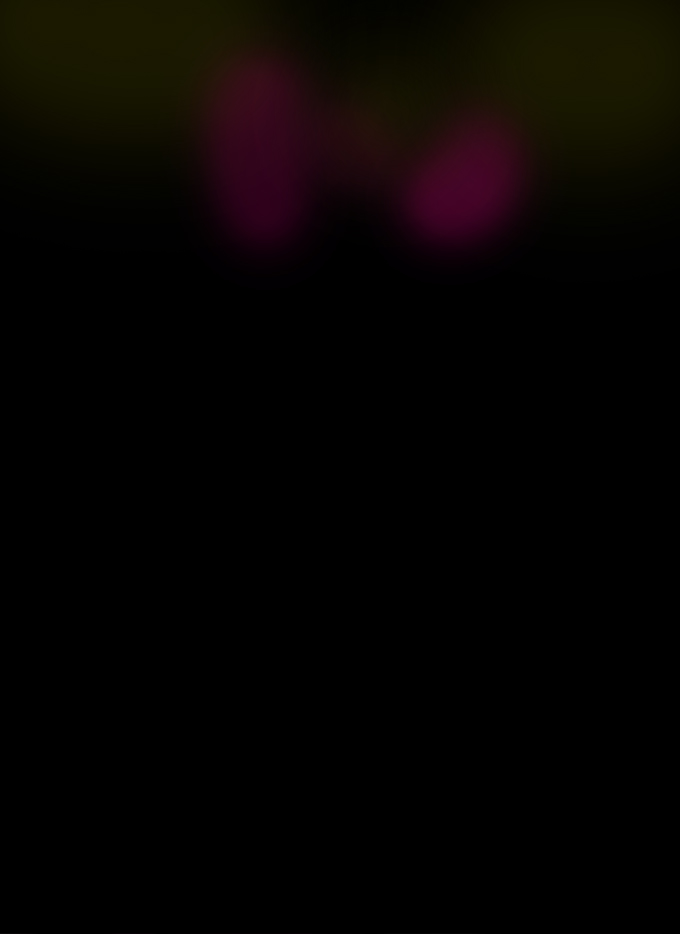 Now add in another soft pink in the top left hand corner just to balance the color in the piece.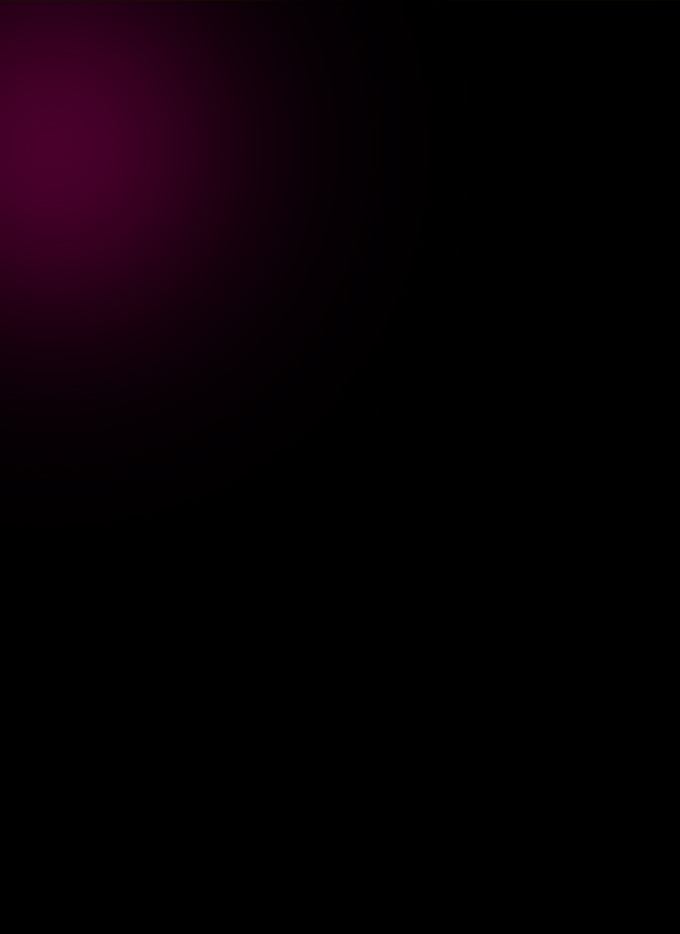 Now make sure both your layers are set to linear dodge. You should have something like below.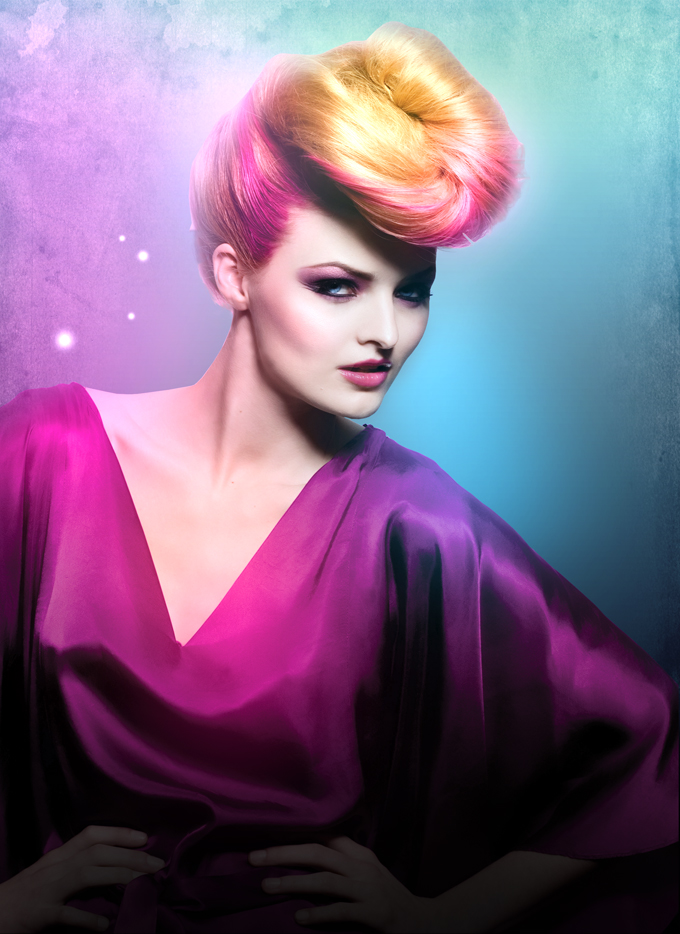 Step 8
Now it's time to add in some elements. In this case we will be adding in some butterflies, stars and cogs. I have made these elements available for download as a package Elements Pack Now you can import these elements into your canvas and then place them around how you would like them to be placed. I added in the cogs first and set some of their blending modes to overlay just to give a variety of depth.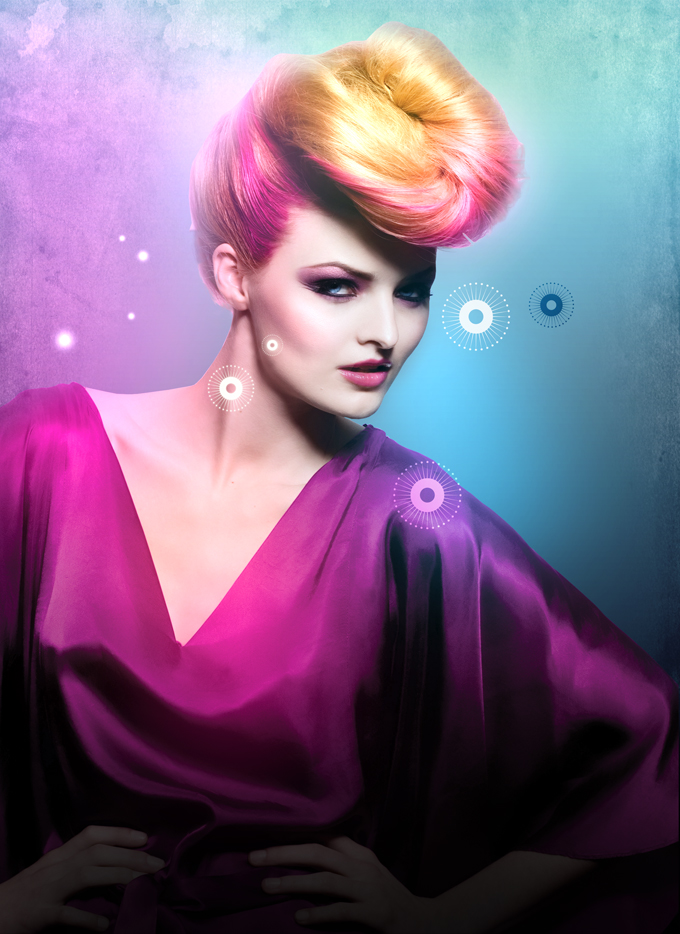 Now I added in the stars and placed them around as I wanted, depending on the image you use, you can position them to flow with your design.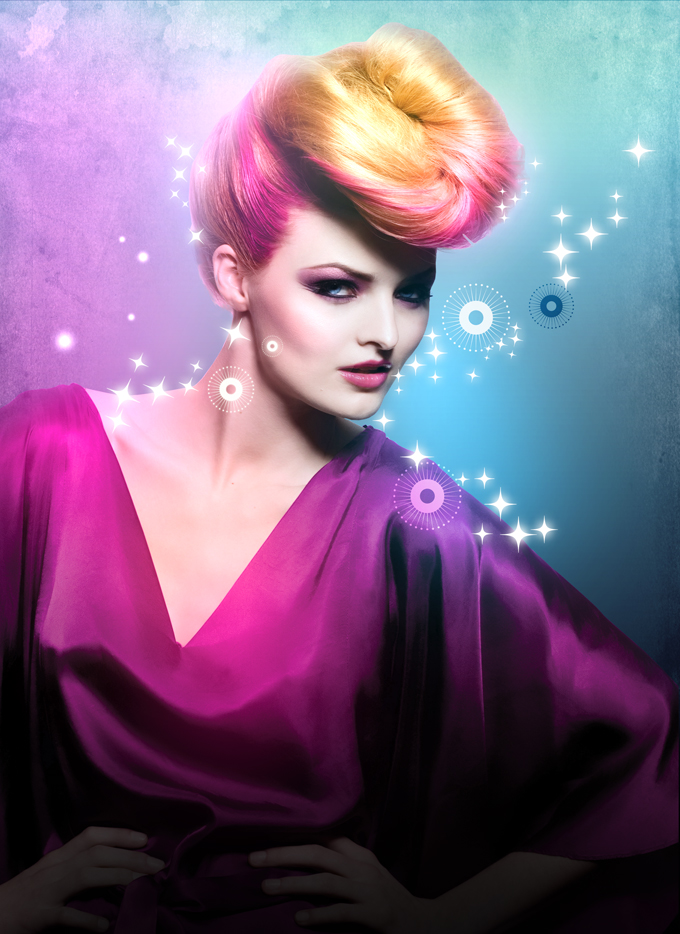 Next I added in the butterflies, I made some of them bigger than the others to also portrait depth in the piece. This is what I have so far below.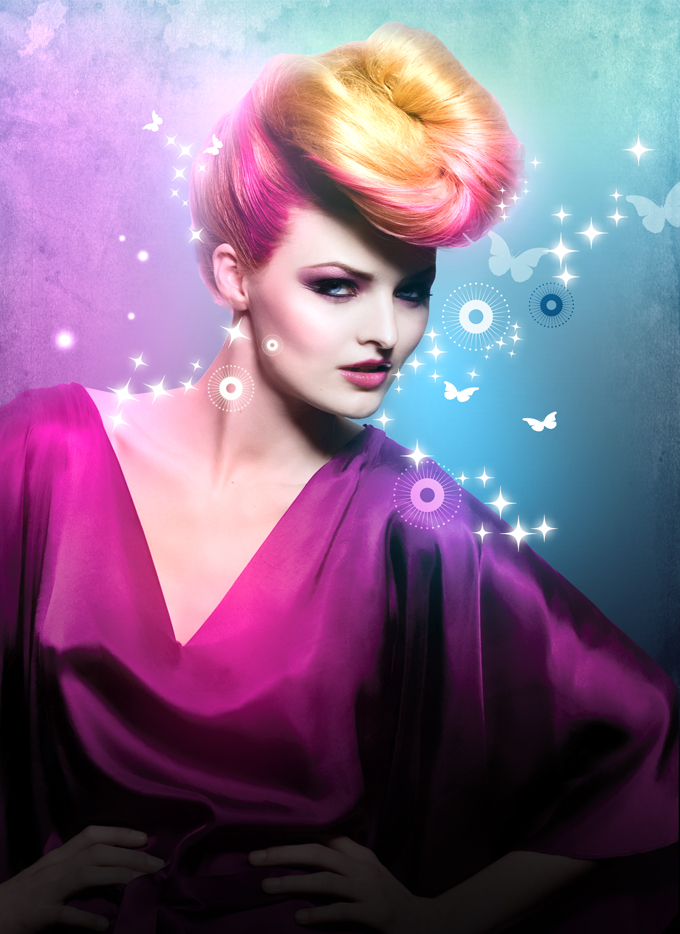 Step 9
In this step we will be adding some image adjustments. Go to Layer>New Adjustment Layer>Brightness/Contrast. Leave the brightness at 0 and make the contrast -20 now press OK to accept the changes. Now go back to Layer>New Adjustment Layer>Curves Use the RGB Channel and just curve your line out a tiny bit to darken the middle of the piece a bit. You should have something like this below.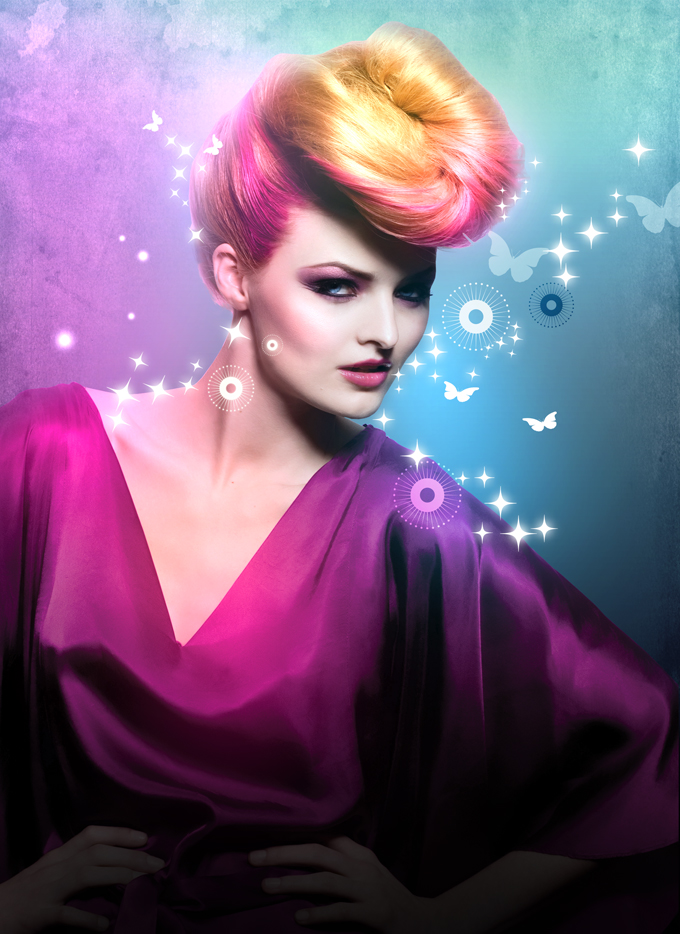 Step 10
Now it's time to make use of some brushes. Navigate down your layers palette and create a new layer just underneath your model layer. Now grab your brush tool and make use of Abstract Glow Brushes by Ro-stock now choose your brush from the pack and brush underneath the model layer to give it a mystical feeling. I made use of 2 different brushes in this case to make things flow well. I have something like this below.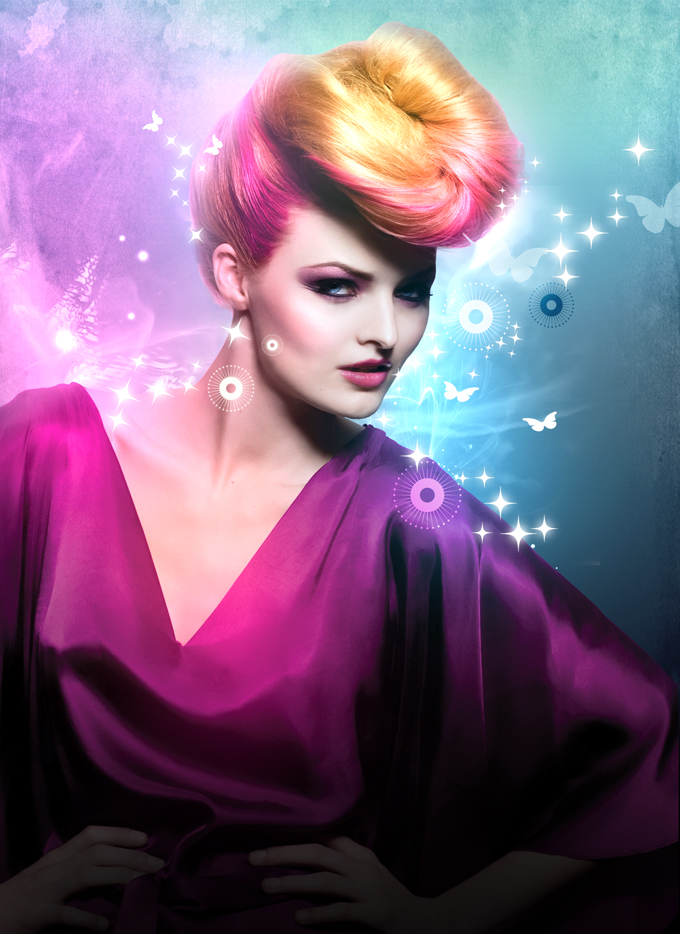 Step 11
In our final step we will be sharpening the image. Firstly create a new layer by going to Layer>New>Layer and then go to Image>Apply Image. Now that you have a applied image go to Filter>Other>High Pass now use a radius of 10px and hit OK. Now set your blending mode to Overlay and your opacity down to 42% and you are done.
Final Preview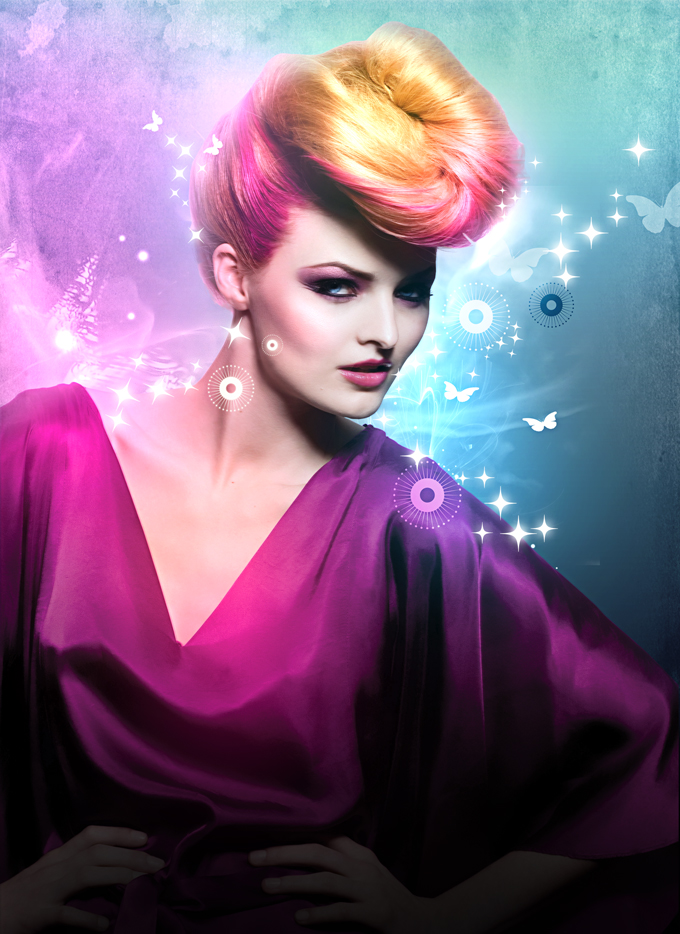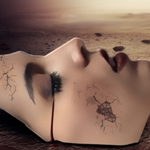 Please fill in the form below. We will get back to you within 48 hours.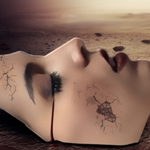 We are happy to announce another massive giveaway from Inky Deals that comes with a free pack of premium resources worth $66. The freebie is sent to the email address you use to enter the contest and is part of The Epic Bundle: $20,048 worth of Top-Quality Resources – From $49.
About Inky Deals
Inky Deals is the place to go if you want premium resources at unbeatable prices whether you're a graphic or web designer, developer, or business owner looking to improve yourself and your work. They're the only ones who offer a 200% money back guarantee on every product. This means that if you're not happy with it, you get your money back and you also get to keep the product.
Take advantage of this opportunity to win an 11" MackBook Air and 1 of the 10 Epic Bundles: $20,048 worth of Top-Quality Resources – From $49!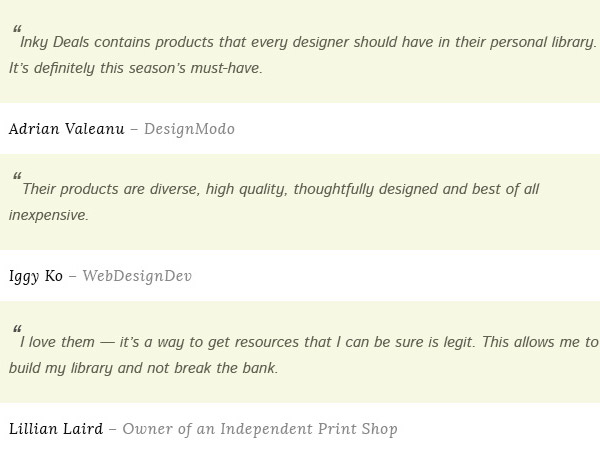 What Can You Win?
You'll get a surprise free pack of premium resources worth $66 sent to the email address you use to enter the contest. Take a look at what's inside the The Epic Bundle: $20,048 worth of Top-Quality Resources – From $49: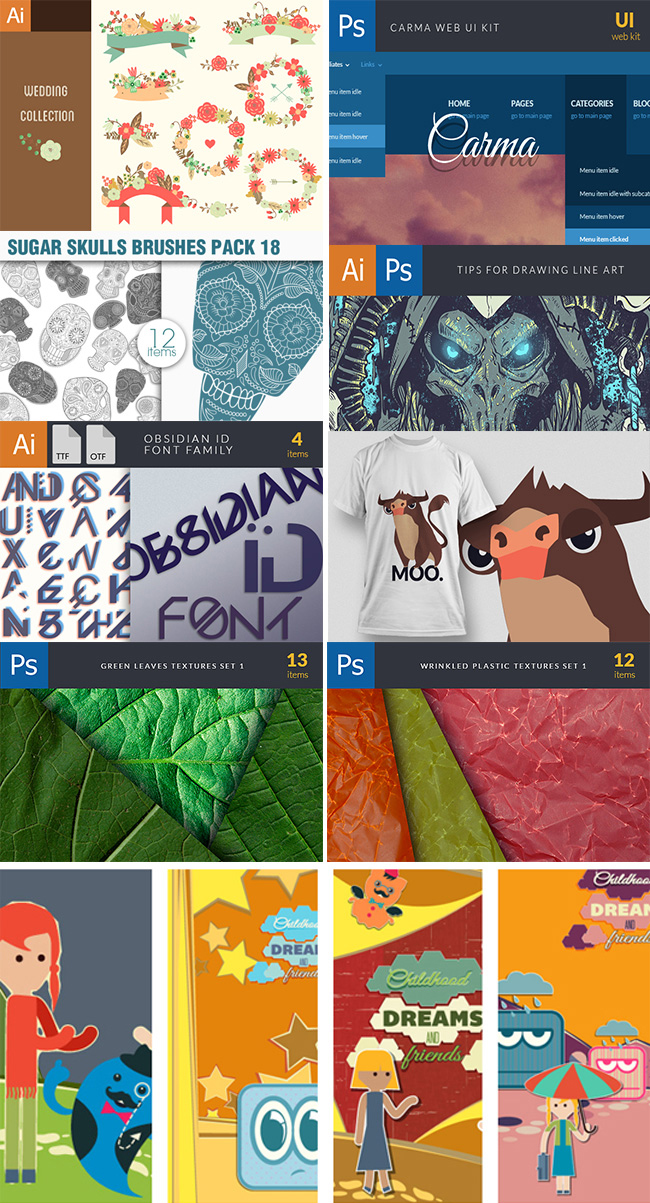 10 lucky winners will be chosen from the list of participants and each one of them will win a free copy of The Epic Bundle: $20,048 worth of Top-Quality Resources – From $49. One of the 10 winners will also take home an 11" MacBook Air!
How to Enter the Giveaway:
To enter the giveaway, please use the widget below. You can gain more entries by leaving a comment, tweeting about the giveaway and sharing it with your friends.
a Rafflecopter giveaway

Thank you for participating, you're now part of Inky's extended design family! Sit tight, because you've just embarked alongside 300,000 of your peers on a ship that will lead you to great professional and personal development.