Your Favourite Photoshop Tutorials in One Place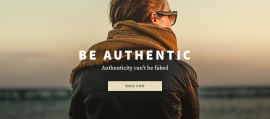 Design a Shopify Theme for Handcrafted Goods
Under

- Photoshop is recommended for this tutorial -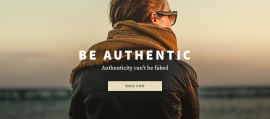 Emi Haze is an Italian digital artist and illustrator who has a strongest passion for art and painting connected to technology. In his works the human being melts with nature and its four elements to give birth to his inner world, ethereal and imaginative, hanging in balance between reality, dream and fantasy. A harmony that bonds man and nature in a perfect way and which unfortunately nowadays seems to be a utopia.
His style is a mix of all these tools, digital art and photography but also various hand-made elements such as scratches, ink marks, acrylic or watercolour stains. For him, everything in every moment has an artistic side, the aesthetics of things, people around him…everything has its own importance, images, textures, sounds, fragrances, his creativity is constantly stimulated.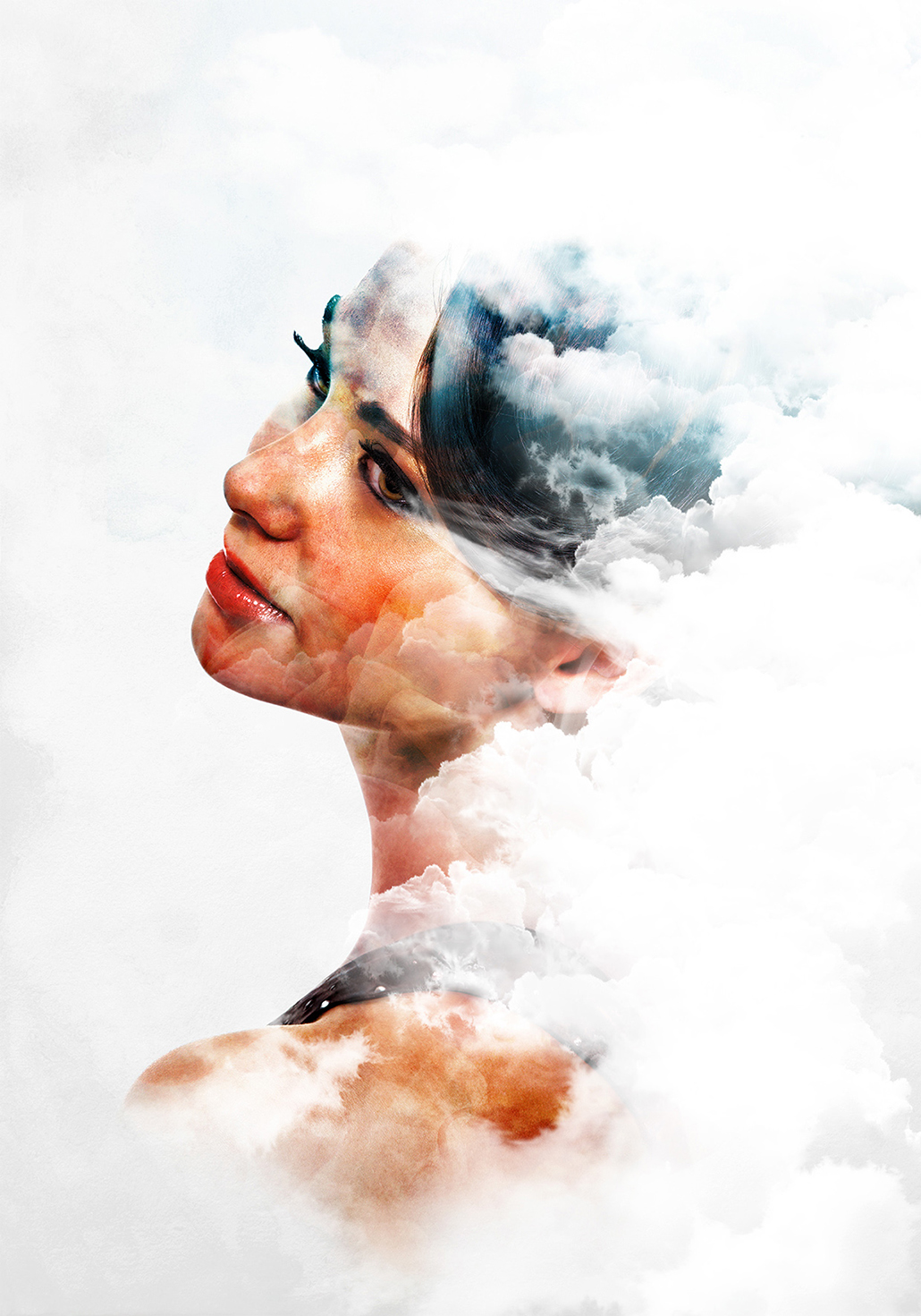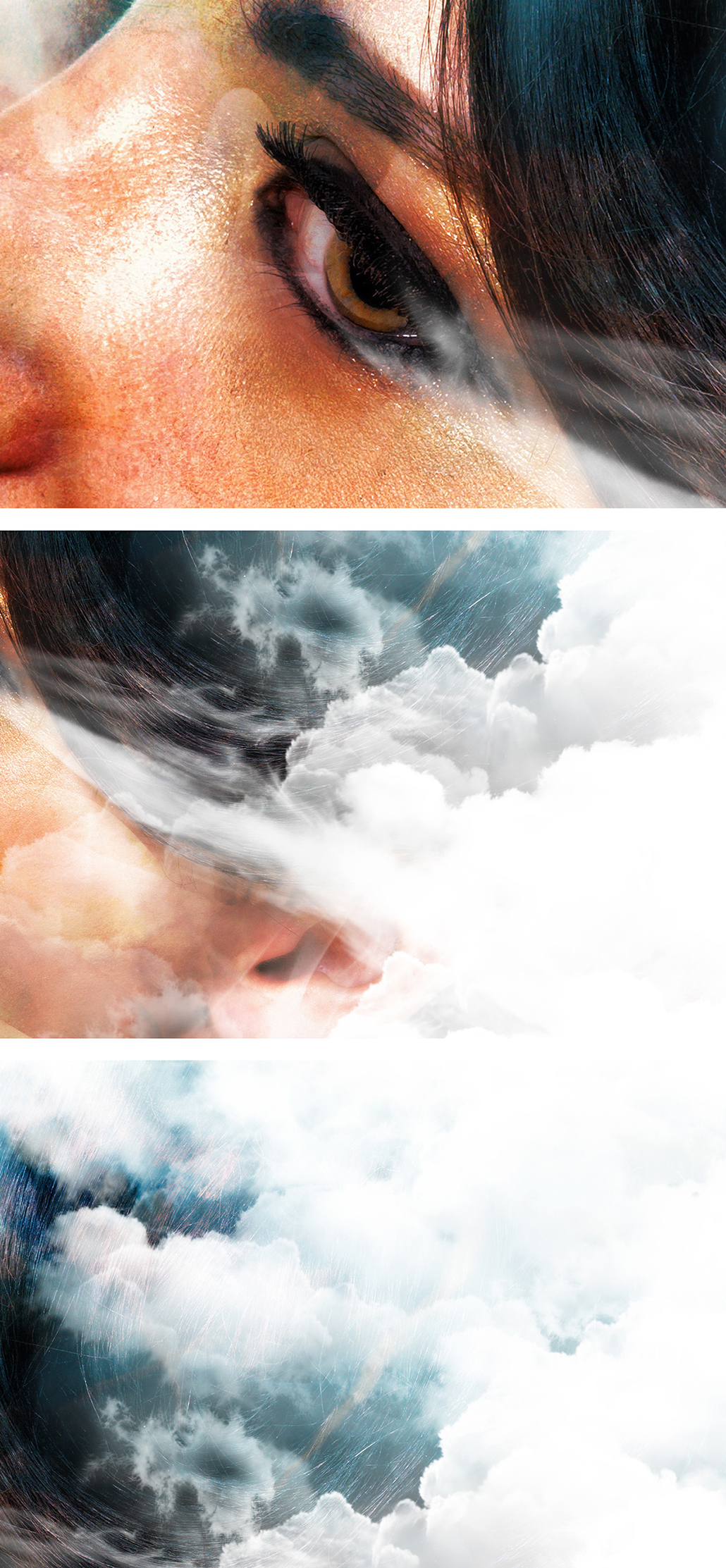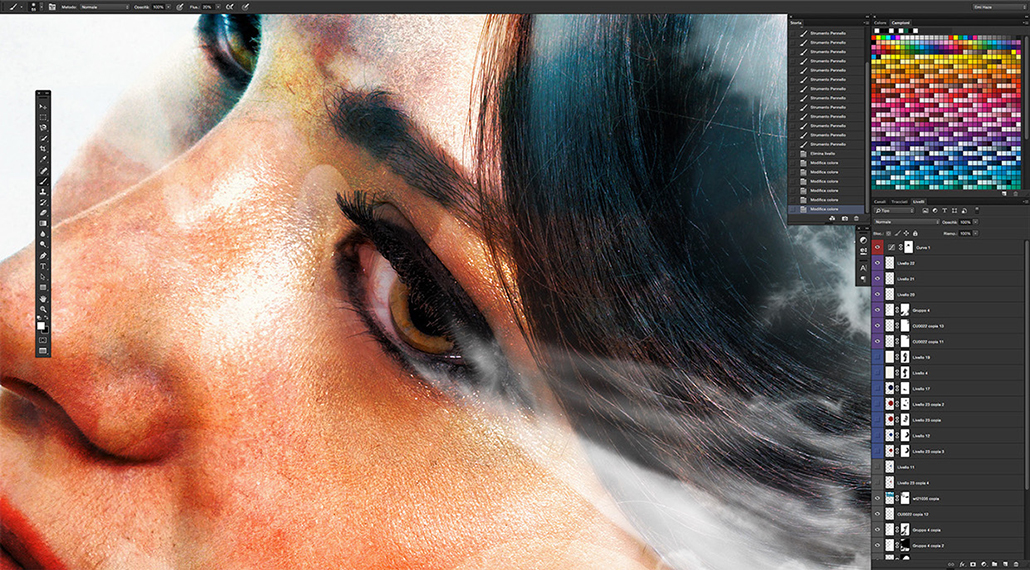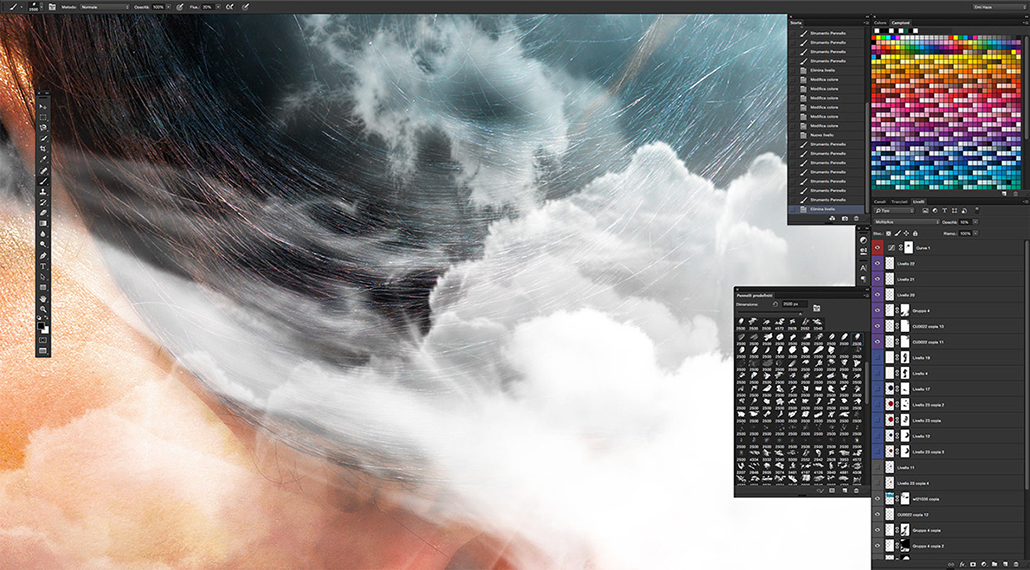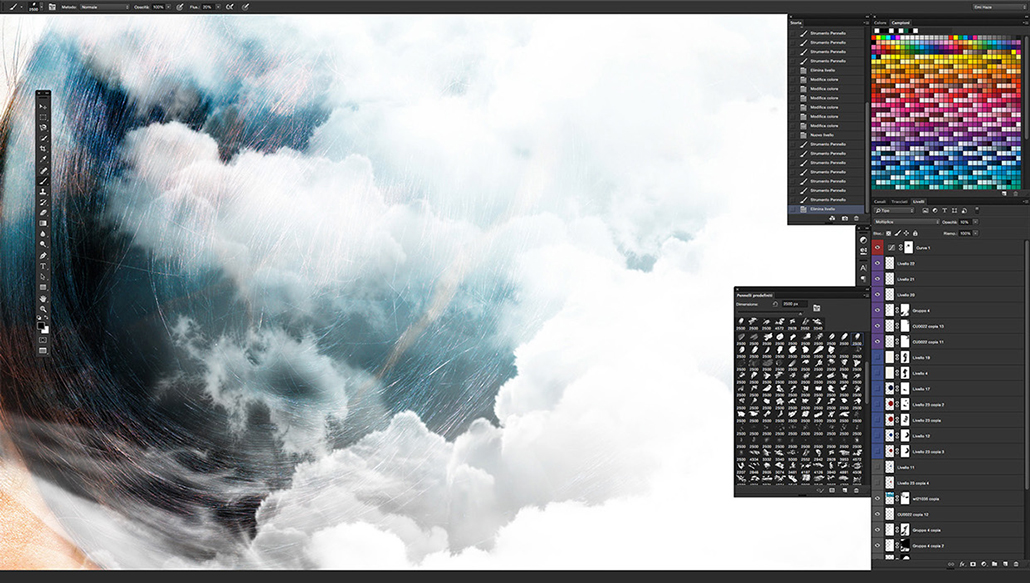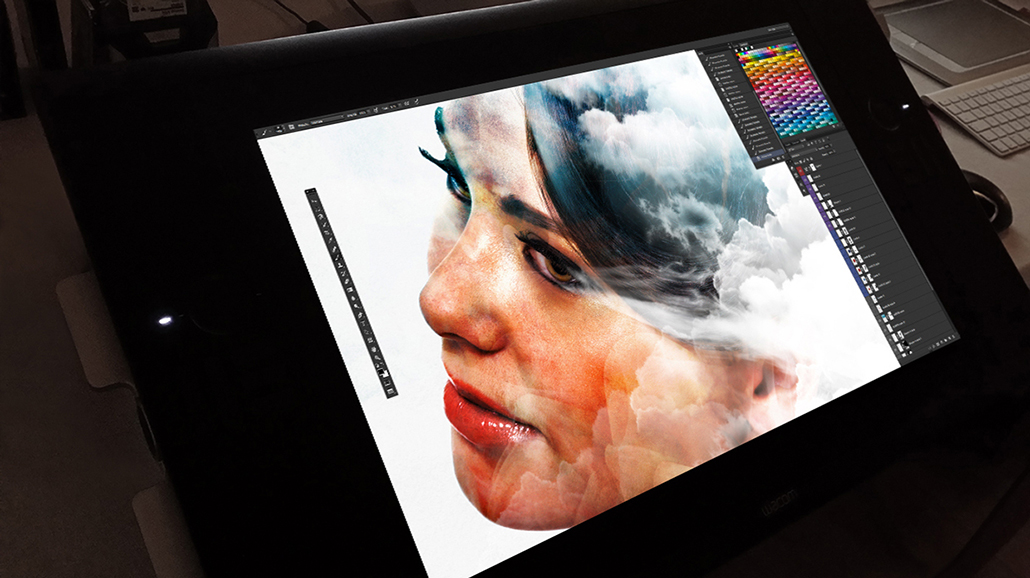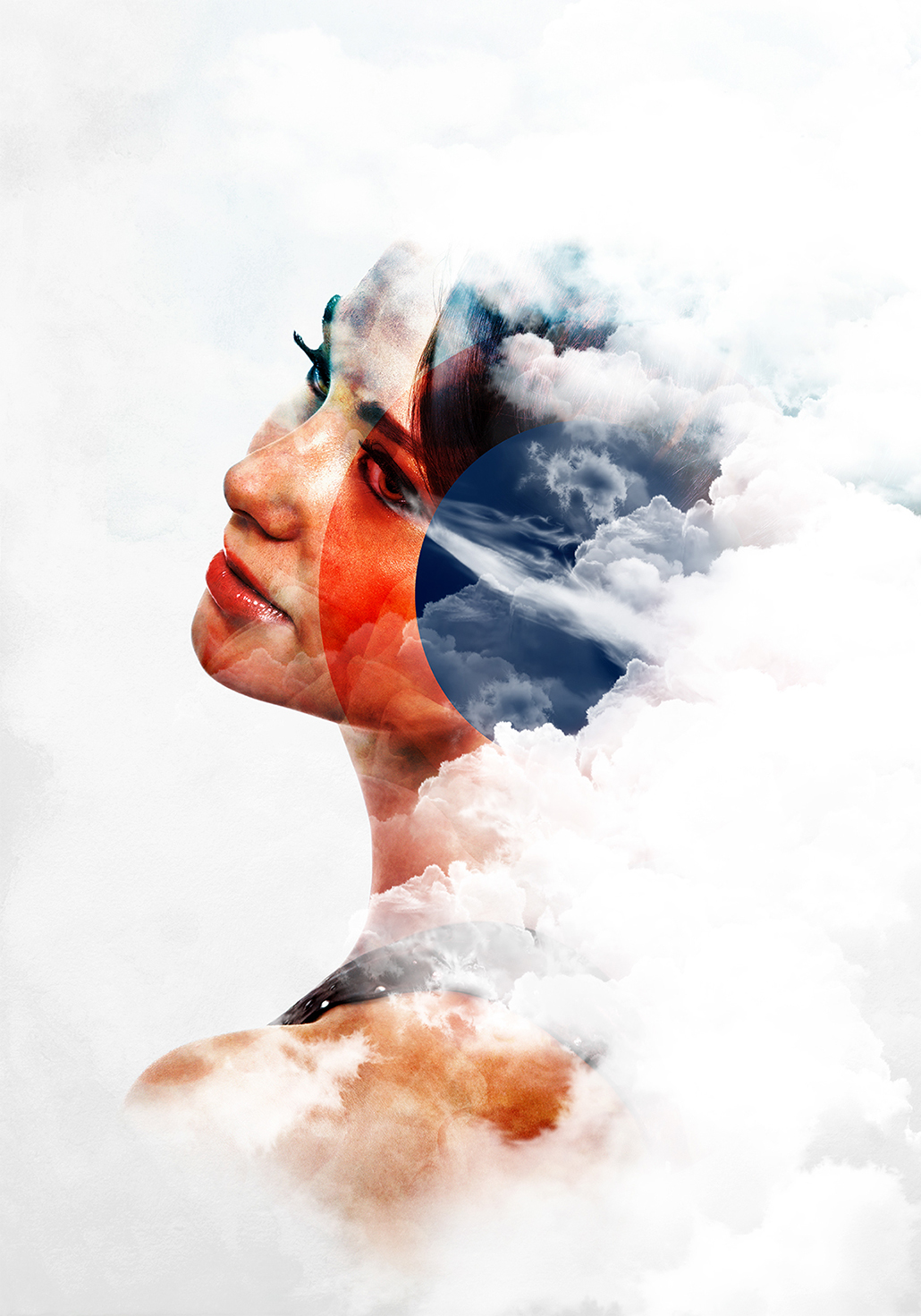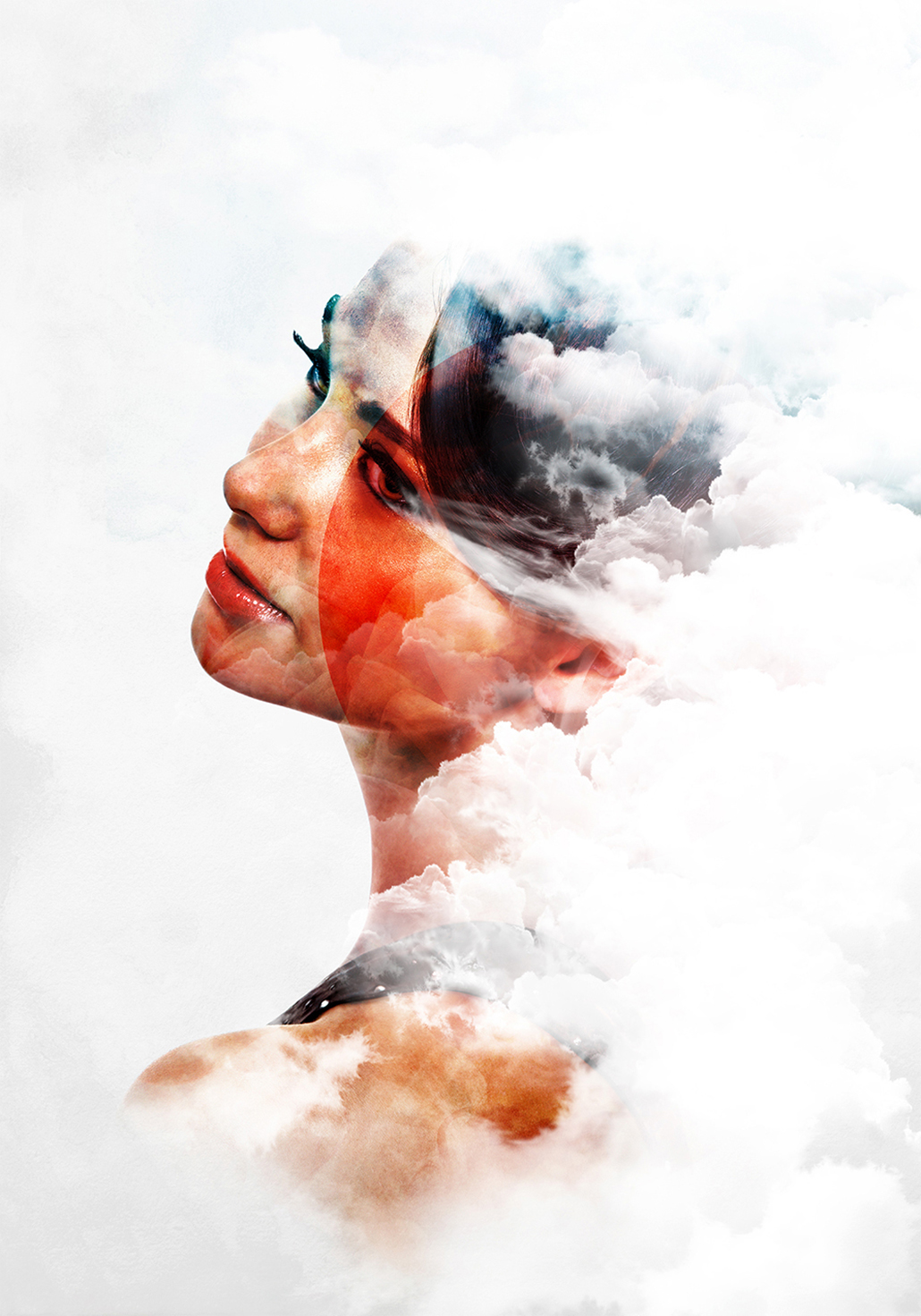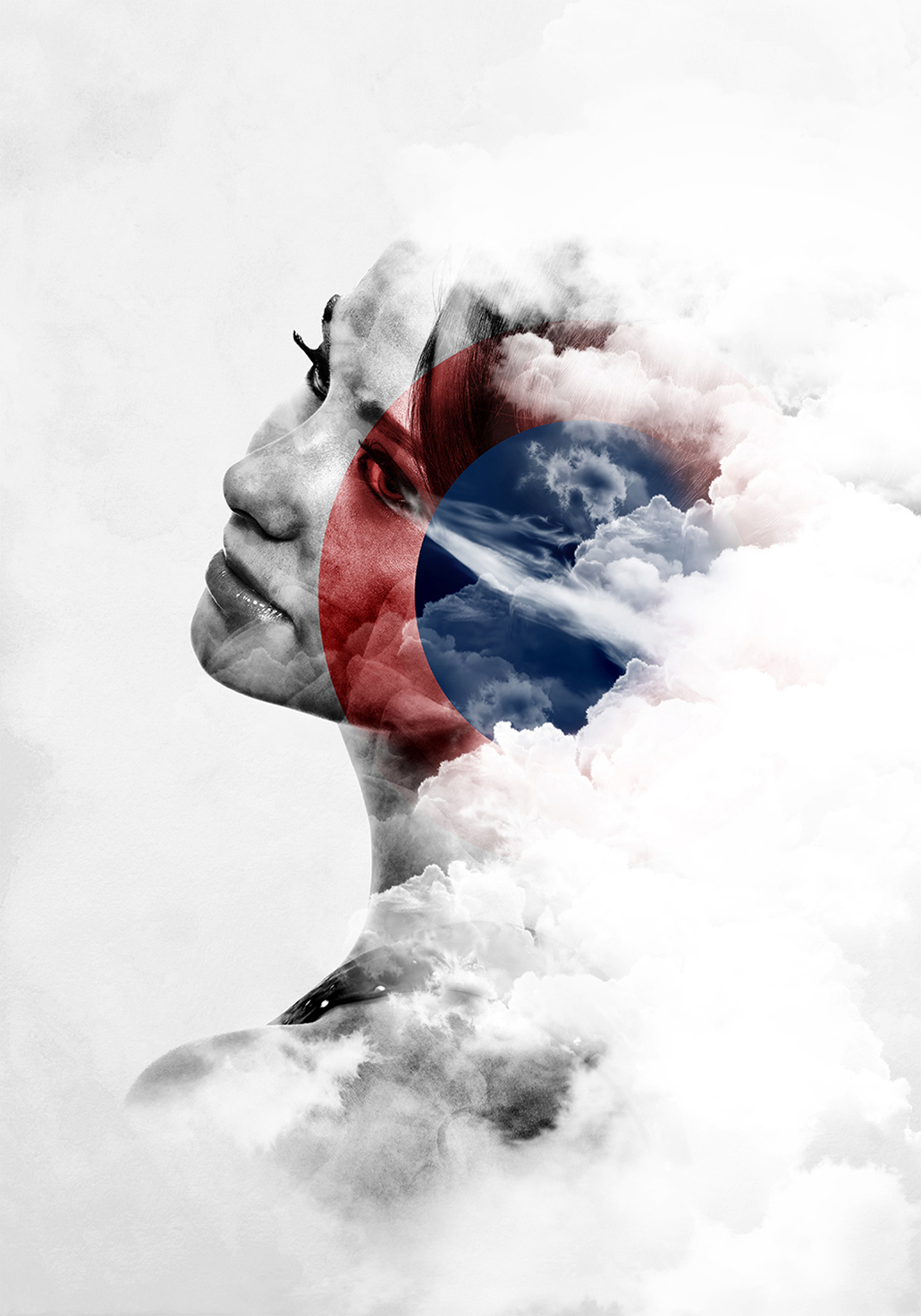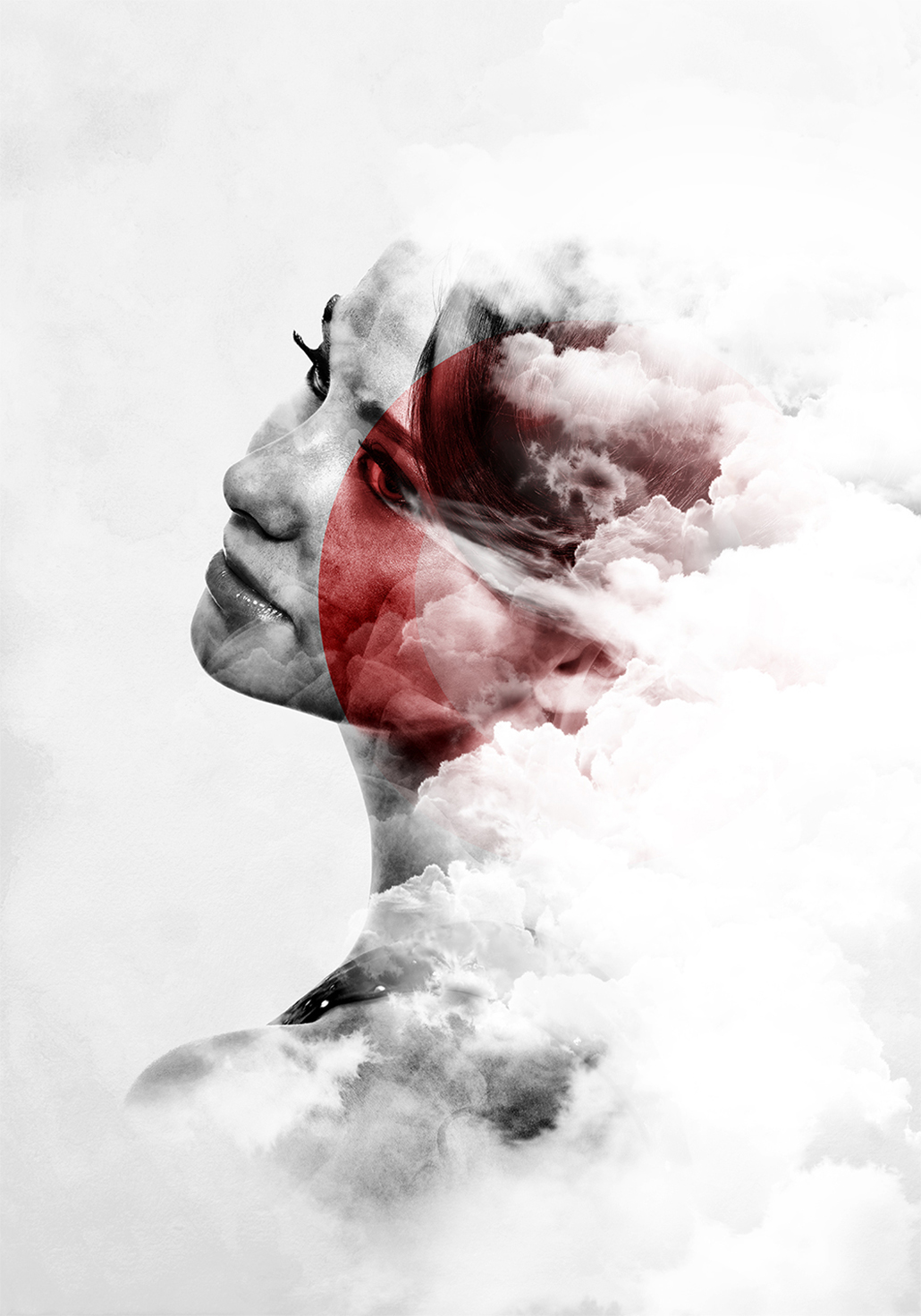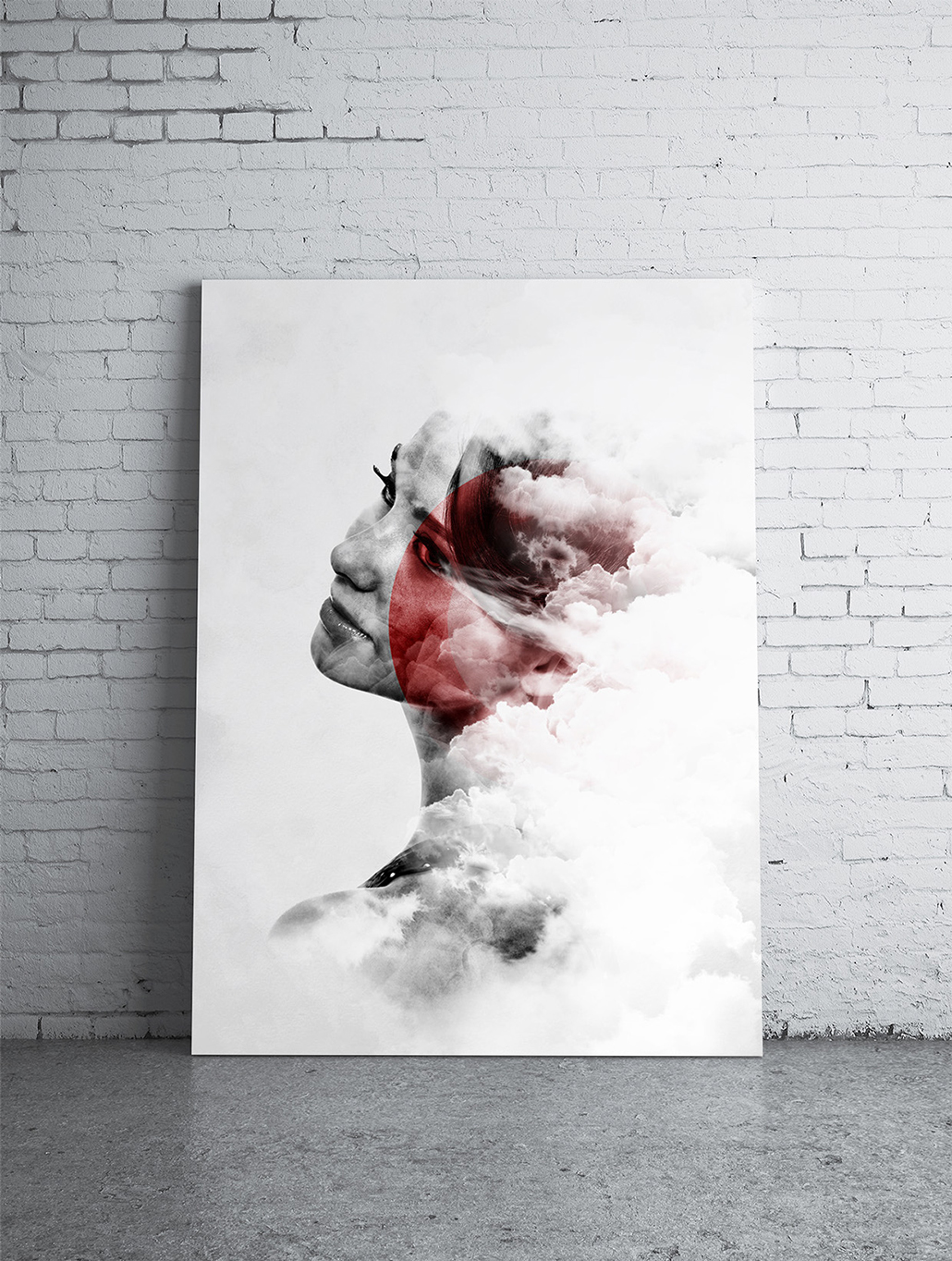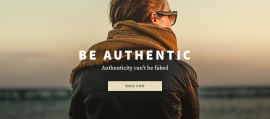 In today's tutorial we will be showing you how to make use of simple elements and colors in Photoshop to get an essentially beautiful outcome. People always over complicate things, that's why we will be having a simple approach towards this large piece. We will be teaching you in a step by step manner and hopefully you can learn something new from this tutorial. Let's get to it.
Tutorial Requirements
Stock: Model Wearing Purple Dress
Brushes: Abstract Glow Brushes by Ro-stock
Elements: Elements Pack
Textures: DSC_0042
Time: 1 Hour
Final Preview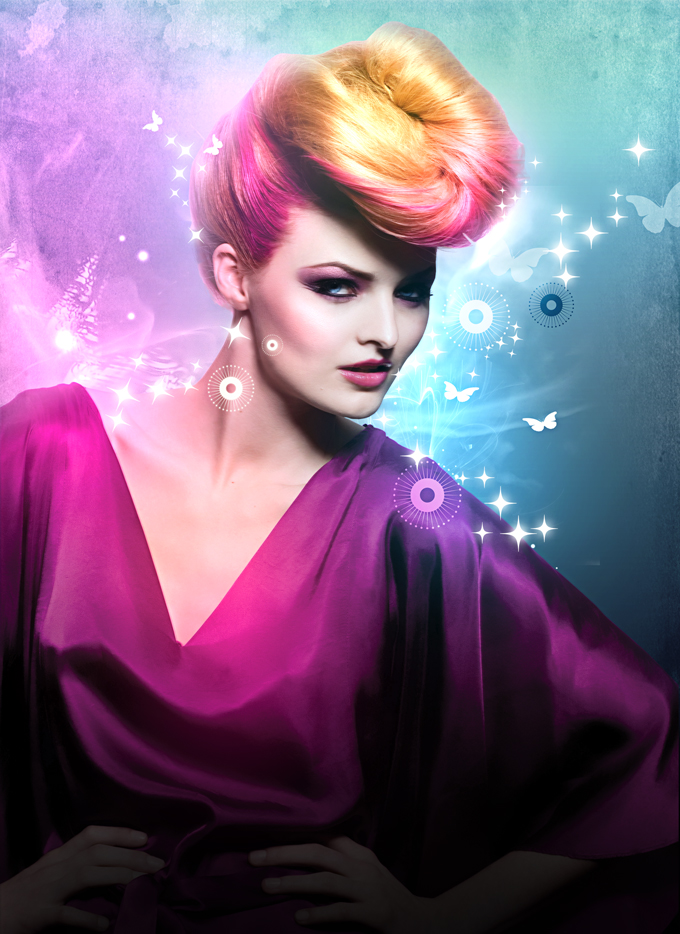 Step 1
The first thing you have to do is decide what stock image you are going to use and what your output size for the large piece is going to be. Are you going to print it in a A3 size or are you going to only use it on the web. In our case we will be making a large enough image to use on the web and in print if necessary. Go ahead and open up Photoshop and then create a new document by going to File>New (CTRL+N) then create a document with the settings below.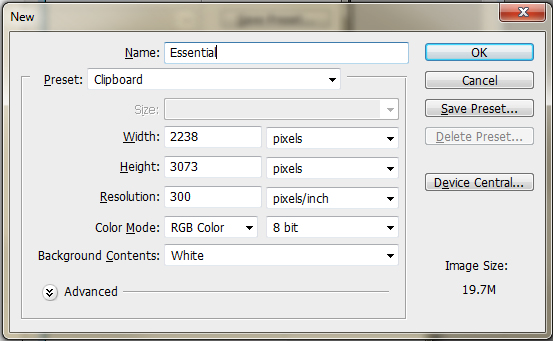 Step 2
Now that you have a blank document in front of you it's time to create your color base for the design. Go to Layer>New Fill Layer>Gradient this will bring up a gradient fill box. Now double click the gradient to setup a new gradient and set the gradient from #3c6c94 to #c0ecf8 (See below) Once you have created your gradient hit OK>OK and then you will see a nice smooth, good looking gradient as your base.
Step 3
Time to make use of the first downloaded texture, it's called DSC_0042 I am not aware who the author of the texture is due to having the texture for quite some time now. Open up the texture and drag it into your canvas. Set the layer's blending mode to Overlay and erase parts of the layer you don't want. Now create a new layer Layer>New>Layer (SHIFT+CTRL+N) and use a big soft brush with the color #6b6b6b and brush over your entire canvas, then set the blending mode to Overlay. Lastly go to Layer>New Adjustment Layer>Gradient Map use the default gradient map, which is Black to White and then set the blending mode to Multiply and the Opacity to 76% This is what you should have below.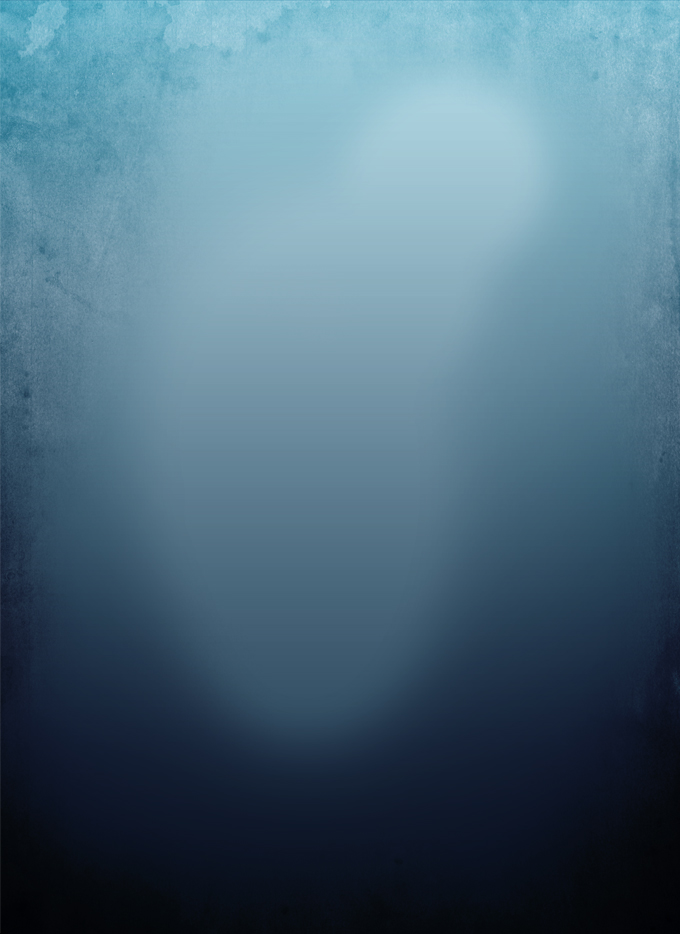 Step 4
Now it's time to bring in our stock photograph, I have chosen to use one from iStock Photo. Open up your model picture in Photoshop and start to remove the background from around your model if you don't know how to do it, follow This Tutorial from Media Militia. Now that you have removed the background from the models picture you can drag your model into your canvas and you should have something like this below.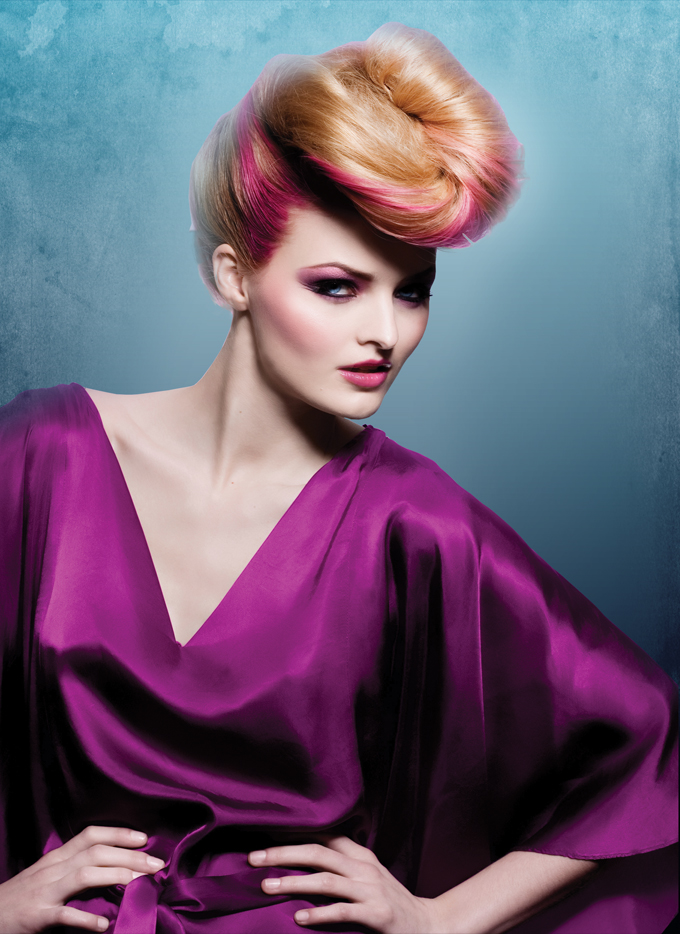 Step 5
Now that you have your model in the canvas, it's time to start working on the effects. Create a new layer and take a big black soft brush and then brush at the bottom of your canvas, just to add a darker feel at the bottom. You should have something like this below.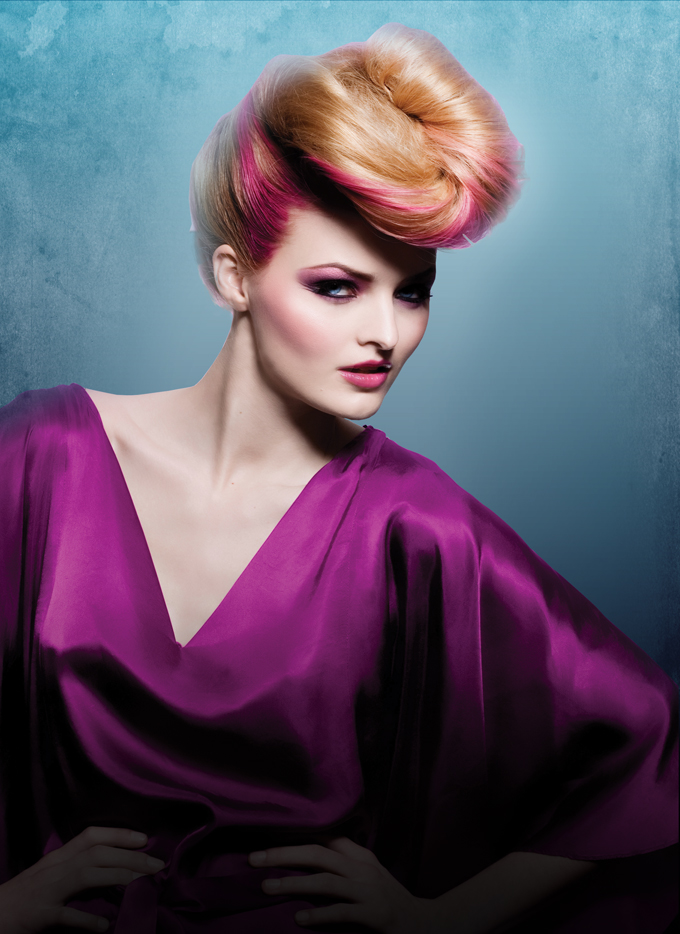 Step 6
In this step we will start adding lighting to the model. Create a new layer and fill it with black #000000. Now set the blending mode to Linear Dodge and select your brush tool with a soft brush of about 960px big. Now start using different colors to blend your model and lighten up the canvas. I used the following colors: Blue #005d7f | Pink #570033 & #970059 | Green #617c01 | Red #810007 I mixed those colors together and then finally used a hard small brush with White #FFFFFF to create the dots that you see on the chart below. The image you see below is the layer with colors without the blending mode.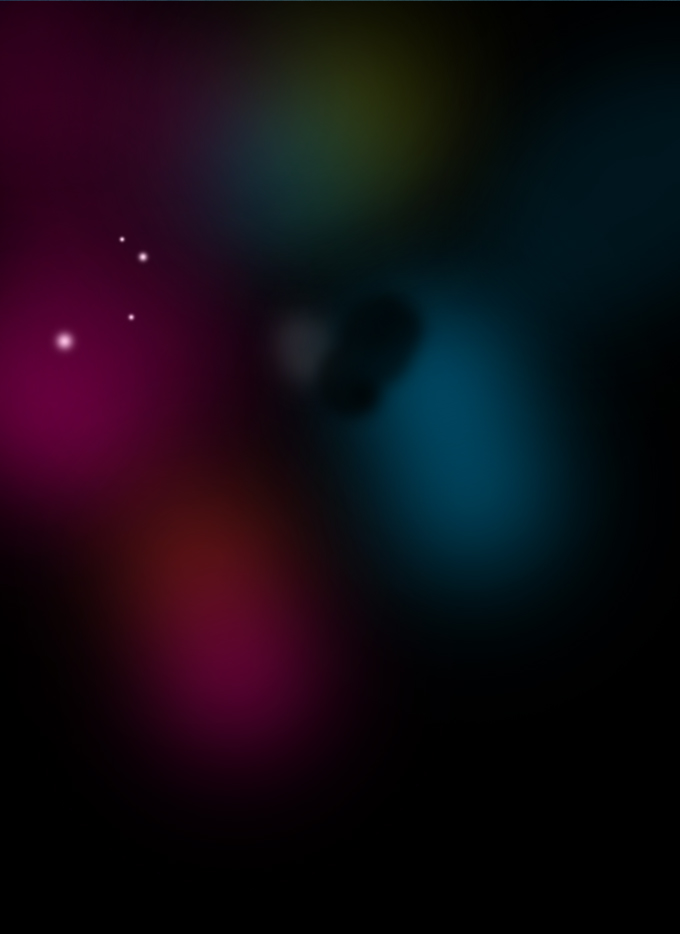 Here you can see what the outcome is after the blending mode is set to Linear Dodge.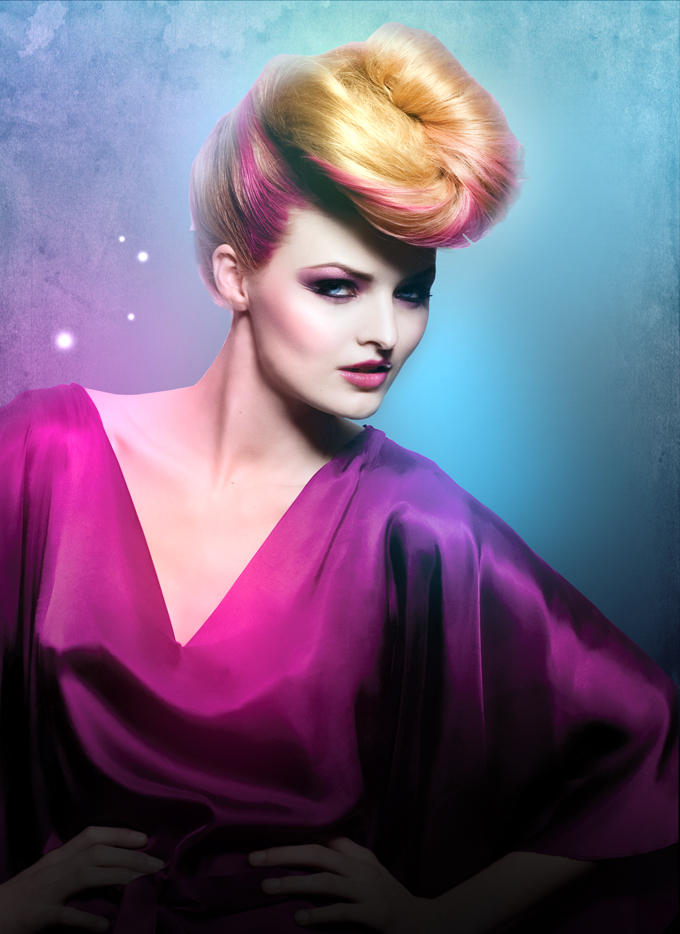 Step 7
You can see the piece is coming together now. In this step we will be repeating the exact same thing we did in Step 6 just with a bit different colors. Create a new layer and fill it with black #000000 now set the blending mode to Linear Dodge and grab your brush tool with a soft brush sized 700px now choose the colors that you want to use to light up the canvas. I used Pink #450627 & #32041b | Green #1a1900 you are free to use any colors that you desire though. See color placement below.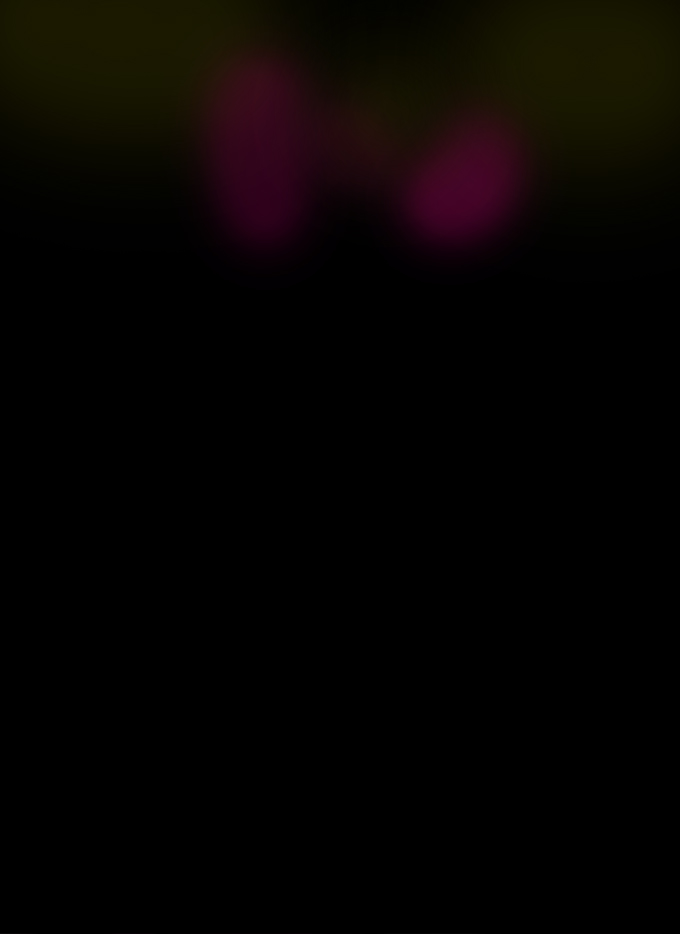 Now add in another soft pink in the top left hand corner just to balance the color in the piece.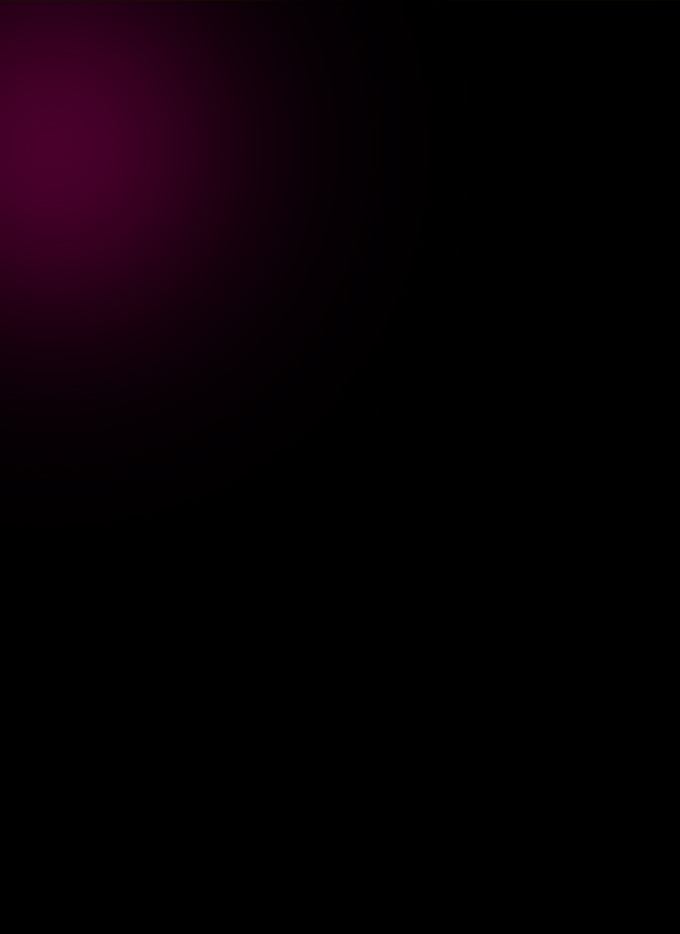 Now make sure both your layers are set to linear dodge. You should have something like below.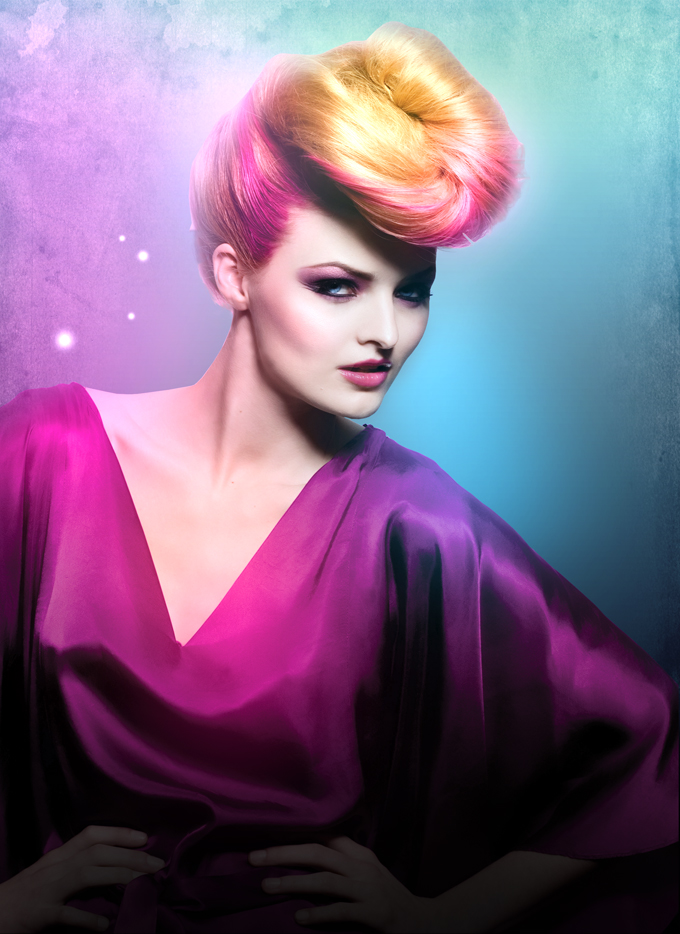 Step 8
Now it's time to add in some elements. In this case we will be adding in some butterflies, stars and cogs. I have made these elements available for download as a package Elements Pack Now you can import these elements into your canvas and then place them around how you would like them to be placed. I added in the cogs first and set some of their blending modes to overlay just to give a variety of depth.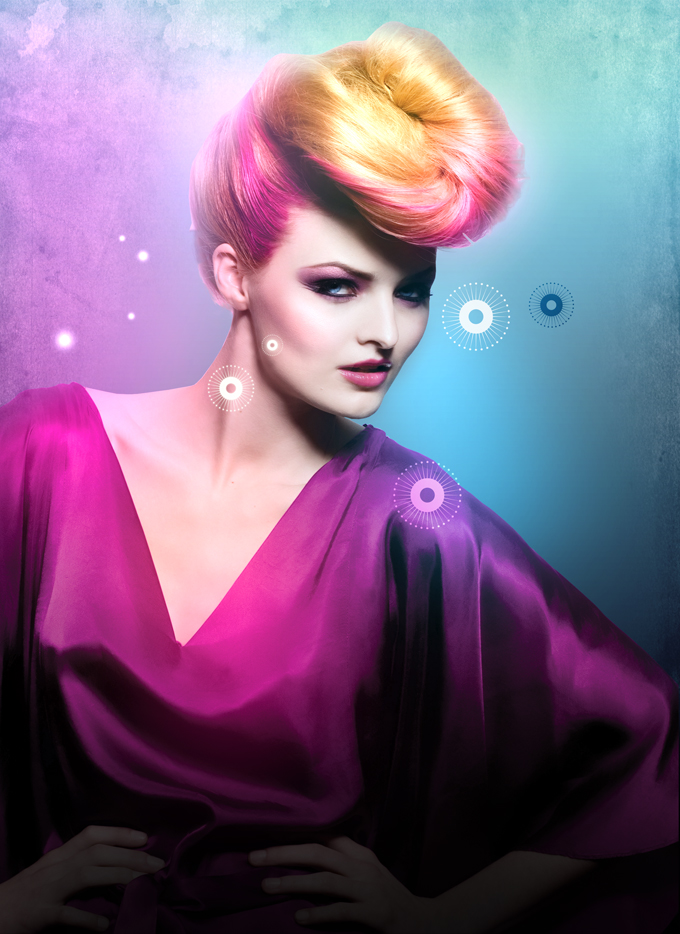 Now I added in the stars and placed them around as I wanted, depending on the image you use, you can position them to flow with your design.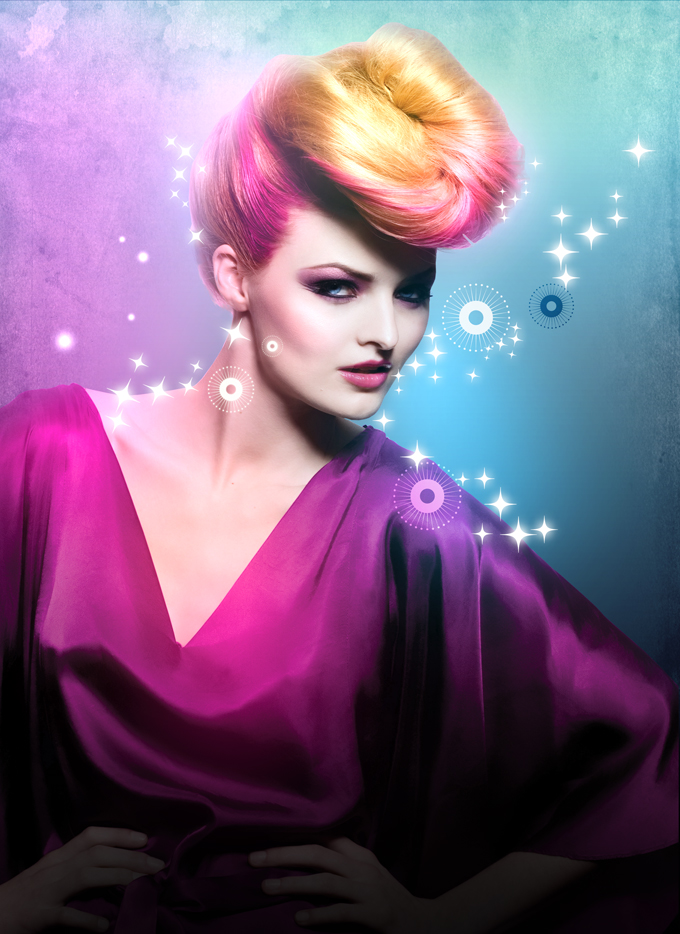 Next I added in the butterflies, I made some of them bigger than the others to also portrait depth in the piece. This is what I have so far below.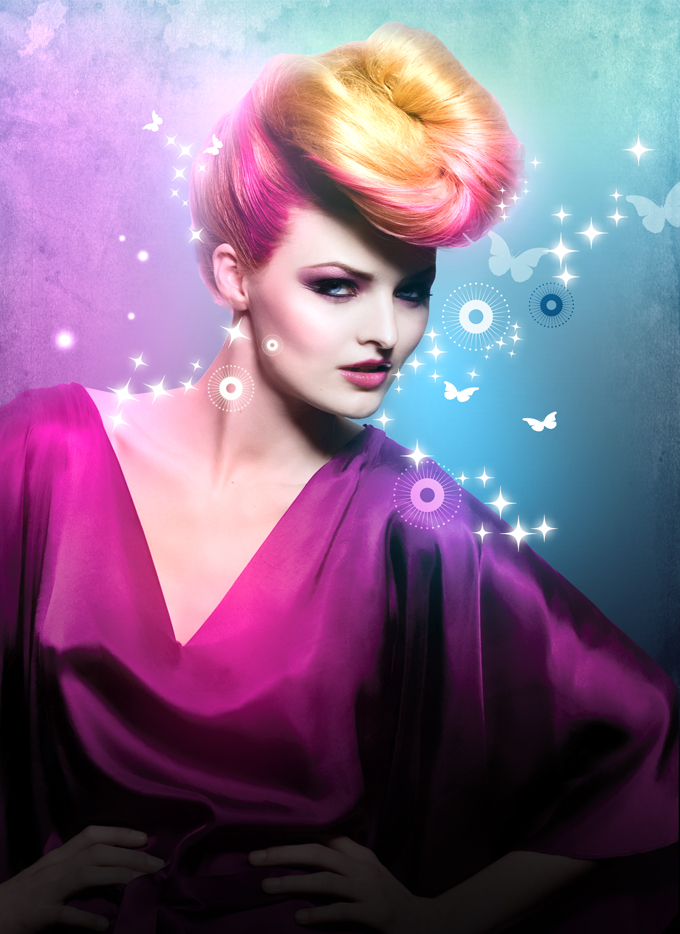 Step 9
In this step we will be adding some image adjustments. Go to Layer>New Adjustment Layer>Brightness/Contrast. Leave the brightness at 0 and make the contrast -20 now press OK to accept the changes. Now go back to Layer>New Adjustment Layer>Curves Use the RGB Channel and just curve your line out a tiny bit to darken the middle of the piece a bit. You should have something like this below.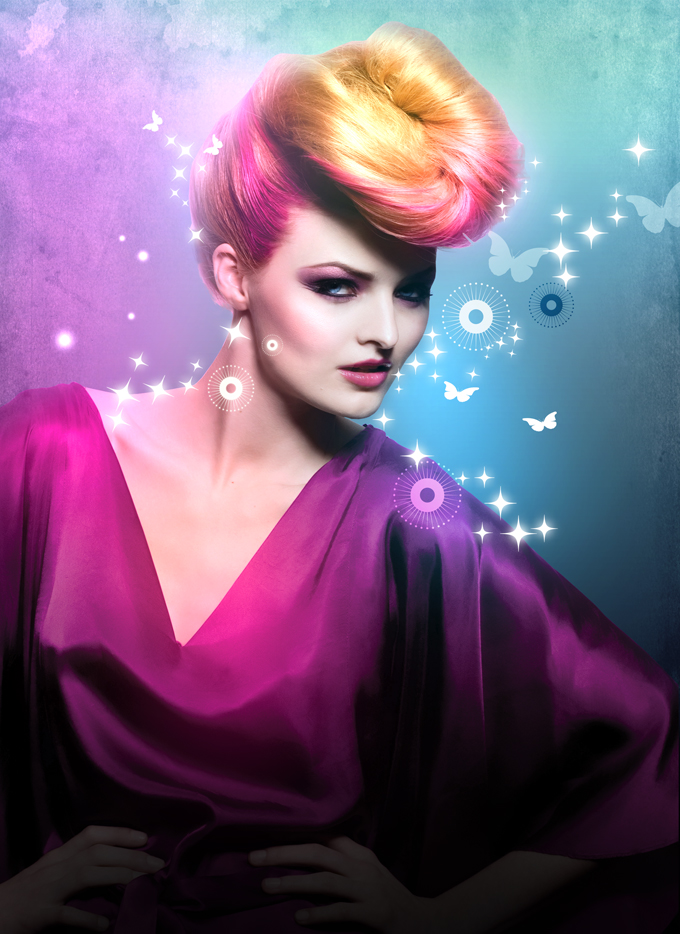 Step 10
Now it's time to make use of some brushes. Navigate down your layers palette and create a new layer just underneath your model layer. Now grab your brush tool and make use of Abstract Glow Brushes by Ro-stock now choose your brush from the pack and brush underneath the model layer to give it a mystical feeling. I made use of 2 different brushes in this case to make things flow well. I have something like this below.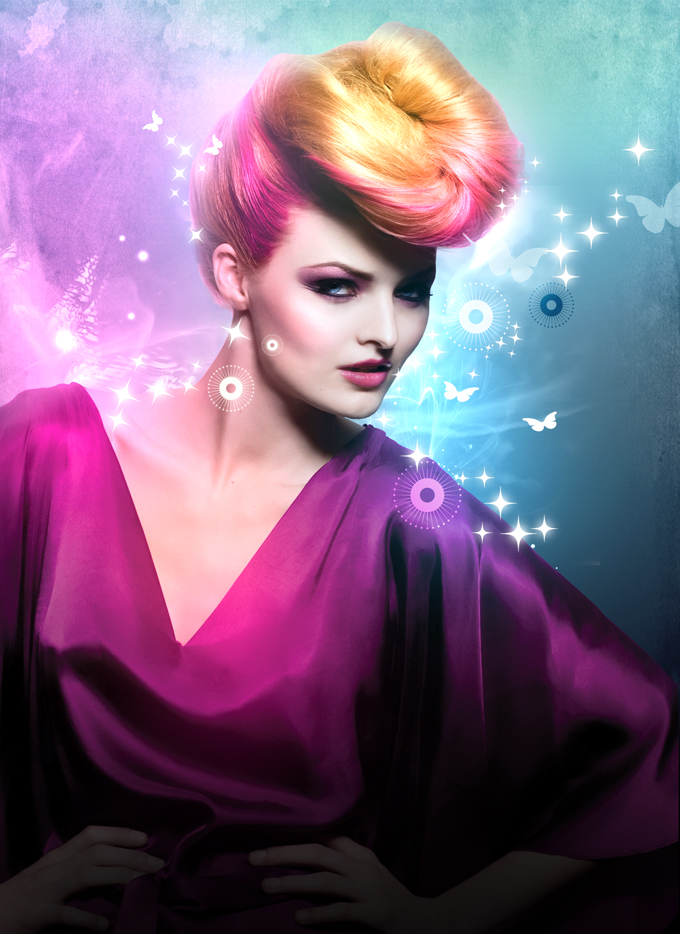 Step 11
In our final step we will be sharpening the image. Firstly create a new layer by going to Layer>New>Layer and then go to Image>Apply Image. Now that you have a applied image go to Filter>Other>High Pass now use a radius of 10px and hit OK. Now set your blending mode to Overlay and your opacity down to 42% and you are done.
Final Preview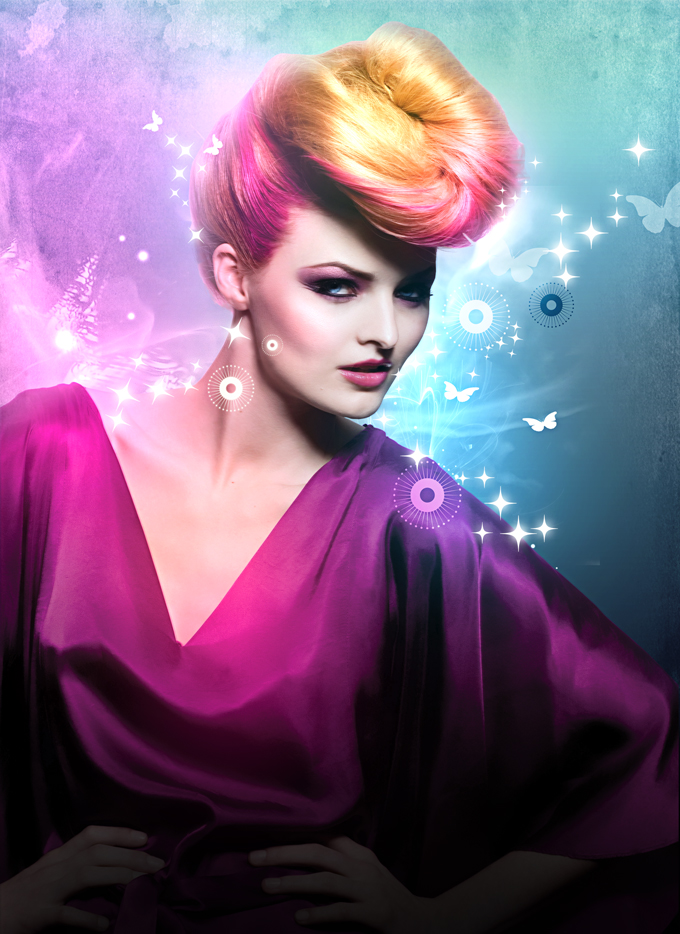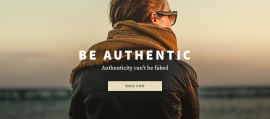 Here we got the best inspirations and design resources around the world. Some of the most inspiring images selected by our writers and readers. Take a look at the links we have selected for your inspiration and to keep you updated about what's going on out there. If you want to participate and share your graphic design inspiration, please feel free to let us know. You can also check out Webdesigner News for more great content from around the web that can be interest to web designers.
Giza Pro Typeface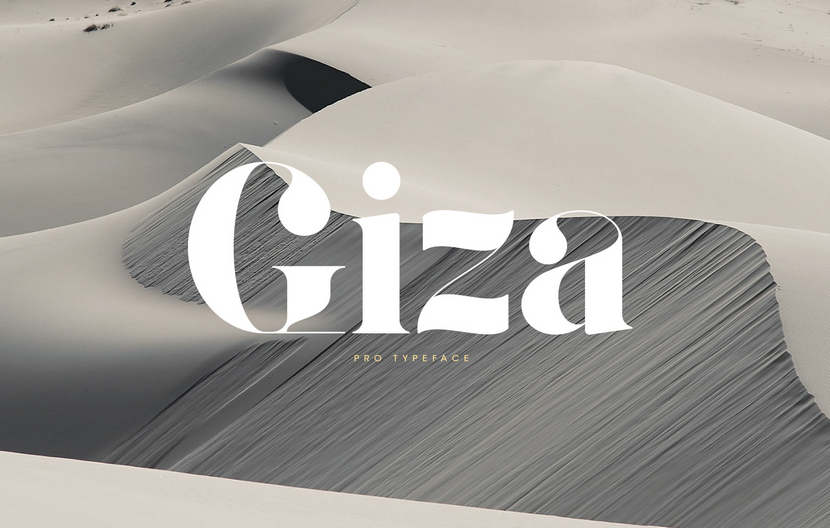 Moon Typeface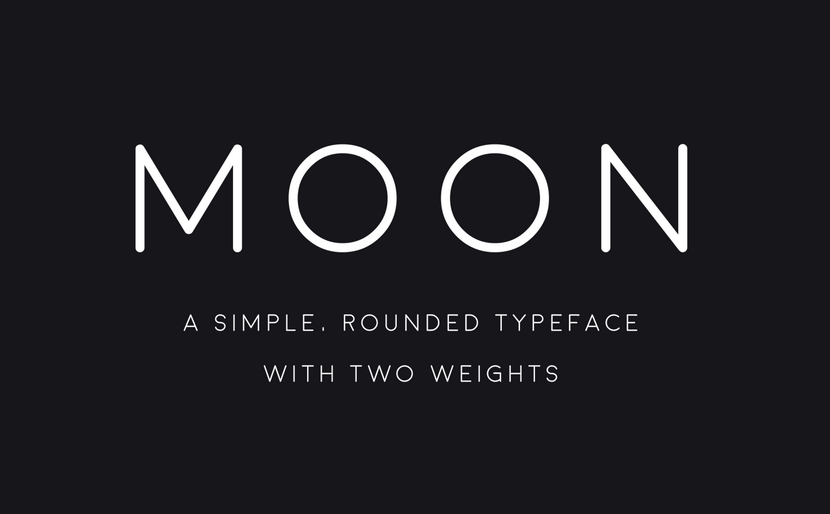 4K Magazine PSD Mockup
Boris Khalvadjian – Branding
Hand-drawn Graphic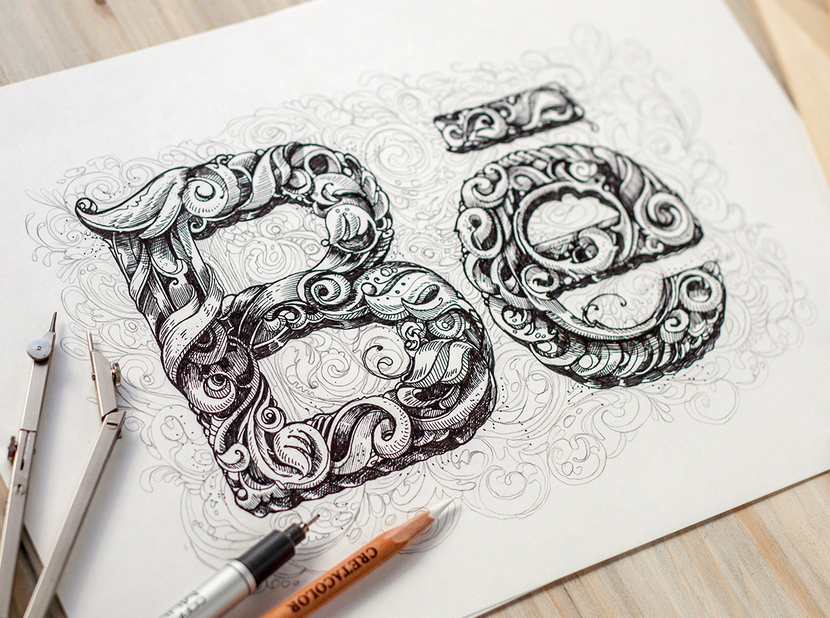 60 Days of Logos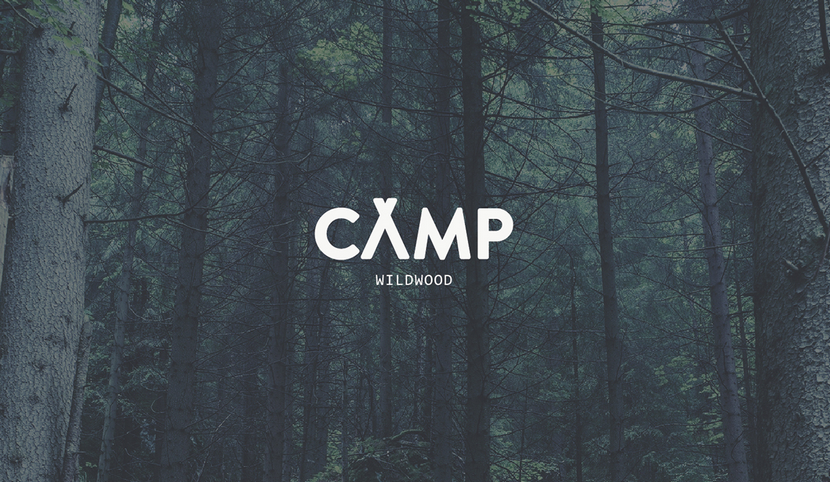 Google Rebranding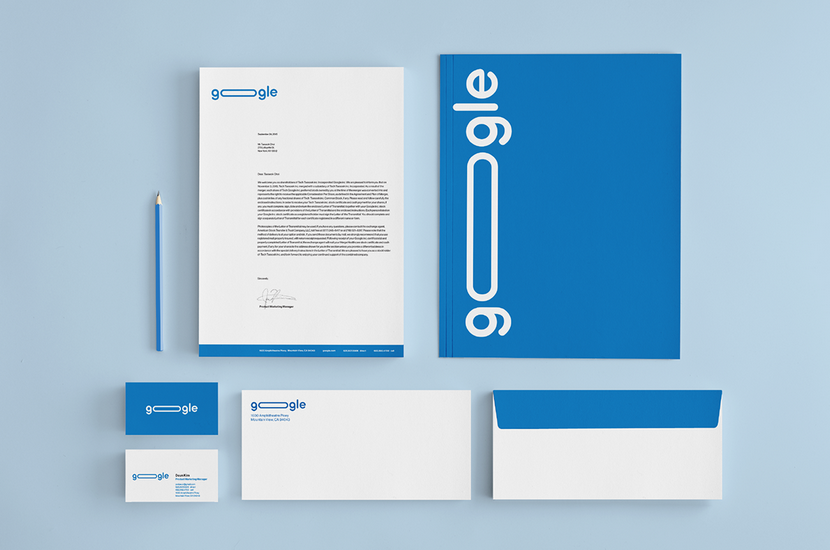 55+ Elements UI Kit
Illustrator Vs Photoshop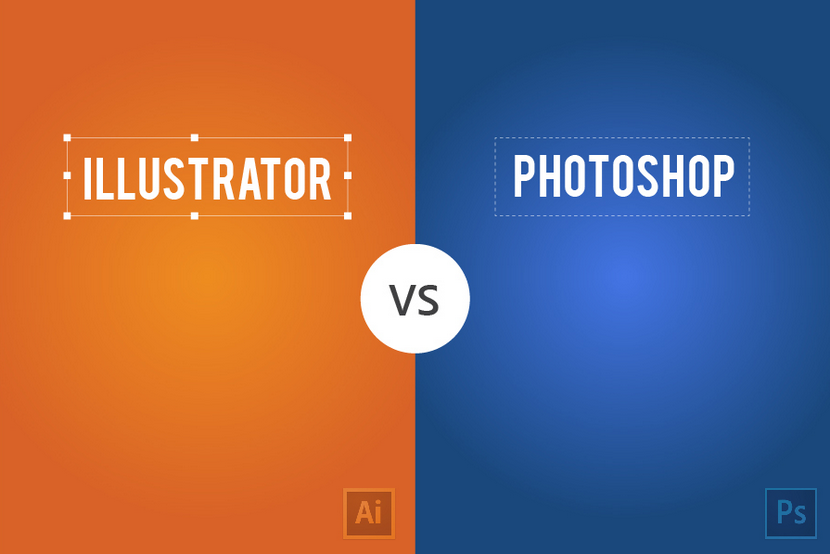 Lombok Typeface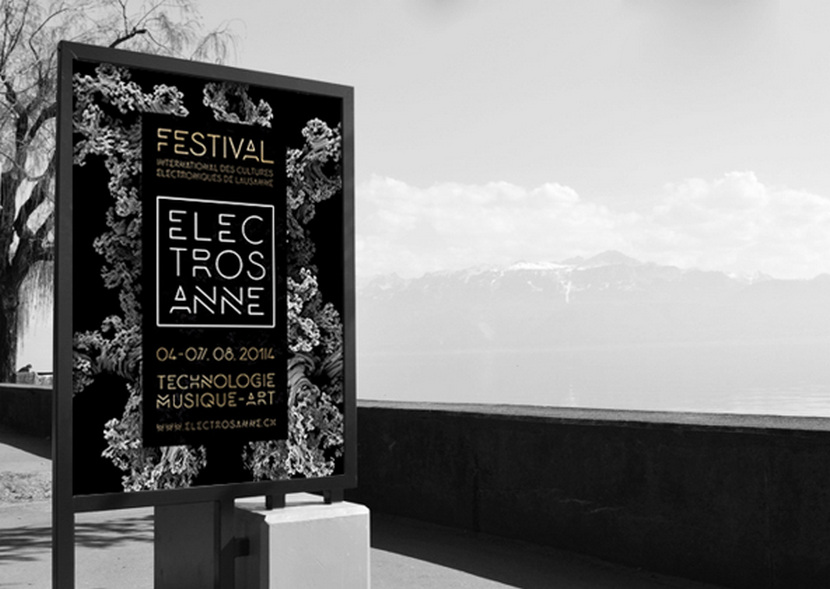 Want more? No problem! Keep track of top design news from around the web with Webdesigner News.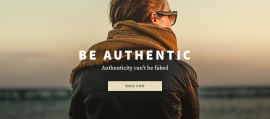 "Low-poly self portrait tutorial" is a Photoshop tutorial created by Brazilian creative director Breno Bitencourt. In this tutorial, Breno Bitencourt will show you how to create a low-poly portrait in illustrator and Photoshop step by step.
The main techniques used here are masks and blending modes, Photoshop's auto contrast, auto colour and auto levelsfunctions. There are also something basic you should know .Working with the best reference photo, choosing the best fragments to combine in a single image, dealing with the time-consuming part of the triangular mesh, firing up illustrator with pen tool, using align panel & vertical align center to deal with details, and adding color.
Watch the Video tutorial below and enjoy today's lesson!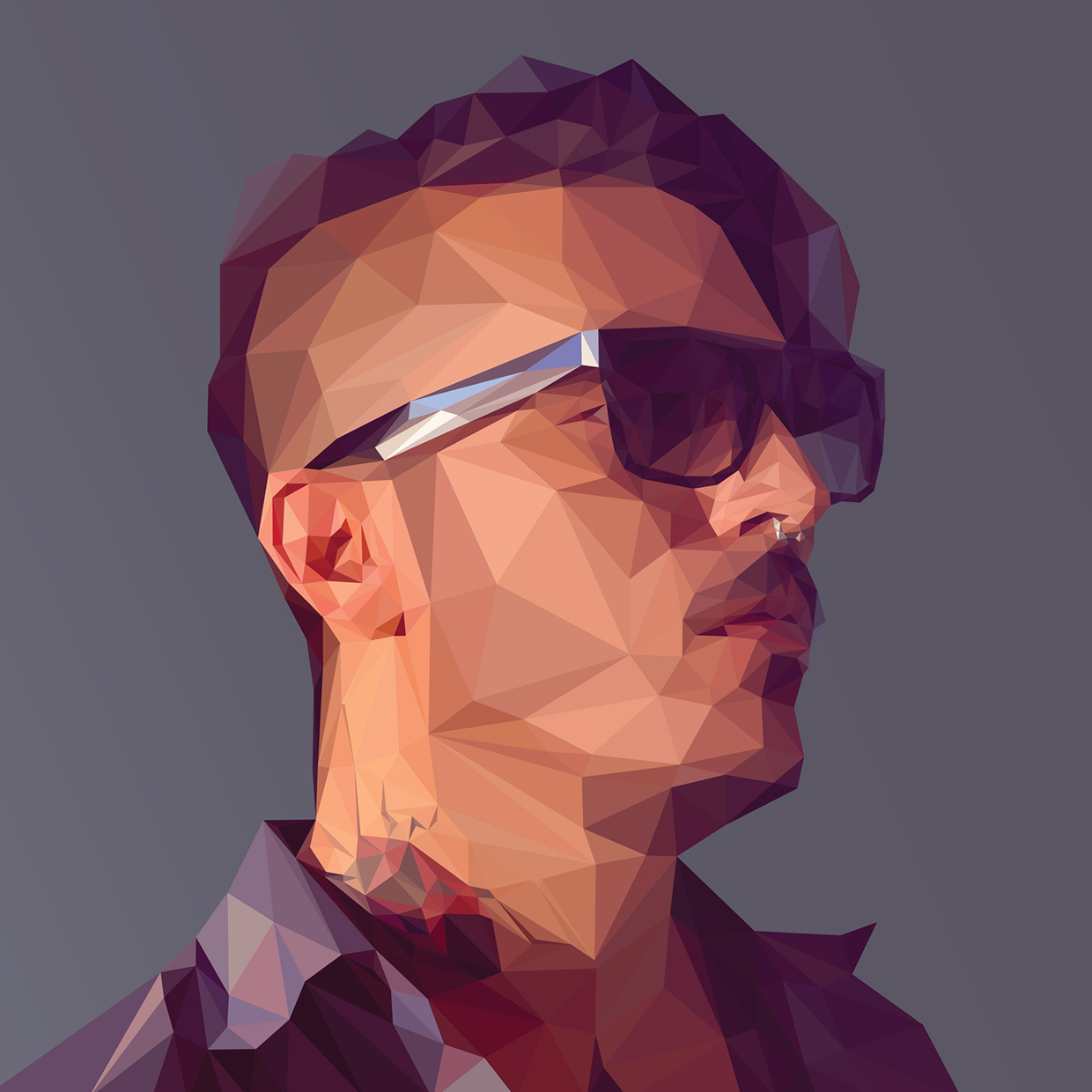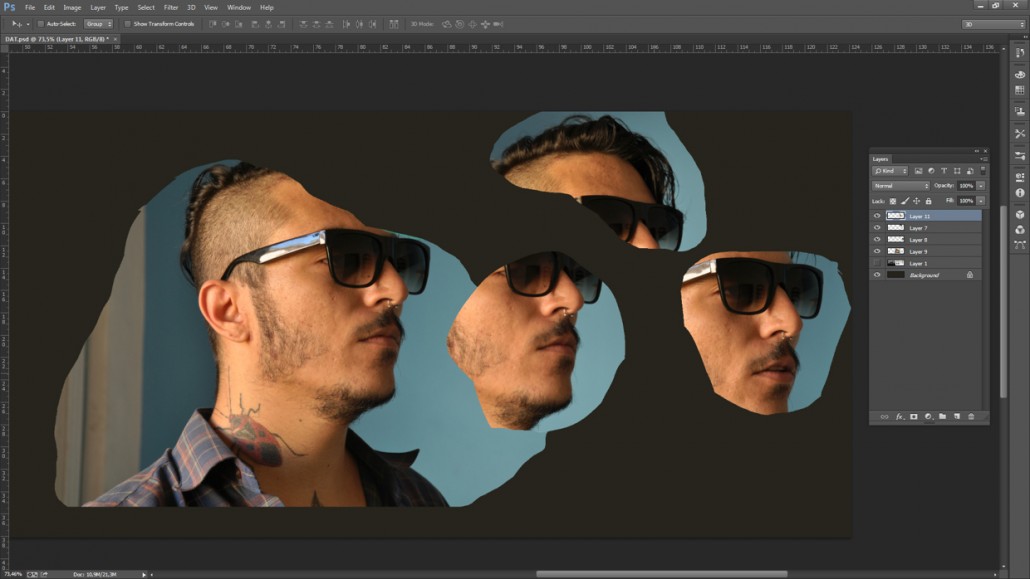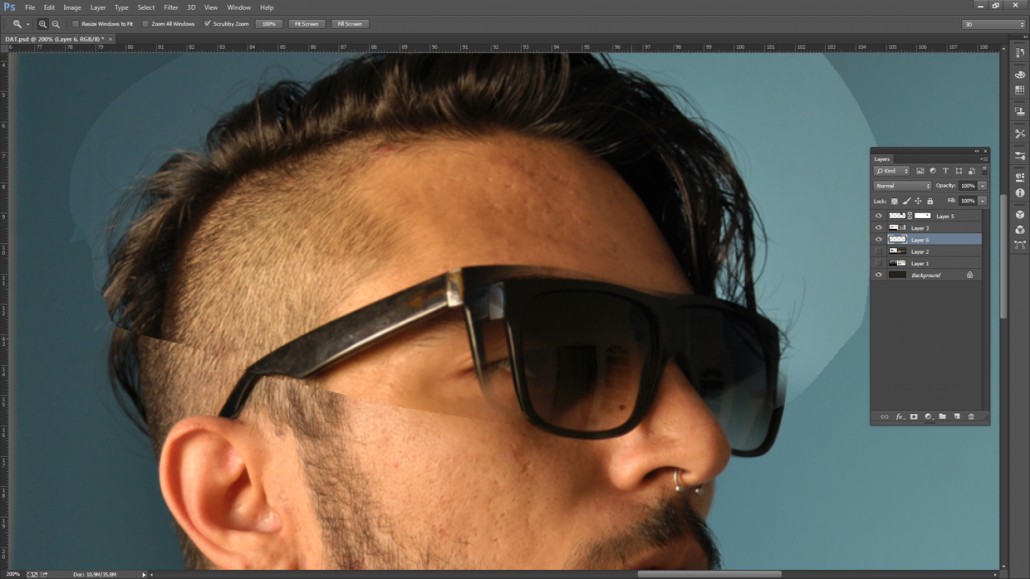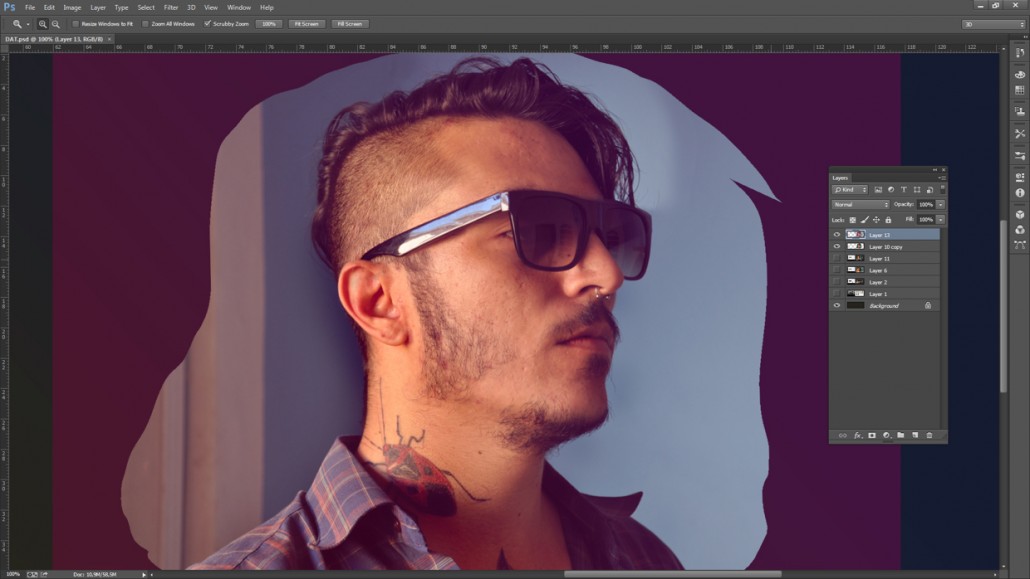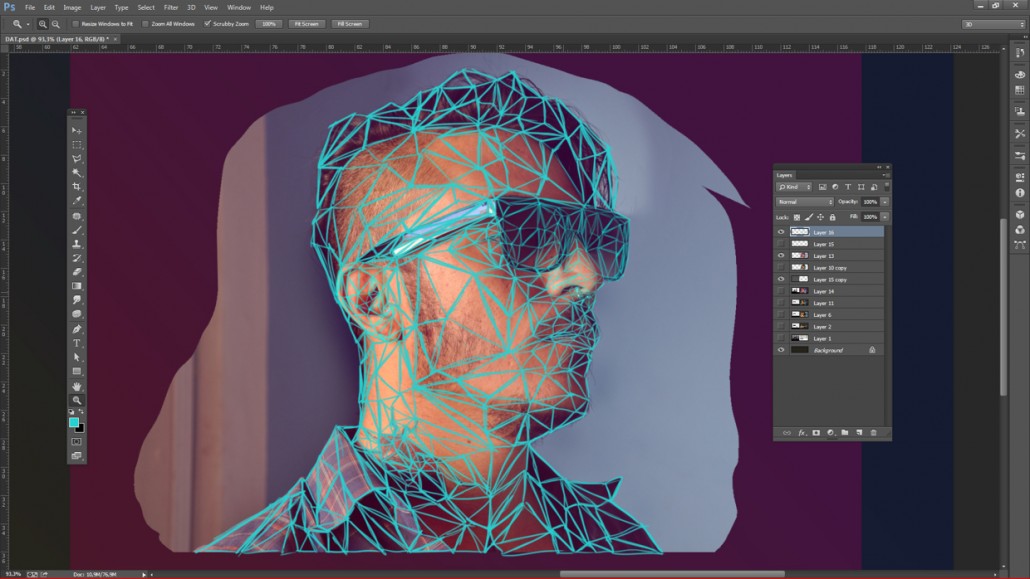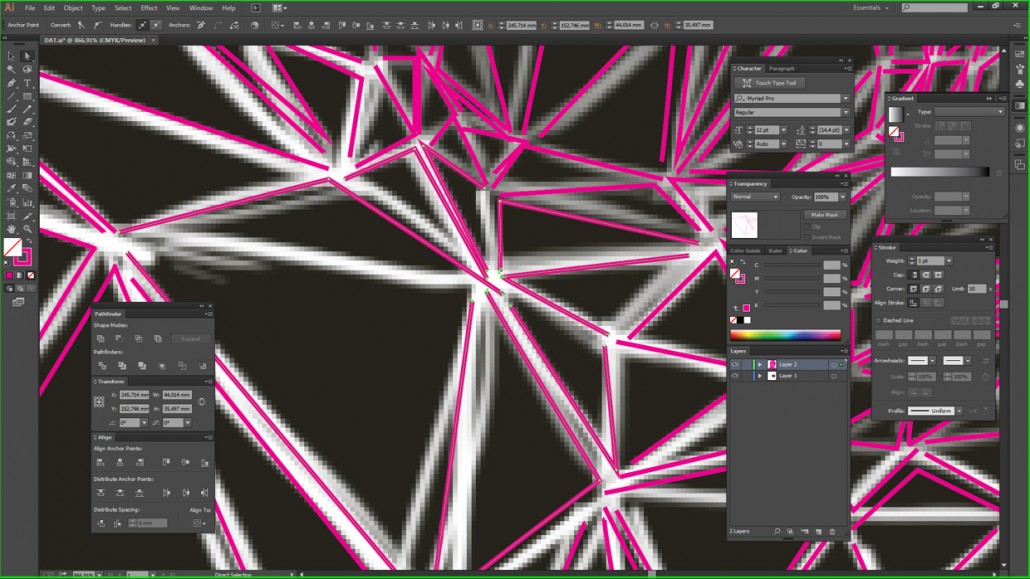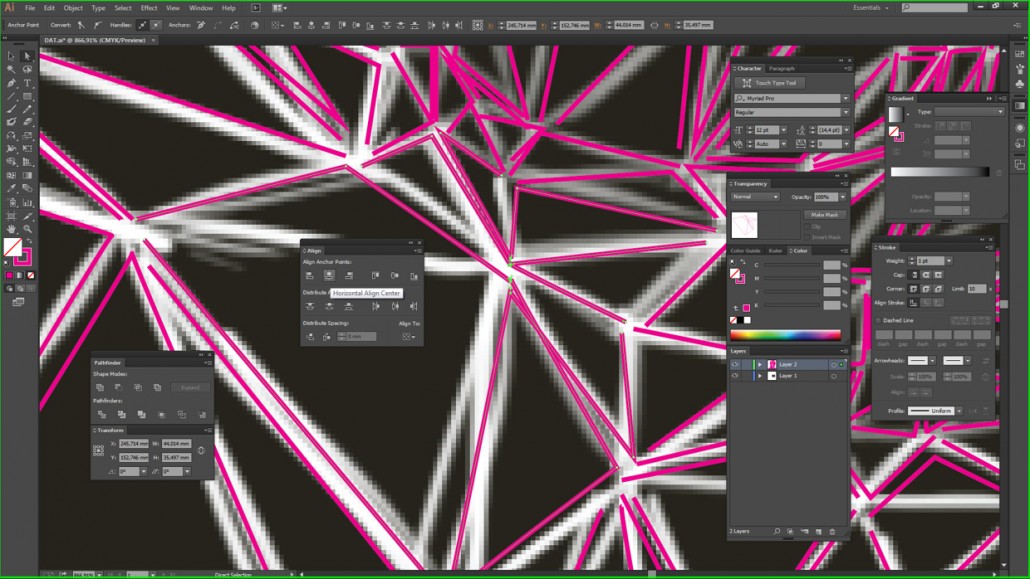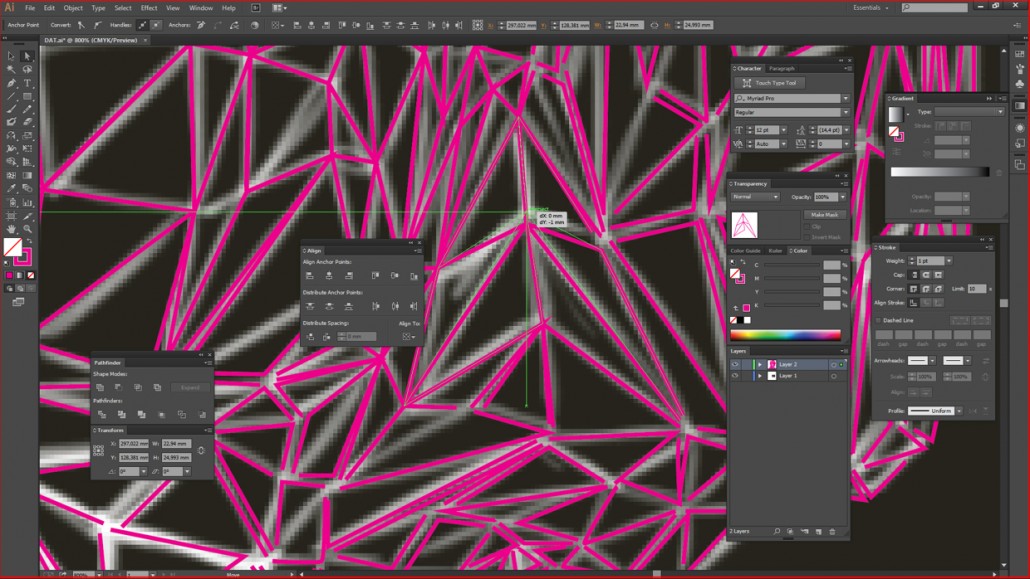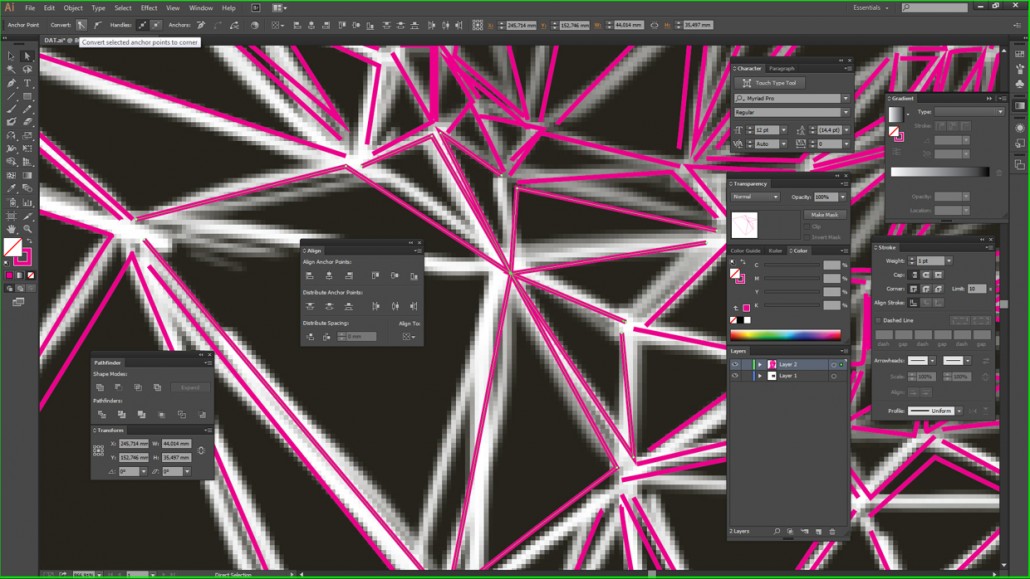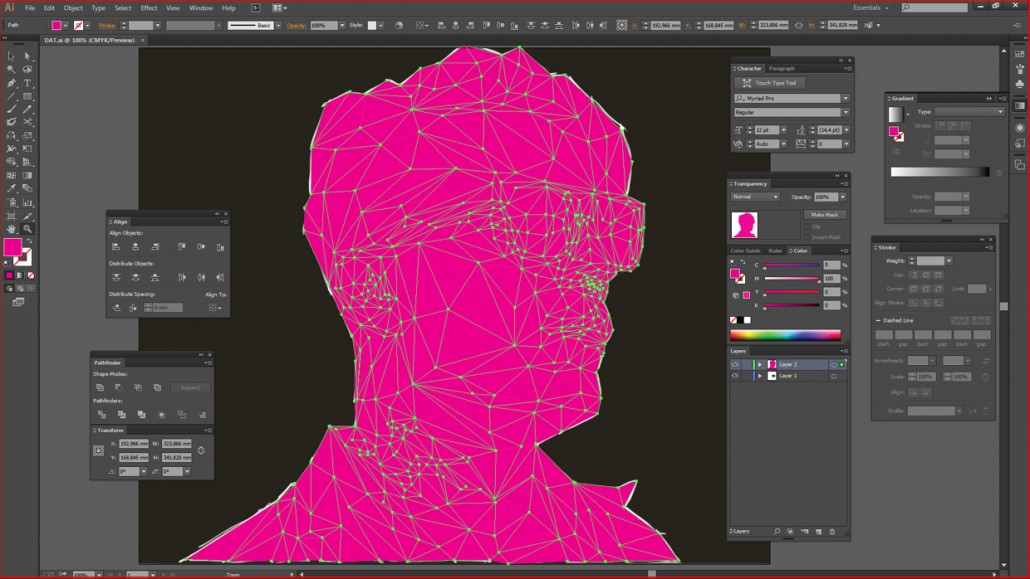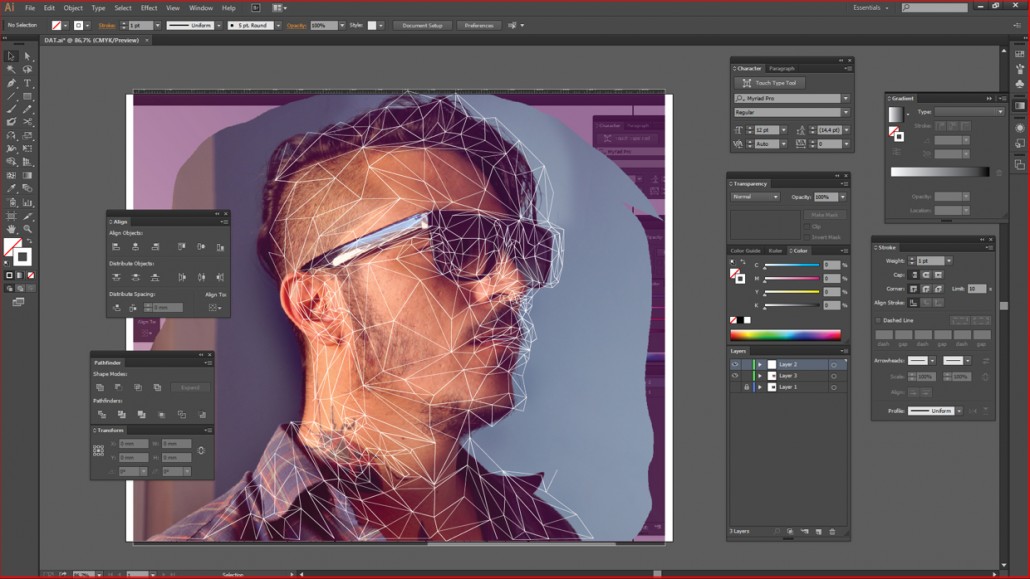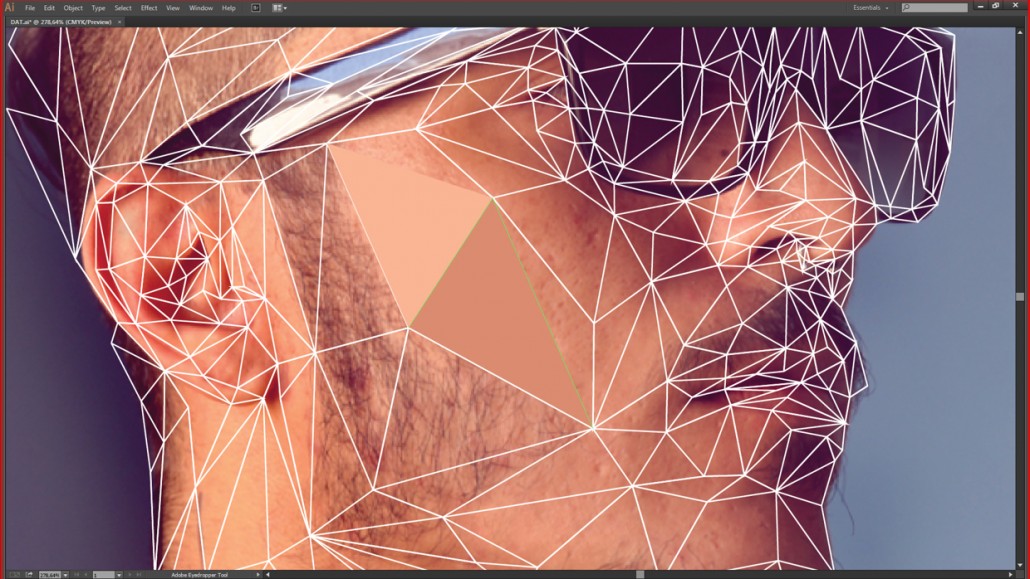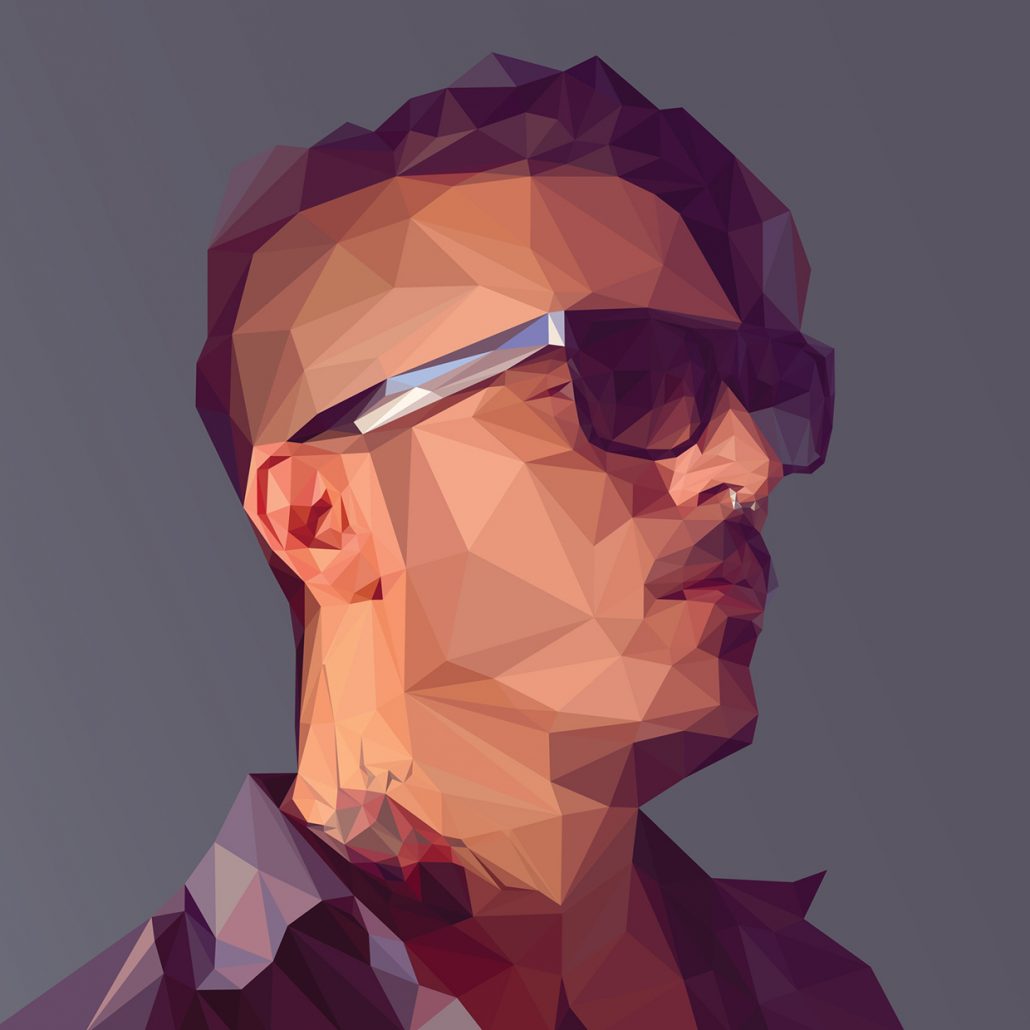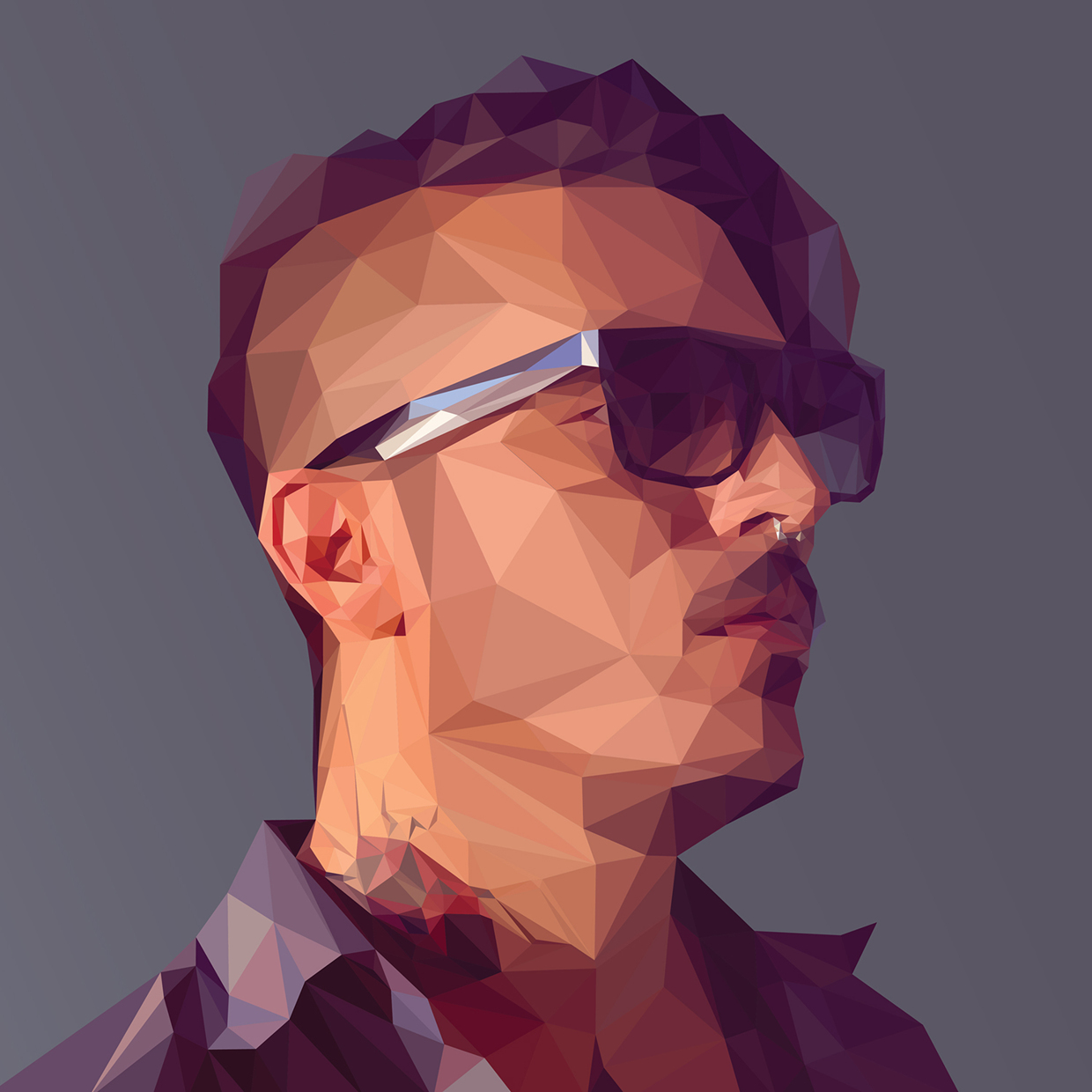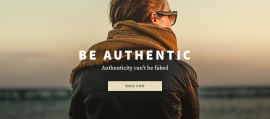 Please fill in the form below. We will get back to you within 48 hours.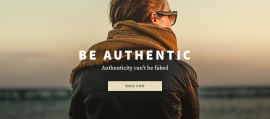 Thanks to climate change and a general shift towards eco-living, natural fonts are in high demand right now. We've scoured the web to find the best fonts with a natural theme available anywhere, for you to use in your own work. Some are conventional, others are wildly imaginative, but all should serve as a great source of inspiration when creating designs of a natural persuasion. Leaves, logs, trees, beaches, flowers, stones, stars, bugs and even human hair- you'll find it all, and much more, below.

This 'submarine' font is perfect for use in any aquatic design. Complete with little fishies, it's reminiscent of fish tanks and sea-life centres.
Bowed and warped, Tree Like has a really unique look and ties in perfectly with epic high fantasy. Think: Lord of the Rings.
I love this font! Quirky, peculiar and idiosyncratic, it would be perfect for promotion of a really cool, indie band.
Apple Tree manages to look organic, despite its modern, some-might-say futuristic design. It would look great in work based around futuristic methods of sustainability and carbon conservation.

Beach Type is a chilled-out, laid-back kind of font. It's the font you'd expect to appear on a beach bar on some exotic island.

Wood 2 has a classic, handmade feel. Characters seem to have been nailed together from bits of old timber. It's perfect for work with an organic theme.

Flowers Cube is an embellished version of a classic, angular font. It has a real vintage feel to it.

Natural Log's spindly, hand-drawn aesthetic makes it perfect for designs aimed at children.

Simplicity at its best, Flower 3 looks as though it was written with a blade of grass dipped in ink. It's utterly charming. Perfect in work centred around agriculture and the countryside.

Seaweed Fire is spiky, compact and rather dismal, but fantastic all the same. It should be used in anything to do with horror.

Unruly and irregular, with some letters bigger than others, Charcoal First has a definite graffiti-like, urban quality. It looks like it's been written quickly, possibly on a wall somewhere!
Rooted to the ground and covered in thin shoots, Wild Wood looks like something from a modern fairytale. It has a certain Tim Burtonesque, gothic quality to it.
Grungy and weathered, Stone Cold is abstract, but still easy to read. This font certainly looks better when it's bigger.

Beyond Sky is a very feminine, dreamy font. It's gorgeous and would ideally suit being used in the beauty industry.

The cartoon-like Wood Sticks font has a cheerful, light-hearted appearance. It would look great on the menu of a vegan cafe.

Night Sky is such a fun font, surrounded by stars and crescent moons. Why not use it in a children's book or on a website aimed at kids?

Stars are tightly clustered together to form the letters of this highly original, delightful font. If you're looking for a font that's unique, this is the one for you.

Sleek, slick, cool and highly professional, Earth is a font fit for the 'space age'. It's perfect for use on promotional flyers for club nights or modern, dance music events.

Similar to the Earth font, Galaxy has a real vintage quality. Like the font used in Star Wars, it looks like it has come straight from the 70s, which is great for use in vintage designs.
You can't help but laugh when you look at this font. Cheesy and pretty ridiculous, its letters are formed from various hairstyles. Not to be taken seriously, however, it could be used to great effect in a tongue-in-cheek design.

Moon Star looks like something from a 60s TV show like Bewitched or The Jetsons. It's really magical and would fit well with 60s/70s-like vintage designs.
So cute, Little Insect is another hand-drawn font ideal for children or companies with a soft, caring image.

Each Animal Caps letter looks like an antique object. While it won't fit with much modern graphic design, it's so imaginative; I just had to include it in this list.
Sea Dreams looks like it's suffered from a degree of coastal erosion itself. Soft and calming, why not use it on the front cover of a suitable novel.
Chunky characters, shrouded in plants and bugs, JF Jungle Rock looks like something out of a classic, tropical arcade game. It's certainly got a hint of caveman about it.
Tom Walker is a blogger and designer working with an online supplier of MFC cartridges, inks and various other print materials to the creative industry. He often writes about innovative advertising and design on the CreativeCloud.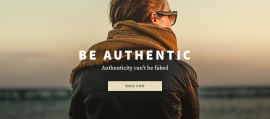 There are many icons on the internet. However, you may find very difficult to look for a high quality one. Sometimes, to enable your design to have better expression, speech icons are very useful.
This nice set of speech icons is deisgned by Vecteezy. It contains numbers of speech icons which can allow you to apply to different scenarios. More importantly, it is completely free for your use. You can download the icons enhance your web presence today. The iconset is in psd, ai and eps for your ease of use.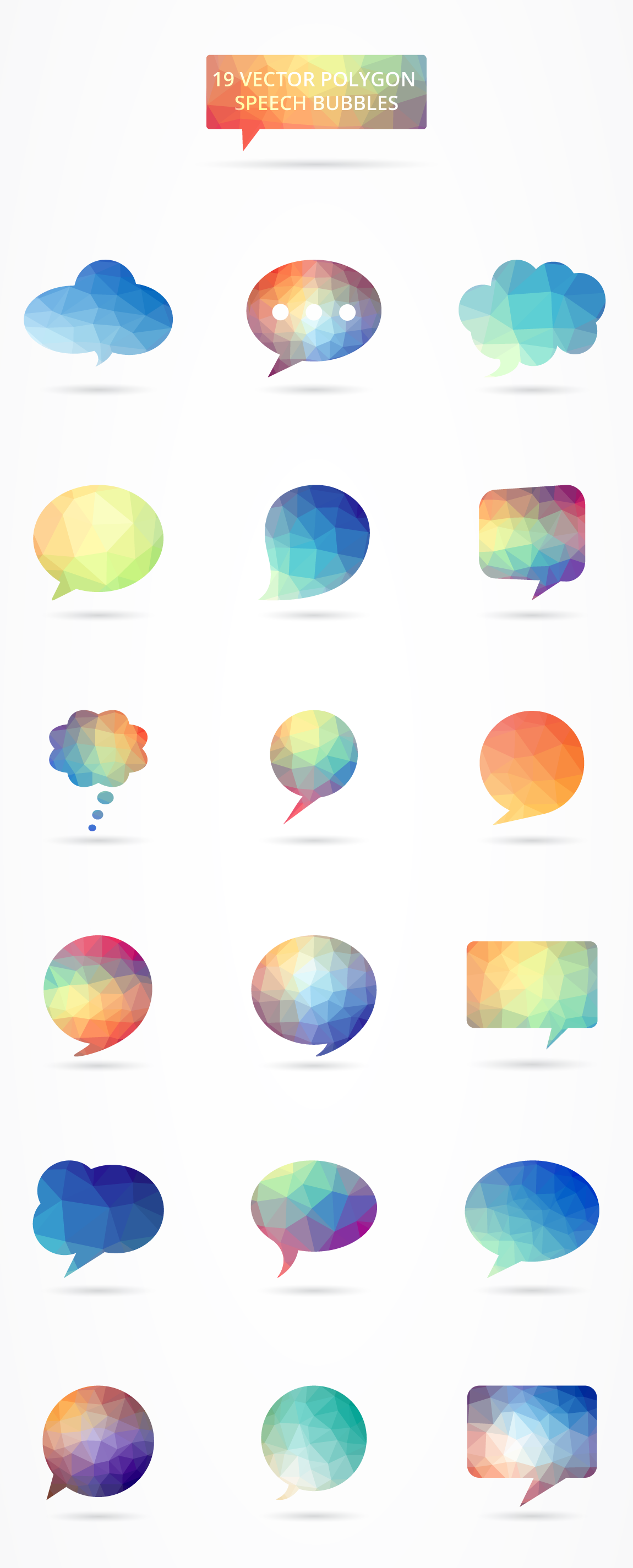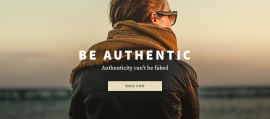 Photoshop Lady Forums Launching
Introduction
We aim to generate a Photoshop Community for Photoshop user in order to allow the users to swap tips, link up the worldwide designers and to have experience sharing.
Apart from these, you can also advertise your business there such as selling your personal design drawings / logos / others.
What do we do for your submission?
We are very welcome for everyone of you submitting your tutorials. Once we find your submission is appropriate for our readers, the submission will be published on Photoshoplady.com.
Why we have such a forum idea?
This forum idea is initiated when we launched "Photoshop Lady". We are taking the steps to provide more resources to the Photoshop designers. As above-mentioned, we aim to provide a Photoshop Community for Photoshop users as well as acknowledge for our readers who have been giving us lots of opinions and supports.
Why you choose our forums to discuss, post your artworks, submit your tutorial or run your business on our market places?
So far, we have got the worldwide trust and developed a good brand in the Photoshop world. Over 2000 new visitors and 4400 RSS readers visit "Photoshop Lady" to read our post as routine. It is noted that a foundation has been set up. Therefore, whatever you are doing on our forum e.g. swap tips, link up the worldwide designers, experience sharing or advertise your own works. It will bring you a very positive and optimistic result.
In our Photoshop tutorial sections, 7 little forums are categorized as below:
1. General Forum Discussion,
2. Photoshop Techniques,
3. Drawing Tutorials,
4. Abstract Tutorials,
5. Photo Editing Tutorials,
6. 3D Tutorials,
7. Text Effect Tutorial
In order to specialise the Photoshop users and designers, we divide the tutorials categories into 7. Users and designers can easily choose the right area to go to and concentrate on a single topic as prescribed.
Moreover, if you want to have extra income and you are confident with your personal creation. We are welcome you to sell your products on our market places. These places allow you to buy / sell various products like e-books, Photoshop tutorial, other Photoshop related products. Our forum is "Not" like others, as charge or commission will not be induced. Based on our strong foundation, it is believed that our Photoshop forums will provide a certain exposure for your personal products or artworks.
At the end, we are very pleasure you giving us a lot of supports. We still need your supports in the future.
Let's Come to our Forums and Open your discussion!