Your Favourite Photoshop Tutorials in One Place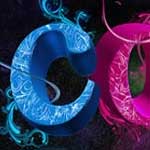 Create a Multi-Colored Text Effect in Photoshop
Under

- Photoshop is recommended for this tutorial -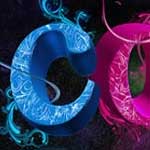 Monster usually appears on cartoon films and seldom show up in real pictures. To your children, it would be great idea to draw a monster on their real pictures. In this tutorial, it will show you techniques to draw a 3D monster on a real picture in an easy way.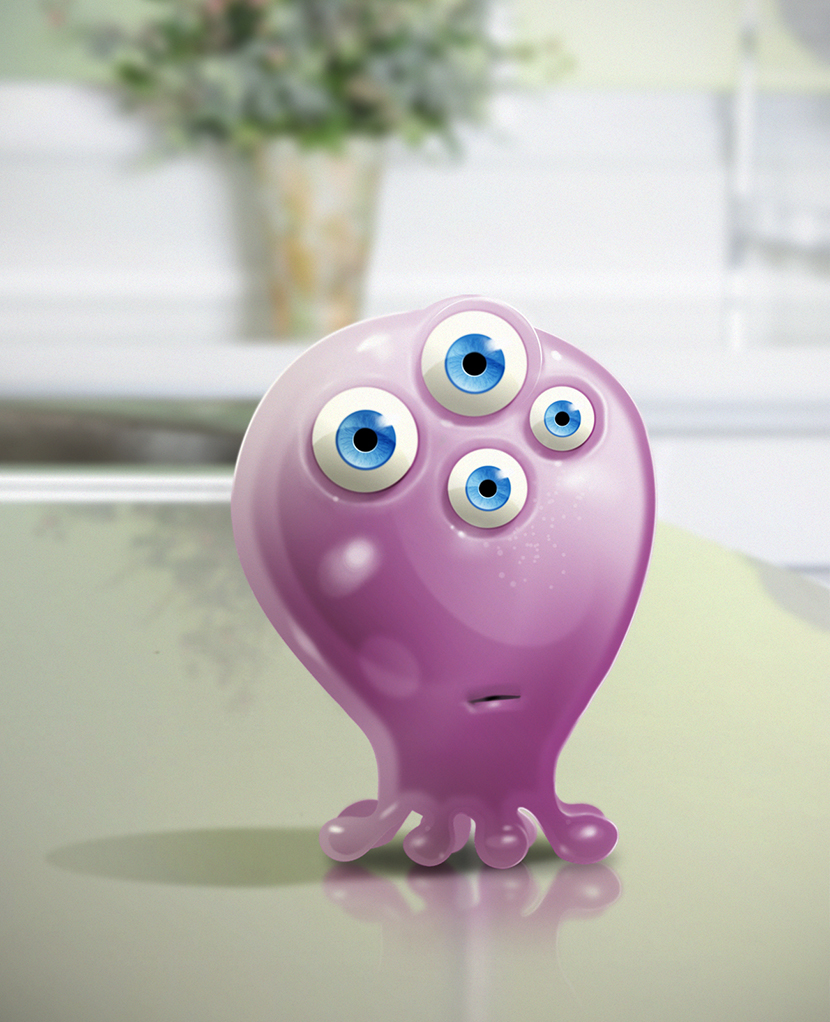 Step 1
First, we are going to start with the eyes, using the Elliptical Marquee Tool (M), make a circular selection, hold the Shift key pressed while drag the circle to keep it proportional. With the Paint Bucket Tool (G), fill the selection with white color, next, apply a Bevel and Emboss Layer Style with the following settings.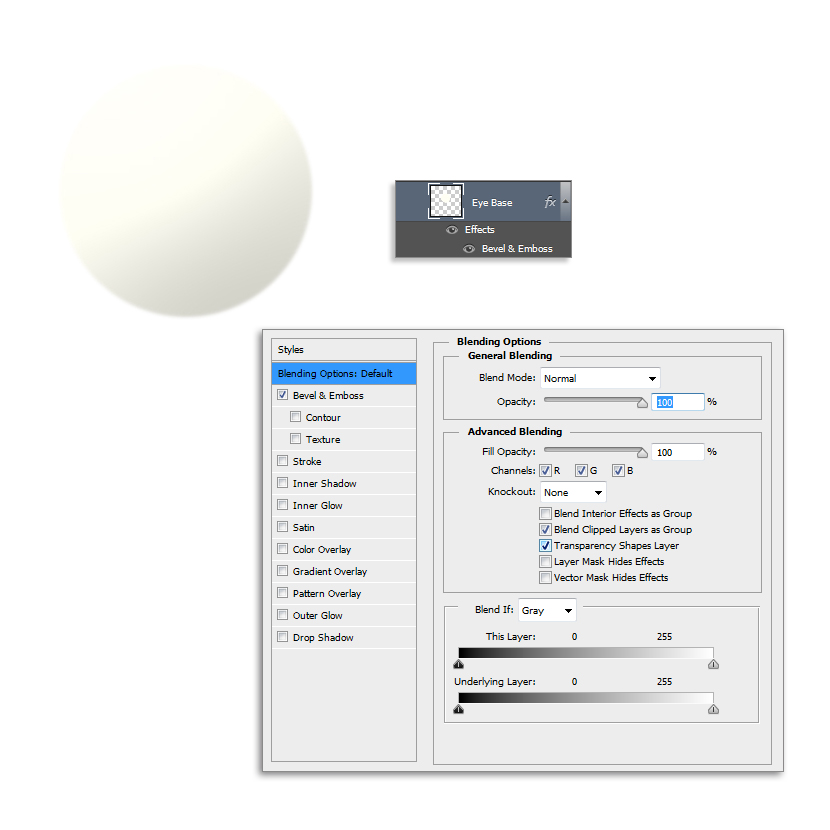 Step 2
Now, create a new Layer over the previous one, for the iris, use the Elliptical Marquee Tool (M) and place it in the middle of the eye, next, using the Paint Bucket Tool (G) fill it with light blue color. Apply a Gradient Overlay Layer Style with the following settings.
Step 3
Make Ctrl + Left Click on the Iris Layer, to select the iris shape, now go to Edit > Stroke and make a 2 pixels blue stroke around it on a new Layer "Iris Stroke", the blue color we used before will work. To add depth on the iris, create a new Layer "Iris Bright", and using the Gradient Tool, make a white gradient as shown.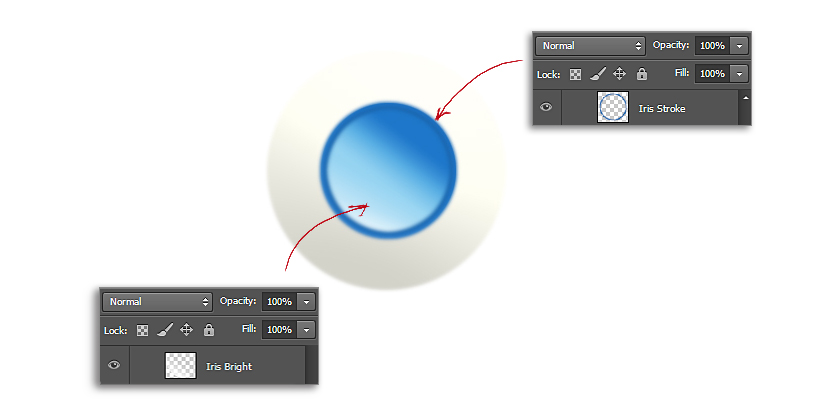 Step 4
For the iris texture we are going to create a custom brush. With the Brush Tool (B), on a new Layer, draw a form more or less as shown, next, Ctrl+ Left Click on that Layer, to select its content, then go to Edit > Create Brush, now, we have our custom brush on the Brush Presets menu. Go to the Brush Presets palette (F5), and on the Brush tab, adjust settings as shown. Create a new Layer, "Iris Texture",set its Blending Mode to Soft Light and 100% Opacity, and with the Ellipse Tool (U) make a circle, smaller than the iris size, now stroke the Path with the custom brush selected, then, you will get a radial iris texture.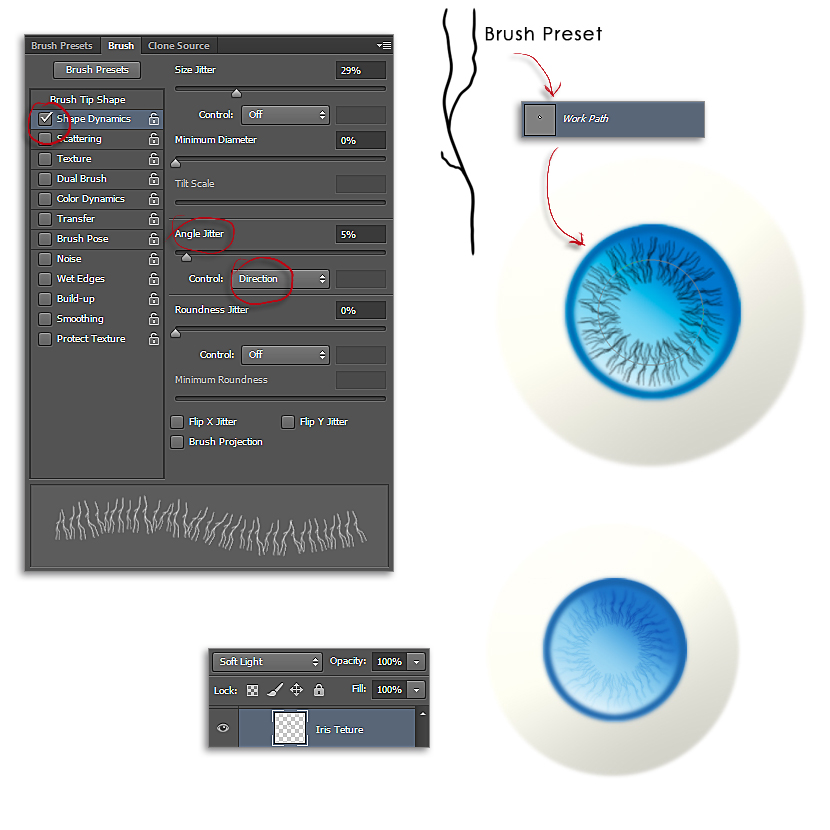 Step 5
On a new Layer "Retina", let's make the retina, use the Elliptical Marquee Tool (M) to create a circular selection, next, fill it with black color. Create a new Layer "Retina Bright", set its Blending Mode to Mormal and 100% Opacity, with the same selection process we used before, make a white stroke around it. To fade off the upper-right area, create a Layer Mask and make a gradient as shown.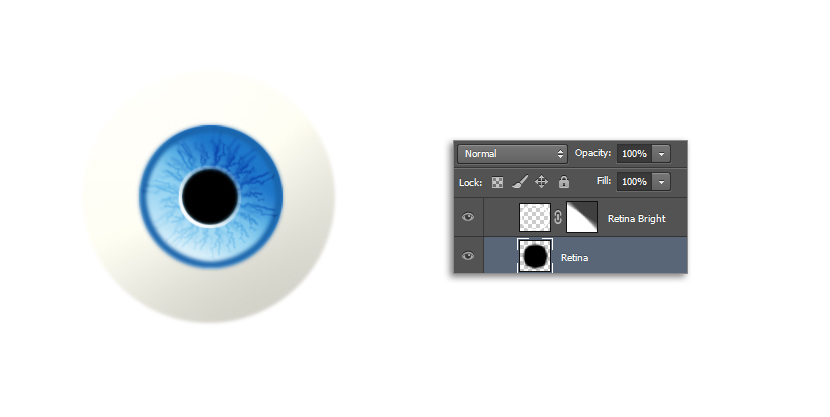 Step 6
To finish with the eye, create a new Layer "Eye Bright", and with the Brush Tool, and a Soften Round Brush selected, paint a white stroke on the upper-right area, next, pick the Smudge Tool and dissolve its edges. Once all the eye's Layers are completed, merge them together to get only one.
Step 7
Now, let's get started with the body. Using the Pen Tool (P), create a Path to define the body's shape, once you are happy with it, create a new Layer "Body", and Fill Path with pink color. Next, duplicate the eye's Layer three times and place them on the desired place, resize each one to get a better result, you can also organize all in a folder to keep them organized.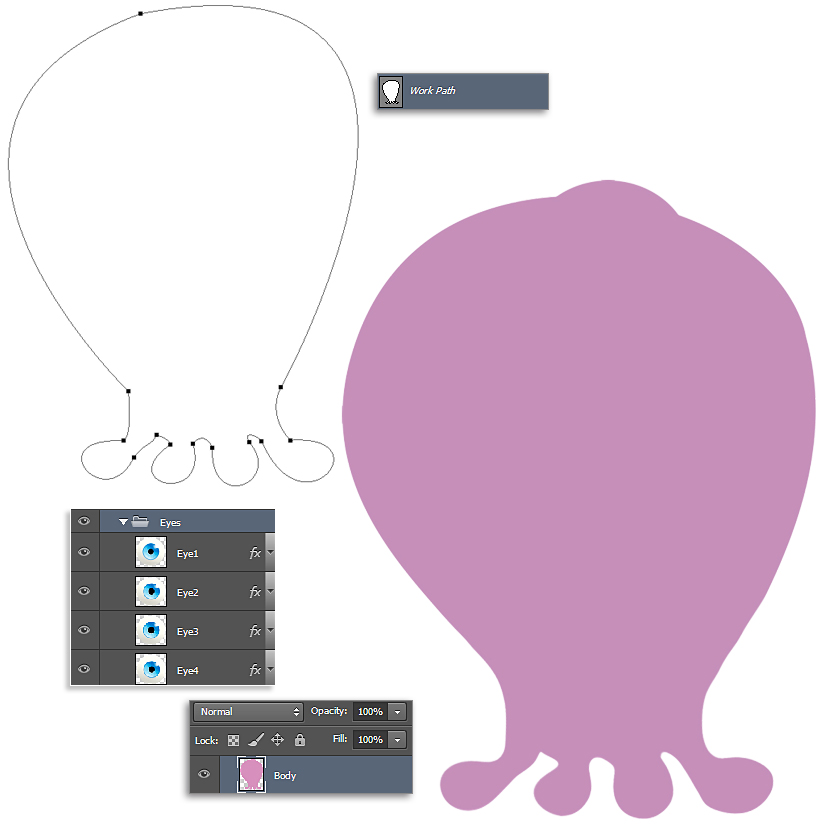 Step 8
To adjust and refine the shape go to Filters > Liquify, using the Forward Warp Tool (W), make the necessary corrections, as the upper eyebrow.
Step 9
On the "Body" Layer, apply a Bevel and Emboss Layer Style with the following settings to get the body's volume.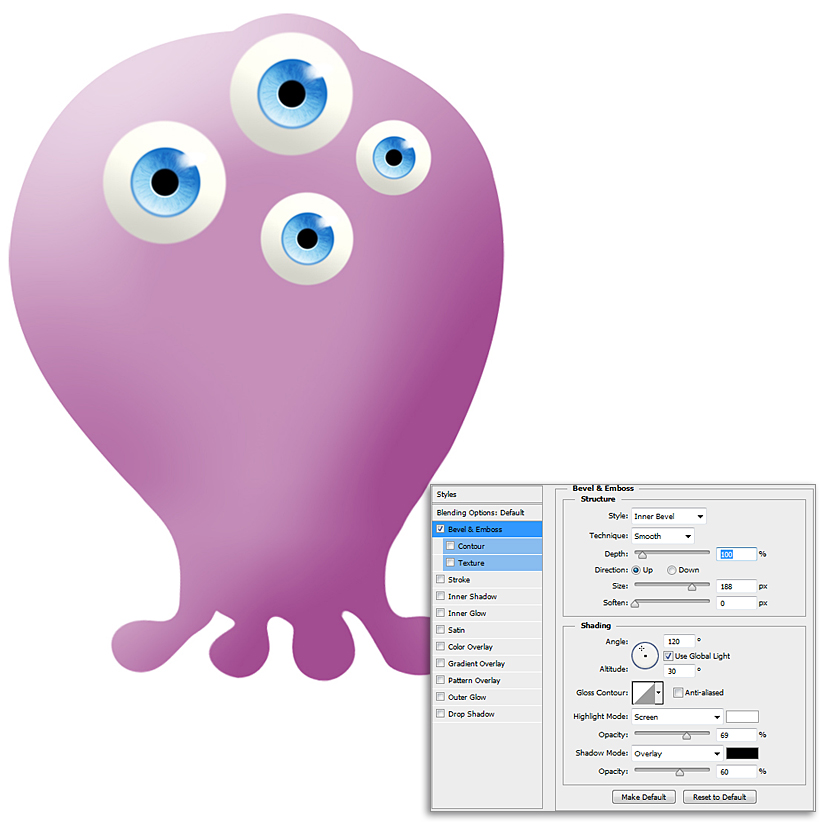 Step 10
For the mouth, create a new layer "Mouth", set its Blending Mode to Normal and 75% Opacity, pick the Brush Tool (B) with a Round Brush selected, and paint the mouth with black color, next apply a Bevel and Emboss Layer Style with the following settings. To create the back legs, use the Rectangle Marquee Tool (M) to select the legs and Copy and Paste it on a new Layer, next go to Edit > Transform > Flip Horizontal, finally adjust the Layer Opacity to 80%, so they appear more distant.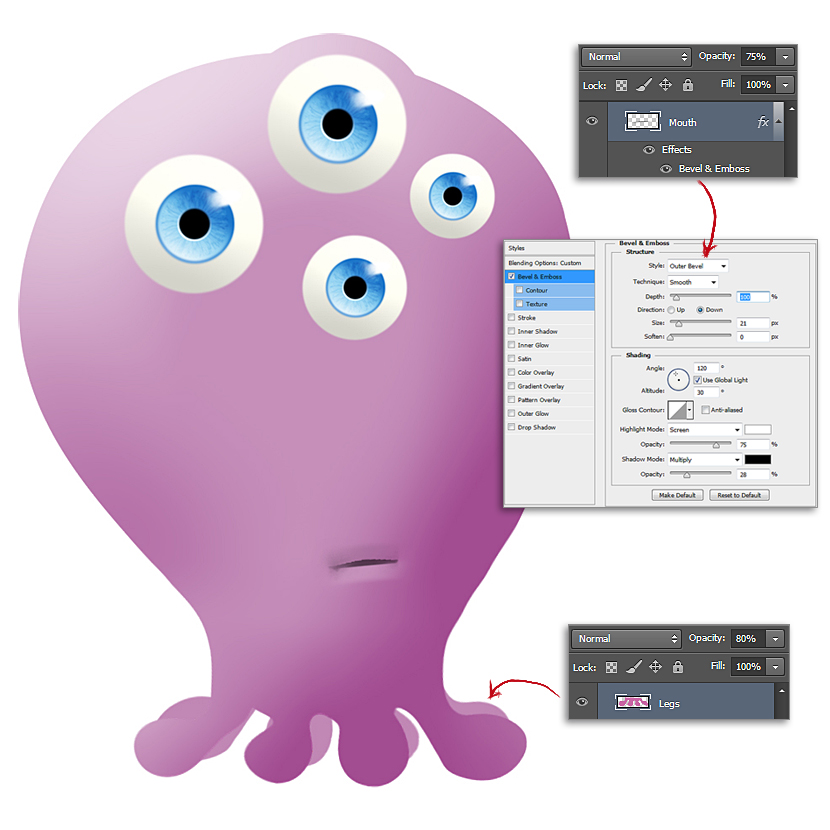 Step 11
Create a new Layer " General Shadow", set its Blending Mode to Overlay and 100 Opacity, next, select the body's shape ( Ctrl + Left Clcik) and go to Selection > Transform Selection > Contract, and apply a 6px transformation. With the Gradient Tool (G), make a black to transparent gradient, from bottom to up-right as shown. Create a Layer Mask to hide the undesired gradient's areas.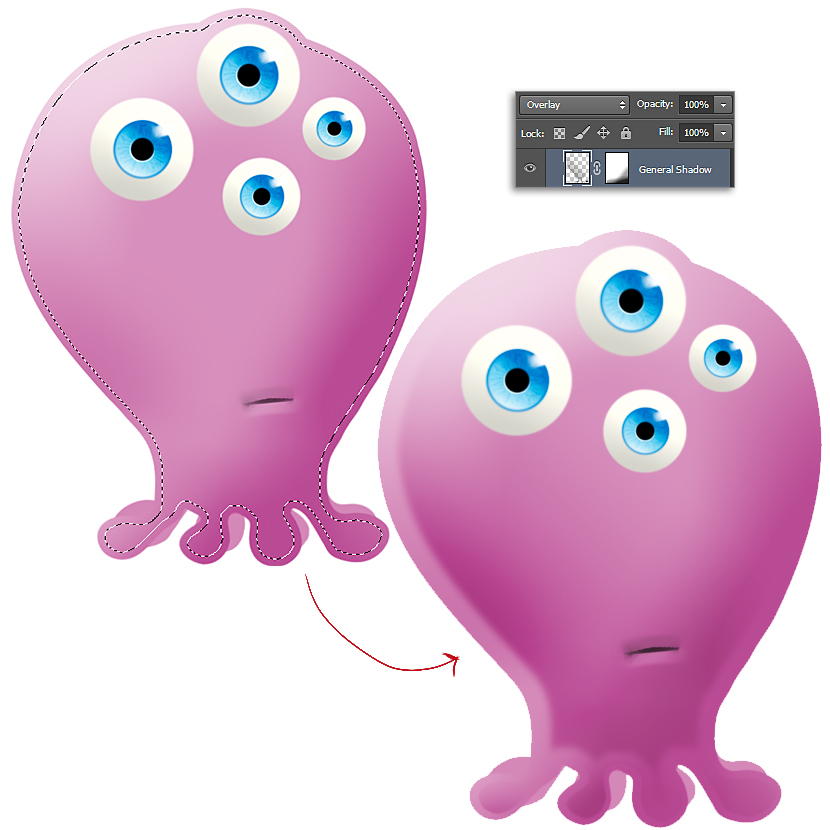 Step 12
Create a new Layer, "Main Light", set its Blending Mode to Mormal and 100% Opacity, then repeat same body's selection as the previous step, but now subtracting the eyes shapes, like this, once the selection is active, press Ctrl + Alt + Left Click, on each eye Layer. Go to Selection > Transform Selection > Contract, and apply a 12px transformation. On the new "Main Light" Layer, use the Gradient Tool (G) to apply a white to transparent gradient from upper-right downwards as shown. Again, use a Layer Mask to hide the undesired gradient areas.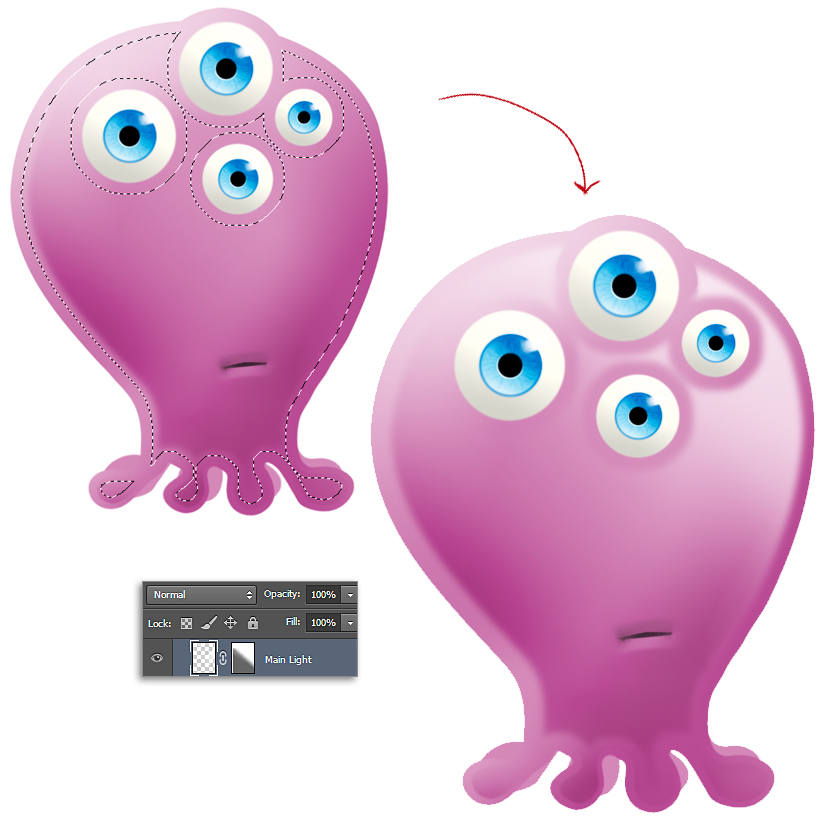 Step 13
Create a new Layer "Eyes Shadows" underneath the eyes folder, set its Blending Mode to Soft Light, and 75% Opacity. Make a selection of all the eyes, use de Selection Tool (M) to relocate it a bit left-downwards and fill it with black color. Finally use the Blur Tool to blur the edges a bit.
Step 14
Now, let's make the eye's reflections, create a new Layer " Eyes Reflections" set its Blending Mode to Softlight and 100% Opacity. Usind the Elliptical Marquee Tool (M) make the following selections, next, with the Paint Bucket Tool (G), fill them with black color.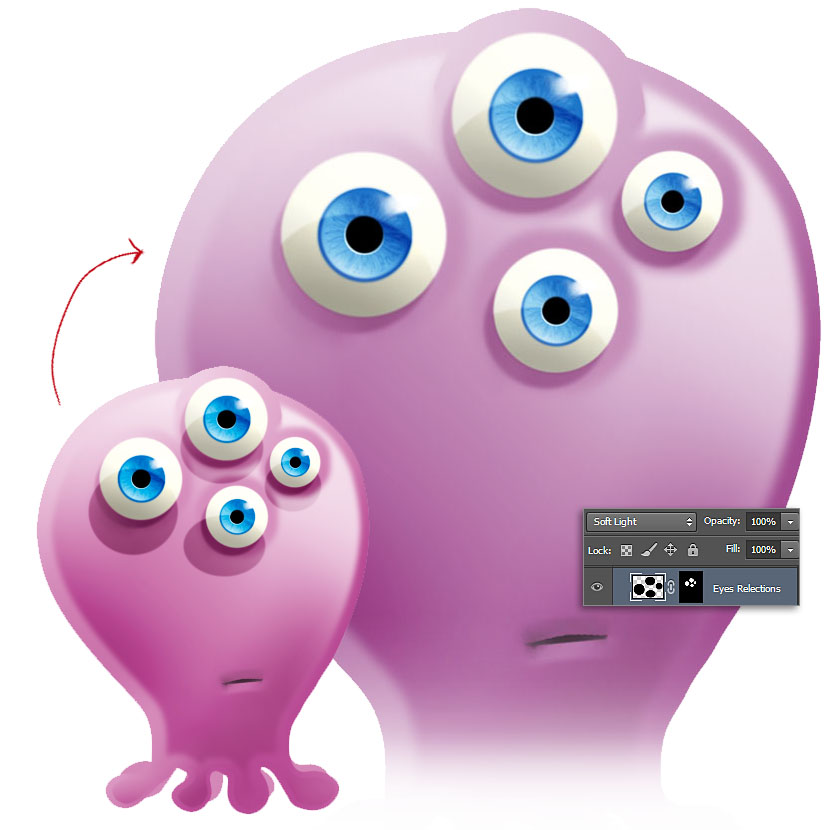 Step 15
Next, to highlight a bit the eyes, create a new Layer "Eyes Strokes" set its Blending Mode to Overlay and leave Opacity to 100%. To select the eyes contours, make Ctrl + Left Click, holding the Shift key pressed, over each eye layer, next, go to Edit > Stroke and make a 2 pixels stroke, with black Color, and Outside selected. With the Blur Tool, blur them a bit.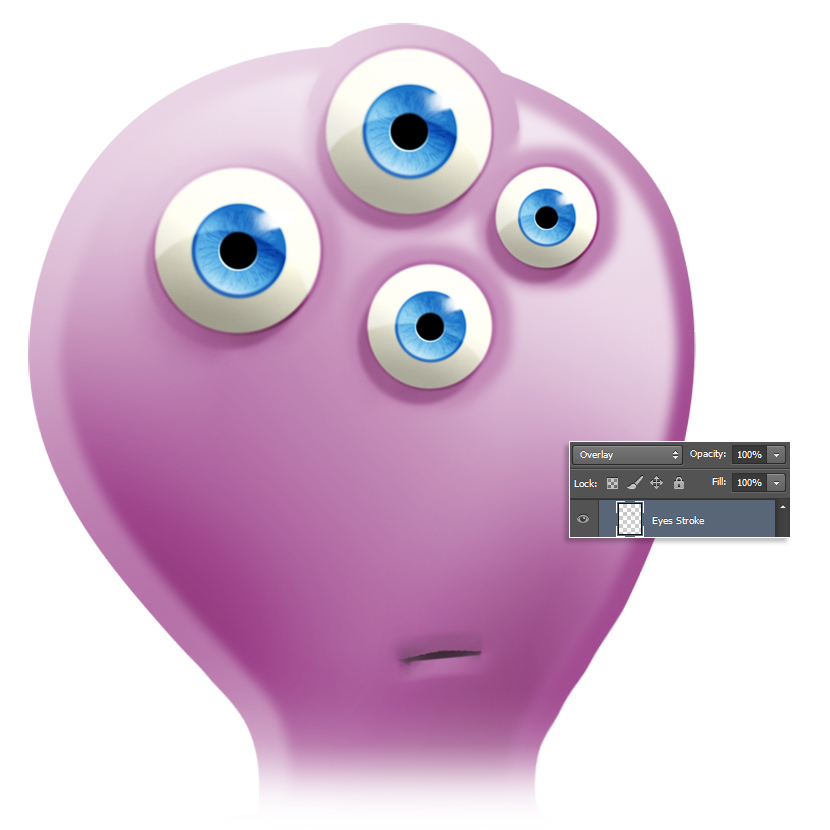 Step 16
Create a new Layer "Brights", set its Blending Mode to Normal and 100% Opacity, and with a Soft Round Brush, paint the eyebrows lights, following with the Smudge and Blur Tools to mix them with the body's surface.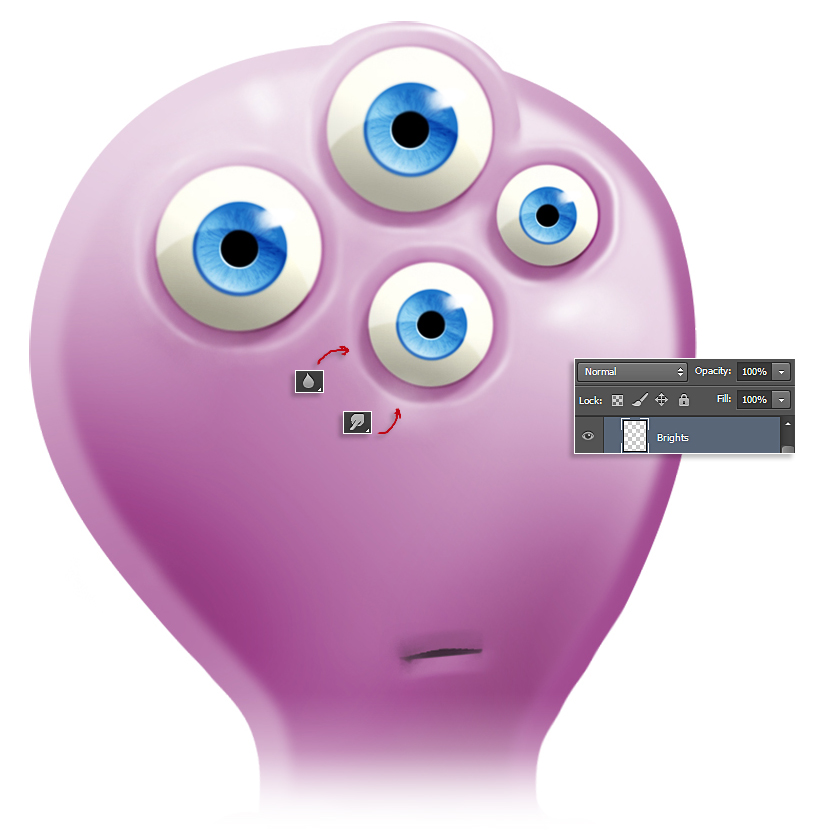 Step 17
Following with the lights, let's create three layers, first one "Brights 2", set is Blending Mode to Soft Light and 35% Opacity. With the Elliptical Marquee Tool (M), make an small elliptical selection, and with the Paint Bucket Tool (G), fill it with white color. Next, with the Blur Tool, blur it a bit. On the next layer "Brights 3", set its Blending Mode to Soft Light and 30% Opacity, and repeat same operation as on the previous layer, but this time with a bigger elliptical selection, and placed where shown. Finally, the third one, "Internal Shadow" set its Blending Mode to Soft Light and 35% Opacity, but this time filled with black color and placed where shown. Notice that, the last two layers have Layers Masks, I did that for hide some portions of the shapes.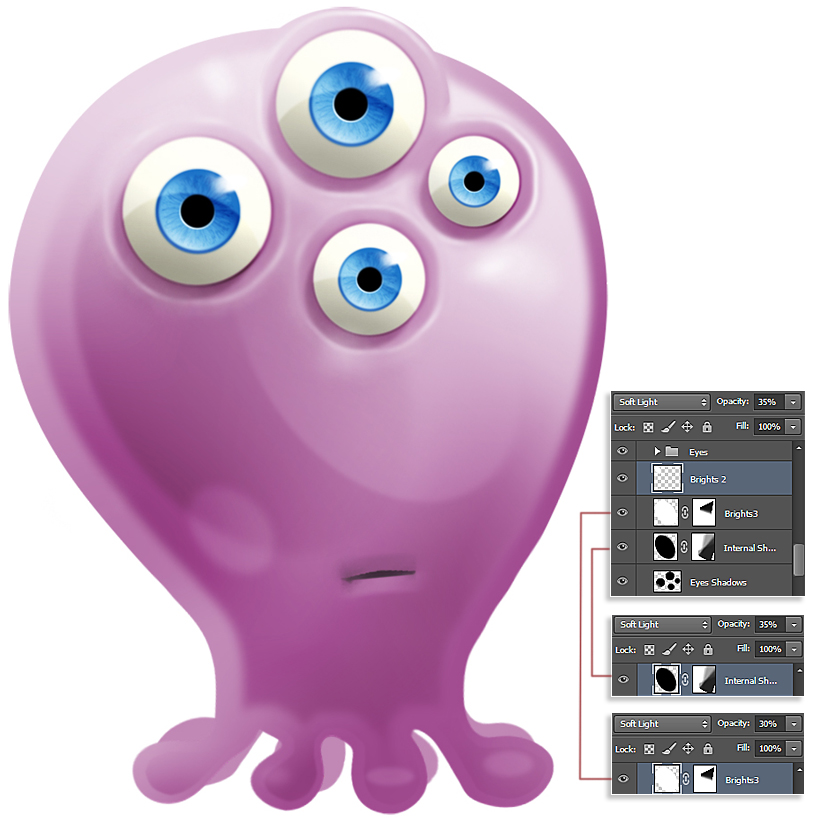 Step 18
To finish with the lights, create a new Layer "Highlights", and with a Soft Round Brush, paint some strokes and dots to enhance areas where light has more relevance. Use the Blur and Smudge Tools to blend the strokes with the surface.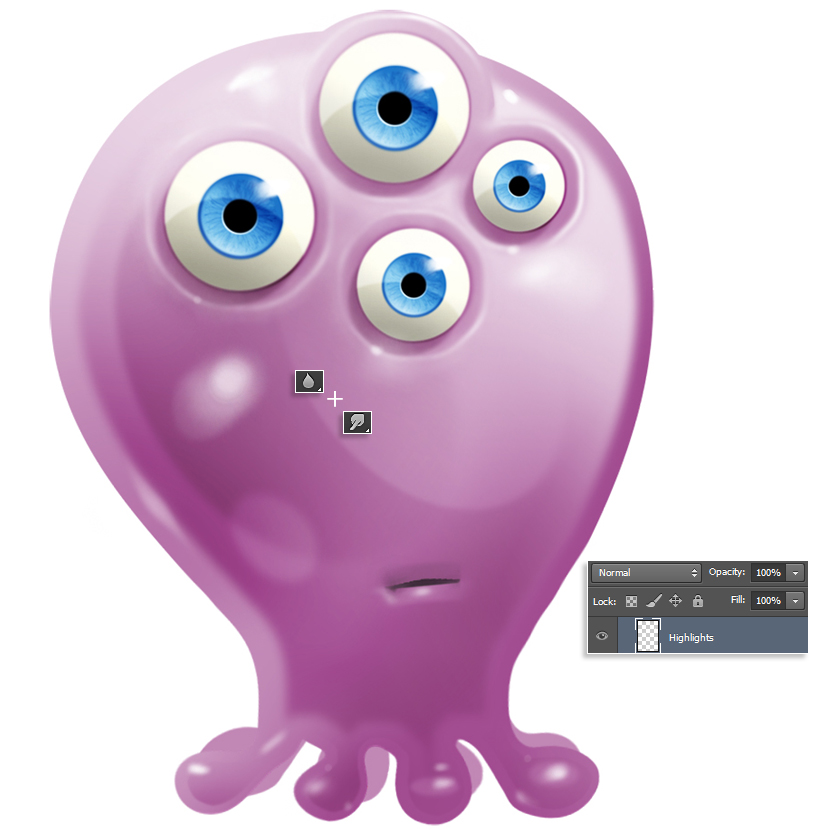 Step 19
Now let's create a spotted texture on our character. Select the Hard Round Brush on the Brush Palette, now, on the brush settings (F5) , set it as shown. With it, the brush stroke will be as irregular dots, that will give us the desired result. Create a New Layer "Spotted" set its Blending Mode to Soft Light and 49% Opacity, pick white color and paint some dots where shown.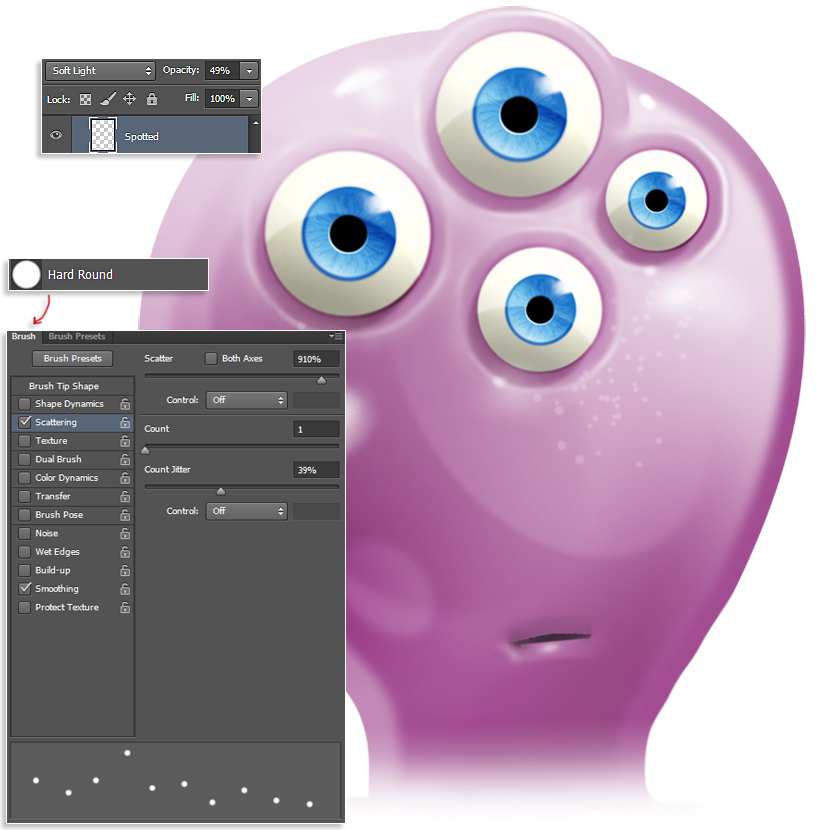 Step 20
The character is finished, it's time to start with the background. Organize all previous layers under the same Group Folder, duplicate the resultant folder and Merge Group, so now we have the whole character on a single layer. Open the background image and place it under the character layer as shown (or as you prefer), now go to the Channels Tab and create a new one (Alpha 1 by default), pick the Gradient Tool (G), and with white color make a gradient from top to down that covers 3/4 of the channel, and aN small one from bottom to up, on the channel's lower part. Select again the RGB Channel and come back to the Layers Tab. Select the background layer and go to Filters > Blur > Lens Blur, select the Alpha 1 channel on the Depth Map Source selector, and apply the following settings. Now we have our background image with a depth of field blur, that gives scale and depth to our image.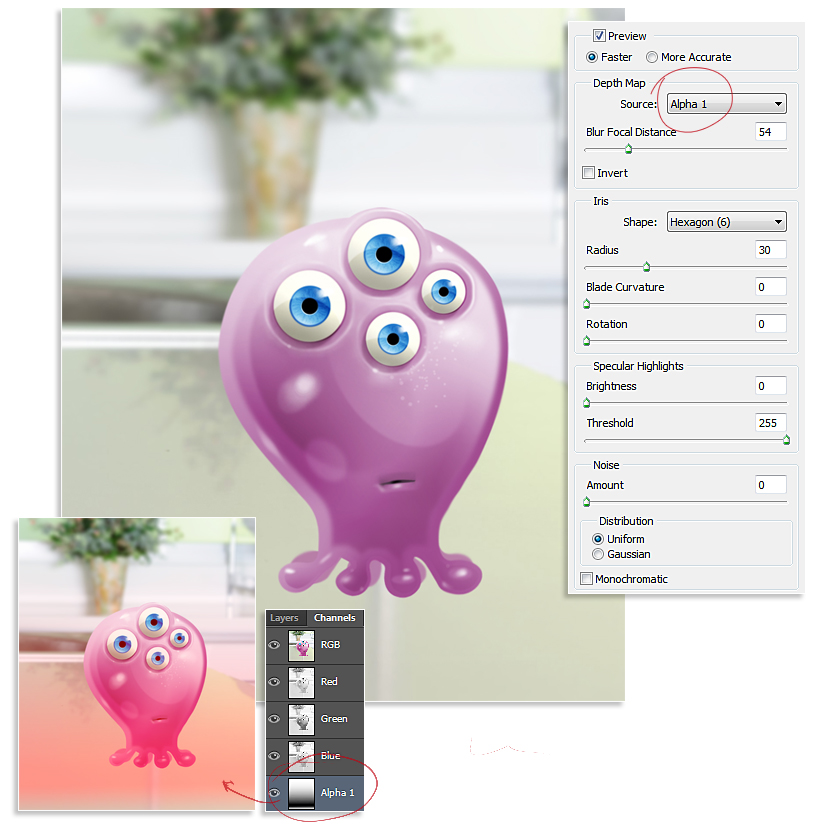 Step 21
To create the character's reflection, duplicate the character's layer, set its Blending Mode to Normal and 39% Opacity. Now go to Edit > Transform > Flip Vertical and place it just below of the character as shown. Next, go to Filters > Blur > Gaussian Blur, and apply a 2 pixels radius blur. Finally, create a Layer Mask, and with the Gradient Tool (G) hide the head and midbody of the character.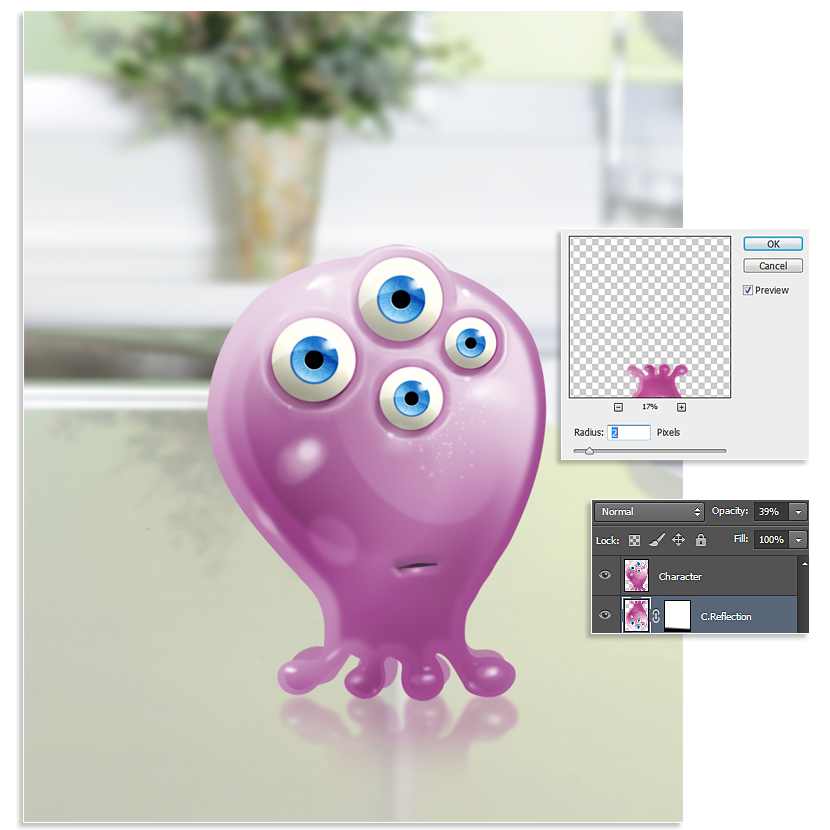 Step 22
For the shadows that the character casts, create two layers, first one, is for the shadow placed just below it, "Surface Shadow 1". Set its Blending Mode to Multiply and 29% Opacity, with the Elliptical Marquee Tool (M) make an elliptical selection and, with the Paint Bucket Tool (G), fill it with black color, next, go to Filters > Blur > Gaussian Blur and blur it at taste. The second one, shadow that He projects on the surface, "Surface Shadow 2". Set its Blending Mode to Soft Light and 100% Opacity, repeat same technique as before with the Elliptical Marquee Tool (M) and black color. Part of the shadow that is further from the character is weaker, so, to achieve that effect, apply a Layer Mask and with the Gradient Tool (G), and low Opacity set, fade that area.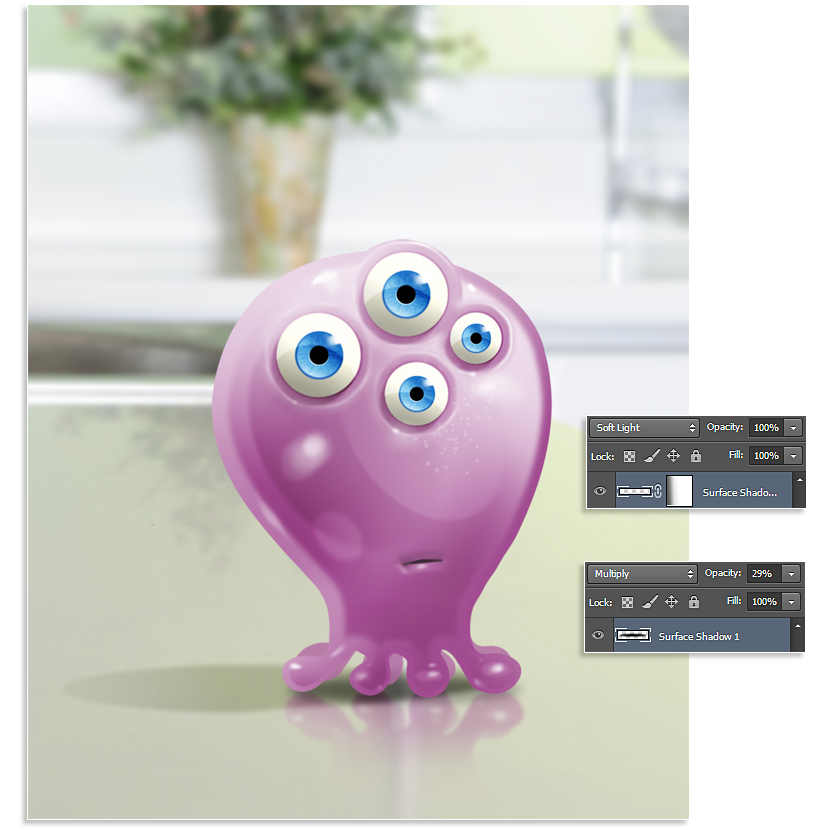 Step 23
Following with the character's integration, using the Blur Tool, blur the further legs to add some depth.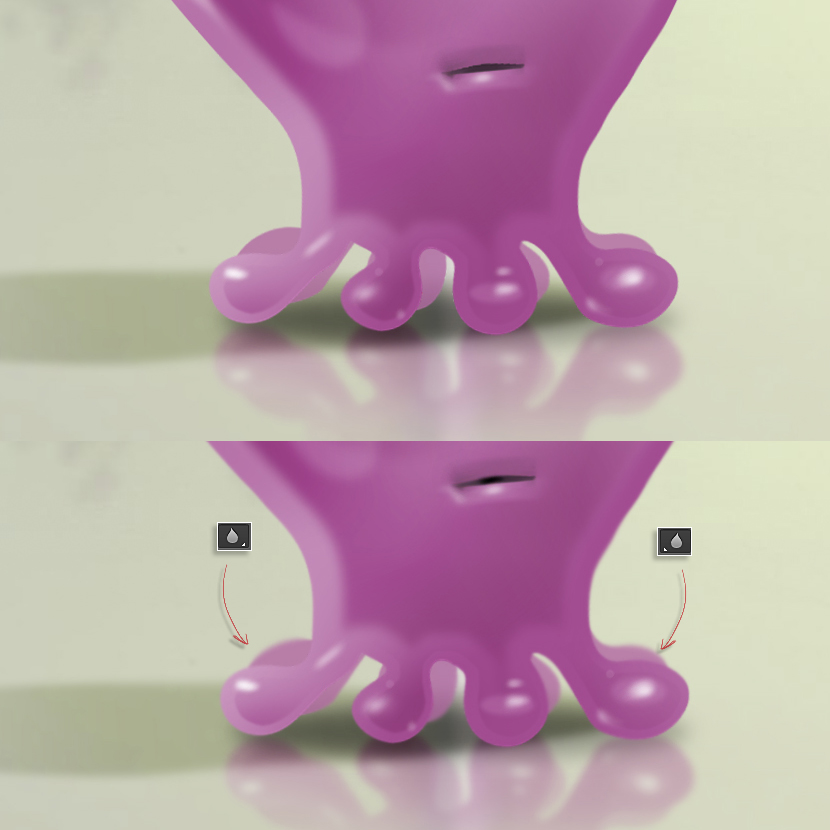 Step 24
The light, normally illuminates the contour of the objects, to achieve it on our character, create a new layer "Rim Light", set its Blending Mode to Normal and 100% Opacity. Make Ctrl + Click on the character's layer to create its selection, now go to Edit > Stroke, and make a 2 pixels white external stroke, with the Blur Tool, blur it a bit. Apply a Layer Mask and hide the areas where light doesn't reach the character. That contour must be also on the surface's reflection, so Copy and Paste the previous layer, go to Edit > Transform > Flip Vertical and fit it on the reflection, then set its Opacity to 43%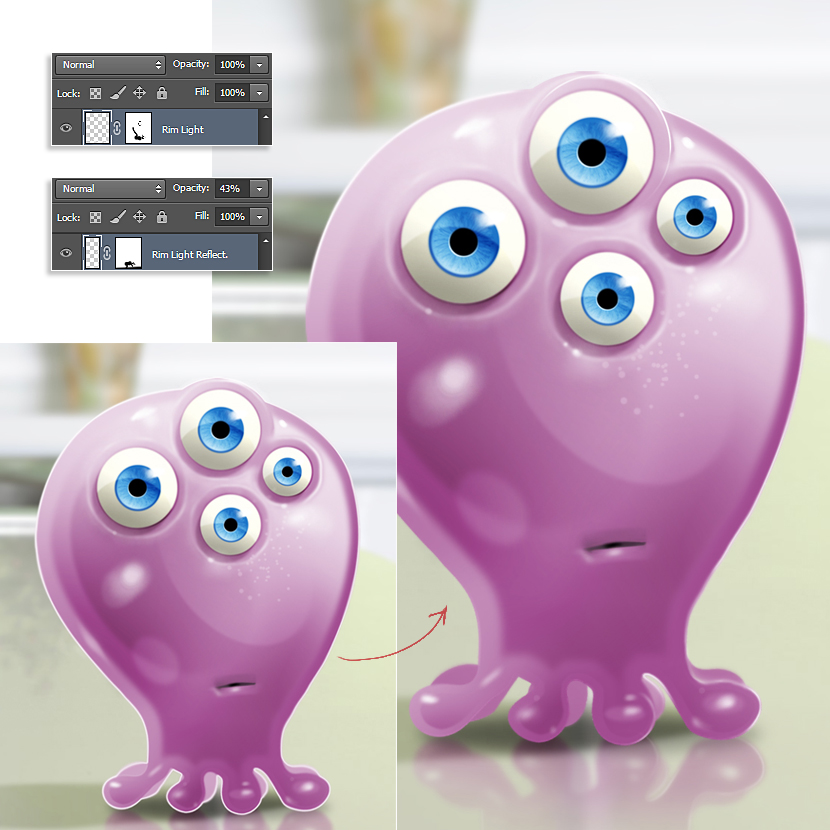 Step 25
Light bounces and incides again on the objects, to achieve that effect create a new layer "Bounced Light 1", set its Blending Mode to Color and 40% Opacity. Witht the Color Picker, select the surface's color, and picking the Gradient Tool (G), set with low Opacity, make a gradient on the body from left to right. For the lower part, create another layer, "Bounced Light 2", set its Blending Mode to Normal and 25% Opacity and make a new gradient over it. to avoid staining the background with the gradients, select the body's shape before making them.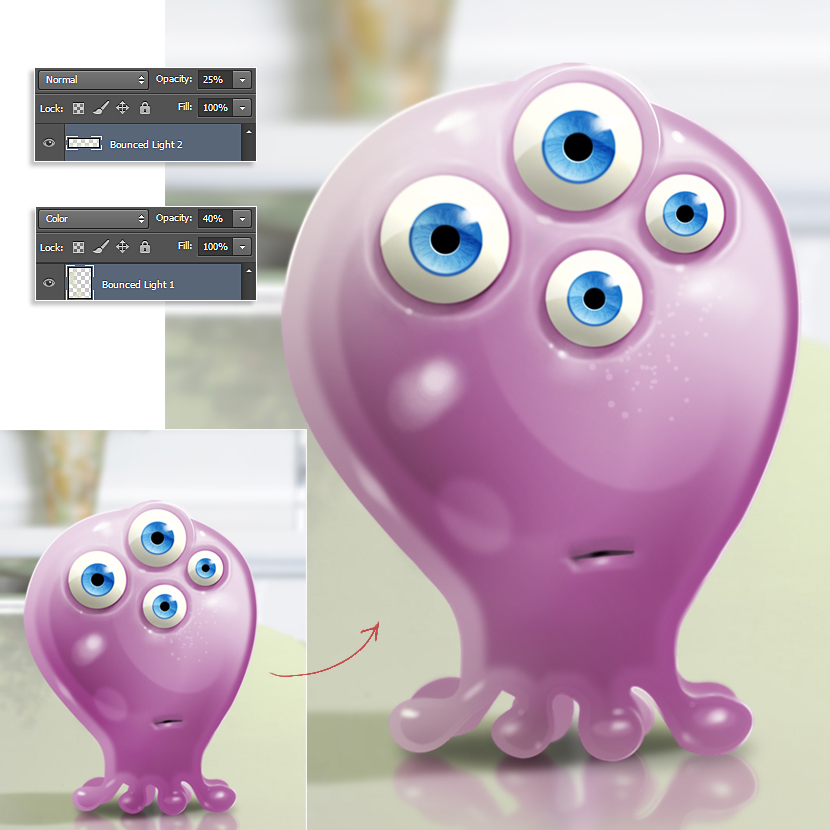 Step 26
To create more balance on the shadows, create a new Layer "Shadows Correction", set its Blending Mode to Soft Light and 50% Opacity, then, picking the Gradient Tool (G), and black color, make a gradient from lower left side to upper right.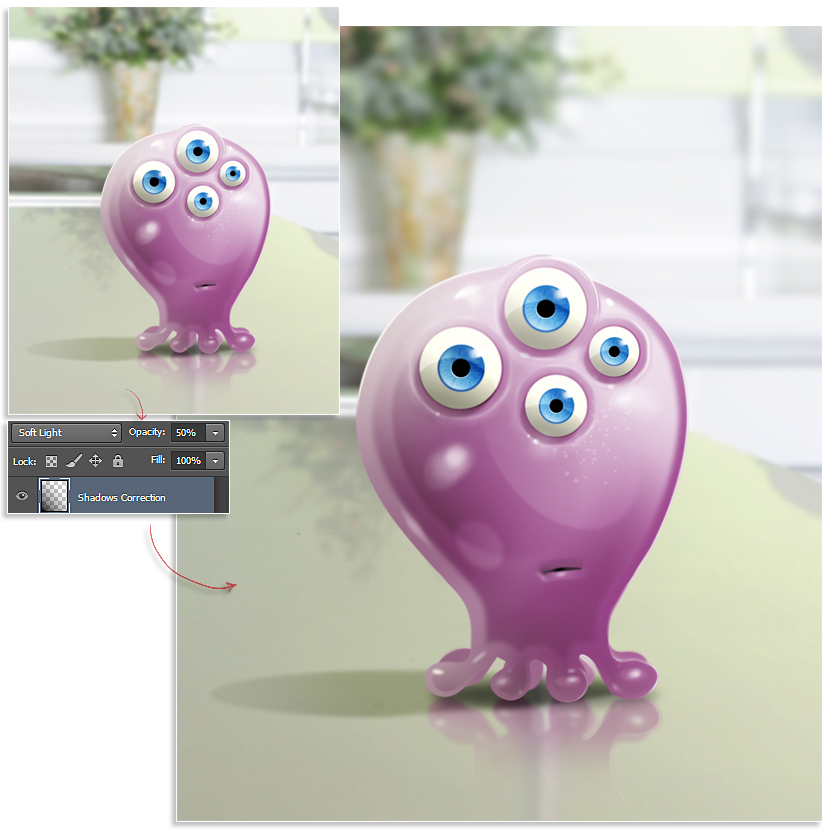 Step 27
Now we have the character completely integrated on the background, so, duplicate and merge the previous layers to get the final image. To add some vignetting on the image, go to Filters > Lens Correction, and on the Custom tab you will find its settings, a quantity of -15 will be ok.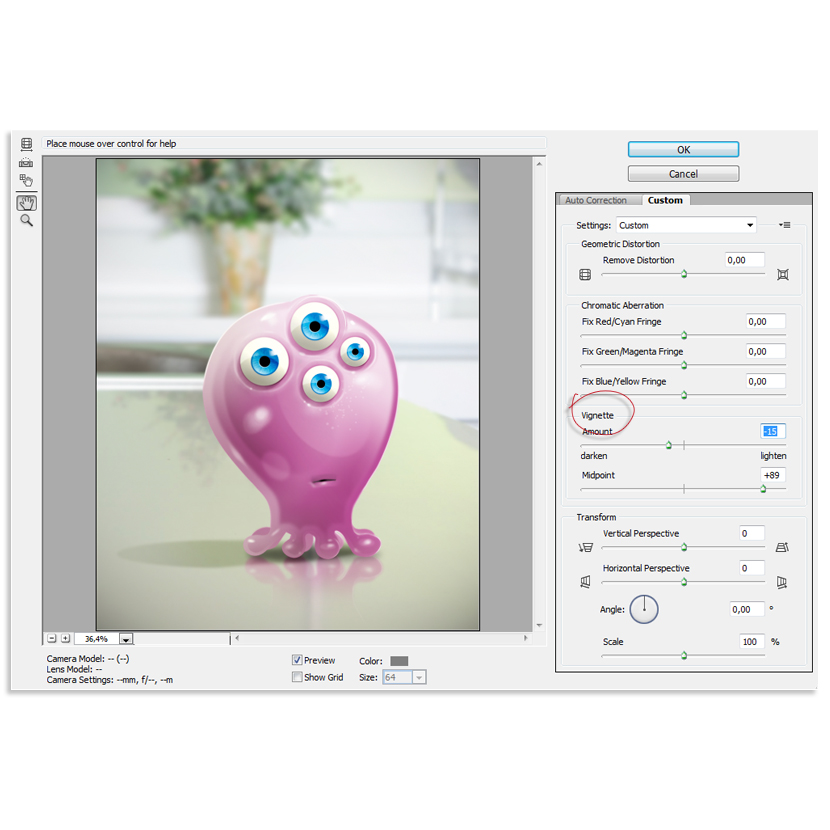 Step 28
Finally, I like to add some noise to my images, create a new Layer, set its Blending Mode to Multiply and 100% Opacity. With the Paint Bucket Tool, fill it with white color, and go to Filters > Noise > Add Noise, a quantity of 5% will be enough.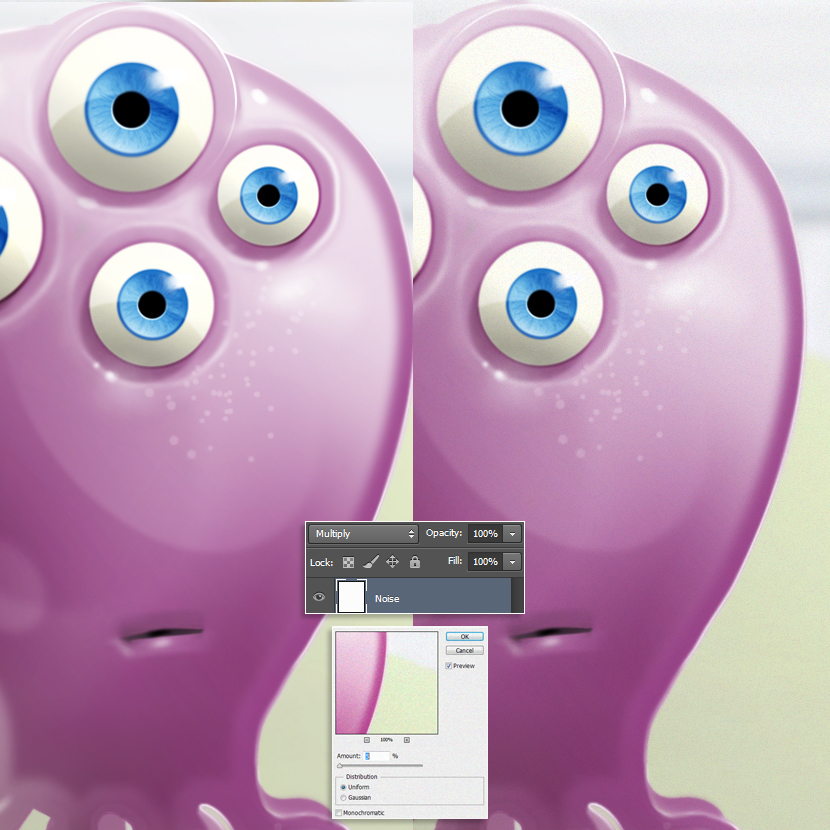 Step 29
Here we have our buddy caught by surprise while was taking a walk by the kitchen looking for some tasty things…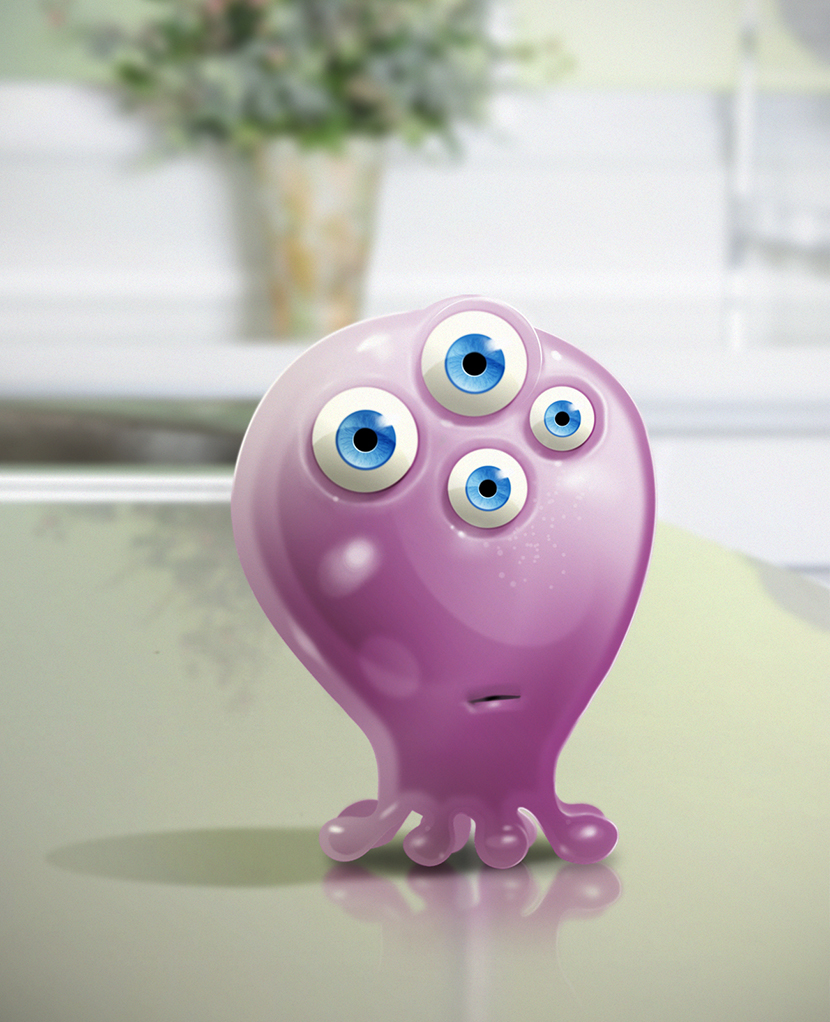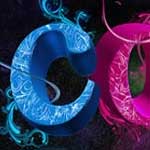 Webydo offers a code-free, fully integrated website design solution for professional web designers. However, what does it take for a designer to start creating sites for their clients? First, after a year, Webydo has become known and widely praised by the creative professional community for their intuitive design studio, feature rich options and ability to continuously develop and add new features for their designers. The best part about all of this is that there is absolutely no code involved.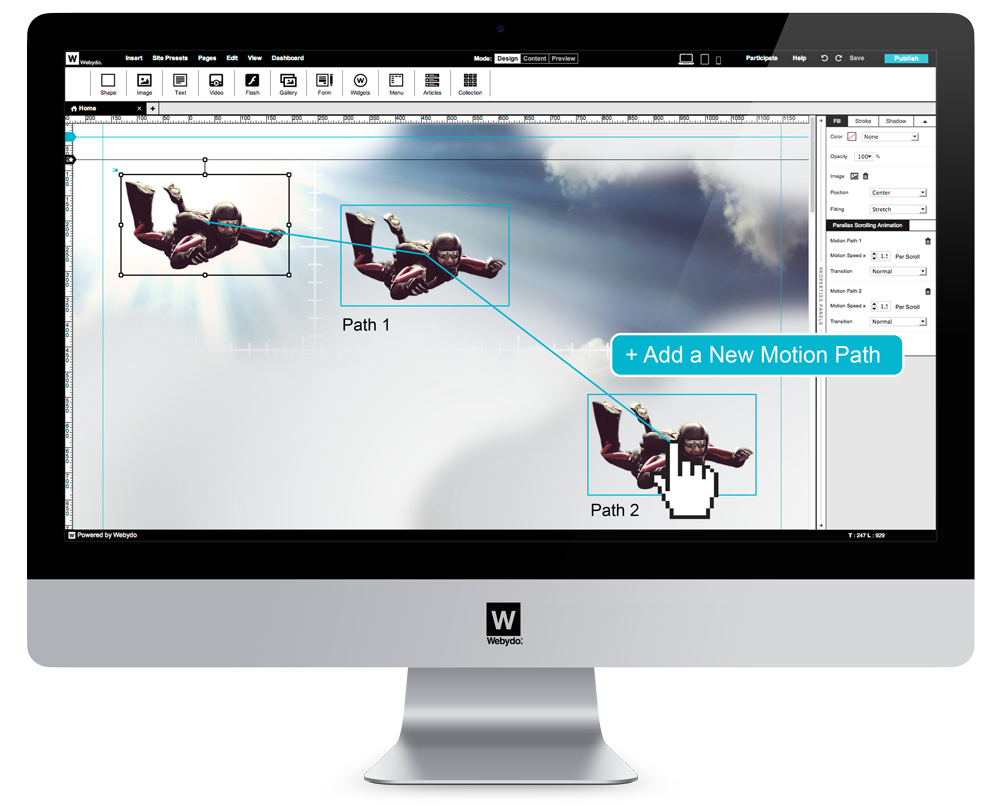 Innovation is piped in through the air vents at Webydo because what the designers are able to accomplish in a year has taken other similar platforms twice the amount of time. The latest and most exciting feature update is Webydo's code-free, Parallax Scrolling Animator. Presently only offered in closed-beta, Webydo is granting access to the first 3,000 designers who sign up. Keep in mind that this is a hot feature and picking up a lot of attention and invites are running out quick, so grab yours before this unique opportunity closes.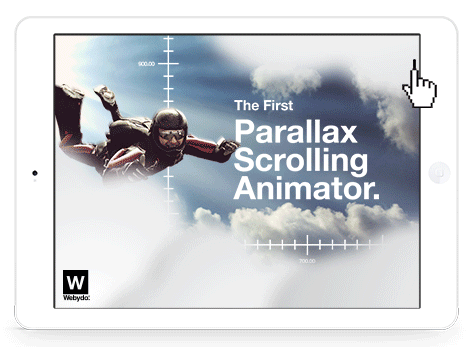 Webydo's mission is to put designers in the driver's seat of every project or task. Good news for designers is that by adding the ability to create a Parallax Scrolling website with their pixel-perfect animator, they can work independently to create and manage websites for their clients that will meet today's hottest web design trends. We have seen some big names recently switch over to parallax scrolling such as Puma and Sony. In addition, designers can work on a site to site basis or upgrade their work load by signing up for the team or agency packages. This allows designers to have more control over their client's websites and growing their design agency.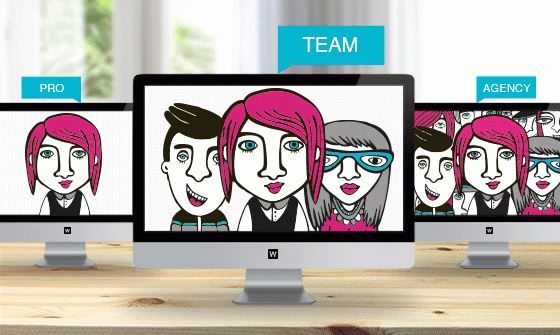 You can place Webydo in the center of your business so that you have the option to do more in less time. It's not going to be the run of the mill website creator. Getting starting is more intuitive for the experienced designer thanks to the familiar layout that is akin to that of Photoshop or InDesign. Shortening the learning curve and getting designers creating sites either right from a blank canvas or to take inspiration from one of the readymade designs or layout options.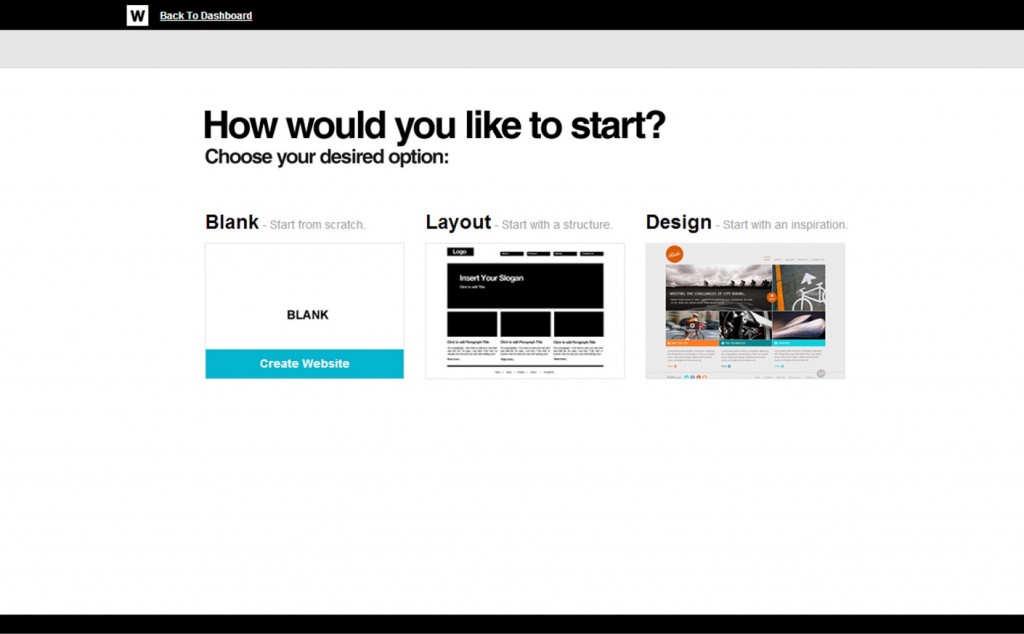 There are some incredible features within this B2B cloud-based design suit. You will be able to create a great looking website from start to finish without using code. You can also bill your clients within the dashboard. When your clients enter the CMS aspect to make any changes to content, they see your logo thanks to the white labeling option, allowing you to not only brand the dashboard but also help clients to see exactly where they are.
The community is really what makes Webydo so unique. The "Participate" page is where designers can propose features and let the community vote. Within a few weeks, the Parallax Scrolling Animator will also be live, which is one of the hottest trends hitting web design right now. In case you're not sure of what this is, it allows depth, movement, and animation to be added when a user scrolls down the length of a web page. Providing an almost 3D affect, that started picking up popularity in video games and then taking off in 2013 by the web design community.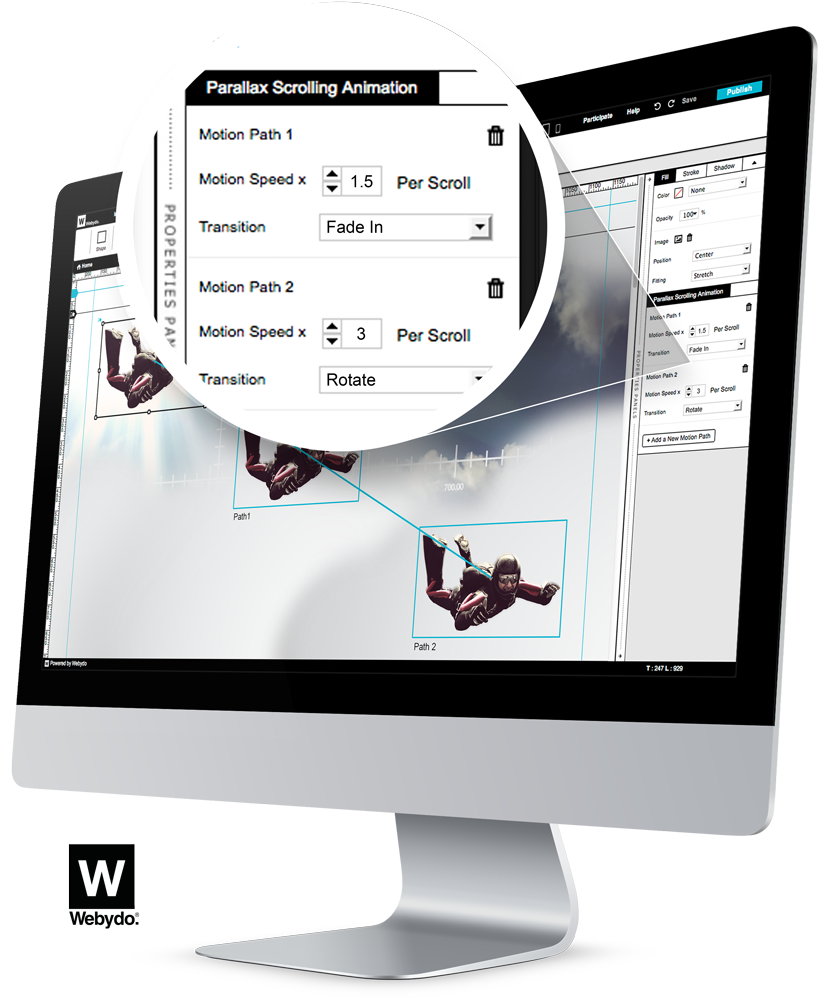 Webydo's closed-beta invites are again available for the first 8,000 designers who sign up and they will have the opportunity to be some of the first to experience the freedom of Parallax Scrolling Animation with Webydo.
This article is presented by Webydo's professional community of designers.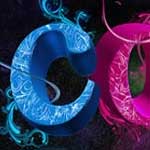 When you have created your own amazing Photoshop tutorials, I am sure you would like to spread the world by submitting them to the Photoshop tutorials sites. However, many of the Photoshop tutorials sites are inactive, and have not been updated for a long time. Only some of the Photoshop tutorials sites can drive you large amount of traffic.
We have selected the following 20 Best Places to Submit Your Photoshop Tutorials. They can gives you nice amount of traffic and a good quality of valid linkback. You can find the "Direct Submission Link" on each of the Photoshop tutorials sites we mentioned. We hope it can make your life easier.
—————- Direct Submission Link —————-
Pixel2Life

Pixel2Life is probably the biggest tutorial search engine on the web, covering the most subjects as well.
—————- Direct Submission Link —————-
Good-Tutorials
Good-Tutorials is the largest source of tutorials on the web today. It has been featured on the BBC, SkyNews, TechTV (now G4), in the British magazine iCreate, PC World, and has been linked to by thousands of sites, blogs and forums. Since its start in 2002, it has been designed, coded, and loved by Zach Holman.
—————- Direct Submission Link —————-
Design Bump
Design Bump isn't just a tutorial website, rather a general design resources depository. Covering subjects such as: Web Design, Tutorials, Flash, Business, Programming, WordPress and much more!
—————- Direct Submission Link —————-
Psdtuts+

Psdtuts+ is a blog/Photoshop site made to house and showcase some of the best Photoshop tutorials around. We publish tutorials that not only produce great graphics and effects, but explain the techniques behind them in a friendly, approachable manner.
—————- Direct Submission Link —————-
PSLover

One of the bigger Photoshop tutorial databases on the web, PSLover has been arond for quite a while now and is still going strong.
—————- Direct Submission Link —————-
Tutorialvault.net

Tutorialvault.net focuses on collecting and archiving the best graphic and coding tutorials on the internet. While a large part of our database features tutorials from the Adobe Family of programs, we also have a vast list of CSS, PHP and 3D tutorials.
—————- Direct Submission Link —————-
TutorialsGarden

Covering many subjects extensively, such as: 3D Studio Max, CSS, Fireworks, Flash, Gimp, Photoshop and more.
—————- Direct Submission Link —————-
Tutorial Outpost

Tutorial Outpost was started in November 2003 by Josh Pigford initially as a project to learn web development. It quickly turned in to much more as being one of the first major tutorial portals around. It has expanded in to many more categories past the initial Photoshop Tutorials and is now visited by more than 125,000 people each and every month.
—————- Direct Submission Link —————-
Tutorials Expert

Covering subjects of: 2D graphics, 3D graphics, audio editing, business applications, databases and more.
—————- Direct Submission Link —————-
Photoshop Roadmap

A brilliant collection of Photoshop tutorials, brushes, resources and plenty more.
—————- Direct Submission Link —————-
FSTutorials
A beautiful depository for Photoshop tutorials, including the following categories: basics, buttons, color effects, designing, drawing, photo effects, special effects, text effects, textures and web graphics.
—————- Direct Submission Link —————-
TutorialMix

Covering topics on the following: 3DS Max, Photoshop, ASP, Cinema 4D, Dreamweaver, Illustrator and many more.
—————- Direct Submission Link —————-
Tutorial-Index
One of the younger but larger collections of tutorials on the web. Tutorial-Index covers the following subjects: Photoshop, Flash, PHP, Unix, Javascript and many more.
—————- Direct Submission Link —————-
TutorialKit

Covering many popular categories, including: Photo Correction, Special Effects, Text Effects, 3D Effects, Web Layouts and Graphic Design.
—————- Direct Submission Link —————-
Tutorialized

One of the oldest tutorial databases, Tutorialized has been around since the beginning.
—————- Direct Submission Link —————-
Total Tutorials

Covering tutorials on Photoshop, 3D Studio Max and Cinema 4D, Total Tutorials has been in the game for a very long time.
—————- Direct Submission Link —————-
Tutorial Center
Just some of the categories that Tutorial Center covers: Photoshop, Illustrator, InDesign, Blender, CSS and more.
—————- Direct Submission Link —————-
Kaoz-Tutorials

Covering the following subjects in some depth: Photoshop, Flash, HTML and CSS, Javascript and PHP.
—————- Direct Submission Link —————-
CG Links

CG Links covers 3D & 2D files, tutorials, books, plug-ins and textures
—————- Direct Submission Link —————-
CGTutorials.com

CG Tutorials is becoming one of the fastest growing directories of computer graphics tutorials. We seek to index all computer graphics tutorials in order to give them publicity and to give everyone an easy way to find the tutorial they seek.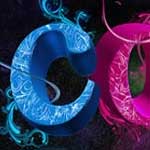 Please fill in the form below. We will get back to you within 48 hours.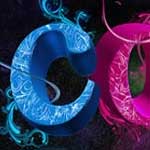 Are you looking to kick start your website design by professional developers? Is there something that is getting in the way or preventing you from starting you from starting your website design project? Is the cost involved too high for you or your clients to hire a developer? These might be some of the questions on the back of your mind whenembark on a new project. Well, fear not, as Webydo is leading the way in professional online website creators to help designers create and publish their websites code-free. You might be thinking that it is similar to those sites offering website designing. Well, it's not, Webydo is a well-known online design studio which has provided their community of designers a way around the coding so there is no need to hire a developer. Webydo offers you a diversified range of options having customized CMS (Content Management System) at your disposal and entire list of professional features to help kick start your business.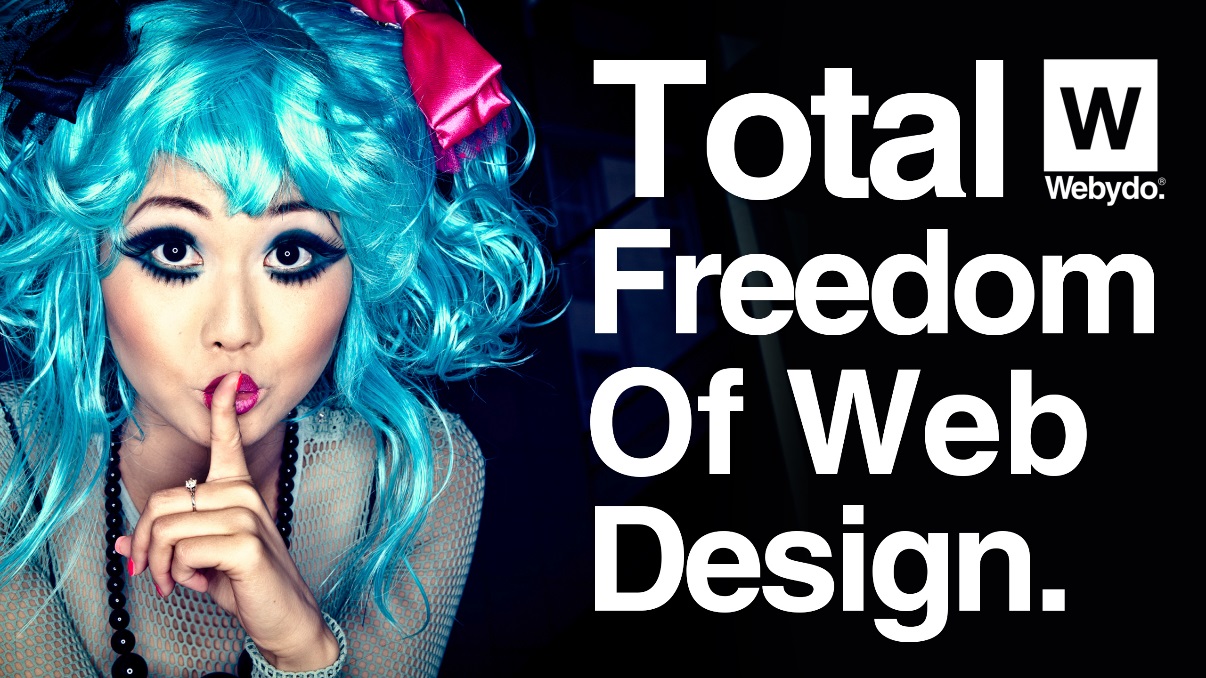 Getting started can sometimes be the most challenging, but Webydo provides you with three clear paths to embark on. First, if you already have a vision for your design you can chose the blank canvas and spill your creative juices out onto this canvas. The other options are to take one of the basic layout options or choose a readymade inspirational design. All of these are completely customizable as well for you to make them your own.Once you have gone through the process of choosing a design, and when you feel satisfied, the site will make that virtual website into a living reality for your business and/or recreation purposes. After you create a website, you can see it live on one the Webydo subdomain, and test it out on the web, share with clients and make your edits right then and there.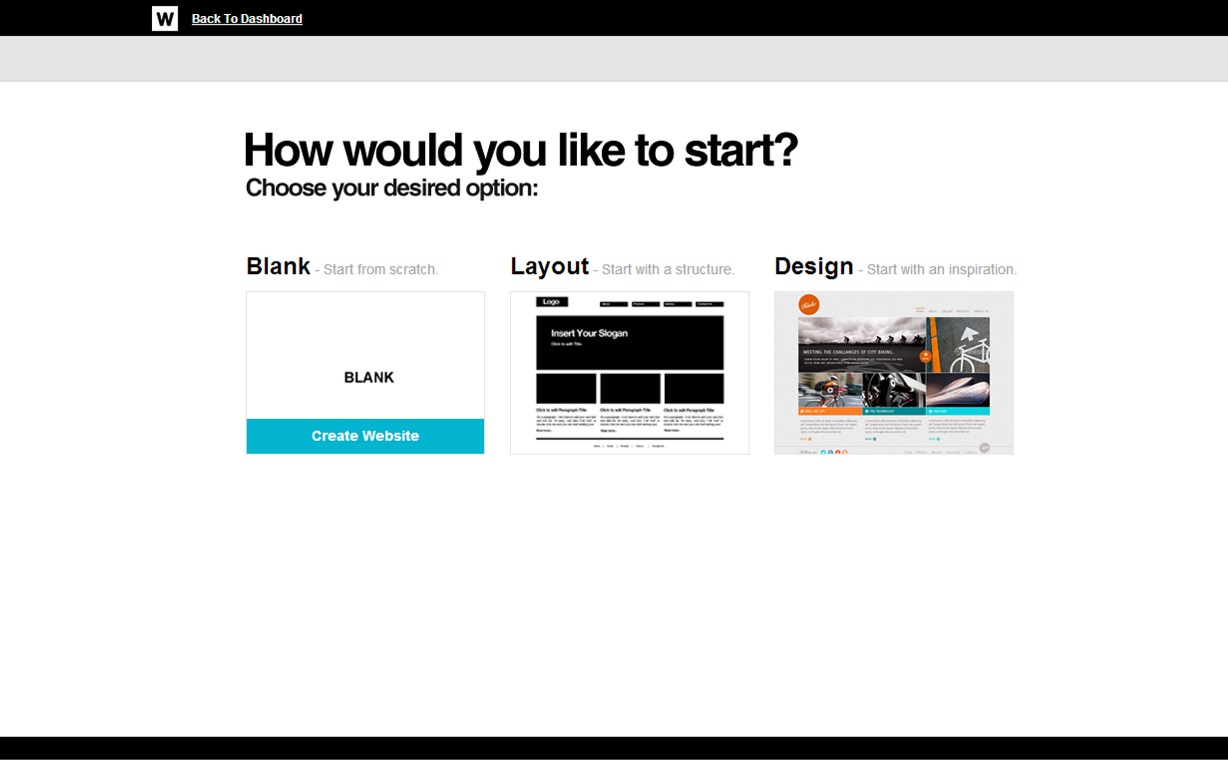 CEO of Webydo, Shmulik Grizim believes that they can bring any design to life without wasting time on writing a single line of code. The very same site has also achieved the milestone of breaking previous habits of website designing and complex coding. It has surely provided a feasible detour away from all such worries. The most remarkable feature of it includes the drag and drop option. Webydo's professional website design studio allows you to import your favorite designs, media, photos and much more to your under-developed webpage using Webydo's online canvas where you can assemble all the elements the way you like it. This gives you the utmost liberty of website design for each and every pixel on your webpage.
Do you want to insert any value-adding feature? Not a problem! The technical features of websites; like, blogging features propped up with various forms and Google map integration is more than just a need for any business. The popularity of this B2B website design platform is reflected from the ever-increasing influx of 50,000+ designer community within Webydo. These professional designers also helping to craft the future of the platform by regularly submitting new feature suggestions and voting on what should be added next right on the Participate page.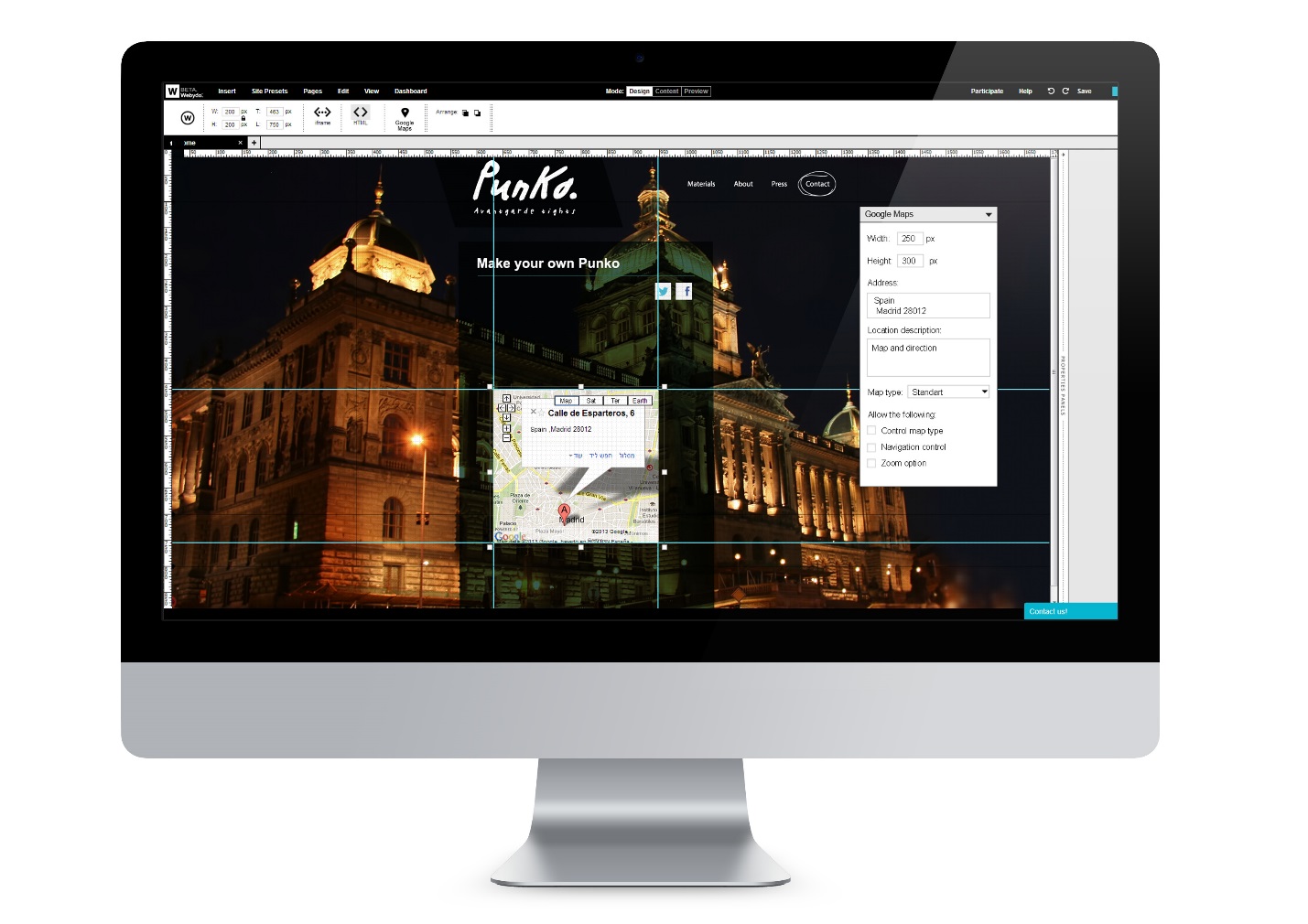 Webydo is surely a unique blend of beautifully crafted webpages and endless marketing horizons for promoting a bold perspective of your very own business. Webydo has a number of qualified and expert designers which have the experience of developing numerous websites and an ability to convert them into a success. Design a website can be quite a tedious and time consuming process and this is Webydo is so remarkable, because they have provided a professional design platform for creative professionals to take full control of their design projects from creating, to publishing and managing. By allowing designers to rebrand the CMS with their logo or send branded invoices, the platform functions more efficiently for the designers at work. So, if you are looking for having better marketing prospects, you would surely contact us for crafting your very own pathway towards success.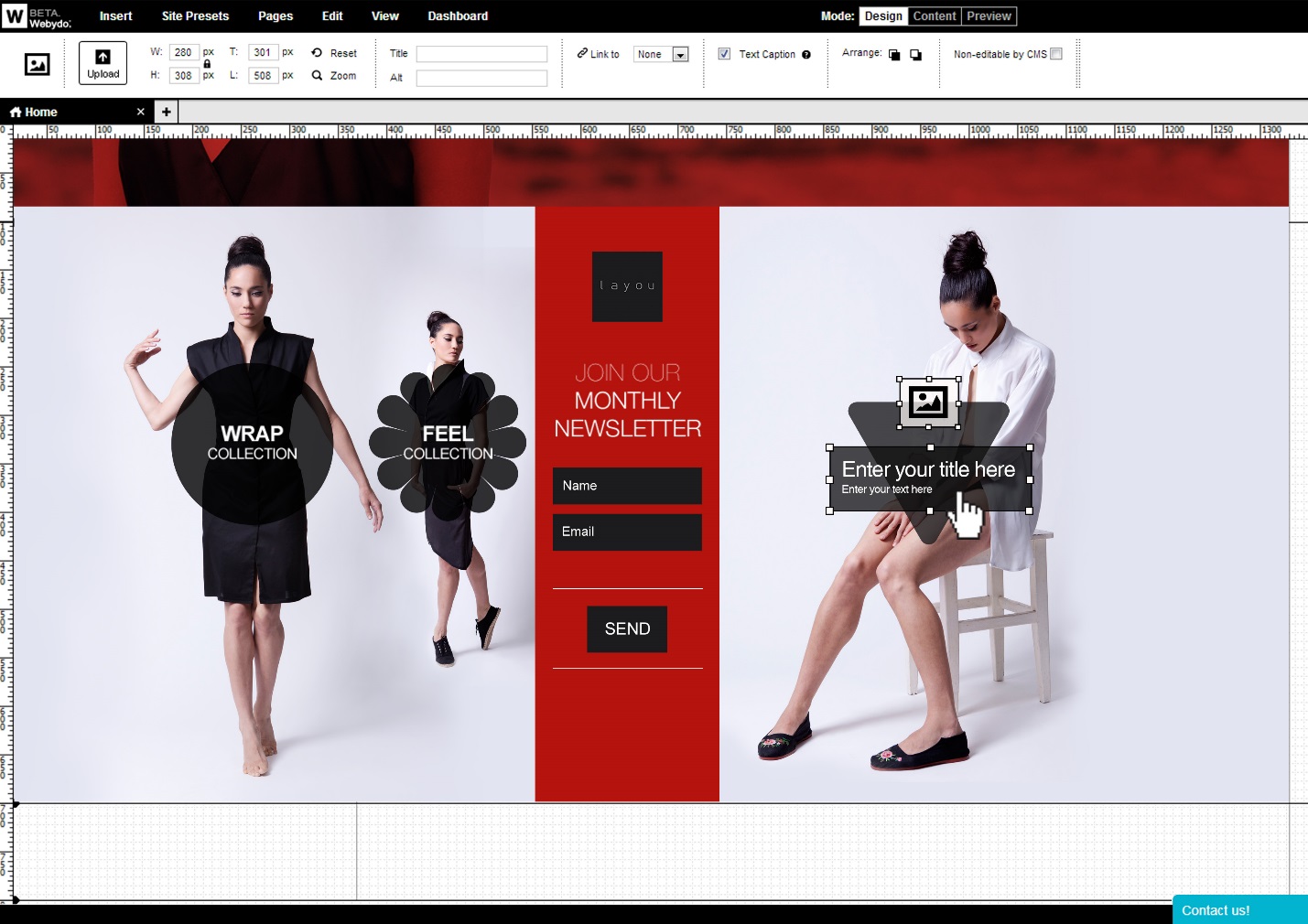 This article is proudly sponsored & presented by Webydo's designer's community.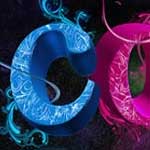 You may have the impression that a bow tie is either a thing for nerds, a tie for that weird joker in the office, or something you must have for any formal event like a wedding. Bow Select Tie is here to change your ideas about bow ties completely and forever. We love bow ties. We have endeavored to create the most unique bow ties that are sure to get you noticed. Naturally, we have a huge selection of classic bow ties that fit every occasion and dress. Amazingly daring and bold bow ties are our forte.
We feel that a bow tie should allow the wearer to express themselves in an unforgettable way. We have wooden bow ties that are real wood, a vibrantly colored collection of feather bow ties that go with any shirt or coat, humorous bow ties, and bow ties that celebrate your country or city.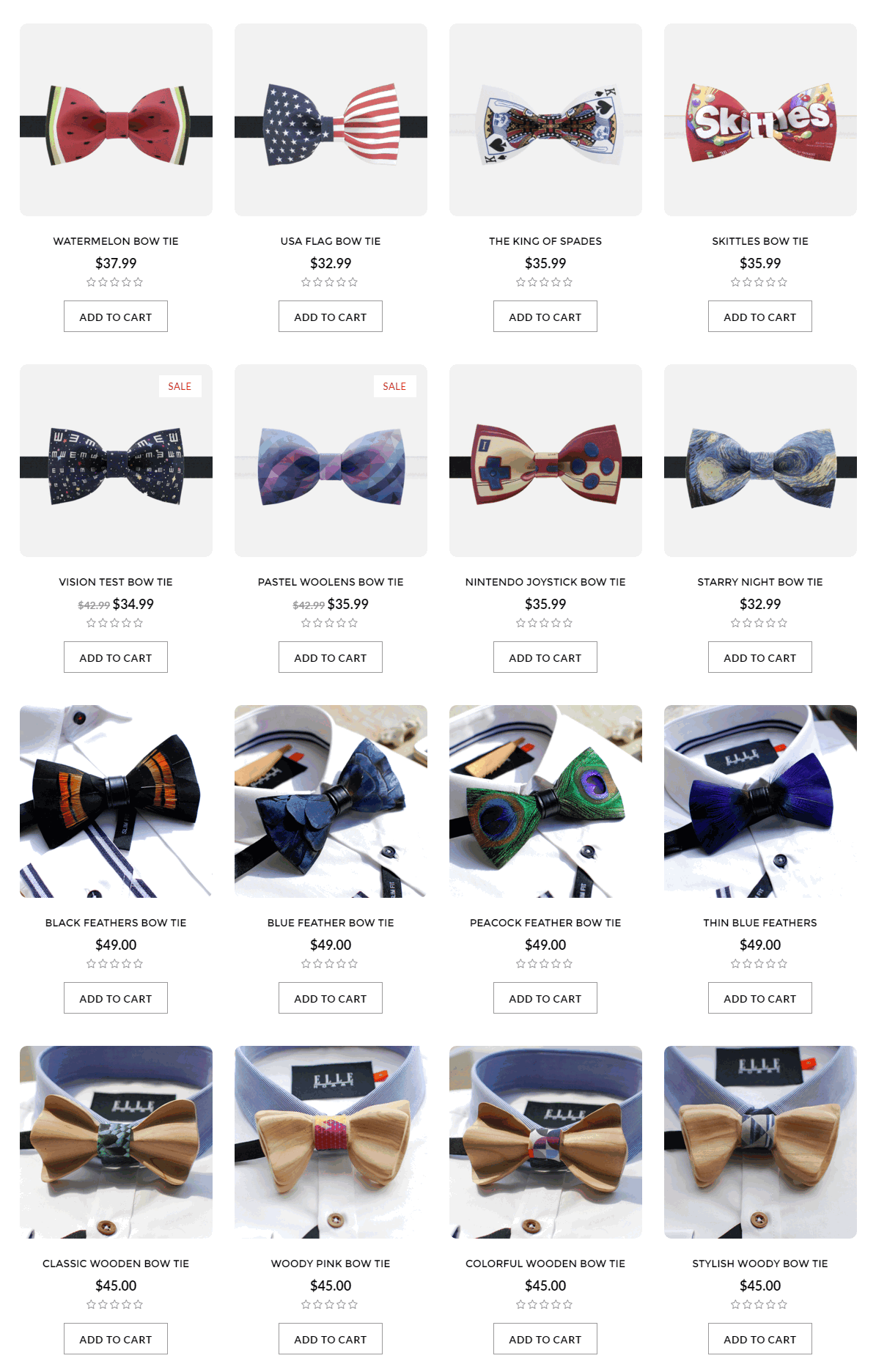 We know that many men are intimidated by having to tie a bow tie. We have pre-tied bow ties and our collection of self-tied bow ties comes with complete instructions to tie your bow tie. We have the bow tie for the man that prefers a classic look and the chic styling that classic bow ties add to any shirt or suit. We also have the most daring and outrageous bow ties that any man or woman could possibly desire.
Celebrate your favorite sport, a game you love to play, your interest in science, or your favorite cartoon character. We also have the largest collections of bow ties inspired by Chinese and Japanese art and design. Our ties let you express your passion for computers, comics, candy, money, fish, fruit, newspapers, and cities. We have designed the most elegant selection of formal classic bow ties in patterns and colors that go with anything. Our variations on the black bow tie let you express yourself in subtle and not so subtle ways.
Bow Select Tie is designed to let you experience the variety of material, color, pattern, texture, and shape that bow ties can have. We want you to look your best for that special event or person and we want you to be as bold and brassy as you dare to be. We have created a collection of bow ties that brings the bow tie off the formal wear rack and straight into the main stream of haute couture. Our desire is that you look great and feel great when you stand out from the crowd wearing one of our exquisitely designed bow ties, e.g. Peacock Feather Bow Tie.
Bow Select Tie is the place for the largest selection of bow ties. We held nothing back in our designs. We designed with you in mind. Wear a tie that gets you the attention that you want and deserve. Wear a Bow Select Tie.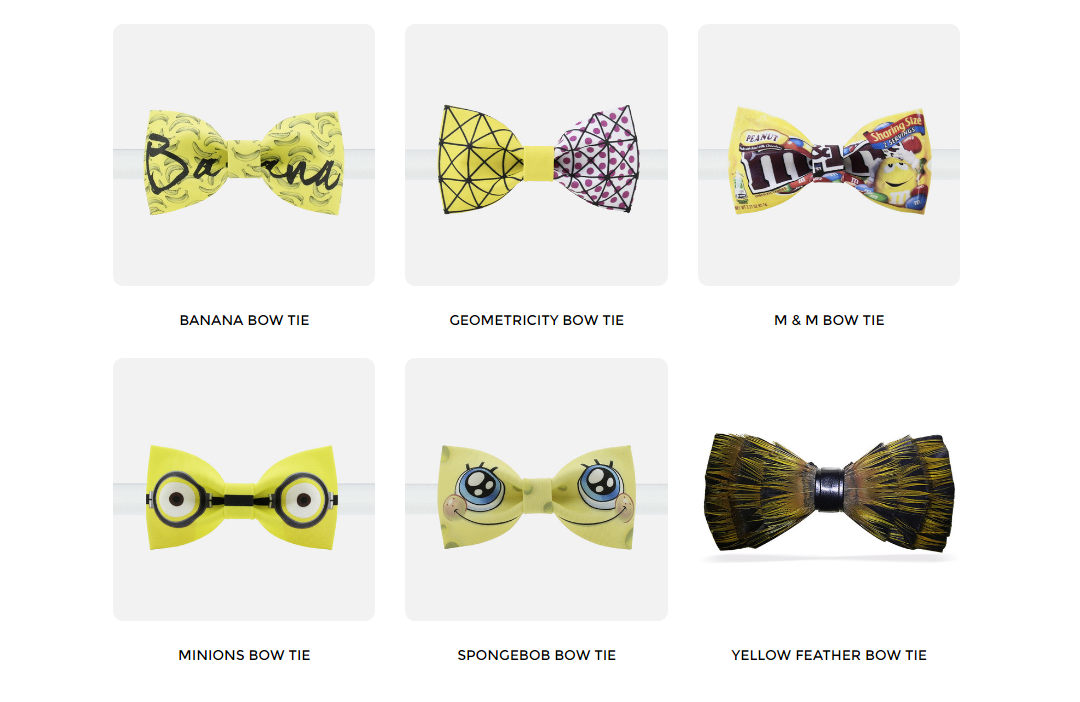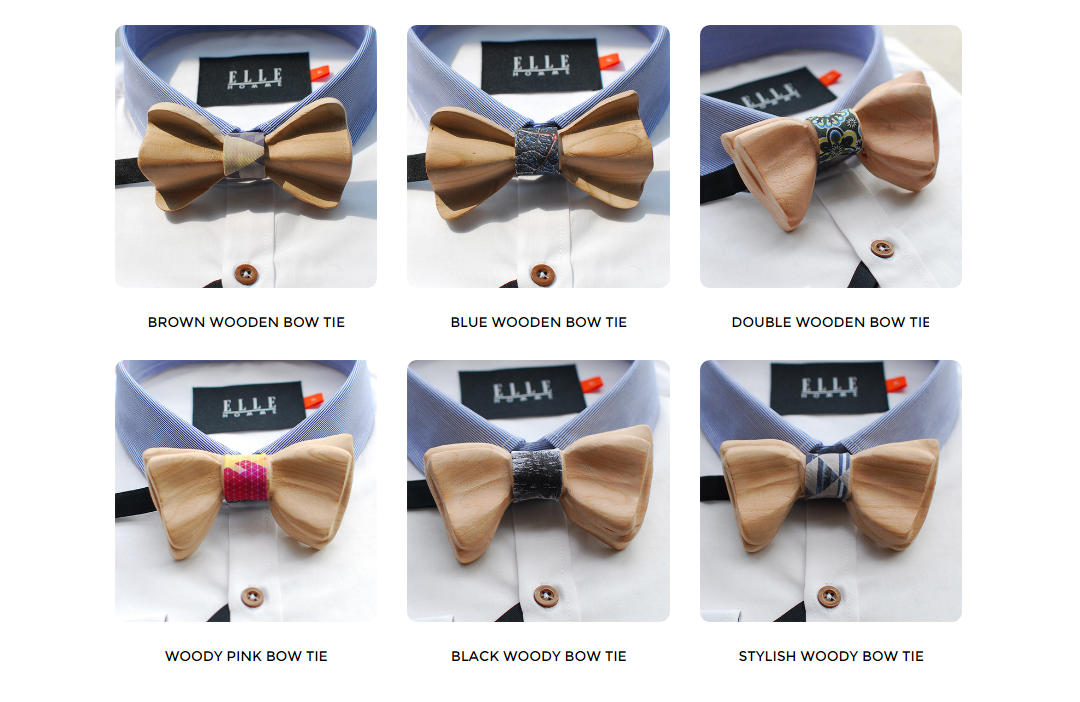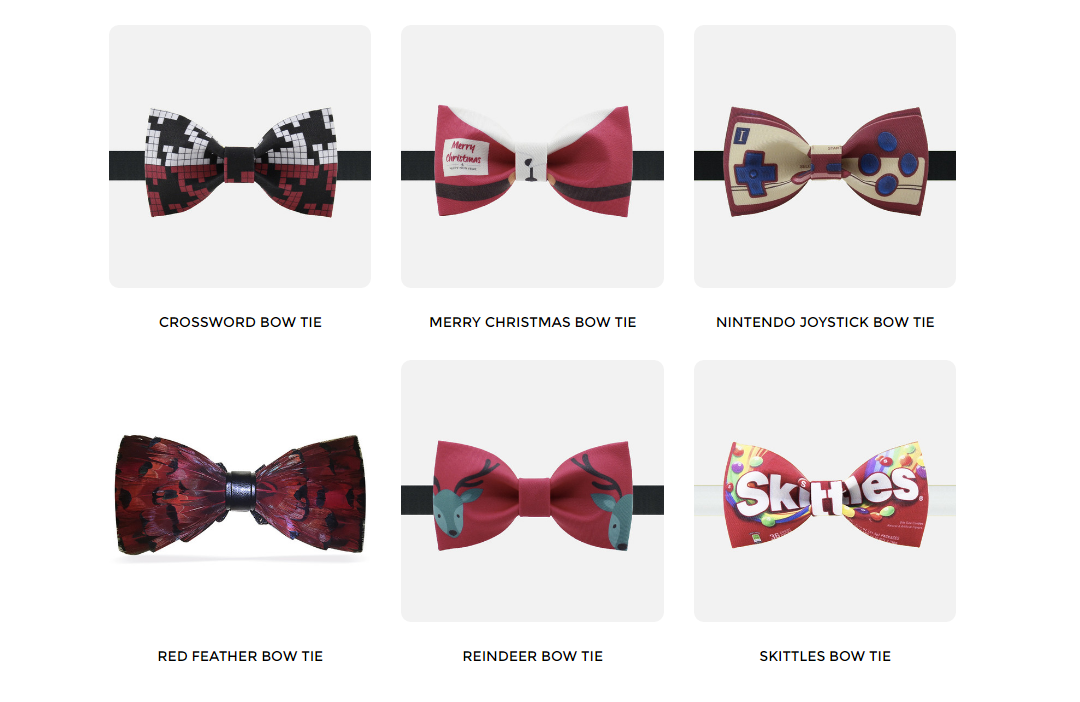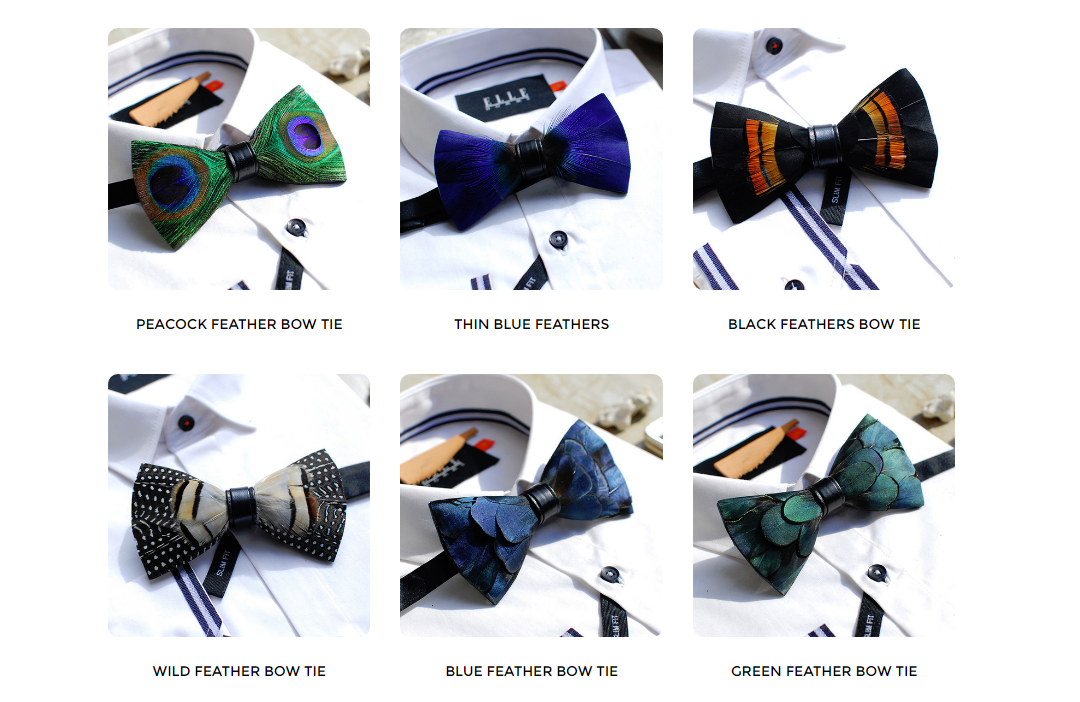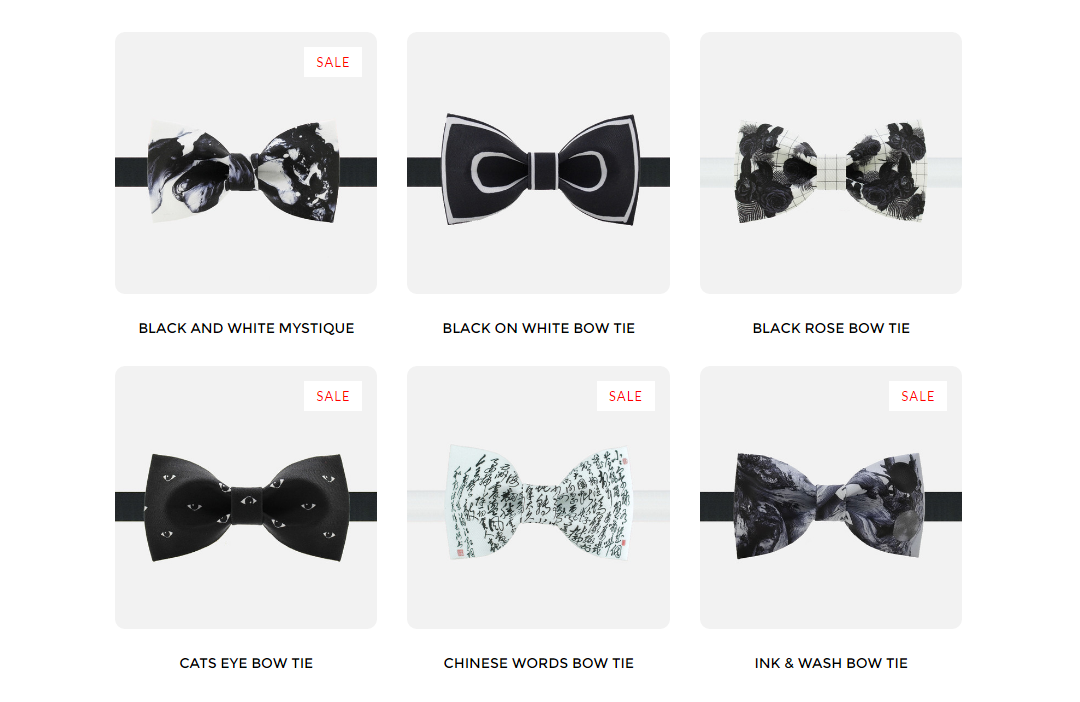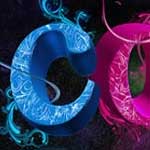 Welcome (back) to Photoshop Lady. Thanks for reading!
In this intermediate Photoshop tutorial we will be walking through the making of an interesting, creative advertisement poster. This is what I would consider great for advertising your newest product, or just getting some design practice. I will not be explaining the function of every tool in Photoshop used in this tutorial, instead I will be walking through the design process (if you could call it that, anyway).
Here is our end result:
About the Author
Eli is a young and aspiring web designer from South Australia.
Inspiration
Before starting, you may want to locate some inspiration for your design. Here are just a few great places for finding design inspiration:
deviantART (Designs & Interfaces)
depthCORE
Designflavr
Smashing Magazine Inspiration
Web Design Inspiration
And there are plenty more sites out there where you can get inspiration, just take a look. You can even get inspiration from stock sites such as iStockPhoto and Vector Stock.
1. Setting up the Canvas
When creating a new document (File > New), you may want to use a Preset size. I selected International Paper > A6. This is just for practice, so we want to keep it fairly small and RGB as the color mode.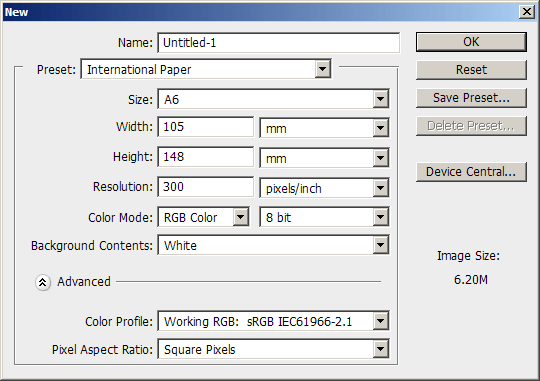 Resolution should be at 300, unless you want to change it. To fit the document nicely on your screen you will probably have to zoom out to around 33.3% of the document size.
2. Creating a Basic Background
For our basic background we'll just be using a radial gradient. Locate and get out the gradient tool, then set your settings similar to these:
The colors seen in the above image are: #a2f0e0 and #3793b3. All done? Create a radial gradient in the center of your document. I recommend you draw some rulers onto your canvas so you can find the center easier.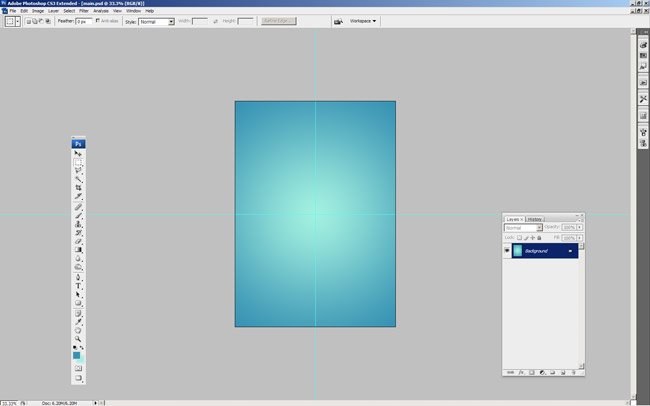 2-2. Additional Background Effects
Now we want to upgrade our basic background a little bit. You can do this by adding a simple texture in there then messing with the layer mode(s) and opacity. First, head on over to Katanaz-Stock on deviantART and download the Light Texture 03 image.
Copy this image onto your canvas, resize/rotate it if you like, then change the layer mode to Multiply and lower the fill/opacity to something very low, 10% for example.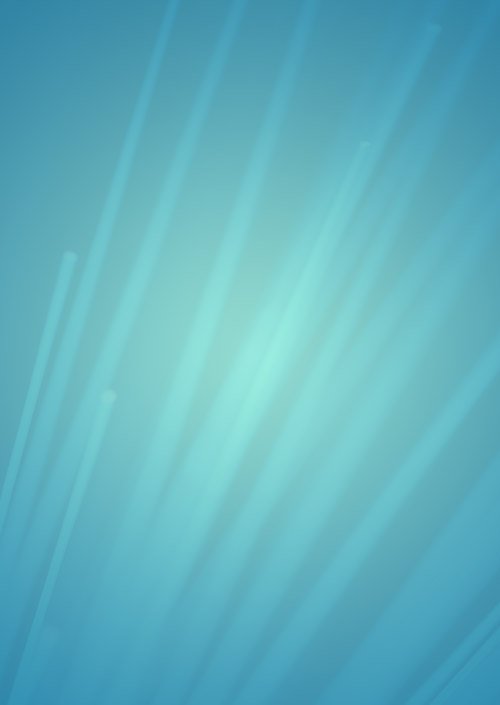 Duplicate your texture layer once, change the layer mode to Screen and put the opacity up to 50%.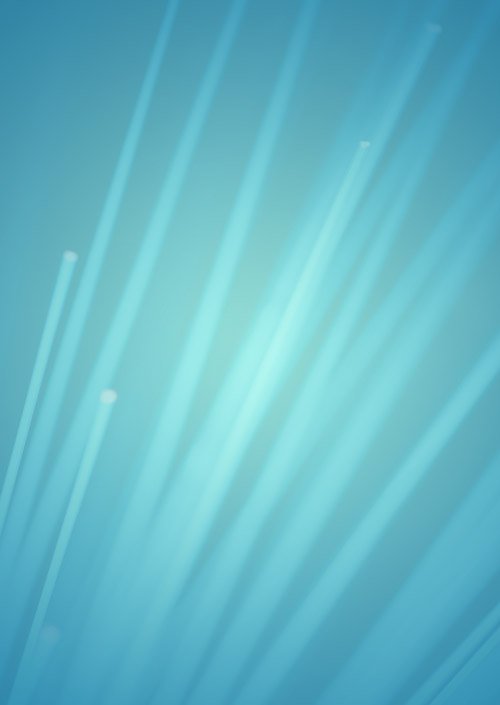 Now, we still have a fairly basic background, but it's much nicer than just a gradient.
3. Choosing your Product
Now you need to decide what sort of product you want to promote in this design. It could be a cell phone, a gaming console, something fashion-related, or anything really. I've gone with something a little more unique for this tutorial, a GP2X F-200.
Head over to Google Images and search for a large or an extra large image of whatever product you want to use. I was lucky enough to find a pretty decent, extra large image of a GP2X.

Click the above thumbnail for the fullsize image that we're using.
3-2. Touching up Product Image(s)
Part of the job is touching up product images and making them suitable for placing in your main design document. As you can see, the image I've chosen has some noticeable blotches, blemishes, etc. so let's try and remove them using the Clone Stamp Tool. There are a few different tools that you can use to remove imperfections, but I've found the Clone Stamp Tool works just fine (maybe even best), in a case like this.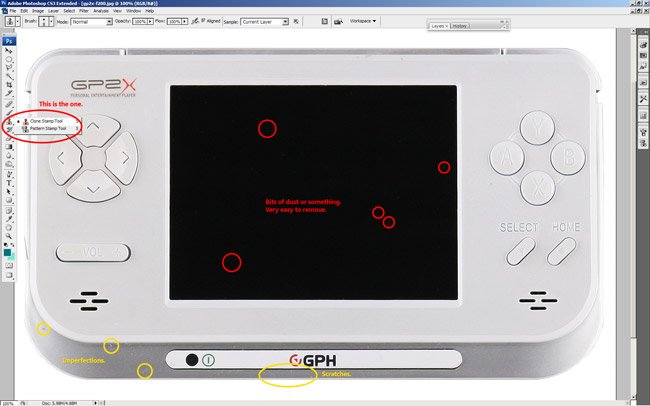 If you're not too fond of what we're doing in this step, you can of course just download the PSD file at the end of the tutorial and use the cutout, although you won't have learned much!
After you have touched the image up, we need to cut the product out from the background. Since the product is very light grey on a white background, you can't simply use the Magic Wand Tool, can you? So we'll have to use the Pen Tool to make a very clean, precise selection around the device.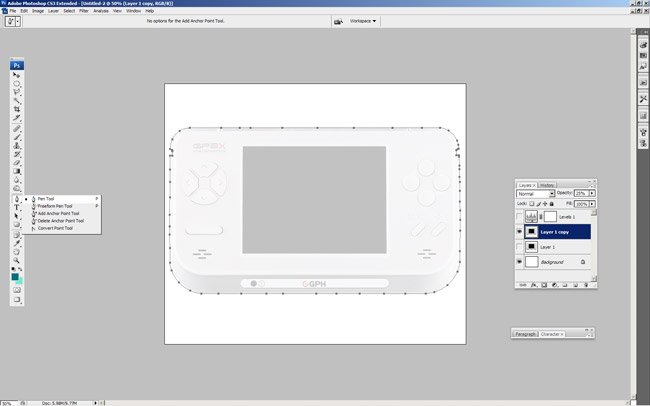 Obviously I can't really walk through you through the entire making of the path, so if you're a newbie with the Pen Tool and making paths, I recommend you read this advanced tutorial on the Pen Tool.
Optional: after you're done you may want to add a colorful image into the screen of your product.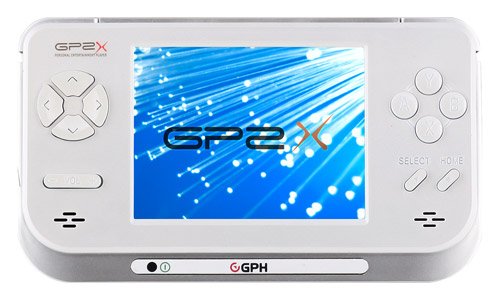 4. Product Placement
After you've made all of your touchups and cutout your product, copy it over your other canvas. If you're running a newer version of Photoshop (CS3 I think), you should be able to convert your layer to a smart object, so you will be able to resize it, rotate it and resize it again (over and over) without losing quality.
So, if you're on a newer version of Photoshop, right-click your product layer and convert it to a Smart Object.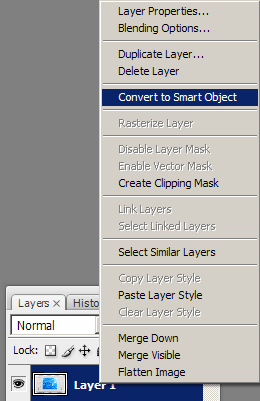 Using Transform Mode (ctrl+t), size your product down to something more appropriate and then position it accordingly. To bring your product off of the background, you may want to apply a basic drop shadow via an Outer Glow layer style.
Duplicate your GP2X layer twice, rotate one -15.0 degrees, and the other 15.0 degrees using Transform Mode (ctrl+t). Position your new duplicates accordingly, and size them down a little if necessary. You have to use your own imagination here.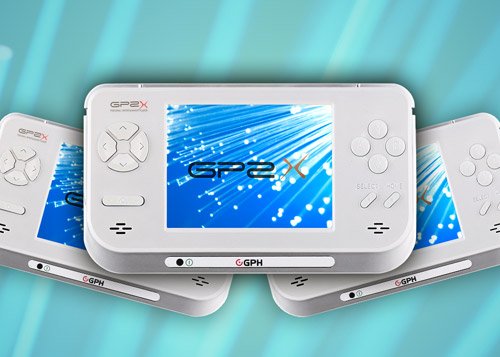 Both duplicates have a similar Outer Glow layer style applied to them, except using a lower opacity.
5. Abstract Elements
To make our design "pop" we're gonna use some abstract elements.
Using Cinema 4D I managed to muster up a basic but cool abstract render using the GP2X image as the texture. Using this render we're going to make our design look a whole lot more interesting.
This is how I made use of the 3D abstract:
1. Start by copying it to your canvas, make a few duplicates.
2. Rotate/resize/position your render(s) underneath the product, then erase away the parts of the render that make the overall design look worse than better.
3. Repeat 1-3 times.
And now I have this: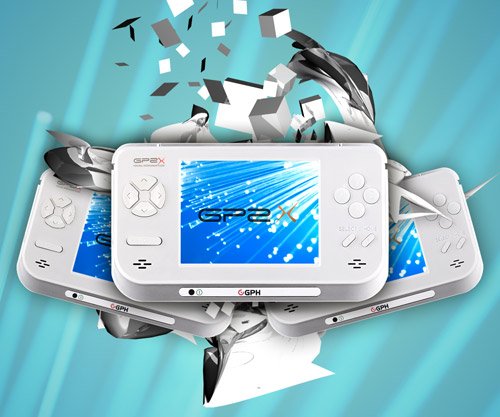 Now that looks much better! If you look around for some inspiration, or in some magazines for creative cellphone ads, you'll notice these ads have a similar design style going on. The idea is to get some creative elements behind the product/around the product/maybe on top of the product.
6. Vector Elements
I still think our design is a bit boring, so let's find some vector stocks. Check out the freebie websites such as Vecteezy and find some vectors. Or you can go to iStockPhoto/Vector Stock/Go Media and get some premium vectors.
To start off with I just used two simple splats with a light, sky-blue color (#87ffff), but it should be very easy to find a free brush that will do the job of these vectors just fine.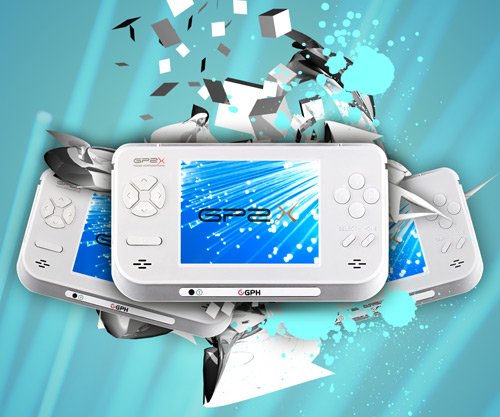 Next, I used a set of vector icons that I bought a while back from Vector Stock for just one credit (one dollar!) to place underneath the product. This is what I've got:
This may look better or worse in your opinion, so please feel free to do whatever you like with the design to make it according to your tastes.
Note: the icons in the above image have an outer glow applied to them, using a light color and Linear Dodge as the blend mode.
Another note: for some reason I've been unable to locate these icons again on Vector Stock, otherwise I would have linked to them. I'm sorry if this is an inconvenience.
7. Logo/Text
If possible, find a large version of the logo that belongs to the product you're trying to promote here. Copy it onto your canvas and resize it to an appropriate size.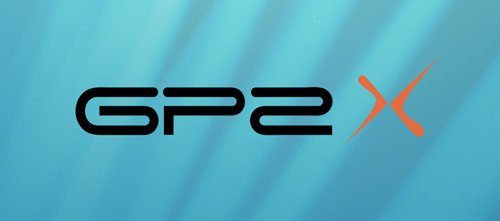 Optional: lower opacity and apply layer styles to add extra effect to the logo.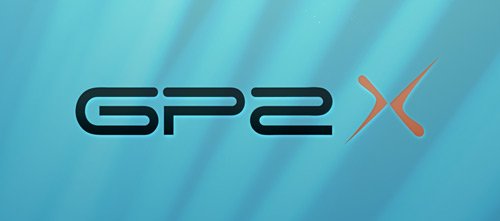 Next, add in some text describing your product.
Top text, description:

Bottom text, website URL:

The font used here is called Frutiger, it's a commercial font rather than a free one, so you may want to find a suitable alternative. The text you can see in the above images also have a slight Drop Shadow layer style applied to them.
8. Finalizing
Finalizing the design is up to you. You need to add your own touches to this design to make it perfect. I don't think I did anything to it that wasn't stated in the tutorial! Some ideas would be to change the color of the document using some adjustment layers (add more contrast using levels adjustment, etc.)
A good idea would be to add some more color, so if you like, create a new layer, select a large, soft brush and make a few blobs on your canvas using different colors. Change the layer mode to something such as Color Dodge or Overlay.
Subscribe to Photoshop Lady
If you don't want to miss any great articles or tutorials, please subscribe to Photoshop Lady via a feed reader, or via email updates!
Thanks for reading the tutorial, I hope you enjoyed it.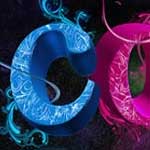 In this tutorial, it will demonstrate you how to create a realistic 3D snooker ball. It is not difficult to make. Hope you will find it interesting. To create a 3D design, the shadow and reflection are always the most important elements to think of. Once you get familiar, your design will become awesome.
My final result for the 3D snooker balls will be as this: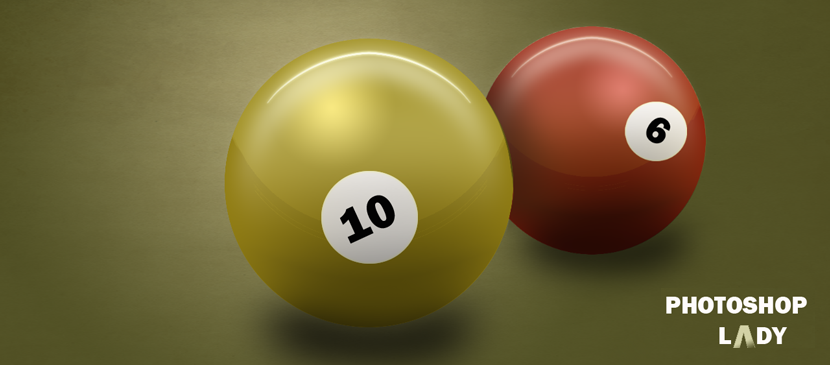 1. The first thing to do is the background. Choose the combination colour brown & yellow – #bdc68d .

2. Combine it with my chosen texture and set the opacity = 50% as below. (You can download the texture from http://www.flickr.com/photos/bittbox/2118265369/sizes/l/ 3. After complete the background, we can actually create the snooker ball. And I have chosen the ball in brown colour – #b79e3a. Using Elliptical Marquee Tool to make a simple circle, then fill the colour by gradient tool >radial gradient as below.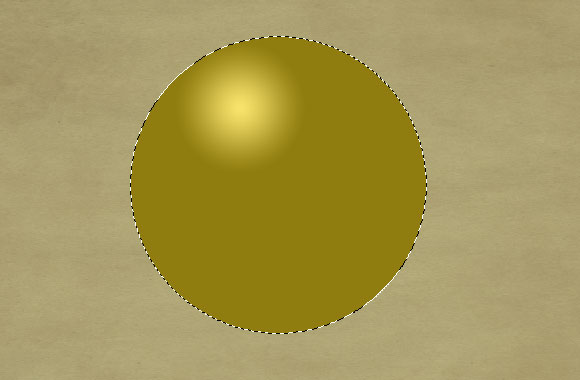 4. The brown circle is created, we can move on the next step, making some shadow for the ball. Go to Select > Modify > Contract by 20 Pixel.
5. After the contraction, create a new layer. Then using the gradient tool to fill in the black colour and adjust the gradient editor setting as below: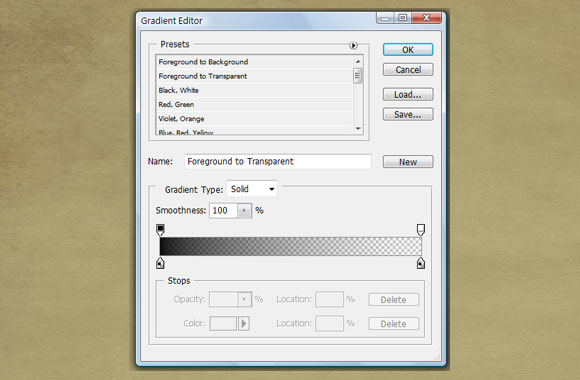 6. Using the blur tool > Gaussan Blur to the previous painted (black) colour. Set your Blur Radius = 5 pixel.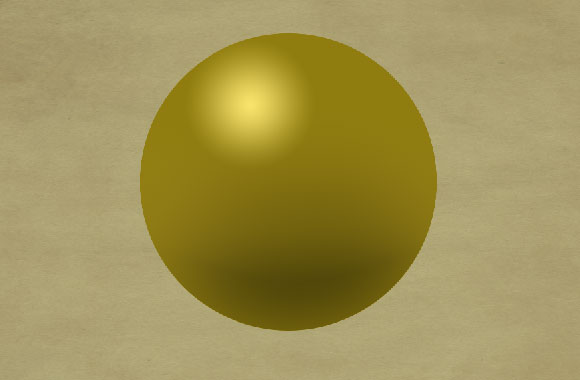 7. You should achieve the ball similar as below. Then let's go to make the reflection effect for the ball.
8. Move the elliptical circle into the upper part. And then fill the colour in gradient > radial gradient and set the colour as below.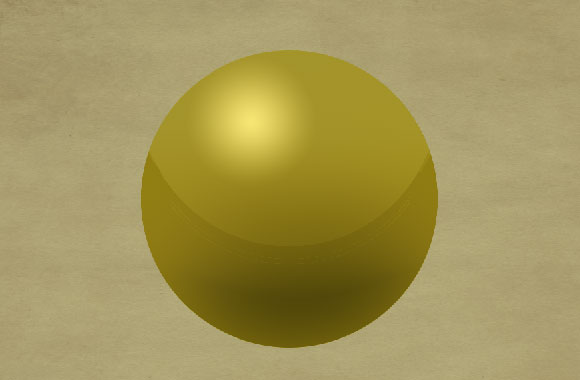 9. Press ctrl, then move the pointer to the ball's layer thumbnail. Then elliptical circle will move back to the ball. Then press ctrl + Shift + I to select the rest bit of the circle. And you can delete the colour out of the circle. You should achieve the ball as following.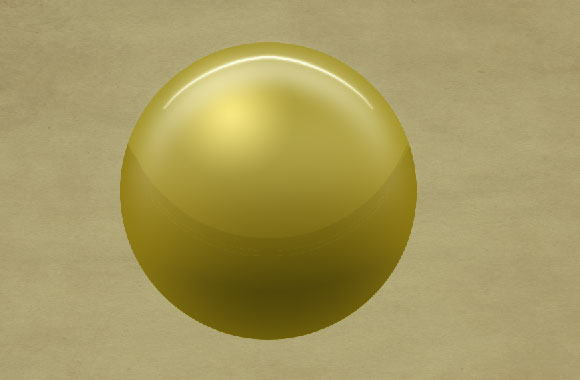 10. Using the above-mentioned skill, make the elliptical circle and apply the contraction to the circle set the radius as 6 pixel. Fill the circle in white colour and set Opacity into 80%. Then repeat the same step to make one more circle with 8 pixel. Then delete the colour inside the small circle. Use the eraser to make the upper bit reflection, it should be like the curve at final
Here you have to try the adjustment of Opacity & blur until the result reaches your satisfaction because the strength of reflection really rely on these adjustments. Here you go, it is my result.
11. For the shadow at the bottom, you just need to simply create an ellipse circle by elliptical circle tool, fill it in black by "paint bucket tool". Apply the blur > Gaussian Blur into 6 – 8 pixel.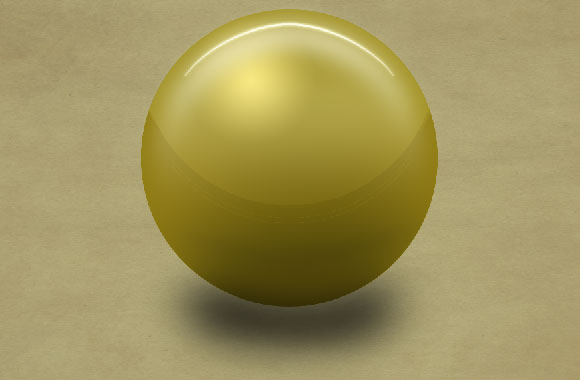 12. The last step is to simply add a white circle in the centre and add the number.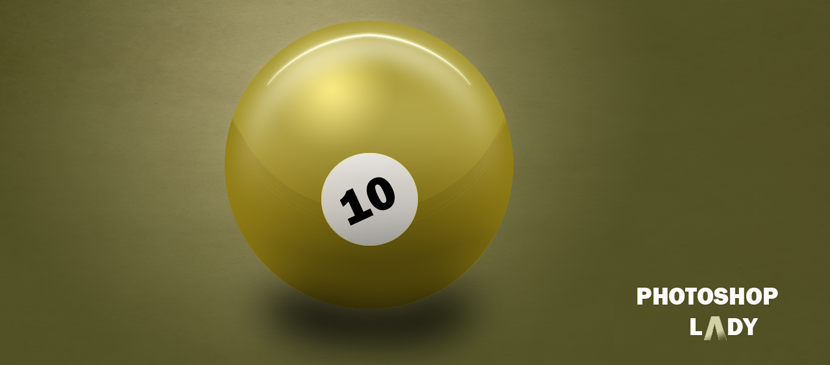 13. Duplicate the layers, to create one more ball in red, and you should be able to achieve the scene as below.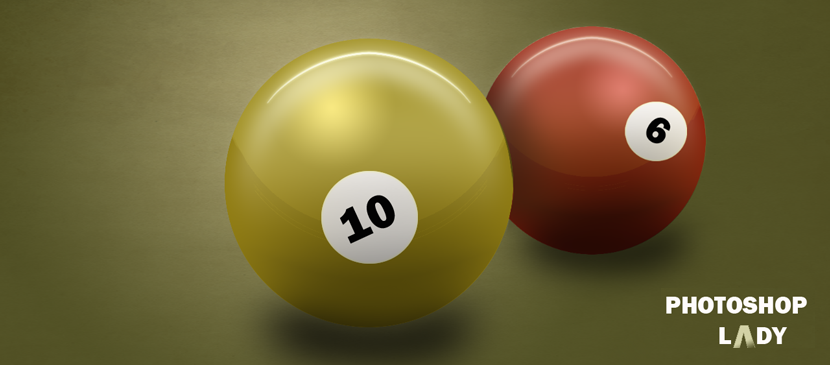 Hope you can enjoy and this tutorial can give you an idea to develop your personal 3D object.
Thank you very much!