Your Favourite Photoshop Tutorials in One Place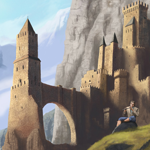 Concept-for-Painting-a-Nice-Cartoon-Art
Under

- Photoshop is recommended for this tutorial -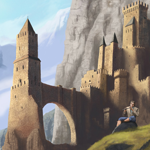 French graphic designer Sébastien DEL GROSSO shows the process of how to place sketches of his photos on his photos with Photoshop. Sébastien DEL GROSSO uses photos taken with natural light, referring to drawings whose pencil strokes are fast and nervous to give the impression of a construction.
Then the first step is to keep all images in a square format to reinforce the idea of series and work with layers. The second is to scan and clean the drawings then place them on the foreground, in front of the previous image. The third is to use brush shapes to erase some details on the pictures and reveal the sketch. When presenting of the sketch part in the photo, looking realistic and balanced is necessary. And finally, to use the black in subdued mode and the white in inlay mode to obtain better results.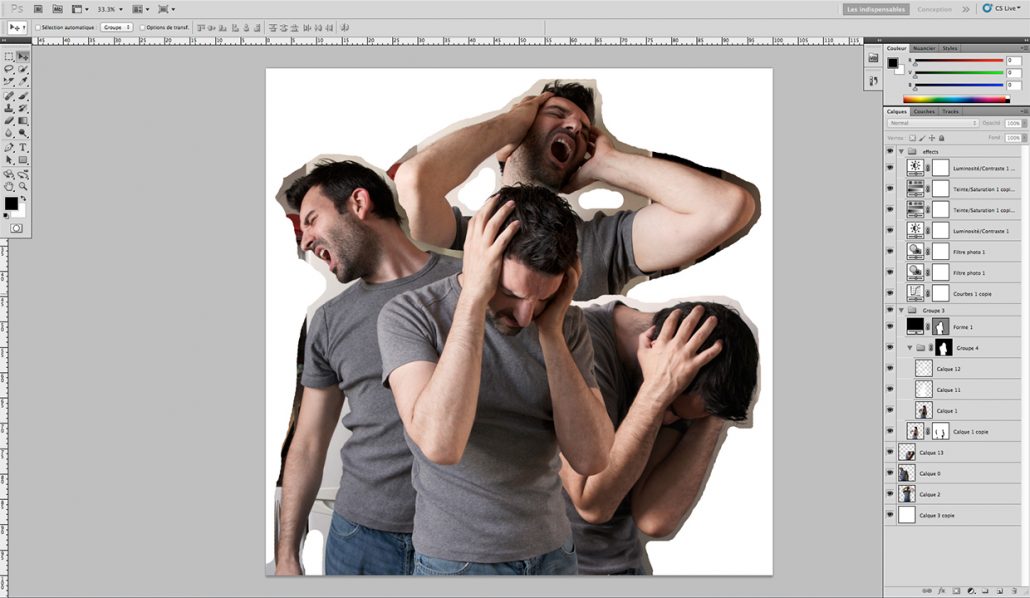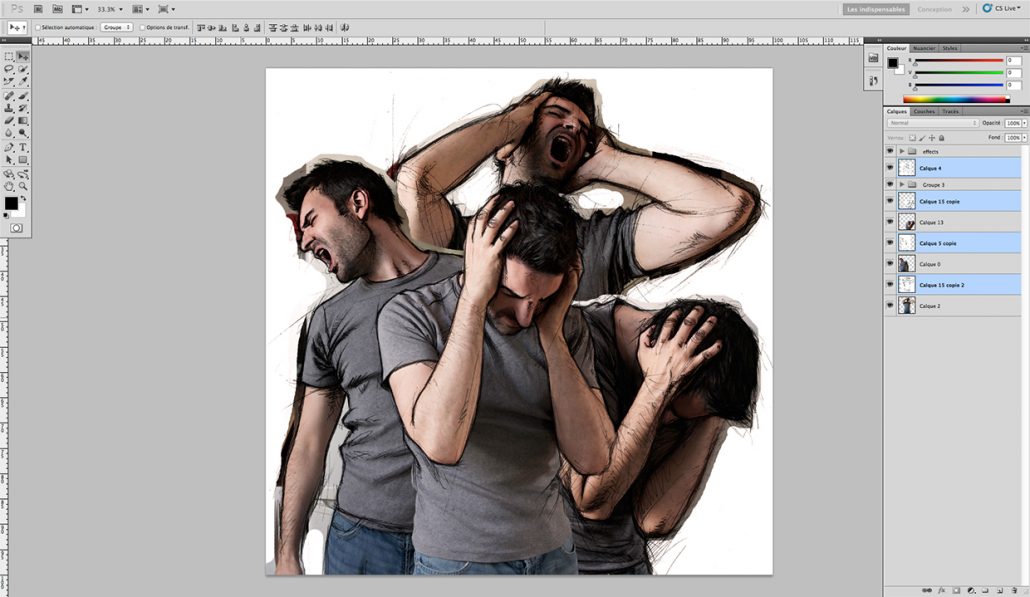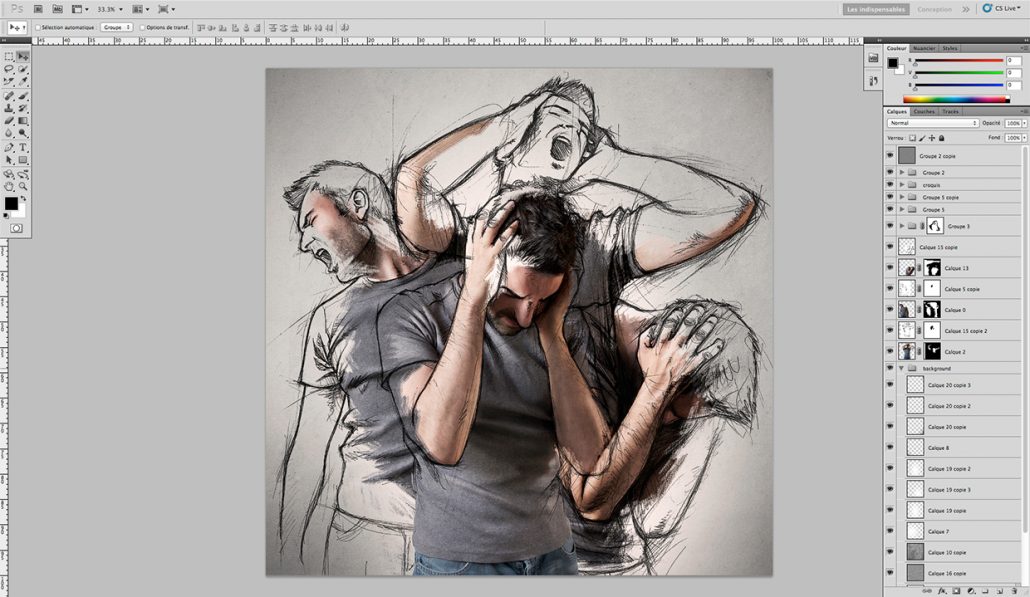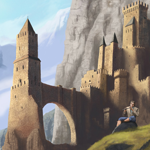 With rich beautiful works in web design, illustration and icon design, designer Vet Orso from Russian Federation shows his drawing process for FORNEX with the help of photoshop.
When he completes the draft, each parts needed on the paper, he has a general idea in his mind. Then he starts his work with photoshop. Drawing the sketch for FORNEX, coloring and dealing with details are main steps. Since it is not difficult, with careful observation and patience, the result is one brilliant piece of work comes into being. It does have some kind of similarity with the original poster!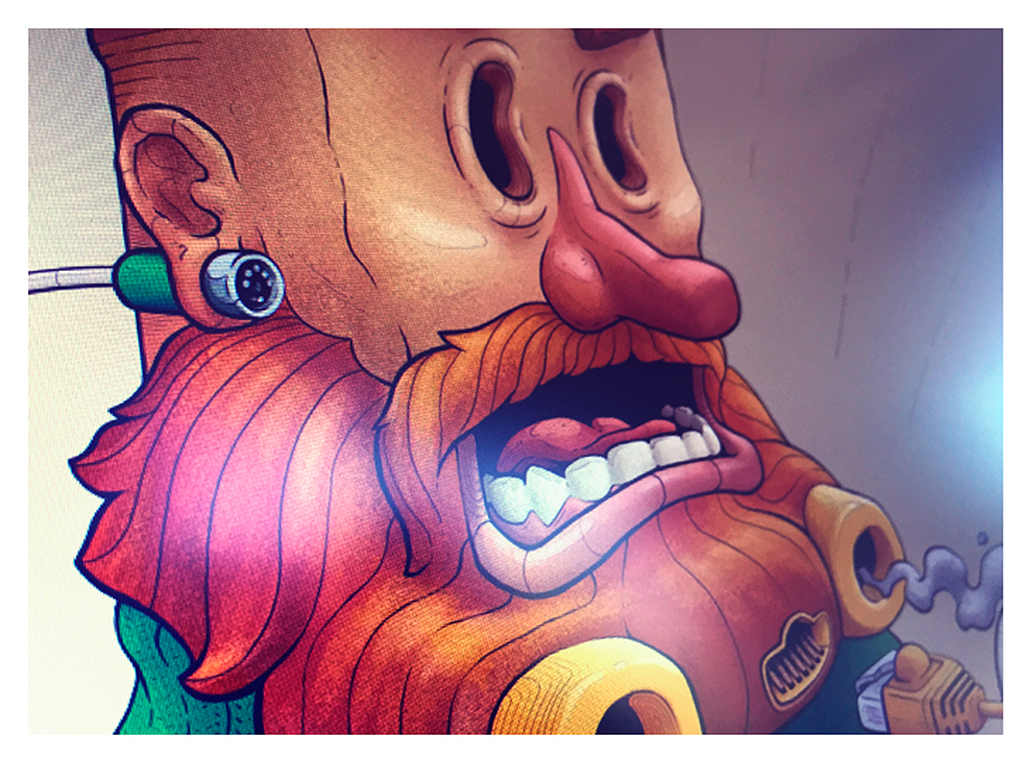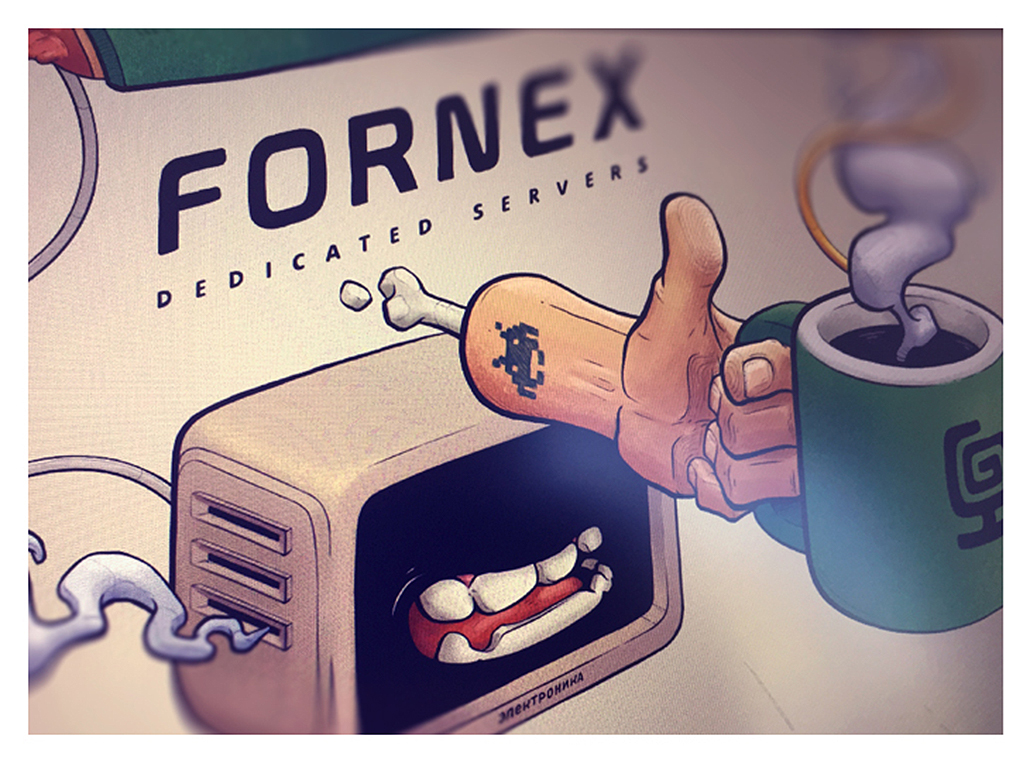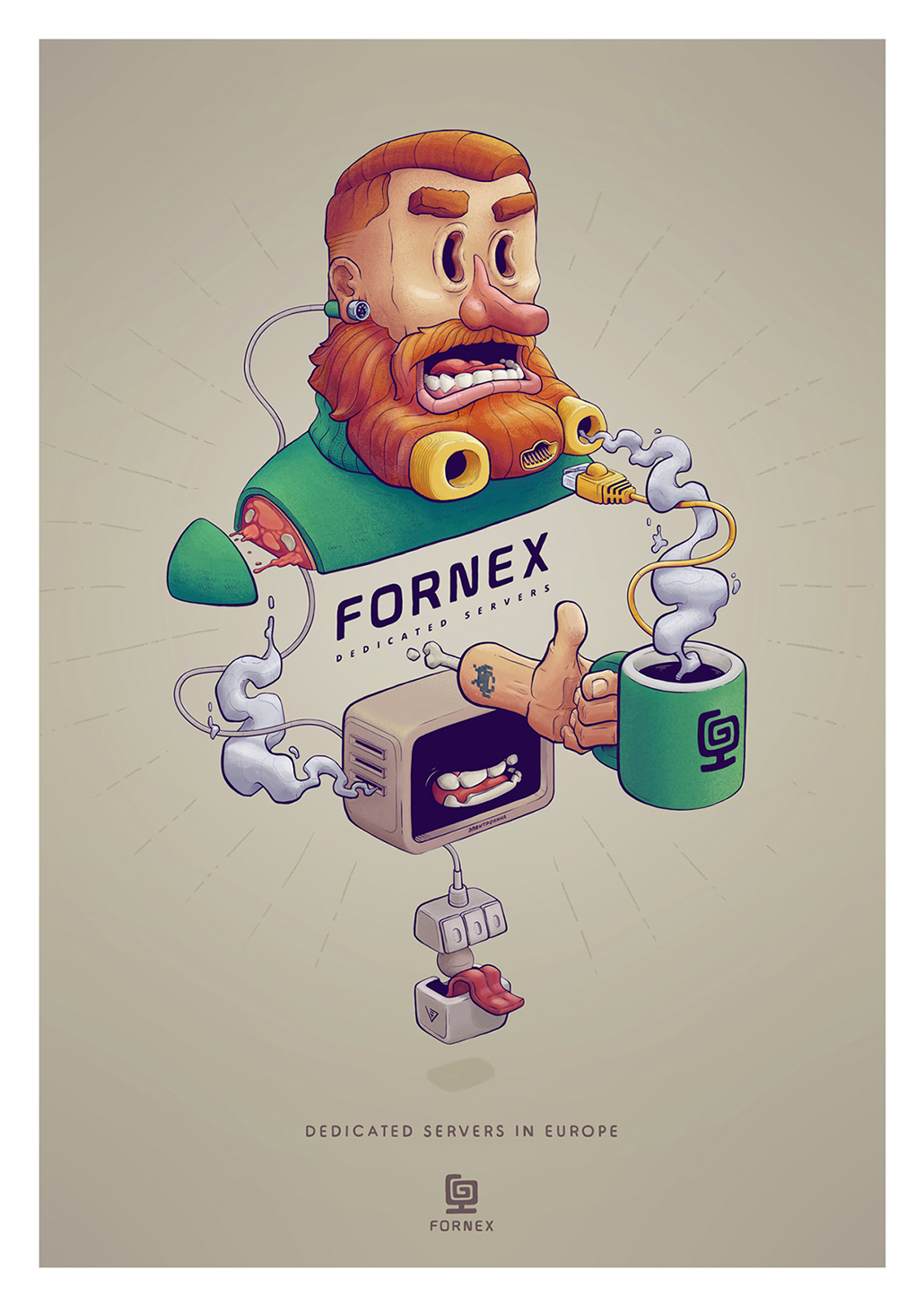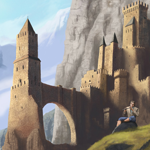 Adam Spizak is senior designer & art director from London, United Kingdom. He has already shown multiple marvelous works created on his own website.
Adam Spizak made this piece of art with photoshop. He shows simple and easy steps here. As for the theme, he explains in his words, "Cold is the water It freezes your already cold mind Already cold, cold mind And death is at your doorstair And it will steal your innocence But it will not steal your substance". He is expressing the connection among coldness, death and fragment of life. Using a shattered mirror effect with the dark blue background, the theme presents itself naturally.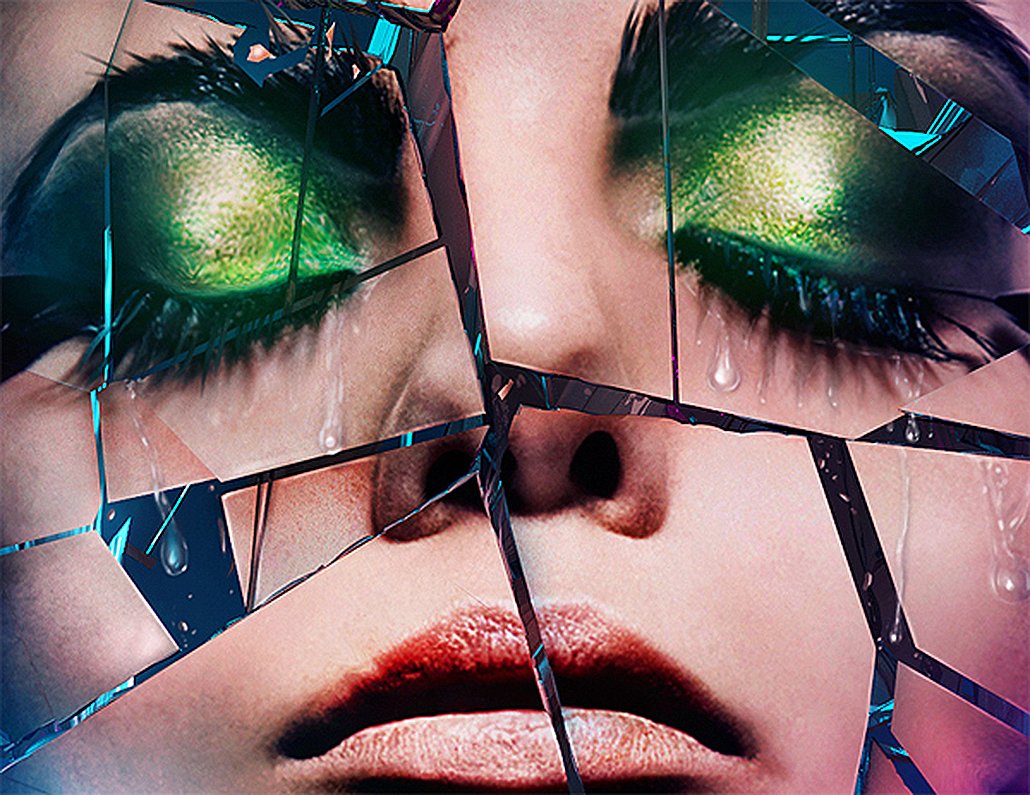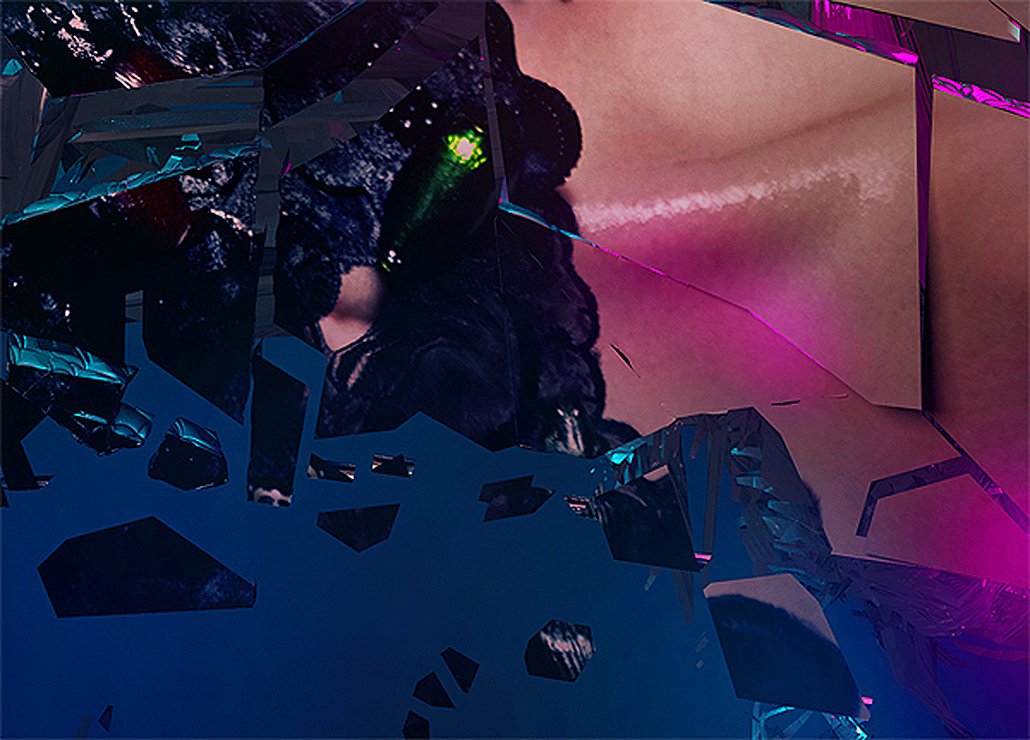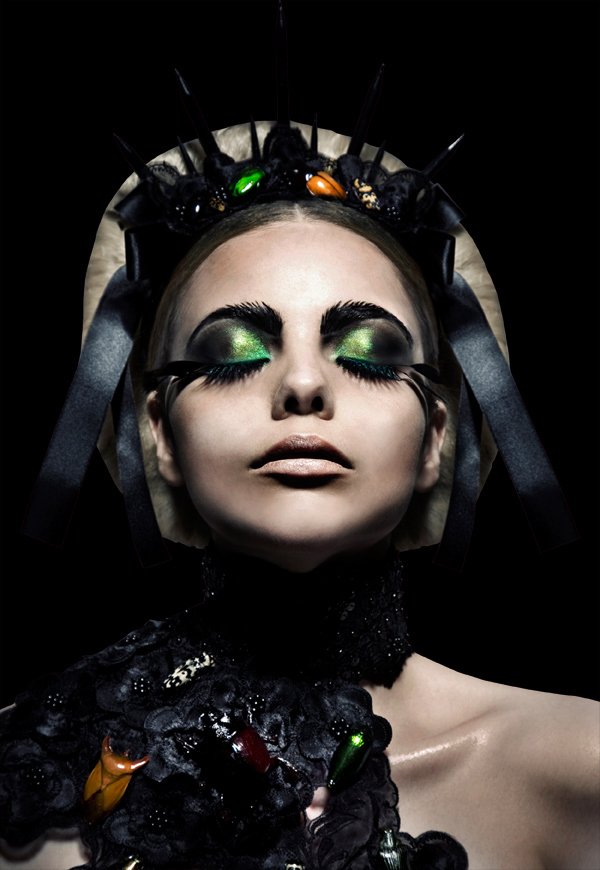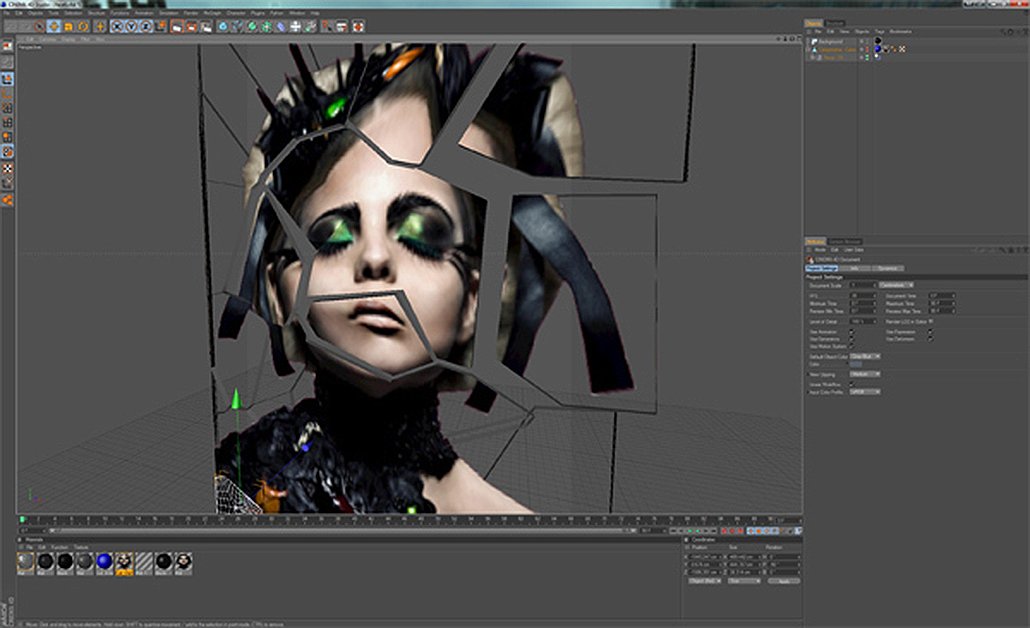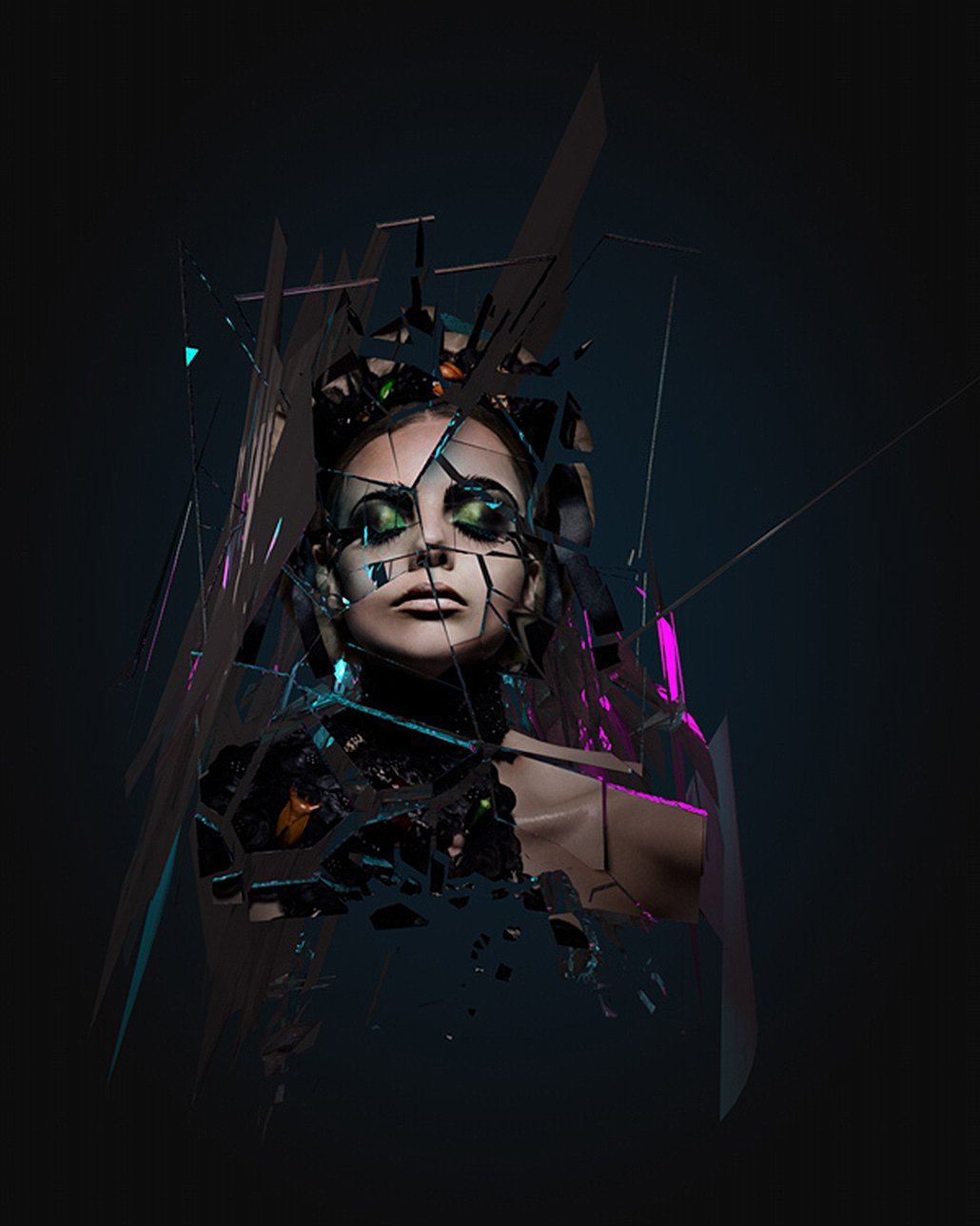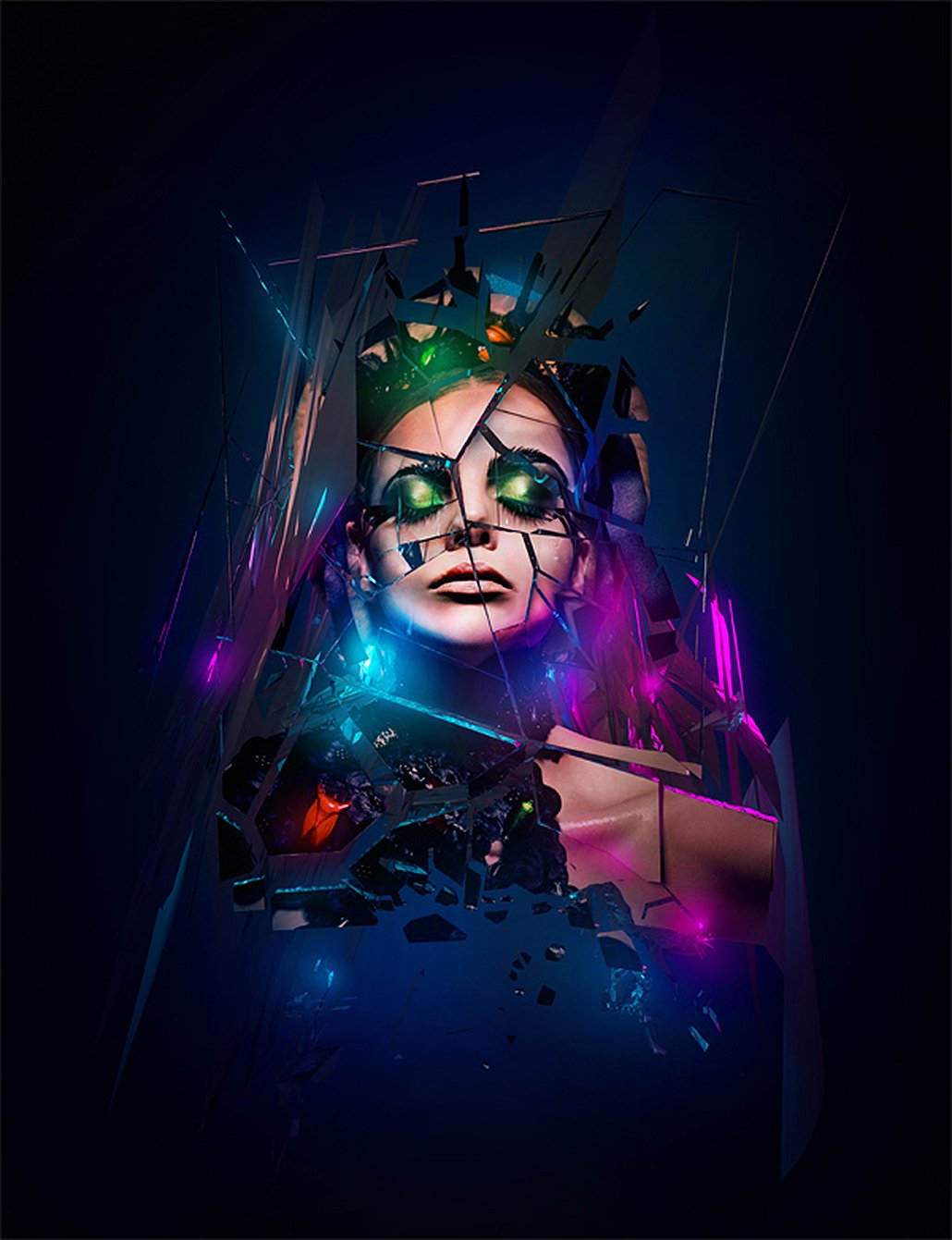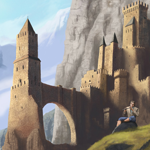 Introduction
UPrinting.com is a leading socially responsible online printing, marketing and technology firm, has established itself as a major player in the industry with its distinct vision and clear approach to helping small businesses grow. It serves thousands of on-demand business printing and graphic printing orders online daily, using high-quality press printing and a robust yet simple and easy-to-use online ordering system, resulting in high-end printing services and reliable color printing at discount printing costs.
UPrinting.com also offers convenient marketing support such as print design services, custom online printing quotes and direct mailing to help the small or medium-sized business grow. They are committed to social responsibility and eco-friendly printing initiatives that support non-profit organizations and environmental sustainability.
Brochure Printing
Brochures are usually a marketer's weapon of choice. They would contain images and text designed to attract a potential buyer into making a purchase. They contain valuable product or service information and are disseminated in places with high foot traffic. A marketing tool like brochures would also work as part of a sales kit. Creative individuals can probably think of other ways to utilize brochures.
Do you need any brochure for your company too? UPrinting offers brochure printing ranging from 50 to 100,00 pieces in quantity, with 100lb Paper Gloss, 100lb Paper Matte, 10 pt. Cardstock Gloss, and 10 pt. Cardstock Matte. Different sizes available in 5.5″ x 8.5″ , 8.5″ x 11″ , 8.5″ x 14″ , 11″ x 17″ and 11″ x 23.375″. Customized sizes are also available too. They have several folding options, Half Fold, Trifold/Letterfold, Z-Fold, Roll Fold and Accordion Fold. Usually the turnaround is only 1 to 3 Business Days.
What are you waiting for? Just try out their service, and I am sure you will love them since then. With the help of their Easy Design Tool, creating a unique design you can call your own is real easy!
This post is sponsored by UPrinting.com, online printing company. See more information about brochure printing and other printing services available on UPrinting.com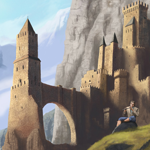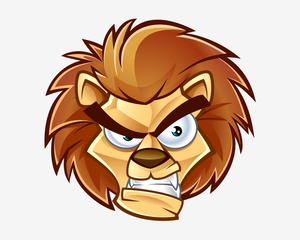 Character & Mascot Logo Design
Andy is a Game Graphic Designer, Illustrator, Mascot Designer. You can get some great Character/Mascot Logo Design for an affordable price.
4 days with 2 revisions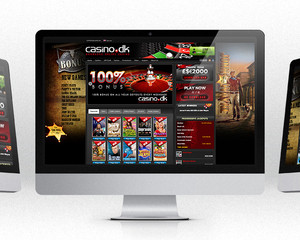 Professional Landing Page Design with SEO
I will design your one page website with an eye for detail and focus on placing the elements in the right place for maximum conversion. I'm sure the end result will be to your satisfaction.
7 days with 5 revisions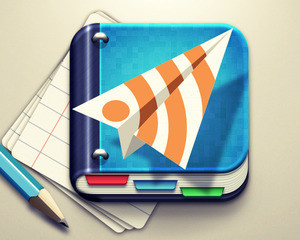 Professional iOS App Icon
I'll help you make an icon for your application gorgeous!I provide high quality designs. It includes 1 PSD file and PNG package with the size 1024, 512, 144, 114, 72, 58, 57, 50, 29px.
4 days with 3 revisions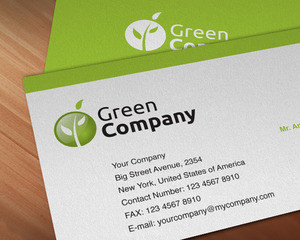 Professional Logo Design + Corporate Identity Manual
You will get Vector logo in Ai, EPS, PSD and JPG formats, 4 color versions (full color positive, full color negative, one color positive, one color negative), 8 page Corporate Identity Guide PDF (usage guidelines, CMYK/RGB colors, Typography, etc).
3 days with 2 revisions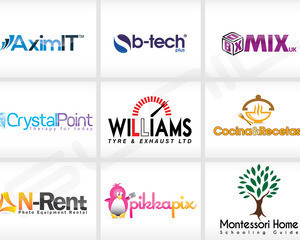 Professional Logo Design
You will get 3 concepts of logos, Set revisions on selected logo, 100% vector logo scalable to any size without loosing resolution, Different file formats for web and print use such as .ai, .eps, .psd, .pdf, jpg, transparent .png
1 day with 5 revisions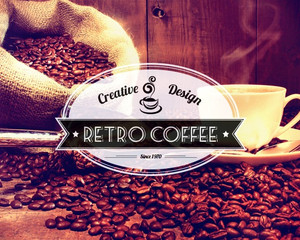 Professional Badges (4 Badges)
You will get 3 concepts of logos, Set revisions on selected logo, 100% vector logo scalable to any size without loosing resolution, Different file formats for web and print use such as .ai, .eps, .psd, .pdf, jpg, transparent .png
4 days with 2 revisions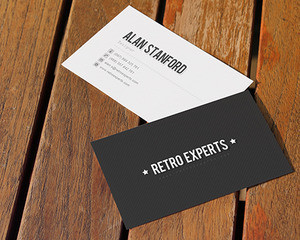 Professional and Unique Business Card Design
You will get a professional, good looking business card, front and back, Ready to print business card! I will provide them in photoshop layered format or any other file format you need.
2 days with 3 revisions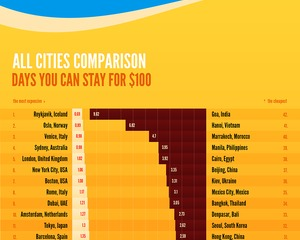 Modern and Clear Infographic
You will get a clean and clear infographics. Everytime build on great font and first look understandable. With your data I provide sketches and after you reconsideration provide a final graphics. I deliver any size of .png and .psd file.
3 days with 2 revisions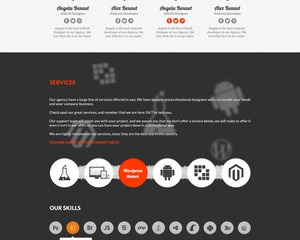 Modern One Page Design
One page website design work i am doing is using 960 grid system format, so the design will be responsive made. Deliverables would be in .psd format and on your request some icons or shapes i use can be done vectorial.
2 days with 4 revisions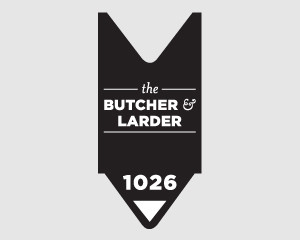 Logo & Brand Identity Design
My process is clean and quick, emails are responded to nearly immediately and revisions are knocked out in no time. Deliverables can be handed off in any file type, but always start in a fully scalable, vector format that can work on everything from a button to a bus.
4 days with 3 revisions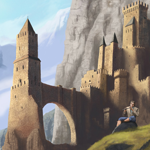 Final Image Preview
On this tutorial we will make a Poe and Pluton cartoon portrait, using custom brushes created by ourselves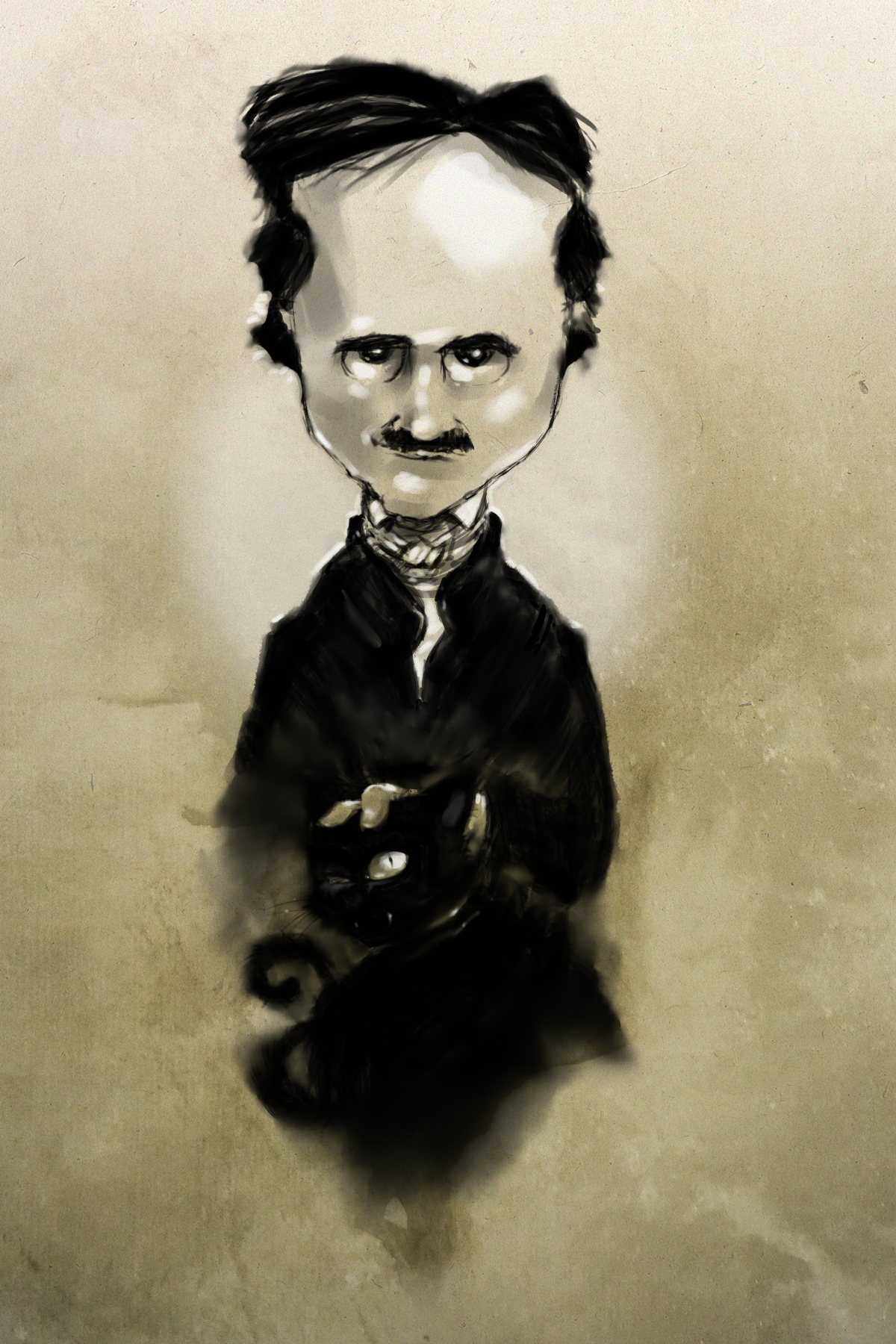 Tutorial Assets
Step 1
Open a new document of 1800px high and 1200px wide. First, we will set up what will be the brush that we are going to use to draw the general lines, from the Brush Selector pick the brush no.30, Hard Round, and set its opacity to 75% and Flow to 35%.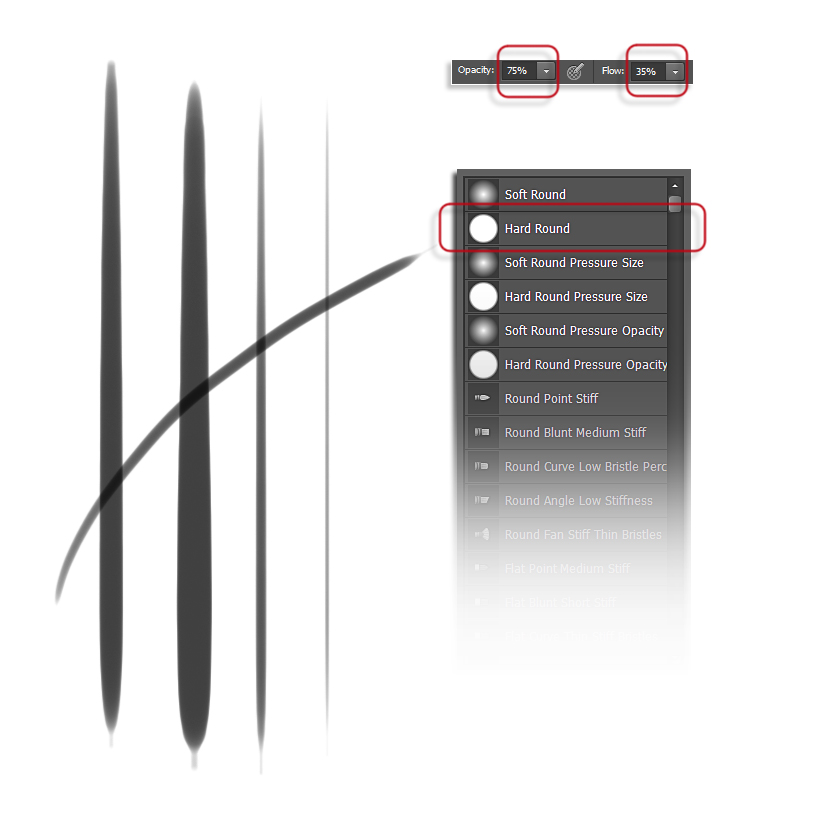 Step 2
Now, on the Brush Presets menu (F5), make the following settings, check the Shape Dynamics and Transfer boxes, and adjust Spacing to 1%. You can see the final shape of the Brush.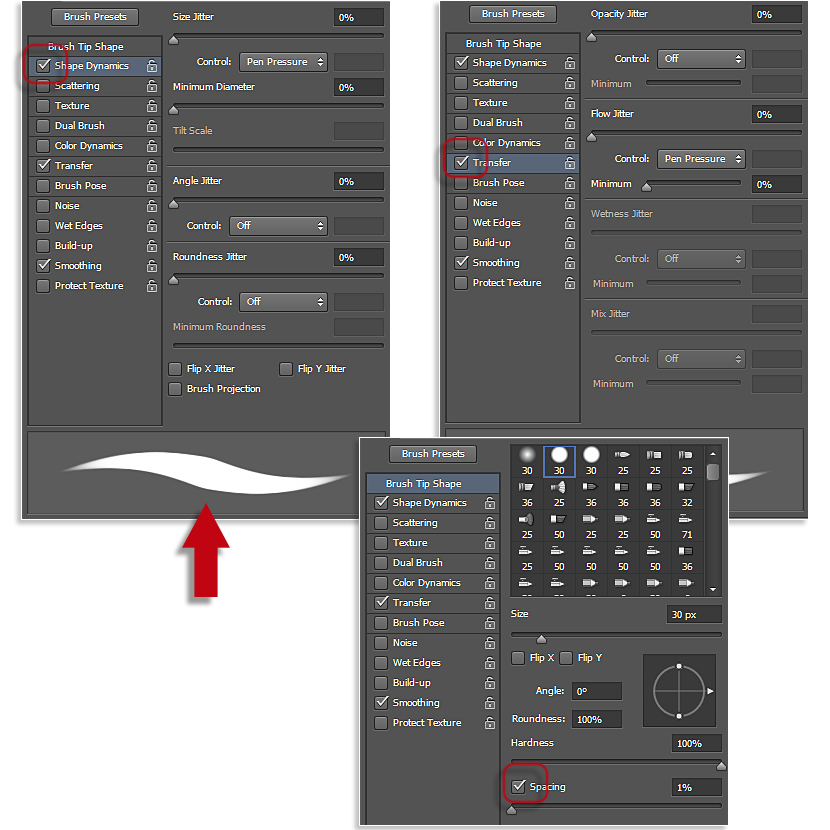 Step 3
Create a new layer "Poe", and leave its default setting. With the Brush we created, start drawing the face, neck and shoulders, adjust the size to get thicker strokes on the garb, and thinner strokes for the face, hair, and neck. Draw flowing strokes, without taking much care on the detail, afterwards use the Erase Tool to remove the unwanted parts of the strokes. Also use the Erase Tool to create the eye's brights.
Step 4
Next, on a new layer "Body & Pluton", start drawing the Poe's lower body and Pluton. On the picture you can see that the strokes just establish the main forms, using stains instead of precise lines. Again, use the Erase Tool to remove certain areas as Pluton's eyes and Poe's fingers.
Step 5
We will add an extra layer "Lower Body", where we will paint the area between Poe and Pluton. After, this will be useful for split the two elements and avoid to mix them together. Notice the erased area beside the Pluton's head.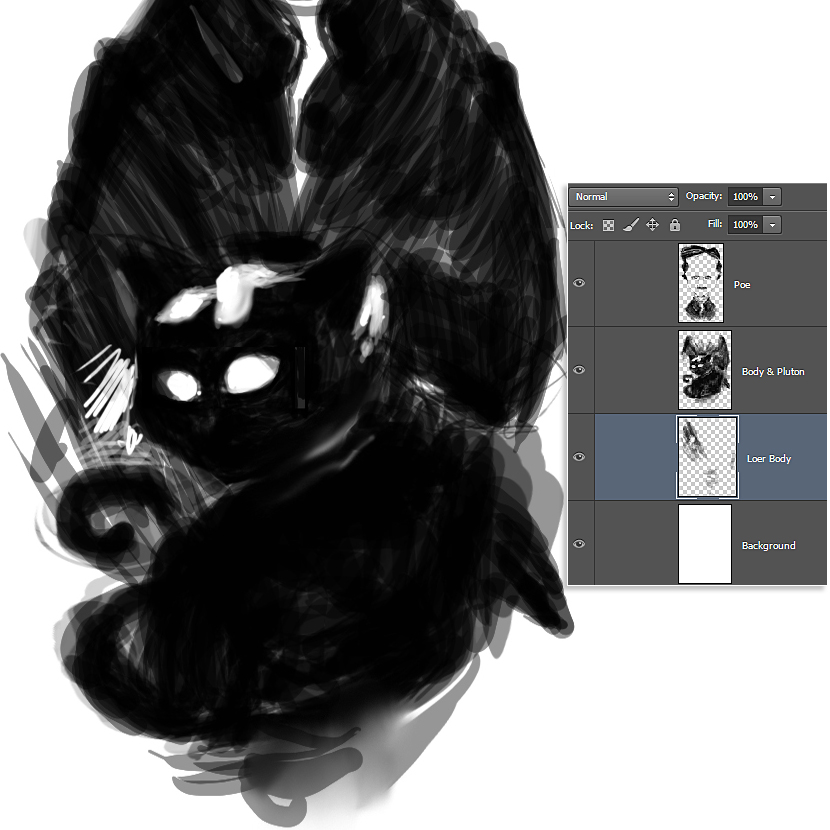 Step 6
Now, let's start to create our custom watercolor brush. Use a new layer to paint two brush strokes as shown, using the Soft Round Brush. Notice that they aren't symmetrical, this will be better for the final result. Next, go to Edit > Define Brush, we can name it "watercolor", now it is ready on the Brush List for being used.
Step 7
Next, on the Brush Presets (F5), start setting the following adjustments, check the Shape Dynamics box, and adjust Spacing to 1%.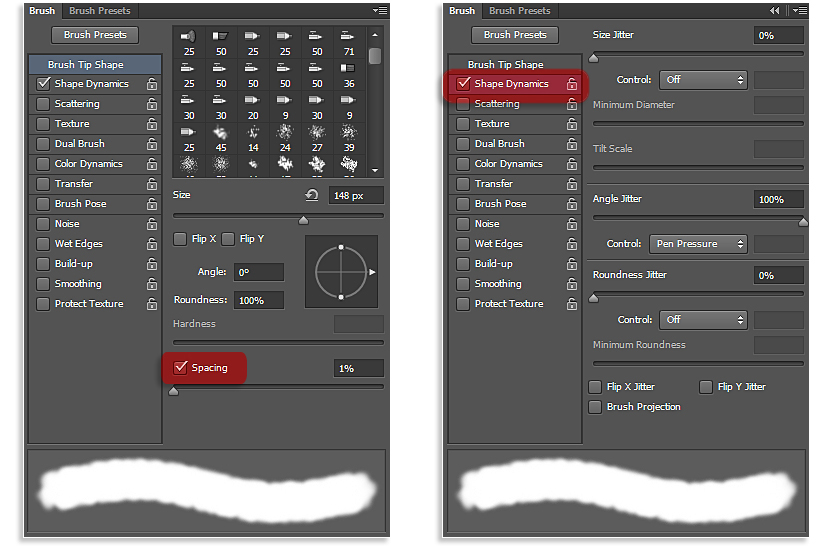 Step 8
Check the Scattering box and adjust its settings as shown. The same with the Transfer option. You can see how the brush shape changes on the display.
Step 9
Finally check the Dual Brush box and select the brush number 45 with the following settings. Now we have our watercolor brush ready for be used.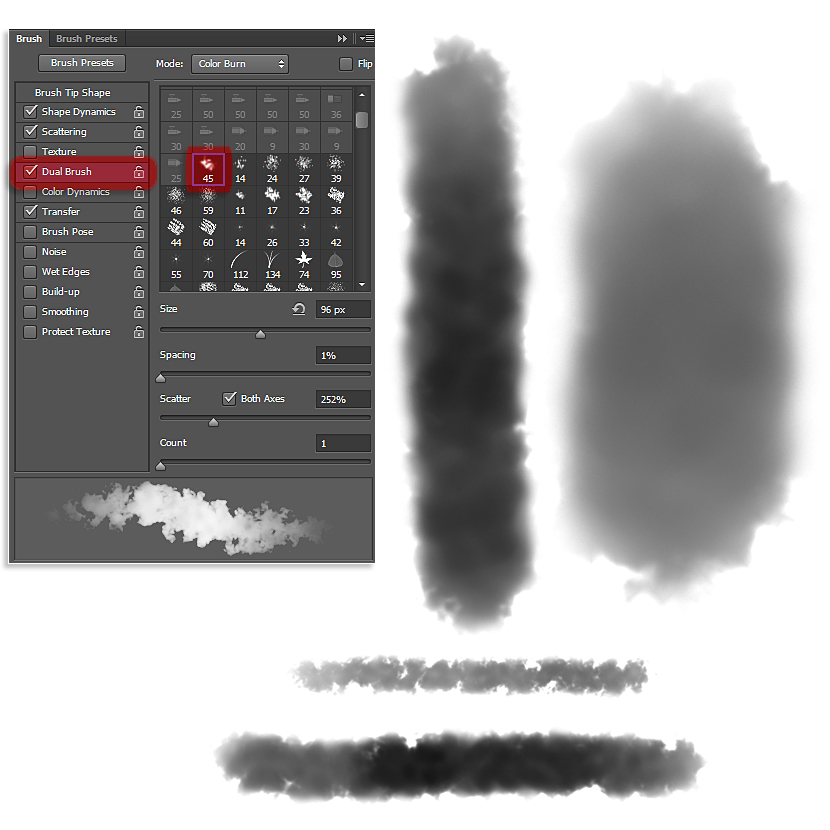 Step 10
Pick the Smudge Tool, and with the watercolor brush, smudge the painted layers we created before. Adjust the Strength to get different results.
Step 11
Create a new layer "Details" and with a Hard Round Brush paint the fine details as cat's whiskers and some loose hairs. Next, with the Smudge Tool, and a Soft Round Brush selected, drag some portions of black to create more cat fur, with a small brush size selected.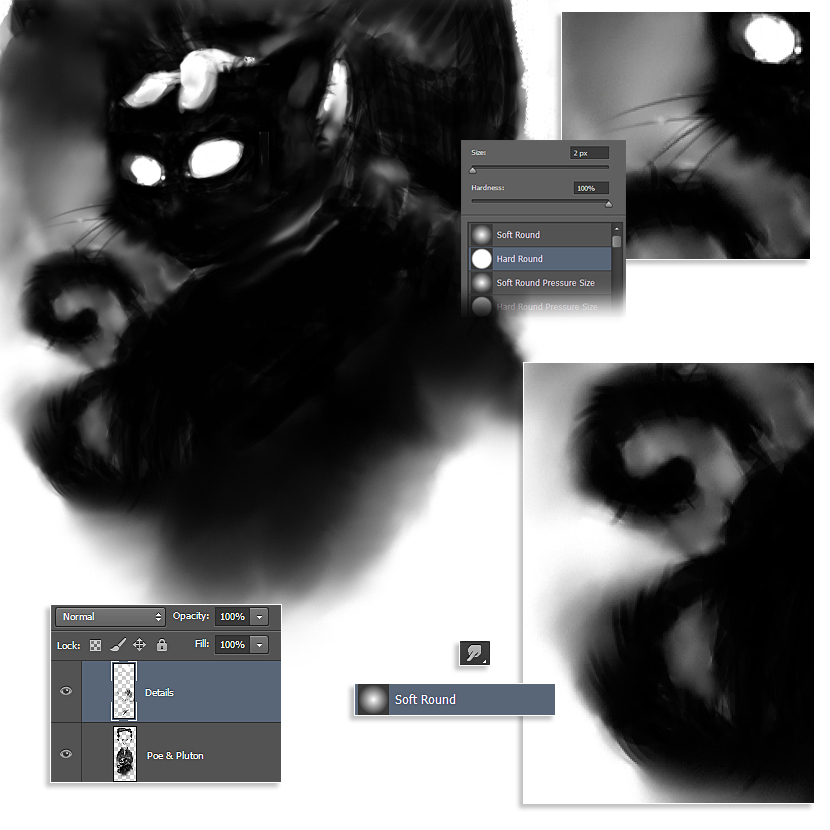 Step 12
Now, we will create another textured brush. Using the brush number 30 as a base, apply the following settings on the Space Dynamics and Scattering sliders.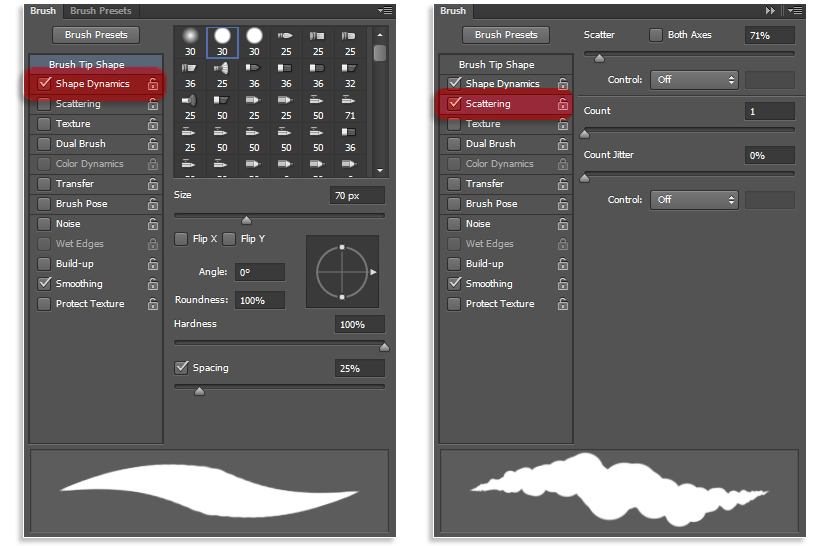 Step 13
Following with the Transfer and Dual Box adjustments.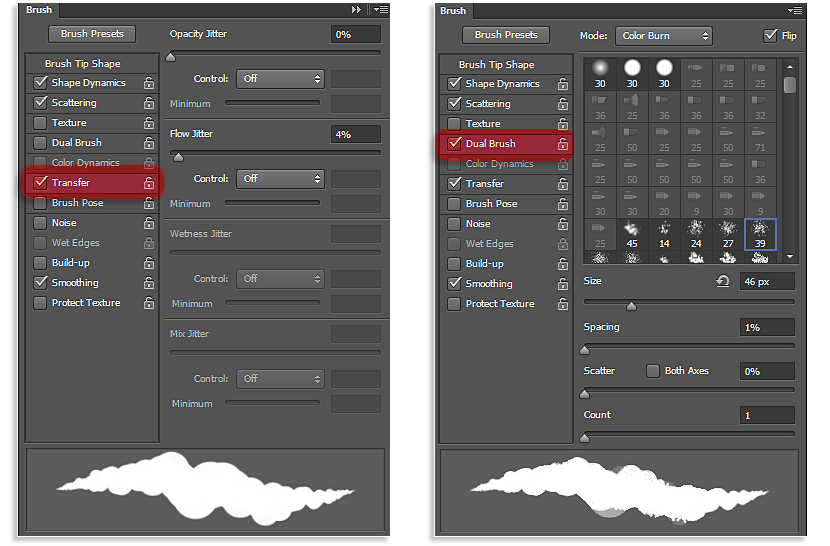 Step 14
Picking the Eraser Tool, and the brush we just create selected, erase some edges of Poe's suit to imitate a dry brush watercolor effect.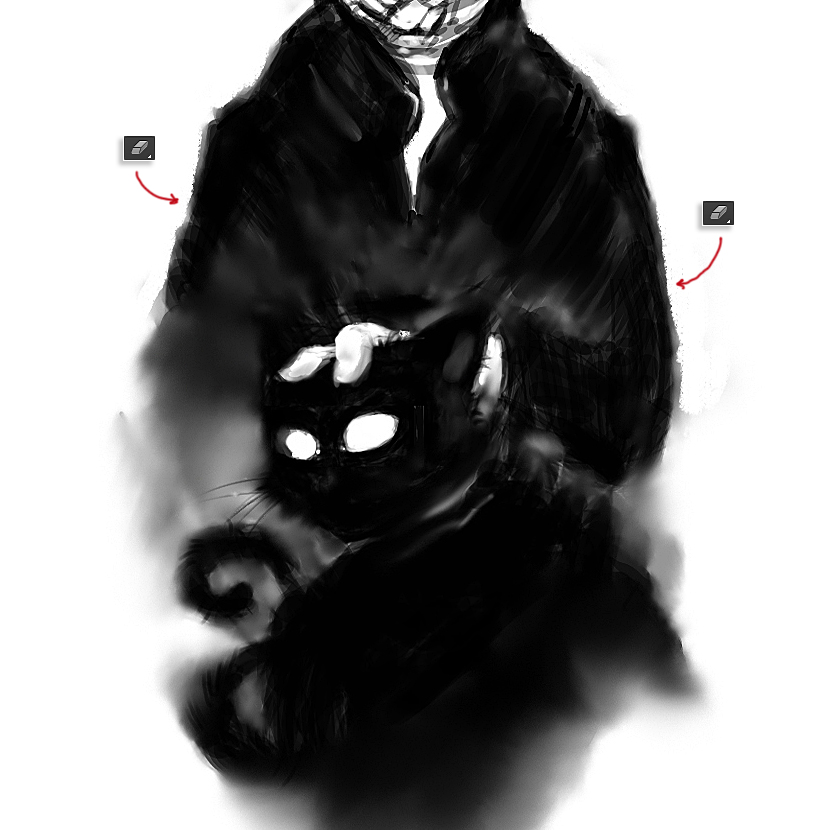 Step 15
Next, create a new layer "Pluton's Eyes", and on it draw the necessary brush strokes to draw the eye's pupil, yes, remember that it only has one…and the eye's shadows. With white color, paint the tusk and the eye's brights.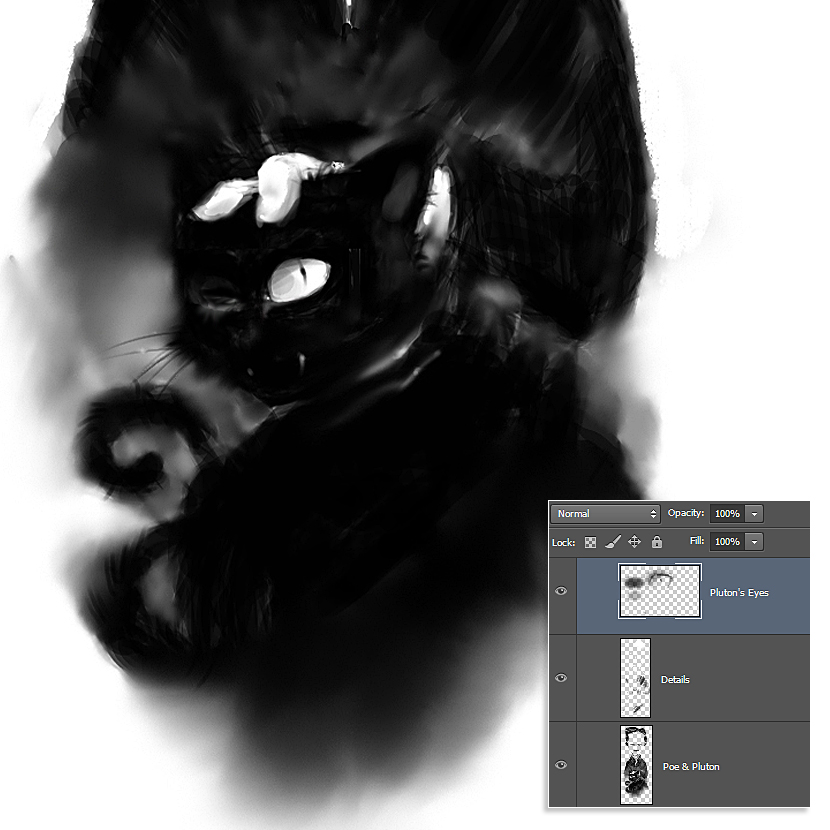 Step 16
For the Poe's face shadows, select the brush number 30 and adjust it as shown.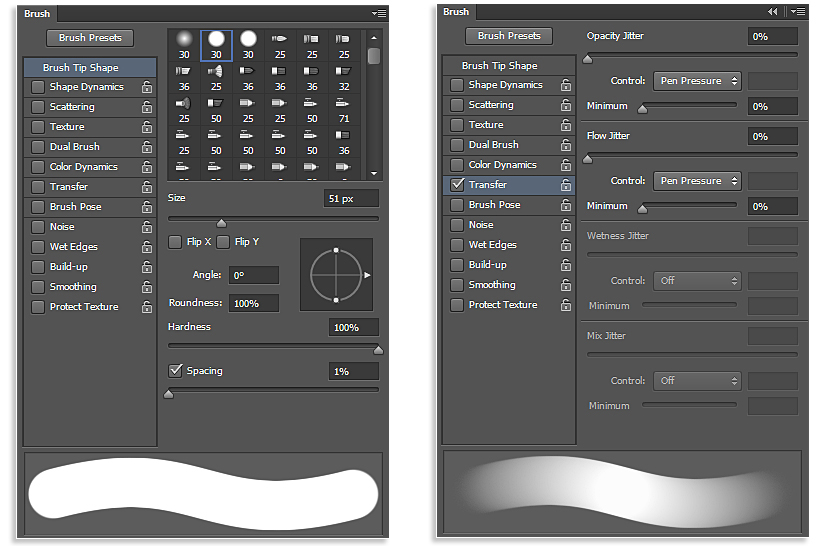 Step 17
For the Poe's face shadows, create a new layer "Poe Face Shadows", set its Blending Mode to Normal and 60% opacity. Start painting the shadows as cheeks, chin, eye sockets, etc. Overlap more than one brush stroke to achieve darker tones.
Step 18
Let's start with the background, create a new layer "Background Color", just bellow of the layer we created before. On it, with the Gradient Tool, select a brownish tone and make a gradient from bottom to upper zone as shown.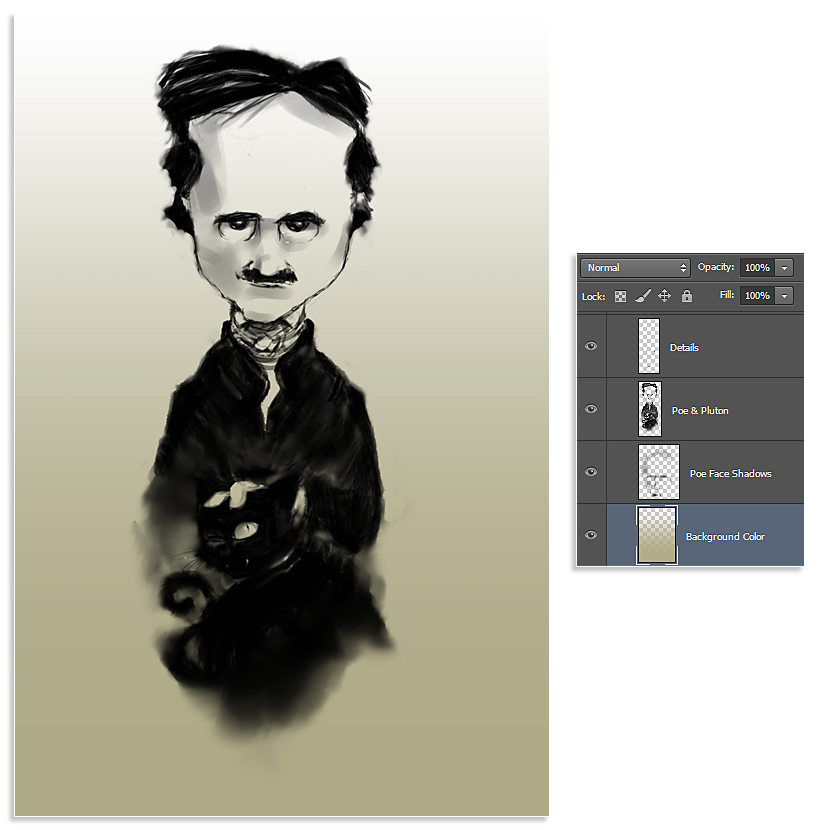 Step 19
Next, to start making the lights, create a new layer "Highlights", with the brush we created on step 16, select white color, and start painting the lights, I chose a cenital light, so it impacts on the upper areas of volumes as shown.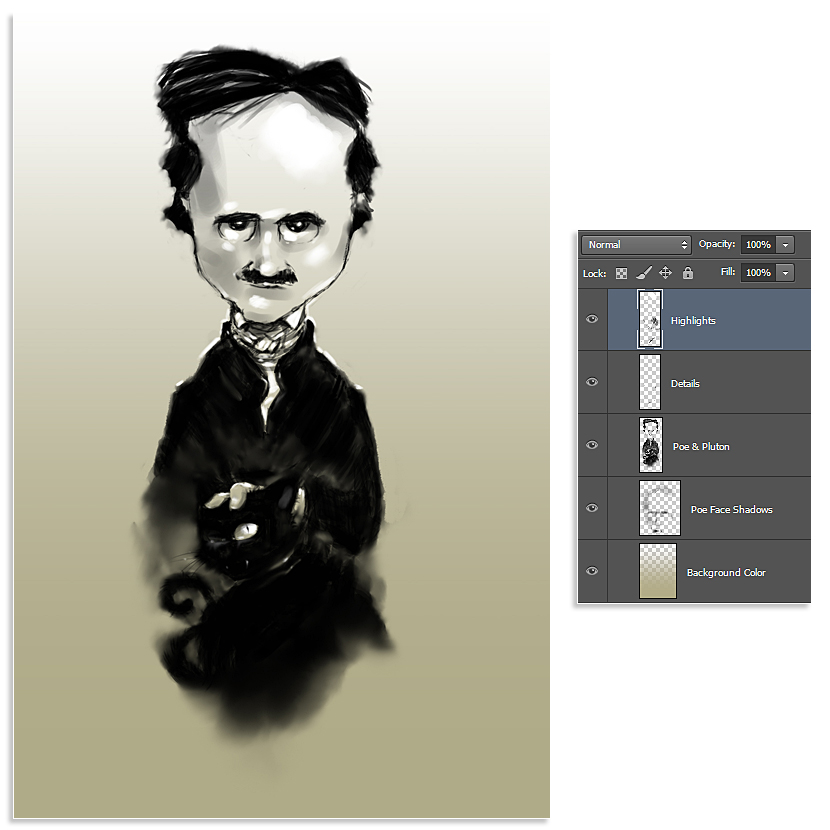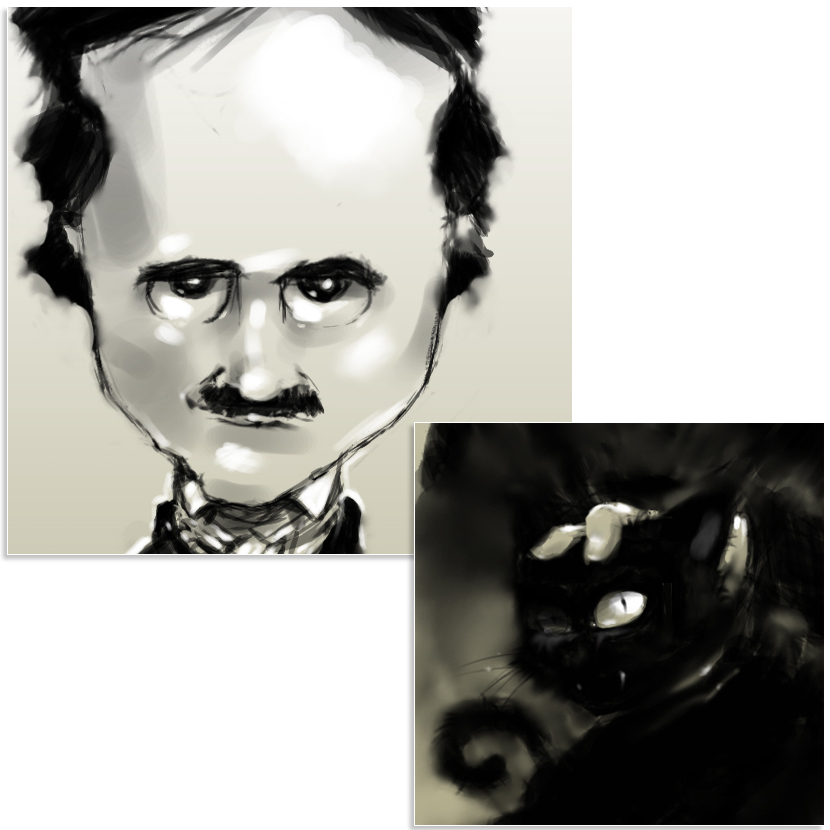 Step 20
To add some vignetting on the background, go to Filters > Lens Correction, and on the Custom tab you will find out the Vignette Amount slider, a quantity of -40 will be ok.
Step 21
To create the paper texture, we will add a real paper image. Create a new layer "Paper Texture", set its Blending Mode to Multiply and 30% Opacity. Next, Copy and Paste the paper image on that layer.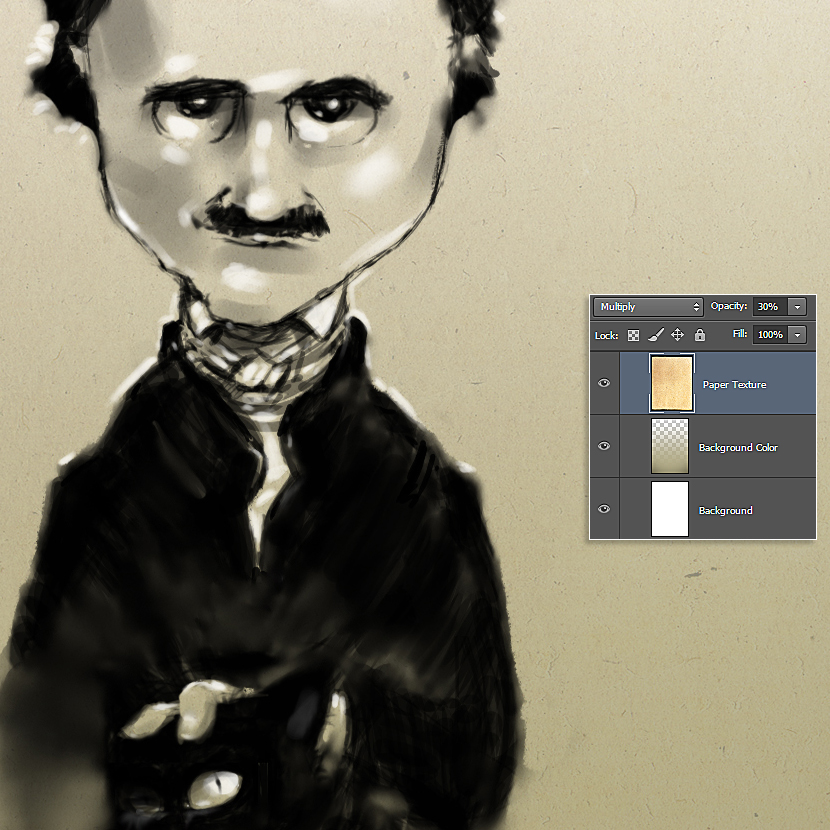 Step 22
Next, we will add an spotlight just behind Poe. Create a new layer "Spotlight", set its Blending Mode to Lighten and 50% Opacity. With the Elliptical Marquee Tool, create a circle, place it behind the Poe's shoulders and fill it with withe color, next go to Filter > Blur > Gaussian Bluer, and blur its edges. To avoid that the white overlap to Poe, create a Layer Mask and hide the unwanted areas.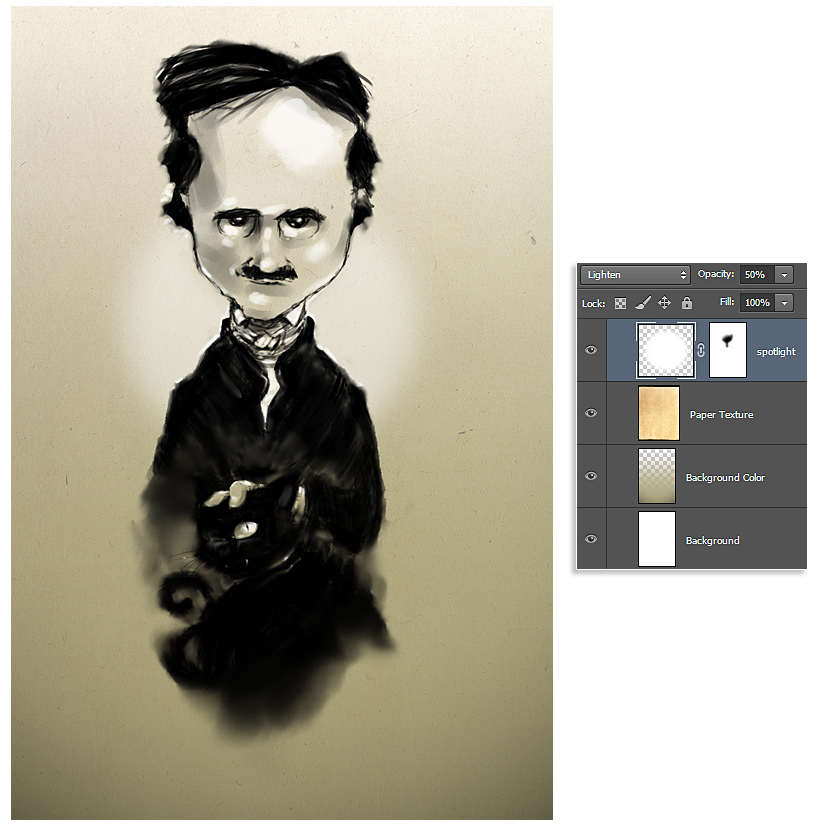 Step 23
Continuing adding textures, create a new layer "Ink Stain", set its Blending Mode to Lighten and 80% Opacity. On it, place one of the ink textures you will find on the assets as shown.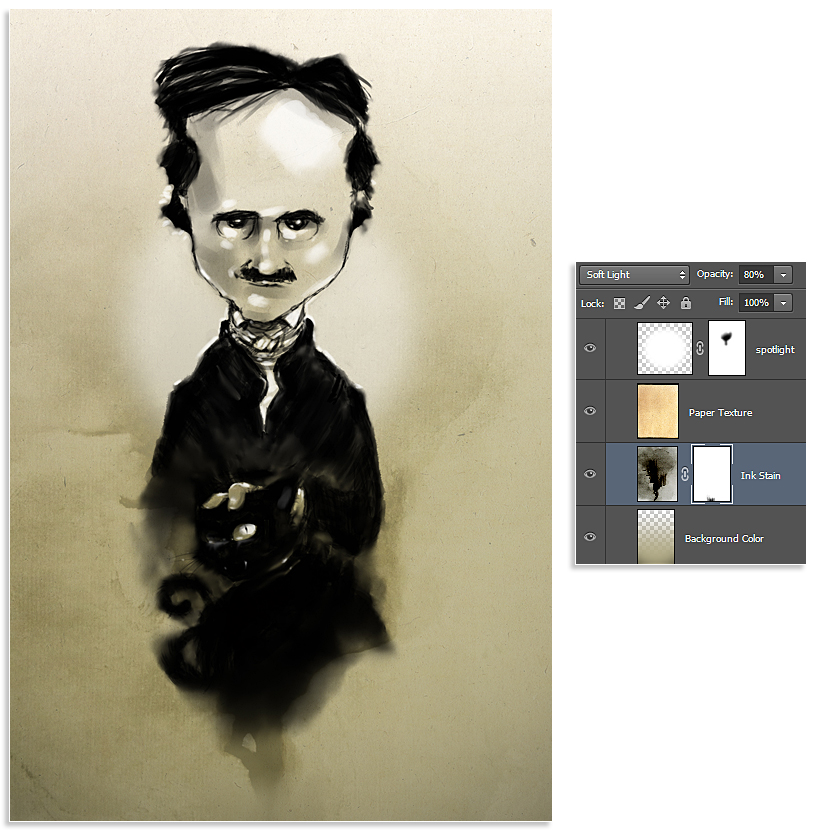 Step 24
More textures…Create a new layer "Aged Texture", set its Blending Mode to Soft Light, and 80% Opacity. On it place again one of the ink textures from the assets to give an aged finish to the image. Notice that all textures are placed bellow Poe & Pluton's layers, to keep them clean on other plane.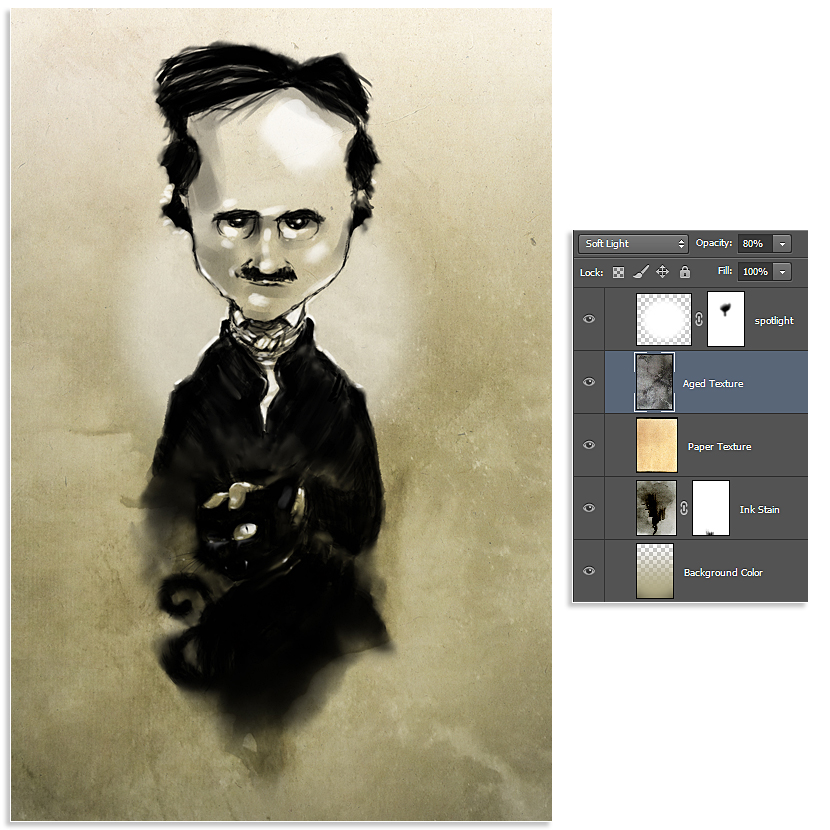 Step 25
Now the image is almost finished, create a new Group and put in it all the layers. Next save the document as .JPG, open it, and place this file on top.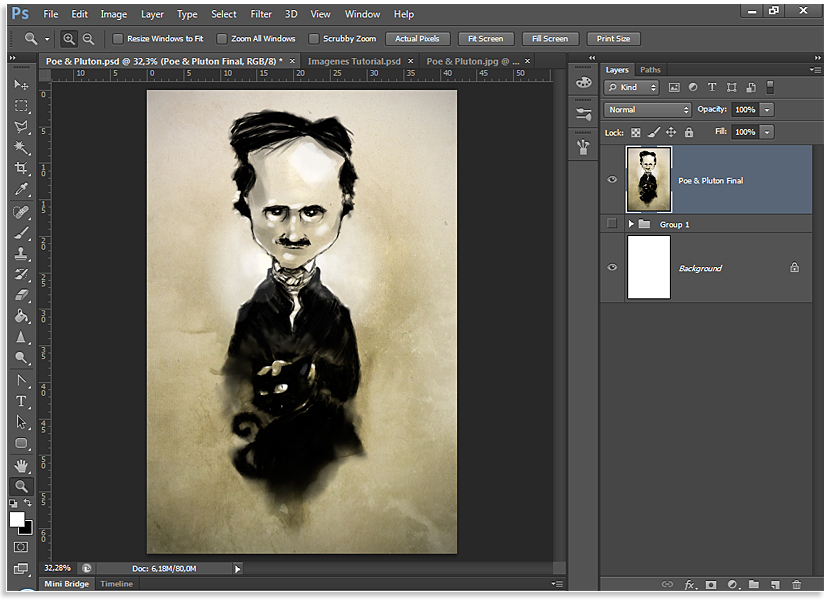 Step 26
With the Dodge Tool, light up a bit some areas to create more contrast. The watercolor brush will be a good choice to do that.
Step 27
Again, let's add some more vignetting, go to Filters > Lens Correction, and adjust the Amount slider to -30.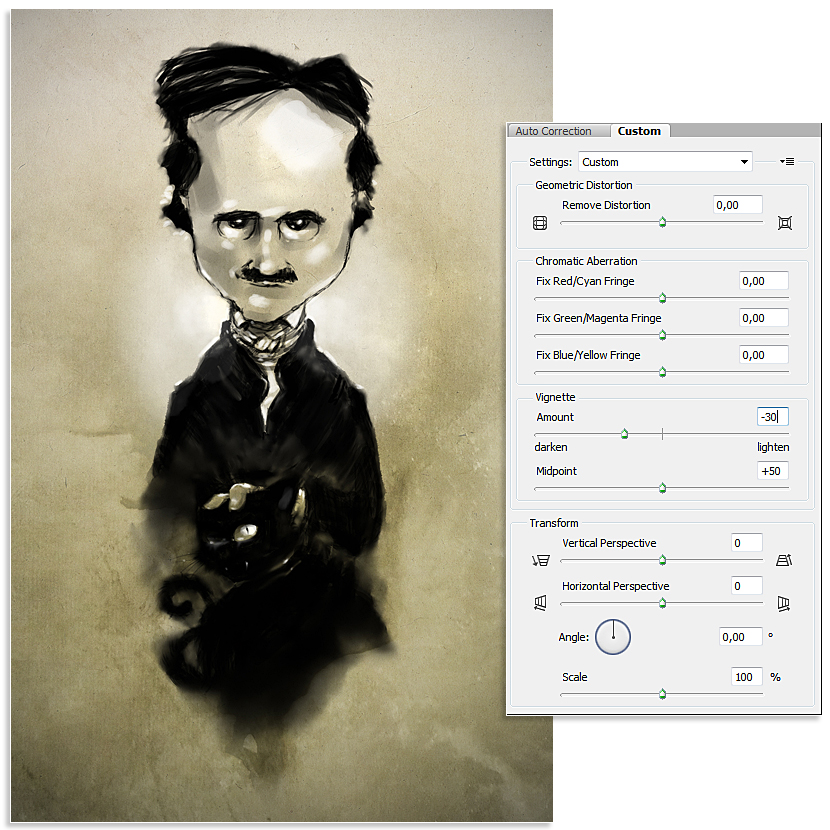 Step 28
Finally, to add some noise to the image, create a new layer "Noise", set its Blending Mode to Multiply, and fill it (Shift + F5) with white color. Next, go to Filters > Noise > Add Noise, a quantity between 8 and 10 will work.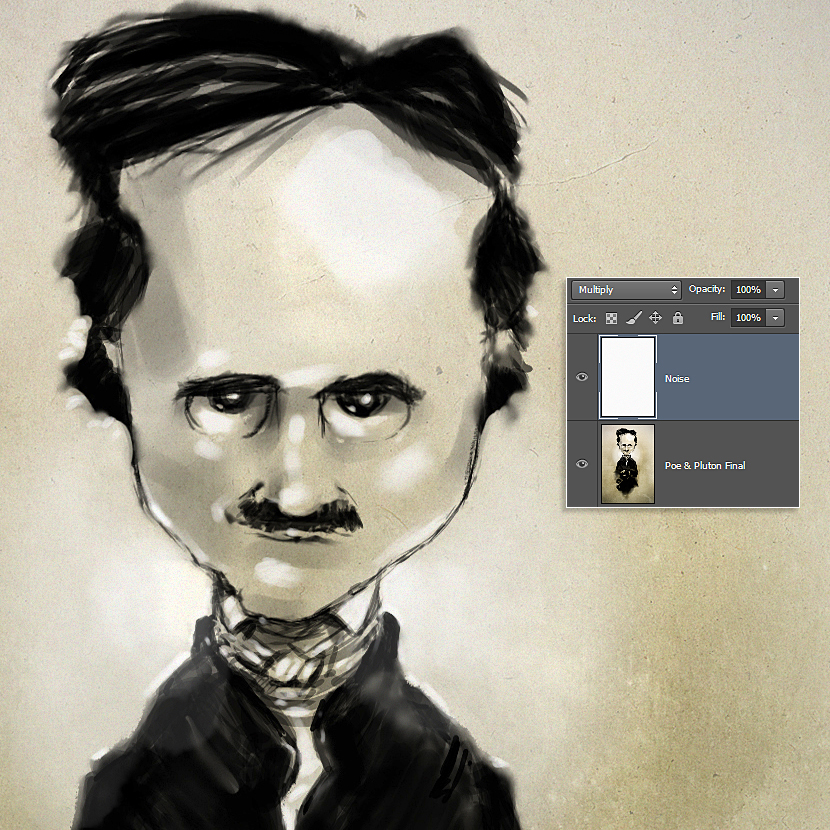 Step 29
And this is the final result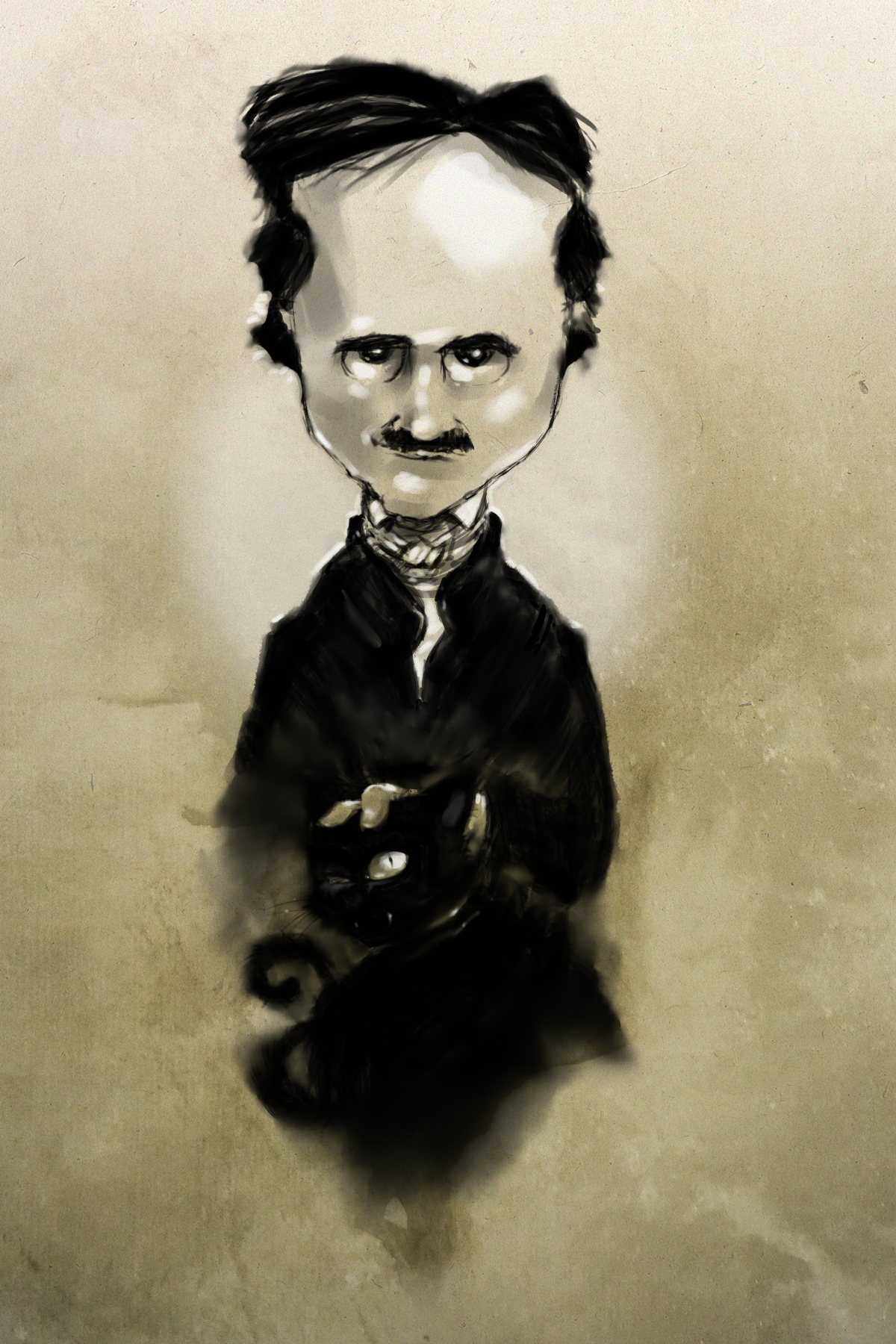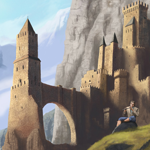 Introduction
Depositphotos is the best source for premium royalty-free stock photos, illustrations and vector art. If you are a designer, advertiser, photo editor, content manager or blogger, they have millions of high-quality photographs and vector images available at affordable prices to fill all your image needs.
Their libraries are updated daily through contributor uploads that are closely scrutinized for quality and originality. Between the protections and the controls, you're assured of finding the highest quality original artwork available anywhere.
It's easy to become a Buyer right now – just Register an account and start buying pictures today! It's easy to become a Seller, too. Register for a Seller account and upload your images for review. Once they are reviewed and approved your images you can start selling and earning right away! The system is designed to reward the best sellers, so whether you're a professional or hobbyist, there's virtually no limit to what you can earn.
Subscription Plans
Subscription plans allow you to download several photos each day, up to your plan limit. Every image you download using any of subscription plans is provided in all JPEG sizes and Vector images. You may purchase subscription plans of many different levels, from 3 days to 12 months, depending on your needs. It is really handy for designers that need stock images frequently.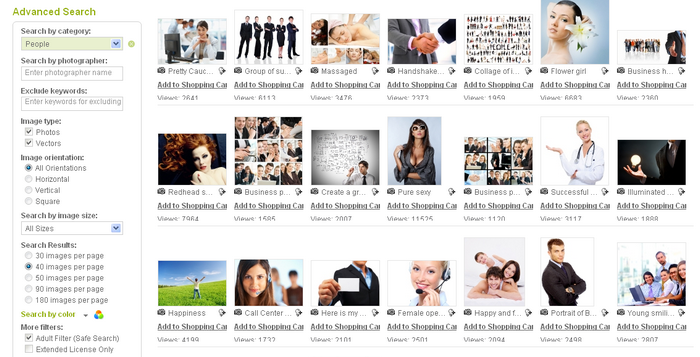 Free Trail
You can also try out their Free Trial Subscription too. You will be able to download any stock photos or vector images you like absolutely free of charge. Depositphotos' Free Trial Subscription allows users to download 5 free stock images per day for 7 days. You can use images downloaded during your Free Trial Subscription for any reason, such as personal projects, websites, blogs, newsletters, journals, advertisements, etc.
Conclusion
Depositphotos is one of the best resources for buying and selling Royalty-free photographs and vector images. Their vast library of imagestock coupled with their wide variety of flexible purchase options makes them the most convenient and profitable tool for designers, artists and photographers