Your Favourite Photoshop Tutorials in One Place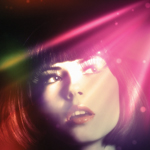 Apply a Colorful lighting Effect for a Lady
Under

- Photoshop is recommended for this tutorial -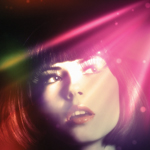 "Skull" is Colombian digital artist Santiago Betancur Salazar's last project. Salazar has his own website, which exhibits his fabulous works with different styles. The reason why he presents his "Skull" here is he loves skull, so he shares his works.
Photos belows generally show Salazar's working process with "Skull" by Photoshop. Skull itself is terrific enough, and Salazar created this "Skull" with creepy grey metal effects. The exquisite vein and muscle details prove Salazar's skills and attitude. No matter seeing from the front or from the profile, Salazar's Skull is naturally mixed together with its background, a grey metal skull emerging from its gray tenacious and unbreakable background.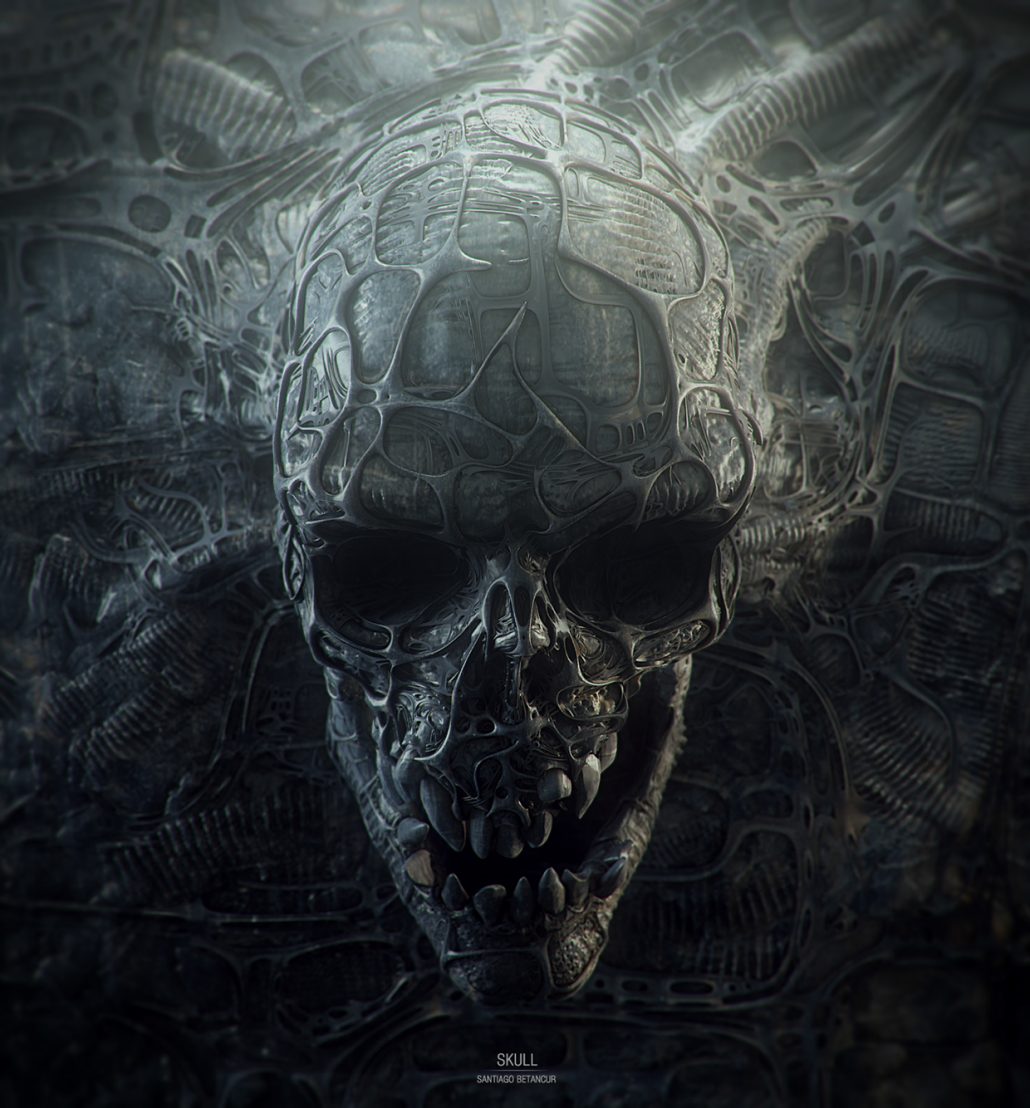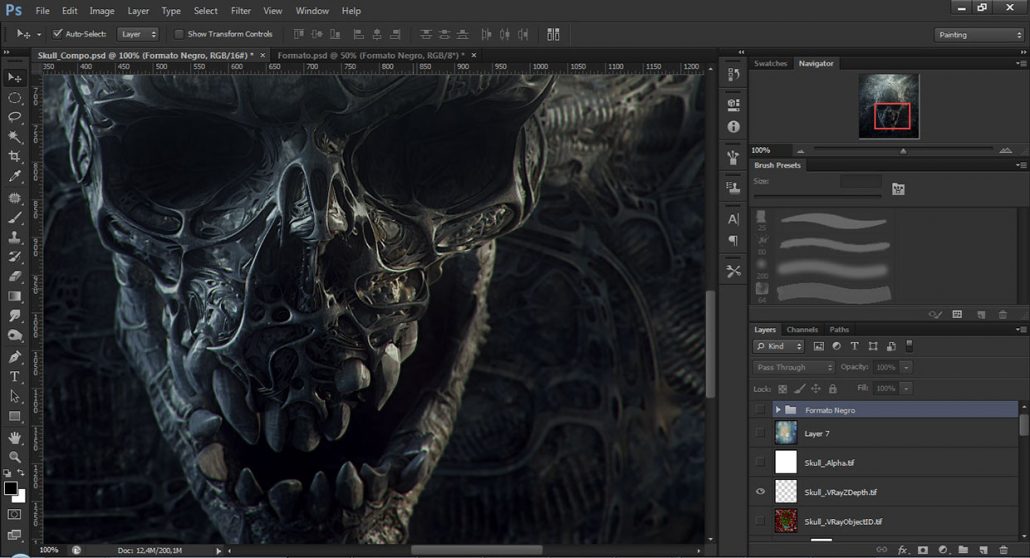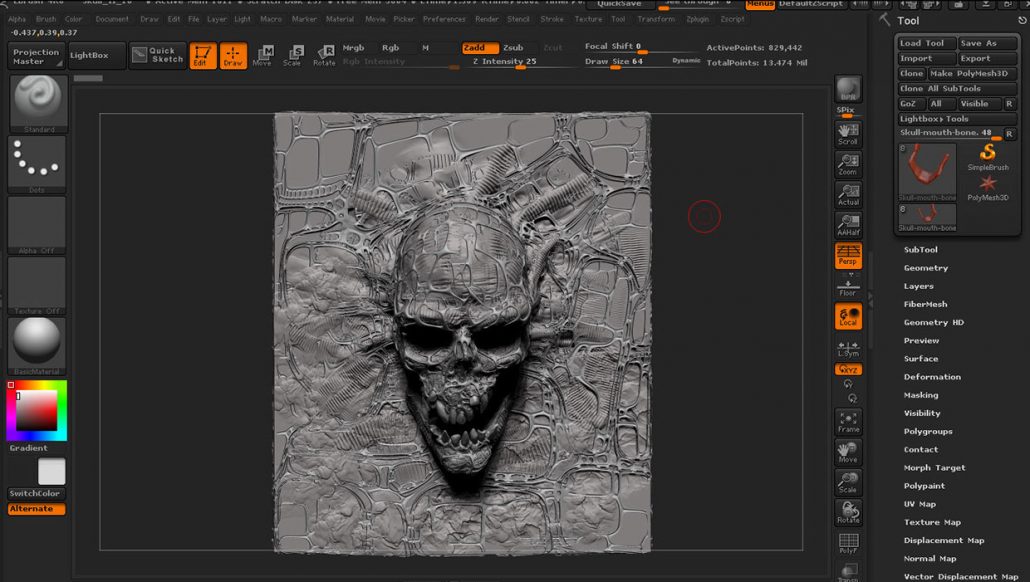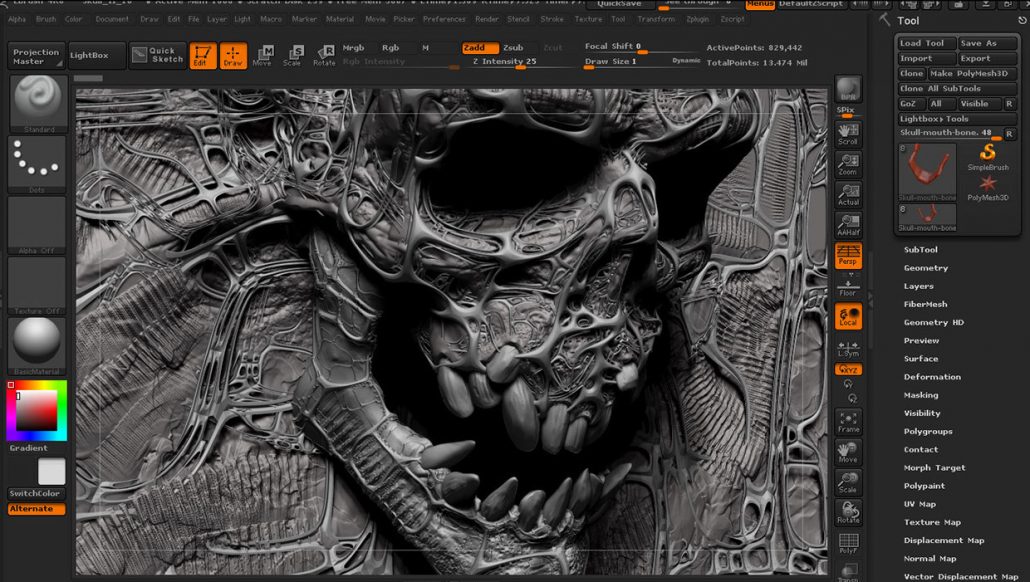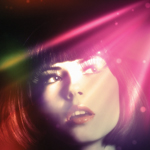 3D Spiral Flash Gallery Giveaway Contest

Introduction
The 3D Spiral is a Flash gallery component that displays images on an interactive 3D rotating spiral using the Papervision3D engine.
To obtain different layouts by changing the height and width of the spiral, the viewer can scroll, move up/down and zoom the spiral freely. It includes customizable opening and closing animation styles and a built-in preloader for seamless transitions between thumbs and large images.
Giveaway Contest
Flashloaded offers Photoshop Lady 3 free 3D Spiral Flash Gallery Licenses and each of this currently costs $49.95. We have decided to give away these to our readers. I am sure you would love it and benefit from it a lot.
To participate, you can simply make a post on our Photoshop Forums. And we will draw 3 outstanding posts on 18th Nov 2008. Act quickly and don't miss this chance to win the new generation flash gallery component.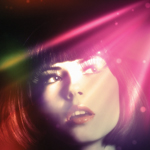 Privacy Policy of PotoshopLady.com
The privacy of our visitors to PhotoshopLady.com is important to us. At PhotoshopLady.com, we recognize that privacy of your personal information is important. Here is information on what types of personal information we receive and collect when you use visit PhotoshopLady.com, and how we safeguard your information. We never sell your personal information to third parties.
Log Files
As with most other websites, we collect and use the data contained in log files. The information in the log files include your IP (internet protocal) address, your ISP (internet service provider, such as AOL or Shaw Cable), the browser you used to visit our site (such as Internet Explorer or Firefox), the time you visited our site and which pages you visited throughout our site.
Cookies and Web Beacons
We do use cookies to store information, such as your personal preferences when you visit our site. This could include only showing you a popup once in your visit, or the ability to login to some of our features, such as forums. We also use third party advertisements on PhotoshopLady.com to support our site. Some of these advertisers may use technology such as cookies and web beacons when they advertise on our site, which will also send these advertisers (such as Google through the Google AdSense program) information including your IP address, your ISP , the browser you used to visit our site, and in some cases, whether you have Flash installed. This is generally used for geotargeting purposes (showing New York real estate ads to someone in New York, for example) or showing certain ads based on specific sites visited (such as showing cooking ads to someone who frequents cooking sites). You can chose to disable or selectively turn off our cookies or third-party cookies in your browser settings, or by managing preferences in programs such as Norton Internet Security. However, this can affect how you are able to interact with our site as well as other websites. This could include the inability to login to services or programs, such as logging into forums or accounts. The privacy of our visitors to PhotoshopLady.com is important to us. At PhotoshopLady.com , we recognize that privacy of your personal information is important. Here is information on what types of personal information we receive and collect when you use visit PhotoshopLady.com , and how we safeguard your information. We never sell your personal information to third parties. Log Files As with most other websites, we collect and use the data contained in log files. The information in the log files include your IP (internet protocal) address, your ISP (internet service provider, such as AOL or Shaw Cable), the browser you used to visit our site (such as Internet Explorer or Firefox), the time you visited our site and which pages you visited throughout our site. Cookies and Web Beacons We do use cookies to store information, such as your personal preferences when you visit our site. This could include only showing you a popup once in your visit, or the ability to login to some of our features, such as forums. We also use third party advertisements on PhotoshopLady.com webto support our site. Some of these advertisers may use technology such as cookies and web beacons when they advertise on our site, which will also send these advertisers (such as Google through the Google AdSense program) information including your IP address, your ISP , the browser you used to visit our site, and in some cases, whether you have Flash installed. This is generally used for geotargeting purposes (showing New York real estate ads to someone in New York, for example) or showing certain ads based on specific sites visited (such as showing cooking ads to someone who frequents cooking sites). You can chose to disable or selectively turn off our cookies or third-party cookies in your browser settings, or by managing preferences in programs such as Norton Internet Security. However, this can affect how you are able to interact with our site as well as other websites. This could include the inability to login to services or programs, such as logging into forums or accounts.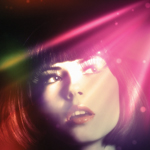 "Low-poly self portrait tutorial" is a Photoshop tutorial created by Brazilian creative director Breno Bitencourt. In this tutorial, Breno Bitencourt will show you how to create a low-poly portrait in illustrator and Photoshop step by step.
The main techniques used here are masks and blending modes, Photoshop's auto contrast, auto colour and auto levelsfunctions. There are also something basic you should know .Working with the best reference photo, choosing the best fragments to combine in a single image, dealing with the time-consuming part of the triangular mesh, firing up illustrator with pen tool, using align panel & vertical align center to deal with details, and adding color.
Watch the Video tutorial below and enjoy today's lesson!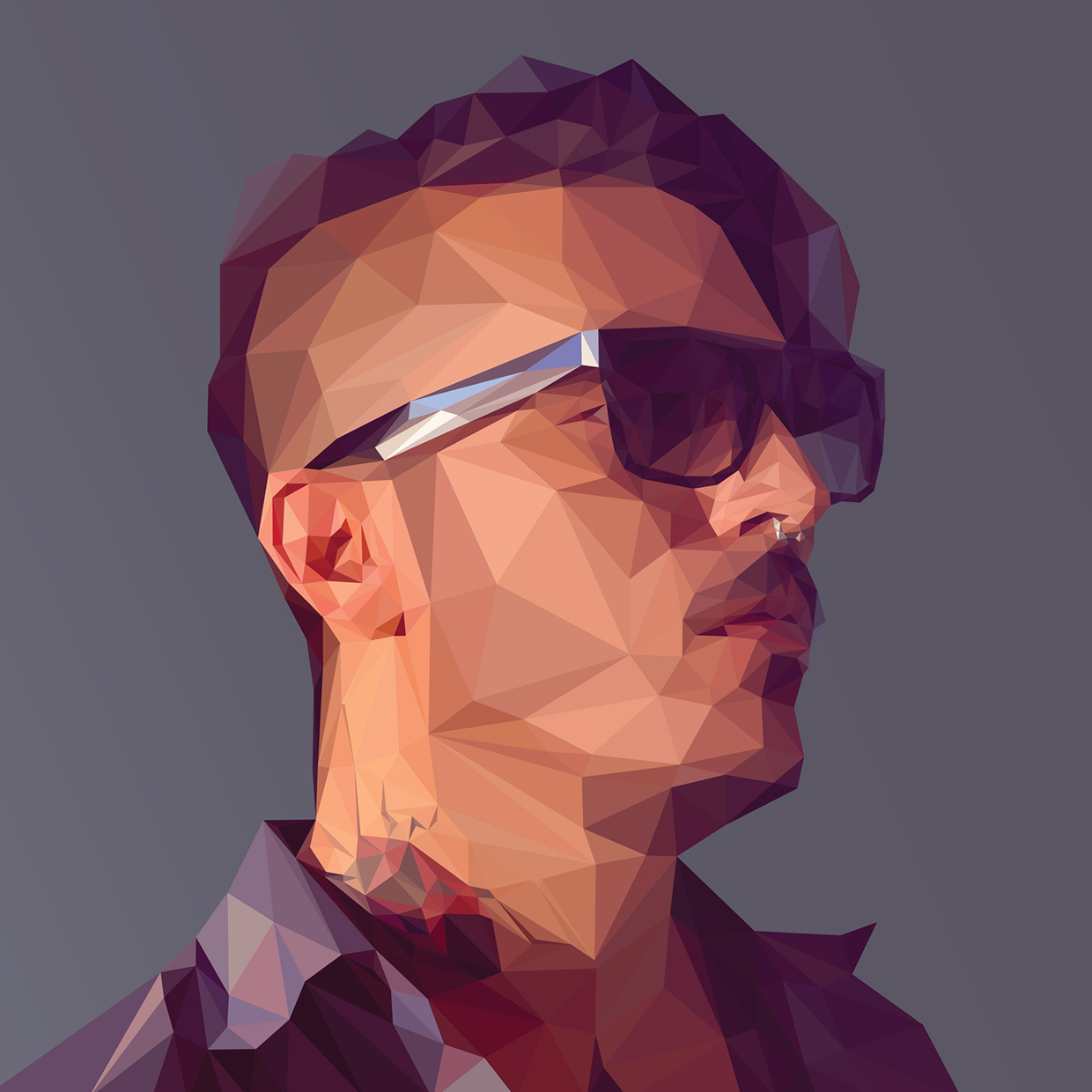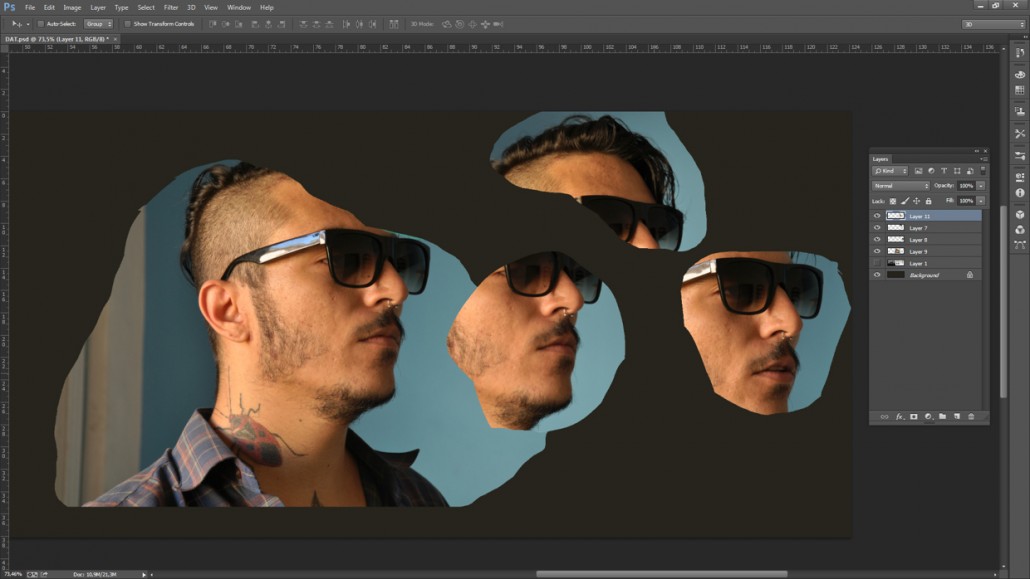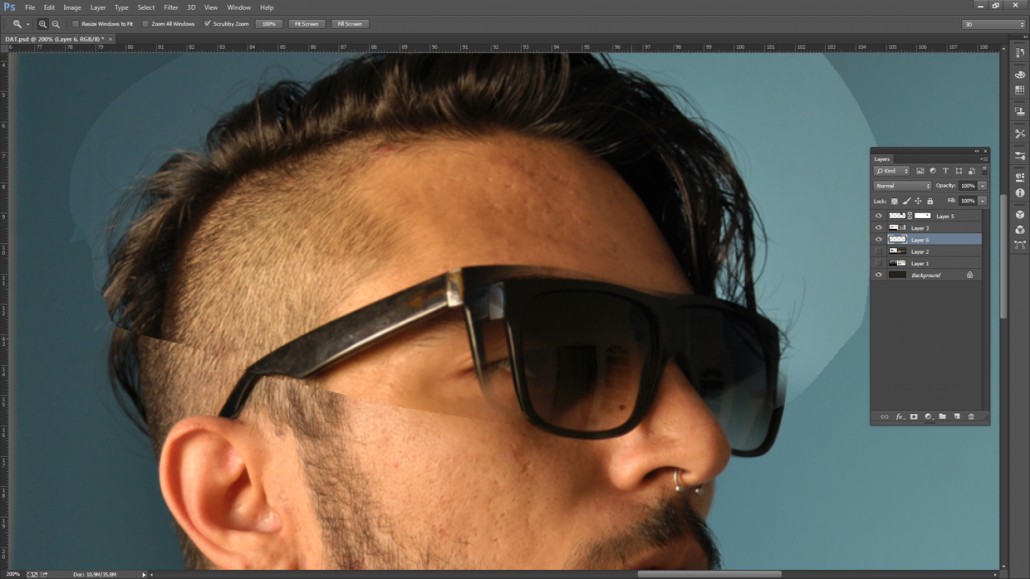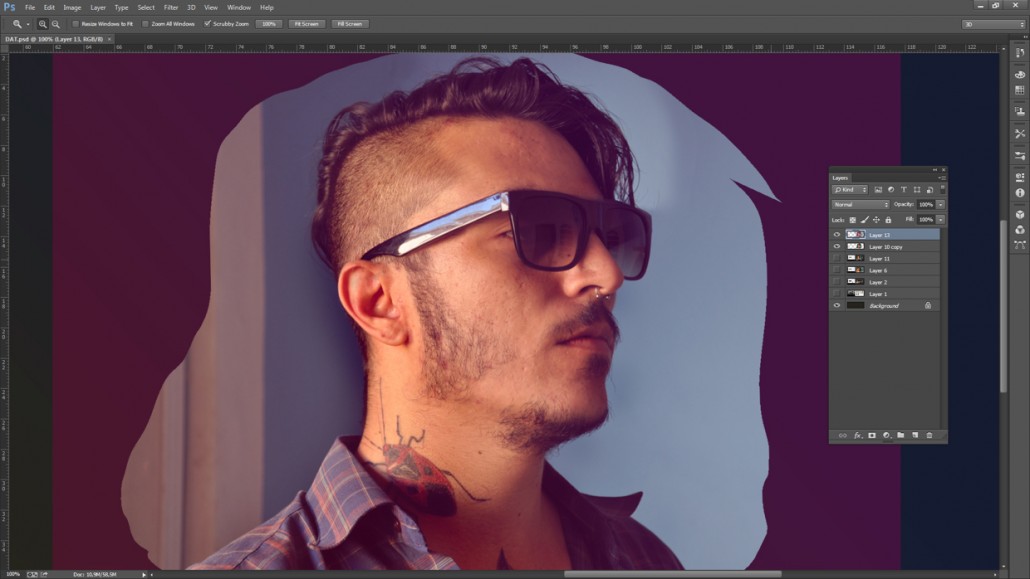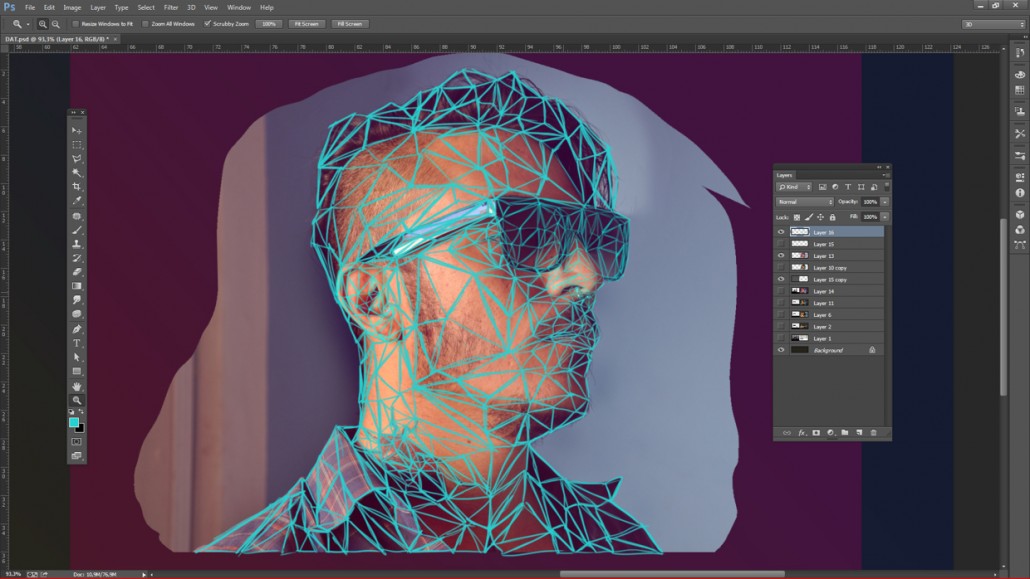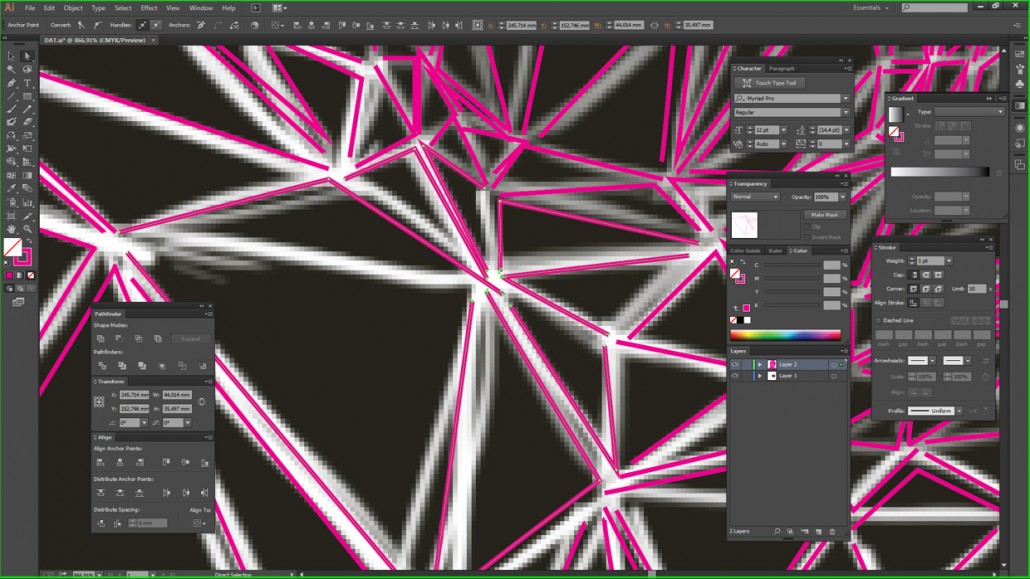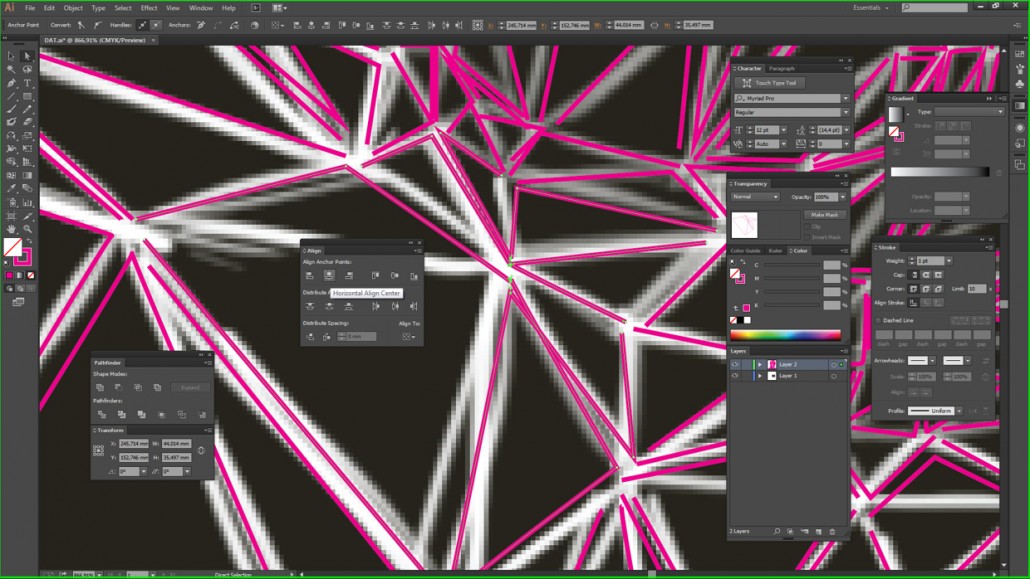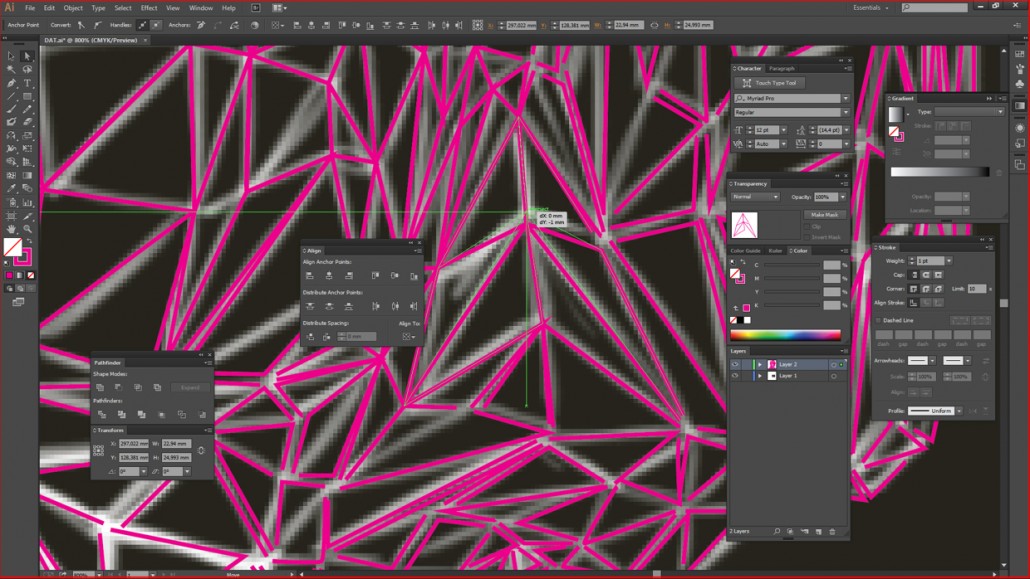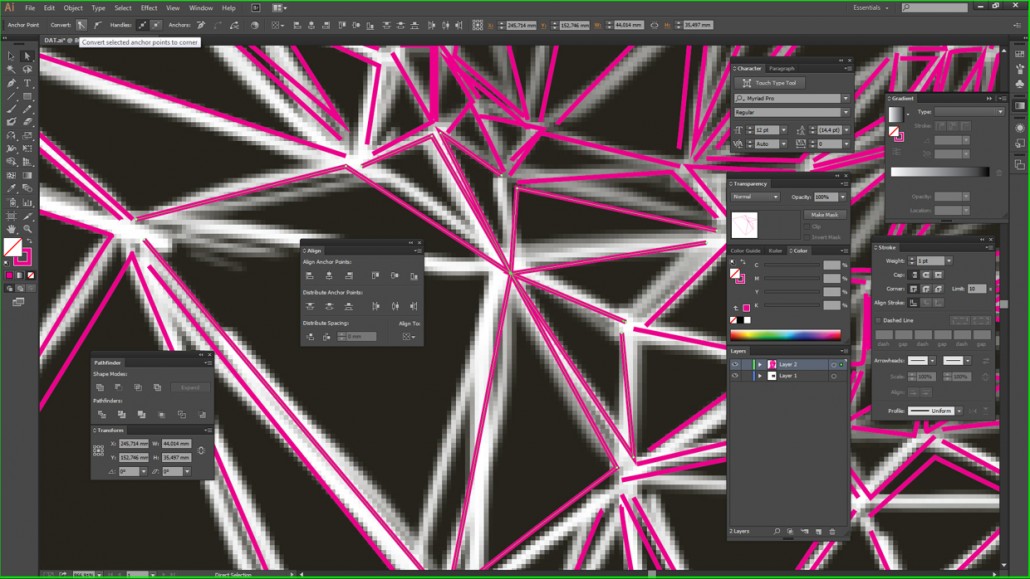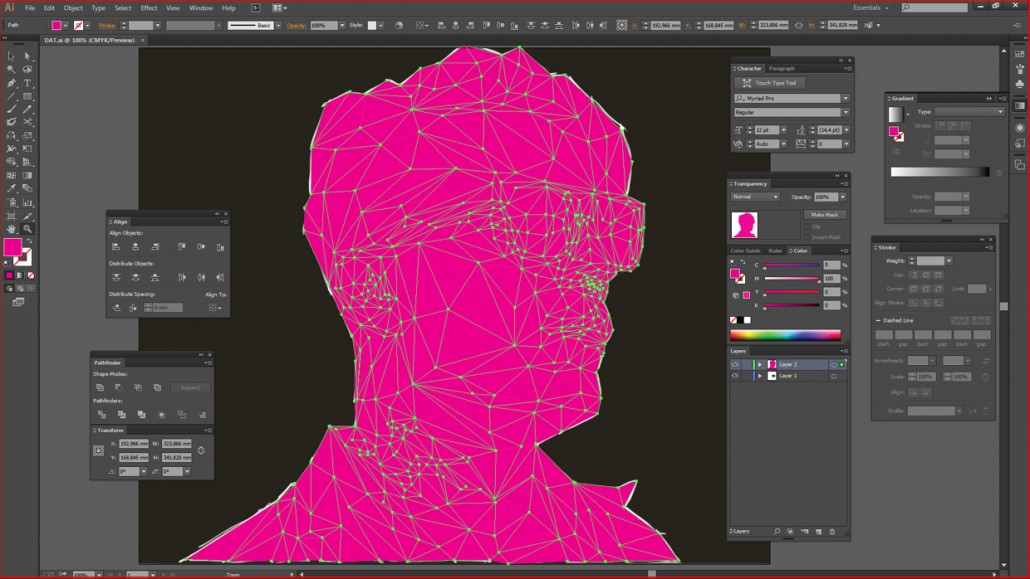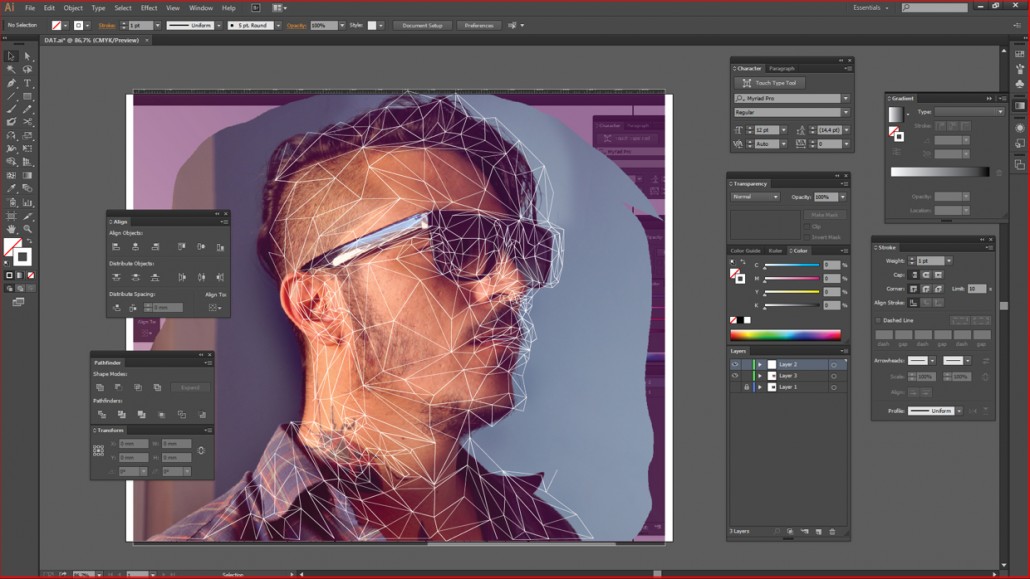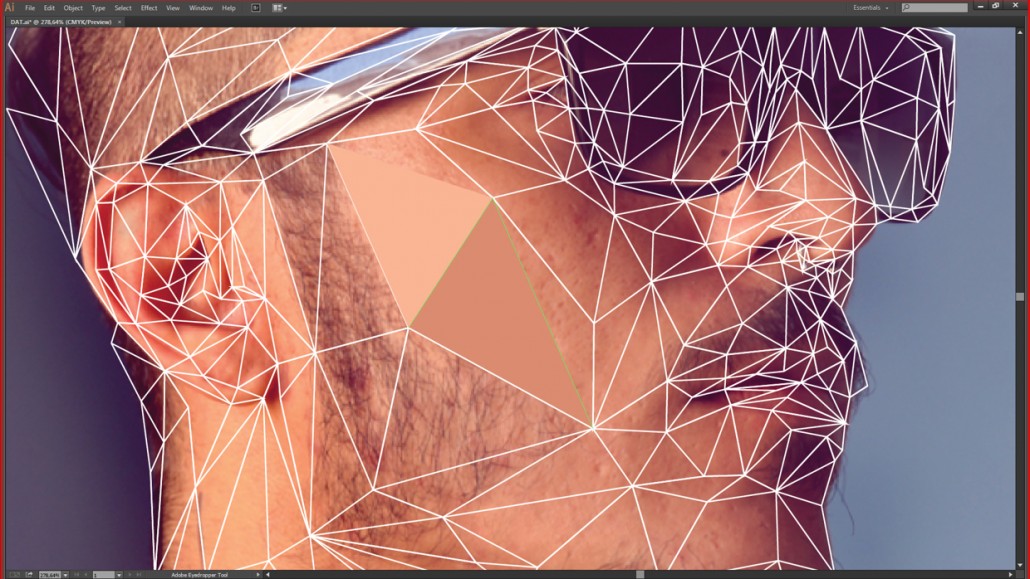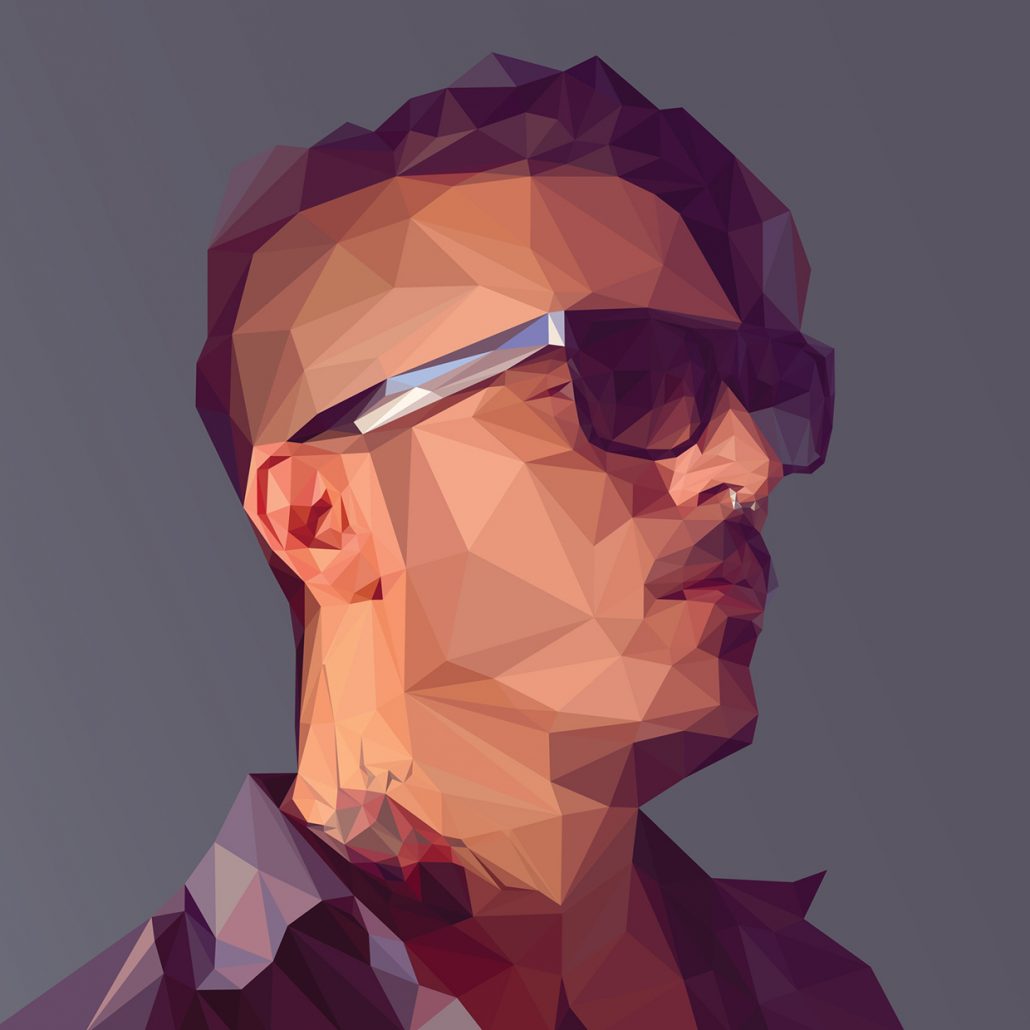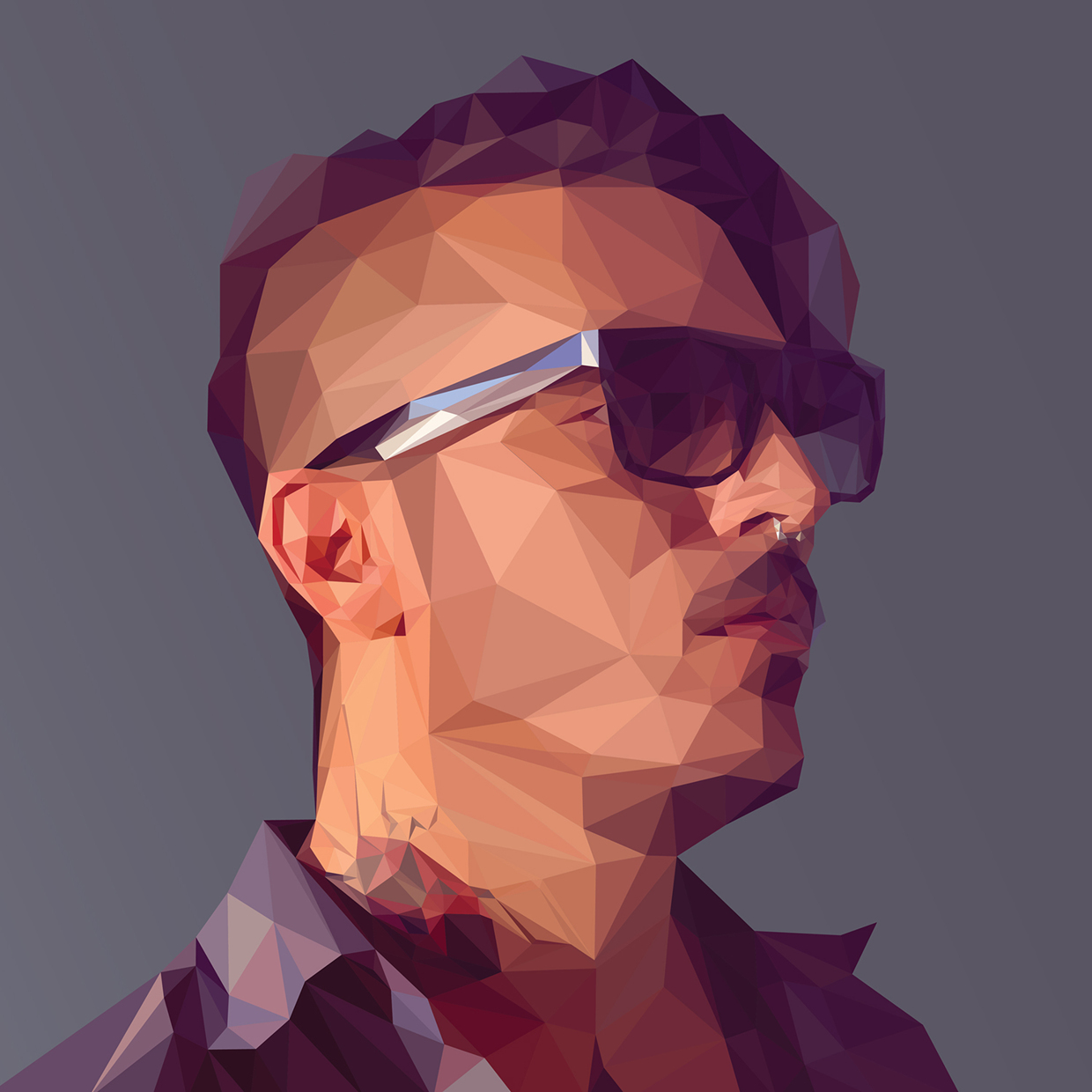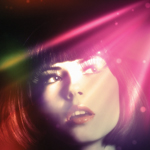 Introduction
Everybody knows the artistic filters in our favorite image editing program, but sometimes the results can appear somewhat artificial. Let me introduce you an alternative tool: PostworkShop that comes in handy when we need an artistic effect for a photo, a 3D render or a vector illustration. First let's see a few sample images: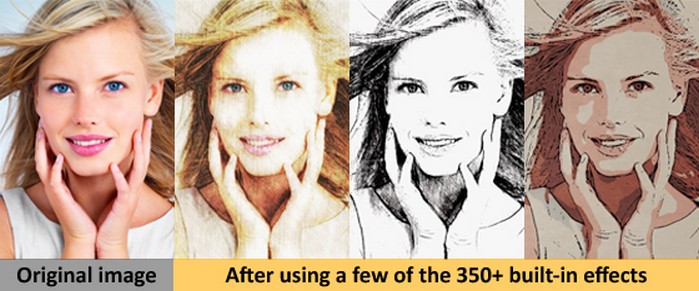 These are just a few possible results among the 350+ artistic styles that you can find in PostworkShop, the artistic image manipulation tool that we are talking about. It costs $99 usd only, which is very affordable!
How it works?
With one simple click you can transform your photo, 2D image or 3D render into an oil painting or watercolor, pastel drawing or pencil sketch, abstract or old-time photograph with the built-in styles.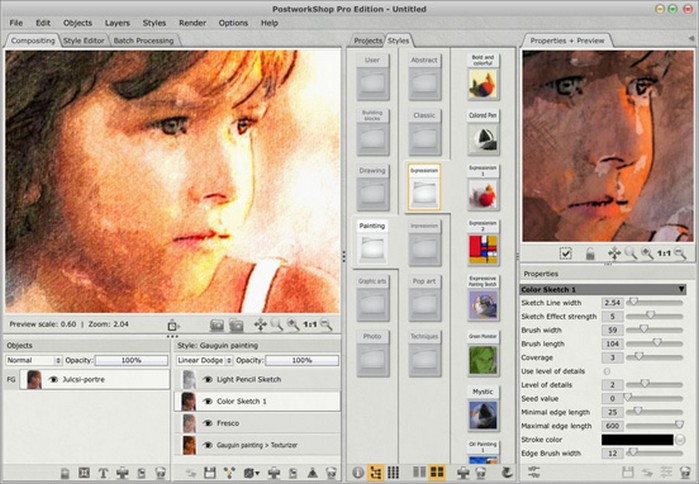 You can also Create your own styles with the Style Editor. Simply drop filters and existing styles into the workspace and build a new, custom filter graph. Just link each filters' output and input pins together to easily create a complex image processing engine that becomes your own custom style!
Currently, PostworkShop is not a Photoshop plug-in, but image exchange is possible through PSD files. The plug-in will be released as a free update in version 2.0, so you can already start to learn and use it.
Conclusion
PostworkShop is really a handy tool for transforming pictures in a lot of different styles. It is easy to learn and to use. We do strongly recommend it. Let's try it out now!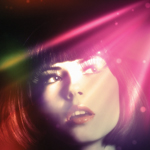 Welcome (back) to Photoshop Lady. Thanks for reading!
In this intermediate Photoshop tutorial we will be walking through the making of an interesting, creative advertisement poster. This is what I would consider great for advertising your newest product, or just getting some design practice. I will not be explaining the function of every tool in Photoshop used in this tutorial, instead I will be walking through the design process (if you could call it that, anyway).
Here is our end result:
About the Author
Eli is a young and aspiring web designer from South Australia.
Inspiration
Before starting, you may want to locate some inspiration for your design. Here are just a few great places for finding design inspiration:
deviantART (Designs & Interfaces)
depthCORE
Designflavr
Smashing Magazine Inspiration
Web Design Inspiration
And there are plenty more sites out there where you can get inspiration, just take a look. You can even get inspiration from stock sites such as iStockPhoto and Vector Stock.
1. Setting up the Canvas
When creating a new document (File > New), you may want to use a Preset size. I selected International Paper > A6. This is just for practice, so we want to keep it fairly small and RGB as the color mode.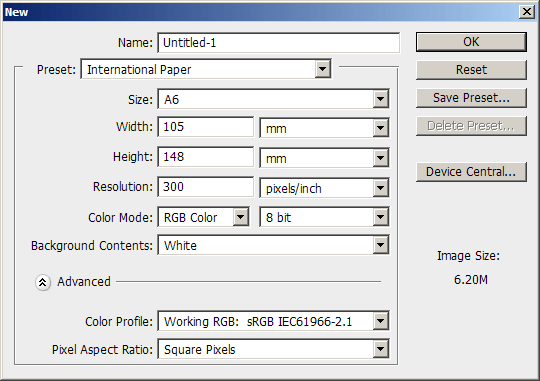 Resolution should be at 300, unless you want to change it. To fit the document nicely on your screen you will probably have to zoom out to around 33.3% of the document size.
2. Creating a Basic Background
For our basic background we'll just be using a radial gradient. Locate and get out the gradient tool, then set your settings similar to these:
The colors seen in the above image are: #a2f0e0 and #3793b3. All done? Create a radial gradient in the center of your document. I recommend you draw some rulers onto your canvas so you can find the center easier.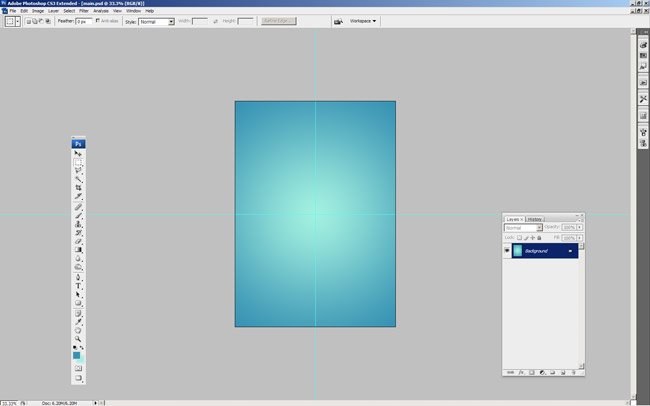 2-2. Additional Background Effects
Now we want to upgrade our basic background a little bit. You can do this by adding a simple texture in there then messing with the layer mode(s) and opacity. First, head on over to Katanaz-Stock on deviantART and download the Light Texture 03 image.
Copy this image onto your canvas, resize/rotate it if you like, then change the layer mode to Multiply and lower the fill/opacity to something very low, 10% for example.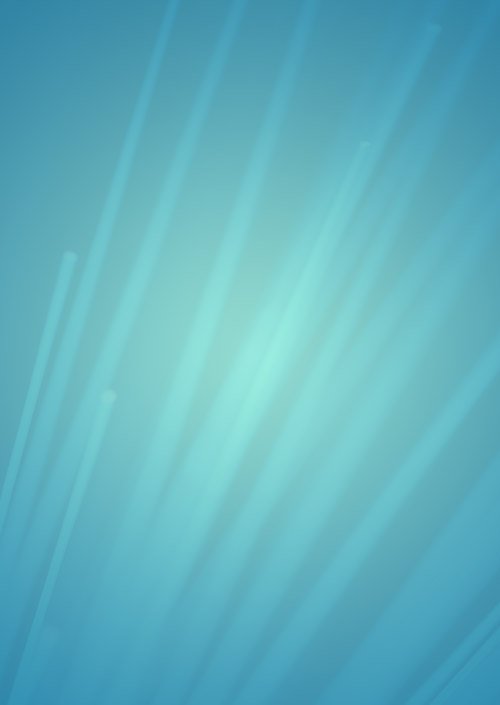 Duplicate your texture layer once, change the layer mode to Screen and put the opacity up to 50%.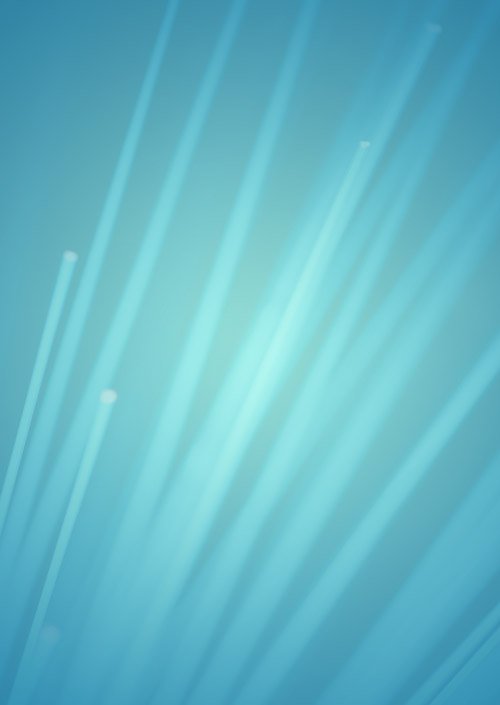 Now, we still have a fairly basic background, but it's much nicer than just a gradient.
3. Choosing your Product
Now you need to decide what sort of product you want to promote in this design. It could be a cell phone, a gaming console, something fashion-related, or anything really. I've gone with something a little more unique for this tutorial, a GP2X F-200.
Head over to Google Images and search for a large or an extra large image of whatever product you want to use. I was lucky enough to find a pretty decent, extra large image of a GP2X.

Click the above thumbnail for the fullsize image that we're using.
3-2. Touching up Product Image(s)
Part of the job is touching up product images and making them suitable for placing in your main design document. As you can see, the image I've chosen has some noticeable blotches, blemishes, etc. so let's try and remove them using the Clone Stamp Tool. There are a few different tools that you can use to remove imperfections, but I've found the Clone Stamp Tool works just fine (maybe even best), in a case like this.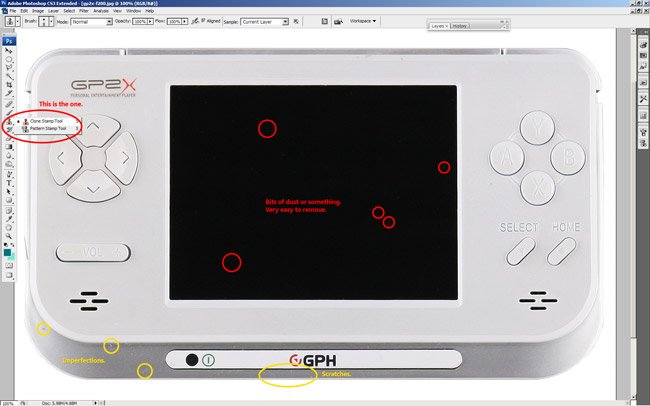 If you're not too fond of what we're doing in this step, you can of course just download the PSD file at the end of the tutorial and use the cutout, although you won't have learned much!
After you have touched the image up, we need to cut the product out from the background. Since the product is very light grey on a white background, you can't simply use the Magic Wand Tool, can you? So we'll have to use the Pen Tool to make a very clean, precise selection around the device.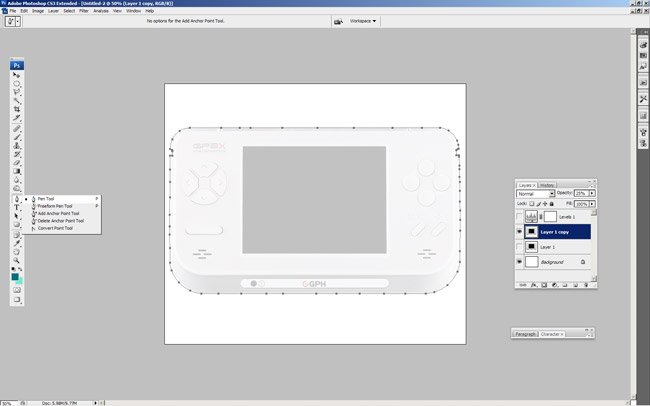 Obviously I can't really walk through you through the entire making of the path, so if you're a newbie with the Pen Tool and making paths, I recommend you read this advanced tutorial on the Pen Tool.
Optional: after you're done you may want to add a colorful image into the screen of your product.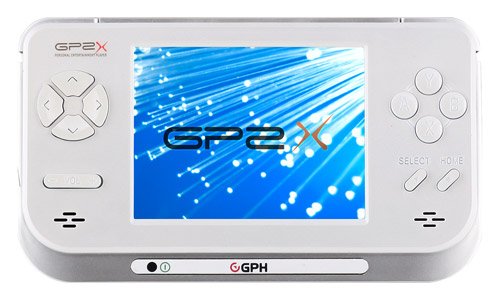 4. Product Placement
After you've made all of your touchups and cutout your product, copy it over your other canvas. If you're running a newer version of Photoshop (CS3 I think), you should be able to convert your layer to a smart object, so you will be able to resize it, rotate it and resize it again (over and over) without losing quality.
So, if you're on a newer version of Photoshop, right-click your product layer and convert it to a Smart Object.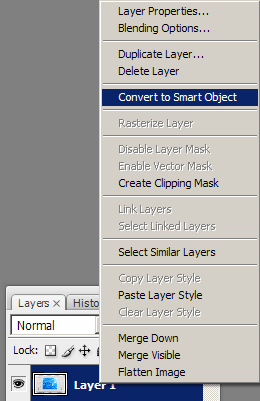 Using Transform Mode (ctrl+t), size your product down to something more appropriate and then position it accordingly. To bring your product off of the background, you may want to apply a basic drop shadow via an Outer Glow layer style.
Duplicate your GP2X layer twice, rotate one -15.0 degrees, and the other 15.0 degrees using Transform Mode (ctrl+t). Position your new duplicates accordingly, and size them down a little if necessary. You have to use your own imagination here.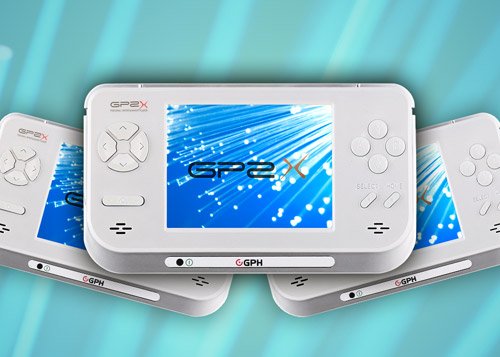 Both duplicates have a similar Outer Glow layer style applied to them, except using a lower opacity.
5. Abstract Elements
To make our design "pop" we're gonna use some abstract elements.
Using Cinema 4D I managed to muster up a basic but cool abstract render using the GP2X image as the texture. Using this render we're going to make our design look a whole lot more interesting.
This is how I made use of the 3D abstract:
1. Start by copying it to your canvas, make a few duplicates.
2. Rotate/resize/position your render(s) underneath the product, then erase away the parts of the render that make the overall design look worse than better.
3. Repeat 1-3 times.
And now I have this: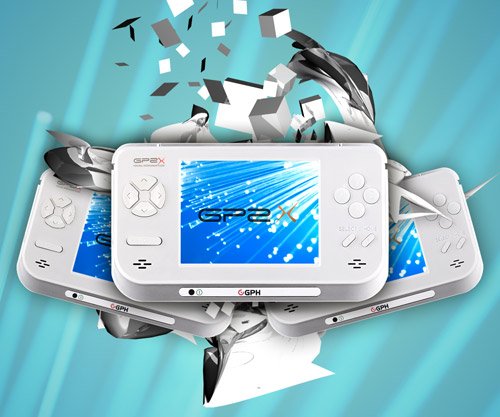 Now that looks much better! If you look around for some inspiration, or in some magazines for creative cellphone ads, you'll notice these ads have a similar design style going on. The idea is to get some creative elements behind the product/around the product/maybe on top of the product.
6. Vector Elements
I still think our design is a bit boring, so let's find some vector stocks. Check out the freebie websites such as Vecteezy and find some vectors. Or you can go to iStockPhoto/Vector Stock/Go Media and get some premium vectors.
To start off with I just used two simple splats with a light, sky-blue color (#87ffff), but it should be very easy to find a free brush that will do the job of these vectors just fine.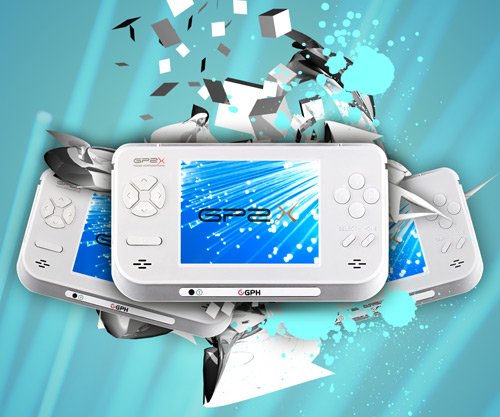 Next, I used a set of vector icons that I bought a while back from Vector Stock for just one credit (one dollar!) to place underneath the product. This is what I've got:
This may look better or worse in your opinion, so please feel free to do whatever you like with the design to make it according to your tastes.
Note: the icons in the above image have an outer glow applied to them, using a light color and Linear Dodge as the blend mode.
Another note: for some reason I've been unable to locate these icons again on Vector Stock, otherwise I would have linked to them. I'm sorry if this is an inconvenience.
7. Logo/Text
If possible, find a large version of the logo that belongs to the product you're trying to promote here. Copy it onto your canvas and resize it to an appropriate size.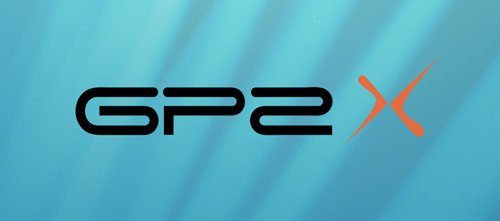 Optional: lower opacity and apply layer styles to add extra effect to the logo.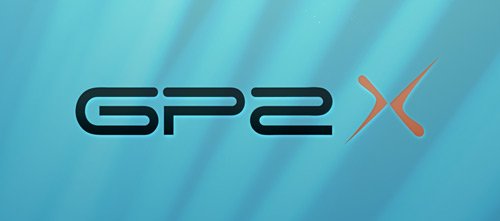 Next, add in some text describing your product.
Top text, description:

Bottom text, website URL:

The font used here is called Frutiger, it's a commercial font rather than a free one, so you may want to find a suitable alternative. The text you can see in the above images also have a slight Drop Shadow layer style applied to them.
8. Finalizing
Finalizing the design is up to you. You need to add your own touches to this design to make it perfect. I don't think I did anything to it that wasn't stated in the tutorial! Some ideas would be to change the color of the document using some adjustment layers (add more contrast using levels adjustment, etc.)
A good idea would be to add some more color, so if you like, create a new layer, select a large, soft brush and make a few blobs on your canvas using different colors. Change the layer mode to something such as Color Dodge or Overlay.
Subscribe to Photoshop Lady
If you don't want to miss any great articles or tutorials, please subscribe to Photoshop Lady via a feed reader, or via email updates!
Thanks for reading the tutorial, I hope you enjoyed it.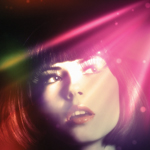 There are thousands of photoshop tutorial authors have been able to gain exposure, traffic and recognition by submitting their own photoshop tutorials to Photoshop Lady. Just fill in the following form for the submission. After moderation, your submitted photoshop tutorials will be appear on all single pages of Photoshop Lady, and gain instant traffic for Free immediately.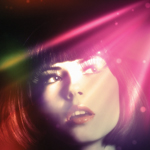 Introduction
UPrinting.com is a leading socially responsible online printing, marketing and technology firm, has established itself as a major player in the industry with its distinct vision and clear approach to helping small businesses grow. It serves thousands of on-demand business printing and graphic printing orders online daily, using high-quality press printing and a robust yet simple and easy-to-use online ordering system, resulting in high-end printing services and reliable color printing at discount printing costs.
UPrinting.com also offers convenient marketing support such as print design services, custom online printing quotes and direct mailing to help the small or medium-sized business grow. They are committed to social responsibility and eco-friendly printing initiatives that support non-profit organizations and environmental sustainability.
Brochure Printing
Brochures are usually a marketer's weapon of choice. They would contain images and text designed to attract a potential buyer into making a purchase. They contain valuable product or service information and are disseminated in places with high foot traffic. A marketing tool like brochures would also work as part of a sales kit. Creative individuals can probably think of other ways to utilize brochures.
Do you need any brochure for your company too? UPrinting offers brochure printing ranging from 50 to 100,00 pieces in quantity, with 100lb Paper Gloss, 100lb Paper Matte, 10 pt. Cardstock Gloss, and 10 pt. Cardstock Matte. Different sizes available in 5.5″ x 8.5″ , 8.5″ x 11″ , 8.5″ x 14″ , 11″ x 17″ and 11″ x 23.375″. Customized sizes are also available too. They have several folding options, Half Fold, Trifold/Letterfold, Z-Fold, Roll Fold and Accordion Fold. Usually the turnaround is only 1 to 3 Business Days.
What are you waiting for? Just try out their service, and I am sure you will love them since then. With the help of their Easy Design Tool, creating a unique design you can call your own is real easy!
This post is sponsored by UPrinting.com, online printing company. See more information about brochure printing and other printing services available on UPrinting.com